Deontay Wilder vs. Dominic Breazeale Betting Preview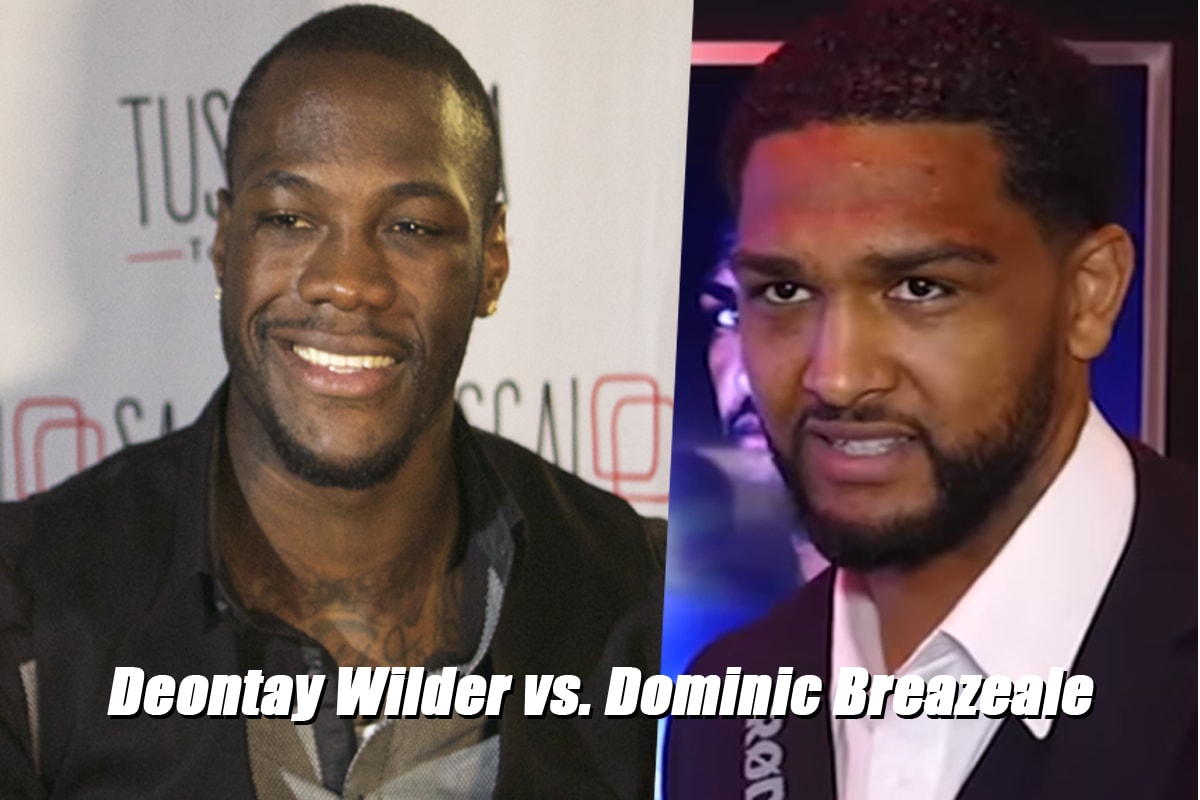 Deontay Wilder vs. Dominic Breazeale is probably not the fight most wanted.
That said, plenty about this bout scheduled for May 18 at the Barclays Center in New York will make it an interesting one.
Granted, those betting on Wilder vs. Breazeale might not be as stoked for this one as they would have been if it was Tyson Fury or Anthony Joshua locking horns with Wilder.
Boxing fans, in general, might have preferred a bigger name for America's heavyweight champ, sure. But don't get it twisted — Dominic Breazeale is no bum.
There will definitely be a lot of money wagered through boxing betting sites on this one.
Breazeale takes a record of 20-1(18 KOs) into what will be his second title shot following a failed charge at Anthony Joshua's IBF heavyweight title in June 2016.
The Californian is currently ranked fourth in the division by the WBC behind Dillian Whyte, Tyson Fury, and Luis Ortiz.
Wilder has caught some flak ahead of the bout for his decision to fight Breazeale over the aforementioned trio. Fans are far from impressed with the "Brown Bomber" for skipping over Whyte, who himself was hoping for a shot at the title.
If talks between Wilder and Fury hit the skids again, Whyte just might get the next pop at the strap. Well, that is if Wilder still holds the title after this bout.
In boxing circles, Wilder vs. Breazeale is being treated as a tune-up ahead of a fight against Fury at some point later in the year.
This kind of attitude is not just disrespectful but is also dangerous from the perspective of anyone betting on Wilder vs. Breazeale.
I'll explain why Breazeale has a chance a little later. Firstly, let's take a look at the odds for the bout.
Latest Wilder vs. Breazeale Odds
Deontay Wilder to Win
-650
Dominic Breazeale to Win
+425
Deontay Wilder is the clear favorite at -650 with Bovada sports.
The WBC champion is unbeaten as a professional and is widely regarded as one of the best in the division.
Breazeale, on the other hand, is not being given more than a puncher's chance against Wilder.
Let's look over both fighters' stats before we preview the bout.
Tale of the Tape
Let's take a look at how both fighters match up ahead of the bout.
| Wilder | Breazeale |
| --- | --- |
| Age: 33 | Age: 33 |
| Height: 6'7″ / 201CM | Height: 6'7″ / 201CM |
| Stance: Orthodox (R) | Stance: Orthodox (R) |
| Wins By KO: 39 | Wins By KO: 18 |
| KO Percentage: 98% | KO Percentage: 90% |
| Losses: 0 | Losses: 1 |
| Stopped: 0 | Stopped: 1 |
| Draws: 1 | Draws: 0 |
| Debut: 2008 | Debut: 2012 |
Both fighters are coming in at 6'7″ and share a similar reach.
Wilder and Breazeale are orthodox boxers.
Wilder has had almost double the number of fights in his career as Breazeale and takes a KO percentage of 98% into the ring.
While Breazeale has that one loss to Joshua on his record, Wilder's only blemish is a draw against Tyson Fury in December 2018.
With that out of the way, let's look at both boxers' styles and how effective they might be in a fight.
Wilder: The Swing King
Deontay Wilder is far from the most technically gifted fighter on the planet.
Yet, here he is — the WBC heavyweight champion of the world. A man with 40 wins in 41 fights and a 98% KO rate to boot.
Although the heavyweight division is nowhere near as competitive or talent-laden as it once was, Wilder has still made a habit out of winning.
He came close to knocking out the elusive Tyson Fury in his last bout and inflicted the first-ever loss on the "Gypsy King." Wilder also has wins over Luis Ortiz and Bermane Stiverne (2).
To put it another way, he must be doing something right.
The key to Wilder's success to date has been his explosive power. That right hand of his is probably the most dangerous weapon in the heavyweight division — when it lands.
Wilder is at his best when he is given the time and space to tee up his shots, which typically tend to be wild, looping haymakers.
Throughout his professional career, we have seen many opponents fail to keep him off balance and disrupt his rhythm. By failing to stay out of range and fight negatively, almost all of the fighters he has faced have been eventually blasted out.
Fury, on the other hand, showed how to deal with Wilder.
Stick and move, switch it up, and keep him guessing. Even then, Wilder almost got to him in the final round. If that was any other fighter in the division, it probably would have ended by knockout.
Breazeale: Slow and Steady
Dominic Breazeale is a fighter that has improved since his loss to Anthony Joshua in 2016.
Physically, he is a big and strong puncher that carries significant power. There is no flash or x-factor to the 33-year-old and nothing particularly remarkable about him as a boxer.
Breazeale has a very linear style that is based on an aggressive, forward-moving attitude. With his head down, the Californian tries to walk his opponents down in order to benefit from any mistakes committed as a result of the pressure he puts on them.
Any opponent who can read Breazeale's next move will surely be able to cause him trouble, however.
If you watch the highlights of any of his last five fights, you will see that he can be very sluggish when throwing shots and tends to telegraph his punches.
Against a fighter like Deontay Wilder, this could end up leading to a knockout.
While Wilder is technically lacking, he does have speed and power in that right hand.
Breazeale will undoubtedly be looking to take the fight to Wilder the same way he has done throughout his career. I would also be very surprised to see anything but the same old Dominic Breazeale on the night.
While not the flashiest or most spectacular boxer to watch, he does have power. As we all know, one punch can end a contest in this sport.
Wilder vs. Breazeale's Form in Their Last Five Fights
Before betting on Wilder vs. Breazeale, you should take their recent form into account.
In boxing, a fighter's record might look a lot better than it does when inspected closely, however. Wilder, in particular, has long been accused of having a severely padded record, with very few big names on there.
Aside from Tyson Fury and Luis Ortiz, the Alabaman pugilist has not really faced the best in the business.
Breazeale's record is nothing to get too excited over, either. Yes, he did fight Anthony Joshua, but that bout ended in a loss for him.
Regardless, let's take a look at how both fighters fared in their past five fights.
Wilder (4-0-1)
Tyson Fury – Draw
Luis Ortiz – Win by TKO
Bermane Stiverne – Win by KO
Gerald Washington – Win by TKO
Chris Arreola – Win (RTD)
Wilder still has his unbeaten record intact thanks to a controversial decision in his last fight against Tyson Fury.
Despite being seemingly outboxed and outscored, Wilder's two knockdowns were enough to prevent him from losing his title to the returning Fury. Wilder did have some success in that bout but looked uncomfortable and frustrated for most of the night.
Prior to beating Fury, Wilder earned a 10th-round stoppage over Luis Ortiz at Barclays Center in March 2018.
A rematch with Bermane Stiverne preceded the bout with Ortiz, although Wilder would get the job done by 1st-round KO against the man he won the WBC strap from. Their first fight in 2015 ended in a unanimous decision victory for Wilder and was the first time he had ever gone the distance.
A stoppage win over Gerald Washington in February 2017 saw Wilder in top form while Chris Arreola's corner stoppage ended their contest in July of the previous year.
Breazeale (4-1)
Carlos Negrón – Win by KO
Éric Molina – Win (RTD)
Izu Ugonoh – Win by KO
Anthony Joshua – Loss by TKO
Amir Mansour – Win (RTD)
Breazeale's last bout saw him overcome a rugged and determined challenge by Carlos Negrón before knocking him out in the 9th round.
While Negrón pushed Breazeale, the latter hurt him in the 8th round, landing a punch after the bell. Halfway through the next round, Negrón was folded like a deck chair and was unable to continue.
Prior to this fight, Breazeale forced the corner of Éric Molina to stop the fight in the 8th.
Poland's Izu Ugonoh could only last five rounds before being knocked out by Breazeale in February 2017. The man also known as "Trouble" had Ugonoh up a certain creek without a paddle before ending the contest and finding his way back into the winning column.
As previously mentioned, Breazeale's only loss came against Joshua in June 2016.
Prior to this loss, Breazeale worked his way into a title shot with a commanding performance over Amir Mansour in January of the same year.
Breaking Down Wilder vs. Breazeale
The first thing I would like everyone reading this to remember is that Breazeale has a chance in this fight.
A puncher's chance, but a chance nonetheless.
In professional boxing, anything can happen when two fighters square off against each other. Especially when there seems to be genuine bad blood between the two.
Wilder will be prepared for what his opponent will take into the ring on May 18 and will not have to labor over tape after tape to get an idea of what is coming. It's fair to say that Breazeale is a fairly easy fighter to predict.
Predictable doesn't always translate into easily stopped, however. Wilder will probably disagree, though.
Breazeale is a fighter that enjoys walking down his opponents in order to cut the ring off and unleash. He tends to throw a lot of looping shots and hooks, too, meaning Wilder will probably look to throw straighter punches in this fight.
Wilder is far from the most accomplished boxer but does have a surprisingly decent jab. We don't see it a lot, granted, but this might change in this fight.
I believe we will see Wilder aiming to back Breazeale up by throwing one-twos and working off the jab as he did against Ortiz.
If Breazeale is too predictable against Wilder, he will play into his hands. This style will not work against any boxer who can beat him to the punch and make him respect his power.
Will We See the Knockout?
If Breazeale doesn't keep his hands up — which is one of his worst habits — and lingers too long in Wilder's range, he could be stopped.
The WBC champion will likely look to footage of Joshua's win over Breazeale for ideas of how to keep him where he wants him.
In the Joshua bout, Breazeale tried to walk him down but was deterred by straights and three to four punch combos. When exchanging with the Brit, his punches looked slow, sluggish, and disjointed.
His general game plan is very one-dimensional and doesn't offer anything different than what Wilder has dealt with before.
While it will take a few rounds for Wilder to get into his groove and wear Breazeale down, you can expect him to land and hurt his opponent.
Breazeale has a good chin, for the most part, but we have rarely seen it truly tested. Against Joshua, it certainly was out there for the taking.
Britain's Joshua doesn't have the power that Wilder can boast, so he will certainly need to be careful when exchanging.
Unless Breazeale can catch Wilder cold or frustrate him by hitting from the outside, eluding his shots, and tying him up/closing the distance at every opportunity of danger, he will lose.
If I had to make a prediction, I would go for Wilder to stop Breazeale in the 5th round of the fight.
Wilder's power and Breazeale's sloppiness will more than likely make the difference. However, at odds of -650, there is little value to be had here.
Still, he should win this fight