DeMarcus Cousins to Make His Warriors Debut – Why Boogie Makes GSW a Lock to Win the 2019 NBA Finals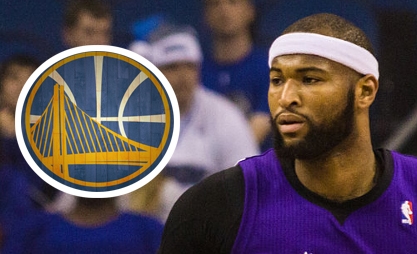 I'd like to take you back to July 2nd, 2018.
The Warriors were coming off their second consecutive NBA Championship, fresh off sweeping LeBron James and the Cavs 4-0. Broomstick and all.
So you can imagine why there were so many angry people around the NBA that evening.
Reports that the Golden State Warriors had lured DeMarcus Cousins to the Bay Area on a laughable one-year, $5.3 million deal had sent the NBA industry into a total frenzy.
The Twitter universe was completely blowing up.
And Friday evening marks Cousins' first game on the court with his new set of teammates.
The Warriors square off against the Clippers tonight on ESPN, and I'll be one of the many who is tuned into the action.
Welcome to the Bay Area, DeMarcus!
Coming off a torn Achilles he sustained nearly a full year ago, DeMarcus will be inserted into a lineup that has been catching fire as of late. Here's a squad that has scored 142 or more points in three of their past four games and is averaging a whopping 133.8 PPG during their current six-game winning streak.
And now you're telling me they're getting a boost from a dude who averaged 25 points and 13 rebounds per game last season, not to mention dished out more than five assists each night? Is this even going to be fair?
For teams in the Western Conference, most likely it won't be. But our upside is limited when betting on GSW to reach the NBA Finals, as their -300 price tag to capture the Western Conference makes it hard to get that excited.
The Warriors odds to win the 2019 NBA Finals are oscillating between -175 and -190 at most of the top NBA betting sites, but after diligently shopping my lines, my eyebrows perked up when I arrived at Bovada.lv.
There the Warriors were, sitting at just -150 to win the NBA Finals. The value felt palpable.
If you thought Golden State winning their third straight title was a done deal before the 2018/2019 NBA season started, how do you feel now? Because for me, Boogie Cousins stepping into the fray makes it an absolute lock.
Before I get into what Boogie will bring to the table, you need to be aware of the recent burst that Steve Kerr's group has been on.
The Warriors Are Beaming
Tuesday night in Denver was a big game for the Nuggets, as a home contest against the Warriors was going to be a good measuring stick to see where their team was really at.
But before the fans could even return from concessions and get settled into their seats, Golden State had dropped an NBA-record 51 points on them in the first quarter.
No starter played more than 31 minutes, and it ended in a 31-point rout, cementing the Warriors' status as still being the top dogs out West. Traveling back home and playing the Pelicans the following night, the Warriors connected on 19/37 (51.4%) of their three-point shots and scored 147 points.
Steph Curry splashed in nine triples, marking the third consecutive game he's converted eight or more shots from beyond the arc. To help put that into perspective, that's the first time in NBA history that anyone has accomplished that feat.
The bottom line is the Warriors are finally gelling and really seem to be settling into a rhythm.
Golden State are in first place in the Western Conference standings despite Curry missing a chunk of time with a groin injury, and the rift between Kevin Durant and Draymond Green seems to have blown over.
In a nutshell, this team is straight ballin' right now. And as if they needed any additional help, here comes Boogie.
Boogie Cousins – What He'll Add to the Lineup
Anyone who has ever experienced tearing your Achilles tendon knows how excruciating the injury can be. Those who are a bit wary as to how a guy who is 7 feet tall will recover from such a horrific setback have reason to be cautious, but here's why I'm not as concerned.
DeMarcus isn't going to be asked to carry the load and play 40 minutes per night. After averaging 24 or more points per game in each of the last six seasons, it's not that he isn't capable of "being the guy." It's just that it won't be necessary.
Expect to see Boogie's minutes be restricted early on, especially tonight in his first game back. The goal will simply be to see how his surgically-repaired left foot responds and to start working on his endurance on the court.
Kerr announced that Cousins will immediately start at center, joining a starting five that already boasts the likes of Steph Curry and Kevin Durant, along with Klay Thompson and Draymond Green.
And Boogie couldn't be any more eager to finally get the ball rolling.
"It's a relief. It's been a long year for me, a lot of ups and downs. But the finish line is ahead and I'm extremely excited to be back on the floor."
Being that he's been on the shelf since the beginning of 2018, some may have forgotten how dominant the big man from Mobile, Alabama, can be. The fifth pick of the 2010 NBA Draft was seemingly never happy in Sacramento, but it looked like he and Anthony Davis were forming a bond in the Big Easy during the 2017-2018 NBA season.
But when DeMarcus and his agent agreed to come to Golden State on a one-year deal for just over five million bucks, it was obvious that Cousins had one goal in mind. Winning an NBA Championship is clearly the only thing he cares about because he could have taken a safer deal with much more guaranteed money elsewhere.
Don't forget, in 48 games last season, DeMarcus amassed a ridiculous stat line of 25.2 PPG, 12.9 RPG, and 5.4 APG. He was the only player in the league to average more than 25/12/5 (points, rebounds, assists), and he even hit on over 35% of his three-point attempts. He got it done on the other end of the floor as well, chipping in with 1.6 blocks and 1.6 steals per game.
It's important to remember that before the injury, Boogie was being looked at as one of the premier players in all of the NBA.
The Warriors already have two of the top five players in the league in KD and Steph, and now Boogie can be incorporated into the mix.
All I can say at this point is the rich get richer.
Can Any Team in the NBA Hang with the Warriors?
The short answer is no, although I'll try and make a case for a couple.
Houston Rockets Are No Match
I don't care how great James Harden is playing on offense; I can't picture the Rockets beating the Warriors in a seven-game series. Those who want to point to Houston coming oh-so-close last year before Chris Paul went down, go ahead and cry me a river.
After admitting that the Carmelo Anthony era in Space City was an unmitigated disaster, all Daryl Morey has done is bring in Austin Rivers, and that's after losing Trevor Ariza and Luc Mbah a Moute. As far as "roster improvements" go, I'd give the Houston general manager a D or D+, tops.
Golden State was head and shoulders the best team in the league, and all they did was essentially swap JaVale McGee for DeMarcus Cousins. If that's not an A+ move, someone will have to re-explain to me how the "grading scale" works.
LeBron Doesn't Have Enough in Los Angeles to Contend with Golden State
LeBron James will eventually return from his groin injury similar to the one that forced Steph Curry to miss 11 games over the final three weeks in November. But when he returns to the hardwood, he'll be leaning on the likes of Kyle Kuzma and Josh Hart to help carry this team to the finish line.
That's not exactly the recipe I'd recommend for trying to contend with the Warriors, but maybe that's just me.
Perhaps if Bronny gets some serious help this summer (i.e., Anthony Davis), then the Purple and Gold can match up with what the Warriors currently have. But that's still a big "if."
The Nuggets Aren't Ready
No need to go into much detail here, because we just saw the Warriors dismantle the Nuggets in Denver. And that was without Boogie in the lineup. If rookie Michael Porter Jr. could ever get healthy and Isaiah Thomas accepts a role off the bench, then I could see this team challenging for a spot in the Western Conference Finals.
But if they wind up in a series against Golden State, we already know how that one is going to end.
I'm sorry to say, but GSW doesn't have a ton of competition in the West. Their road to the NBA Finals might as well be paved with a strip of red carpet because there shouldn't be any obstacles standing in their way.
Perhaps a few teams out East will have something to say.
Can Anyone from the East Go Toe-to-Toe with GSW?
What Giannis Antetokounmpo is doing in Milwaukee needs to be appreciated, as the Greek Freak would be the most deserving recipient of the MVP Award if the season ended today. It's impossible to sleep on Boston, especially when you consider how deep they went last year without the services of Kyrie Irving and Gordon Hayward.
And now that Kawhi Leonard is in Toronto and playing lights out, I believe the Raptors are actually the favorite to emerge from the East.
There are certainly at least a few contenders, and we still have to wait and see if Philly can work out the kinks now that Jimmy Butler is in town. But do any of these teams pose a legitimate threat to the Warriors?
Even as disciplined and consistent as Nick Nurse's squad plays night in and night out, I have a hard time believing the Raptors could defeat the Warriors (in a seven-game series). And the jury is still out on those others for me, at least when contemplating if they can go toe-to-toe with Golden State.
That's why if you go back to the beginning of this post when I pointed out that GSW was lurking at just -150 to win it all at Bovada.lv, you'll see why it's really not that steep of a price. We haven't even seen how good this team can be now that Boogie Cousins is healed up and ready to go, yet they're already deemed as the best team in the NBA.
If this team reels off another six wins and they look like a cohesive unit with Boogie on the floor, we can all kiss that -150 number goodbye and expect it to soar to -200. So here's my final warning.
If you have yet to book a ticket on the Warriors to be the last team standing, I'm not sure what you are waiting for.
The time to fire away on Golden State is right now! The price won't get any better from here on out.
You can point toward Curry's hot shooting or blame it on the impending return of Boogie Cousins. Either way, it's just the way it's going to be.
The Takeaway
A lot of folks have felt resentment toward the Golden State Warriors ever since they added Kevin Durant to a team that already won an NBA-record 73 regular-season games. So the full-on hatred was expected when Boogie Cousins threw his hat in the ring as well.
"I don't really pay attention to storylines. I mean, they're gonna say what they have to say. They're gonna add their opinions. We're the most hated team in sports."
But the NBA isn't a business that worries about hurting people's feelings, and not every team has the same opportunities to attract big-time free agents.
In the case of the Warriors, they had the secret sauce. Call it the magic potion, call it trickery, call it whatever you want. They were able to sway Cousins into deciding to come to the Bay Area, and they did so at an exceptionally discounted price.
And that's why the Warriors looming at -150 to win the NBA Finals over at Bovada.lv means one thing and one thing only.
You need to get over there right now and lock that price in before it's too late.