7 Dead Gamblers Who Can Still Teach You Several Lessons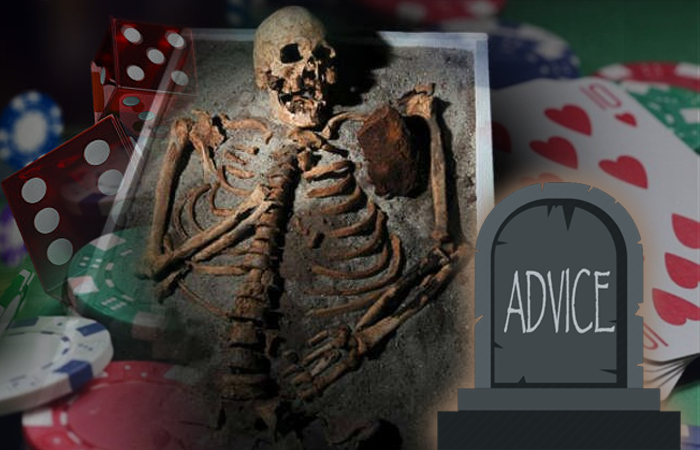 One of the best ways to become a successful gambler is to study those who are currently on top. People like Fedor Holz (poker), Teddy Covers (sports betting), and James Grosjean (blackjack) are living legends whom you can study to become a stronger bettor.
But you don't have to stop at the living legends. In fact, you can learn a lot of lessons and strategy by looking at dead gamblers who thrived.
Who are some of the best late gamblers to learn from?
I'm going to discuss 7 dead gamblers who dominated and left behind lasting legacies.
1 – Nick "The Greek" Dandolos (1883 – 1966)
h
Nick Dandolos, best known as "Nick the Greek," was born in Rethymnon, Crete.
Nick's grandfather sent him to the United States when he was eighteen years old. Dandolos quickly moved to Montreal, Canada, where he discovered his love of betting on horse races.
He quickly proved successful, winning $500,000 in profits. Dandolos would move to Chicago, where he lost all this money on dice and card games.
While Nick the Greek lost a fortune gambling in Chicago, he also learned some important lessons about how to beat poker. It wouldn't be long before Dandolos was dominating poker players on a consistent basis.
He played nine-time WSOP champion Johnny Moss in a famous heads-up match. But this was more than a simple match, given that the showdown raged on for five months.
After beating Moss out of between $2 and $4 million, Dandolos famously uttered,
"Mr. Moss, I have to let you go."
Another legendary poker match saw Nick the Greek face a wealthy Texan. Dandolos beat this mogul to the tune of $1 million.
The Texan later accused Nick the Greek of being afraid when he quit the game in the early morning hours. A weary Dandolos called for a new deck and demanded that the Texan keep playing him.
The mogul backed down from his challenge and quit, rather than risk losing any more money.
Richard Feynman, a Nobel Prize-winning physicist, once discussed Nick the Greek's gambling strategy in the autobiography Surely You're Joking, Mr. Feynman! Feynman explained how Nick won through a combination of knowing the odds, carefully selecting his opponents, and taking advantage of his reputation.
As outstanding as he was at gambling, Nick the Greek had a problem with bankroll management and constantly looking for action.
This is why he claimed to have gone from rags to riches over seventy-three times in his lifetime. He also estimated to have won and lost more than $500 million in his life.

What Can What Can We Learn from Nick the Greek?
Here are the big two takeaways from Nick the Greek:
Exercise bankroll management
Know when to walk away
While Dandolos was a very successful gambler, he also had a compulsive streak. The story about him wanting to continue playing the Texas poker player when he was already tired illustrates this.
Nick the Greek spent his twilight years playing $5 draw poker and other casino games. When asked about how he could play such low limits compared to his heyday, Nick said,
"Hey, it's action, isn't it?"
2 – Joseph Jagger (1830 – 1892)
Joseph Jagger was an engineer from Yorkshire, England. Jagger used his engineering background to correctly hypothesize that some roulette wheels break down over time and favor certain numbers (a.k.a. wheel bias).
Armed with this knowledge, he hired six clerks to visit the Beaux Arts Casino in Monte Carlo. Jagger instructed the clerks to watch the roulette wheels there and record results.
The clerks returned with the data, which Jagger used to figure out that one of the wheels was biased towards certain numbers. He then traveled to the Monte Carlo casino himself to play roulette.
Over one week, Jagger won the equivalent of US $325,000, which is $12 million when adjusted for modern inflation.
His winnings didn't come easily, though, because the casino staff switched the biased wheel with another. This caused Jagger to lose part of his fortune before he quickly adjusted and found the biased wheel again.

What Can What Can We Learn from Jagger?
Unfortunately, roulette wheel bias isn't a viable advantage-play technique these days. The reason is because casinos now use Starburst wheels, which have metal frets and are sturdier.
But the general lesson here is to look for
an advantage in the casino and put the work in to exploit it.
Jagger didn't just stroll into the Beaux Arts Casino and start dominating roulette. Instead, he invested into the matter by hiring clerks and then pouring over their data for days.
This same type of work ethic can be applied to modern advantage-play techniques, including card counting, daily fantasy sports (DFS), poker, and sports betting.
3 – Alvin "Titanic Thompson" Thomas (1893 – 1974)
Alvin Thomas was born in southwestern Missouri and spent most of his early life living near the Ozark Mountains.
He was best known by his nickname, "Titanic Thompson." This came from a combination of a newspaper misprint and him sinking other gamblers "like the Titanic."
Thompson left home at age sixteen with less than one dollar in his pocket. He had an early penchant for gambling, learning how to play card games as a youth.
Titanic was drafted into military service during World War 1. Here, Thompson won over $50,000 by gambling with fellow soldiers.
He had a checkered past that involved killing five different men – all of whom had tried to rob and/or harm him.
Despite all of his different run-ins with dangerous thieves, Thompson continued to gamble frequently. He was especially adept at prop betting, where he sometimes even cheated to win.
For example:
Thompson once bet someone that he could throw a walnut over a big building. The opposing bettor had no idea that Thompson had hollowed out the walnut and put a weight inside it to make it go further.
While Thompson was adept at several forms of gambling, he especially won a lot of money through golf. He quickly became a pro-level golfer, despite not being introduced to the game until his early thirties.
Titanic sometimes made as much as $30,000 a week by hustling country club players. This is especially significant when considering that the average pro only made this much in a year.
The Achilles' heel in Thompson's gambling career was horse racing. He admitted to losing millions of dollars by betting on horse races.

What Can What Can We Learn from Titanic Thompson?
The best thing to learn from Titanic Thompson is to stick with your best game(s).
Thompson was excellent at everything from poker to golf betting. He was also very successful at prop bets, regardless of whether he was cheating or playing fair.
But he couldn't stay away from betting on horses and lost a fortune in this sport. If you ever become highly skilled at one or more forms of gambling, don't blow your winnings on other things that you're not successful with.
4 – David "Chip" Reese (1951 – 2007)
David "Chip" Reese learned to play poker as an elementary school student. His mother taught him poker when he stayed home from school for a year due to rheumatic fever.
This helped Chip become a poker prodigy, and he was able to beat fifth graders when he was just six years old.
Reese attended Dartmouth College, where he briefly played football, was on the debate team, and studied economics. Chip also continued playing poker in college and won a great deal of money from both fellow students and professors.
He was accepted into Stanford Law School. But Reese turned this offer down and instead pursued a professional poker career.
He was fueled by the fact that he made $100,000 in profits before law school.
This turned out to be a wise decision because Chip became one of the most successful poker players of all time. He earned $3.96 million in live tournaments and won three WSOP gold bracelets.
Of course, this doesn't tell the whole story, because Reese won an untold fortune in cash games.
Reese died of pneumonia in 2007. Afterward, poker icon Doyle Brunson said that Chip was the "best poker player that ever lived."

What Can What Can We Learn from Chip Reese?
Reese was like most poker players in that he was a gambler at heart. But unlike Titanic Thompson, Chip didn't deviate much from the game that brought him so many riches.
This makes Reese one of the more disciplined legendary gamblers in history.
Another takeaway from Chip is how learning skill-based gambling games at an early age gives you a head start on others. Reese learned poker when he was just six years old and used this skill to make large profits throughout his life.
5 – Charles Wells (1841 – 1922)
Charles Wells began his early adult life as a successful inventor. He created and sold a device that regulated the speed of ships' propellers in 1868.
But the Englishman would later move to France and defraud people out of a fortune. In one scheme, he got people to invest £19,000 in a railroad that he had no intention of building.
Wells later used £4,000 of these funds for a gambling trip to Monte Carlo. Here, he won £60,000 (£6m today) by going on an incredible roulette streak.
Wells continued to break the bank, where one wins all of the money at a particular casino table. It's widely speculated that he's the inspiration for the 1892 British music hall song "The Man Who Broke the Bank at Monte Carlo."
British newspapers caught this story and wanted to know how Wells won so much money in roulette. He claimed to have an "infallible system," although he was really just using the Martingale.
Wells made three total trips to Monte Carlo. On the third trip, he lost his entire fortune and was later extradited to Britain to face patent fraud charges.
Wells would spend the rest of his life penniless and in and out of prisons.

What Can What Can We Learn from Charles Wells?
Wells is the only gambler on this list to earn his fortune through sheer luck.
While the Martingale System works in theory, it will inevitably fail because nobody has infinite money. Wells didn't know when to quit, and he lost a massive fortune in the process.
If you ever get huge stroke of luck like he did, you should walk away at some point, rather than continuing to risk everything.
6 – Stu Ungar (1953 – 1998)
Raised in Manhattan, Stu Ungar got an early dose of gambling from hanging around his dad's social club. He began seriously gambling around the age of eighteen and learned how to play cards from a local organized crime figure.
Ungar parlayed the skills into a highly successful poker career. He regularly won money in both poker and gin rummy.
Unfortunately, he also racked up a huge debt at local racetracks. This led him to embark on a gambling journey, where he lived in Miami and later in Las Vegas.
Ungar was such a great gin player that he eventually couldn't find action anymore. This led him to play poker full time.
He became the youngest WSOP Main Event champion in history when he won in 1980. Ungar would repeat as the champ in 1981.
Poker wasn't the only game that Ungar made a lot of money with.
He was considered to be a card-counting prodigy as well, and won so much that many casinos banned him from playing blackjack.
Unfortunately, Ungar had a serious drug problem. He frequently used cocaine to get through marathon poker sessions that lasted into the early morning.
His drug addiction got so bad that he was found unconscious while playing in the 1990 WSOP Main Event. Despite leaving the tournament, he built such a big chip stack that he still finished in ninth place and won $20,500.
Another problem that Ungar had included losing his poker and blackjack winnings on sports betting. These losses were only further fueled when he was high on cocaine.
Ungar would experience redemption at the 1997 WSOP Main Event. He won the tournament, becoming the only person to win the Main Event three times.
This earned Ungar the title of "The Comeback Kid" along with a $500,000 prize.
Despite the success story, Ungar blew almost all of his money on drugs and sports betting. He spent so much that he couldn't even afford to play in the WSOP Main Event the following year.
Ungar died in 1998 at a cheap Vegas motel called the Oasis. He suffered heart failure as a result of all the years of cocaine abuse.

What Can What Can We Learn from Stu Ungar?
The tale of Stu Ungar offers a number of lessons about the pitfalls of success.
Some believe that Ungar was the best card player who ever lived when considering his blackjack, gin rummy, and poker acumen. But he also had self-destructive tendencies that ultimately resulted in his death.
The moral of the story is to avoid this pattern of self-destruction when you're successful. Who knows how many more poker titles Ungar would've won if he didn't suffer from drug addiction?
7 – Rudolf "Minnesota Fats" Wanderone (1913 – 1996)
Rudolf Wanderone was a professional pool player best known by his adopted nickname "Minnesota Fats."
Wanderone began playing pool in 1923, when his father took him to train with German billiards champ Erich Hagenlocher. He later faced former nine-ball champ "Cowboy" Weston in 1926 and easily won the match.
A prodigy, Wanderone quit school in eighth grade and spent most of the 1920s playing in New York City pool halls. Here, he befriended Titanic Thompson and went by the nicknames "Smart Henry" and "New York Fats."
Wanderone travelled wherever the action was, moving to Chicago, southern Illinois, and Norfolk (VA).
He got his nickname Minnesota Fats from the 1961 movie The Hustler, which is based on a Walter Tevis novel. The fictional story covers "Fast Eddie" Felson's quest to play and beat America's greatest pool player, Minnesota Fats.
Wanderone swore that the character was based on him. But Tevis denied this and said that the character was completely fictional.
Regardless, Wanderone continued using the nickname and went on to mainstream fame. This included the 1967 TV game show Minnesota Fats Hustles the Pros, where he faced off against pro pool players.
Minnesota Fats never won an official pool tournament. But he was still widely regarded as one of the best, thanks to his hustling career and numerous TV appearances.

What Can What Can We Learn from Minnesota Fats?
Wanderone wasn't afraid to move around when he found a can't-miss gambling opportunity.
He moved to Norfolk because it became a shipbuilding center and gathering place for soldiers. These factors combined to create a growing population who were interested in pool gambling.
Minnesota Fats and another hustler, Lassiter, moved there and took advantage of the Norfolk conditions.
If you know of a new poker room with soft players or a casino that isn't strict about card counting, don't be afraid to take advantage.
Conclusion
All of the gamblers I've covered here had incredible runs during their lifetime. And each of these bettors offers a lesson for how you can improve at both gambling and life in general.
Nick the Greek was great at winning money from his opponents. But he also did a poor job of managing his bankroll and was reduced to playing $5 poker games later in life.
Chip Reese, on the other hand, was good at staying with the game he excelled at and booking profits. This is why Chip continued to be a successful player until the time of his death.
Joseph Jagger is another model of success who carved out an advantage-play technique that didn't exist at the time.
You can learn a lesson by reading about each of the gamblers above.
I encourage you to emulate the best aspects of each gambler, while avoiding the worst.