Hide Bonus Offers
| | | | | |
| --- | --- | --- | --- | --- |
| #1 | Bovada Sports | 50% Up To $250 | Visit Site | Bovada Sports |
| #2 | BetUS | 125% Up To $2,500 | Visit Site | BetUS |
| #3 | MyBookie | 100% Up To $1,000 | Visit Site | MyBookie |
| #4 | Everygame | 100% Up To $500 | Visit Site | Everygame |
| #5 | BetOnline Sports | 60% Up To $1,000 | Visit Site | BetOnline Sports |
Daytona 500: Danica Patrick and 5 Sleepers To Consider Betting On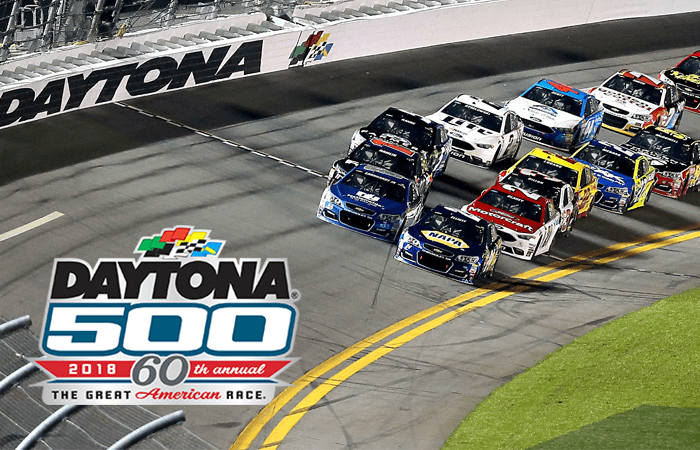 The greatest race in Nascar arrives on February 18th, when the Daytona 500 touches down at the Daytona International Speedway. Kurt Busch will return to defend his 2017 title, while a large crop of drivers will set out to secure first place in professional racing's most prestigious event.
There is a lot of cash at stake for the drivers and this is a huge race for the 2018 Nascar season. It's also a pretty massive event for Nascar betting purposes, so bettors will want to start their research now to see if they can nail some big bets.
2018 Daytona 500 Odds
All odds that are referenced in this article were taken from BetOnline at 12:04 pm CT on 2/9/2018. These odds may have changed since the time of this writing.
Quite arguably the most popular wager will be for who wins first place and BetOnline is one of many motorsports betting sites that has odds with the event still over a week away.
Kurt Busch won last year but is not regarded as a top favorite going into the 2018 rendition. Let's see where he stacks up against the rest of the field with the latest Daytona 500 odds, per BetOnline:
Brad Keselowski (+700)
Kyle Busch (+800)
Chase Elliott (+1000)
Kevin Harvick (+1200)
Kyle Larson (+1200)
Denny Hamlin (+1200)
Martin Truex Jr. (+1200)
Joey Logano (+1400)
Ricky Stenhouse Jr. (+1600)
Ryan Blaney (+2000)
Clint Bowyer (+2500)
Kurt Busch (+2500)
Erik Jones (+2800)
Jamie McMurray (+2800)
Austin Dillon (+3300)
Alex Bowman (+4000)
William Byron (+4000)
Aric Almirola (+4000)
Daniel Suarez (+5000)
Paul Menard (+5000)
Trevor Bayne (+5000)
Darrell Wallace Jr. (+6600)
Danica Patrick (+6600)
Ryan Newman (+6600)
Kasey Kahne (+10000)
Ty Dillon (+10000)
As you can see, Busch is not the favorite despite winning last year and he's actually somewhat in the middle of the pack.
That's somewhat surprising, as he's a talented driver that has several big wins under his belt, including an impressive seven finishes inside the top-10 here during his illustrious career.
None of that means Busch will repeat as champion, of course. That has not been a common feat, seeing as the Daytona 500 hasn't had a back-to-back champ since Sterling Martin pulled it off in 1994 and 1995.
Again, that doesn't mean you should rule Kurt Busch out here, but in a loaded field, he's going to have his work cut out for him.
Brother Kyle Busch is far ahead of him in the odds pecking order, as BetOnline has him right behind Brad Keselowski, who is currently the tentative favorite to take down first place.
As much as the oddsmakers love these guys, it's tough to put too much stock in them being "favorites", however, as the top option carries pretty steep +700 odds.
Daytona 500 Sleepers
When a race seems pretty wide open, one wise thing to do is think a little outside the box.
Even the top guys are returning strong value per the latest odds at BetOnline, but if you can pinpoint a profitable sleeper, you could make some serious coin.
For various reasons, the following five drivers stand out to me ahead of this year's Daytona 500:

Joey Logano (+1400)
Anytime you can get a stud driver at a good price and they've had success at an event in the past, you need to consider them.
That can certainly be said of Logano, who actually carries some nice upside into this year's Daytona 500 despite winning this very event back in 2015.
The 27-year old Logano has youth and talent on his side, while this is far from the only big moment he's seized in the past. Logano won the Sprint rookie of the year in 2009 and also took home the Advanced Auto Parts Clash in 2017.
More importantly, Logano has been very successful at the Daytona 500 specifically. He obviously took first in 2015, but he's finished inside the top six in each of his last three runs. If Logano comes in with that kind of focus again this year, he might be one of the top Daytona 500 sleepers on the board.
Denny Hamlin just misses the cut for me here. He is another fantastic driver that won the Daytona 500 in 2016, but his odds (+1200) are less enticing.

Jamie McMurray (+2800)
Another past winner that could easily be among the 2018 Daytona 500 favorites is McMurray, who won here in 2010 and has been very competitive (159 top-10 runs) throughout his career.
The 41-year old McMurray hasn't had nearly as much success in his more recent runs at the Daytona International Speedway, but he was involved in a litany of races near the end in 2017, worming his way into the top-10 in 17 different events.
McMurray is priced like a guy who hasn't found much success lately at the Daytona 500, but he's a competitive driver that has won here before. Bettors need to pay mind to him due to the value he's offering on some racing betting sites.

Trevor Bayne (+5000)
Bayne is another past Daytona 500 winner I can't completely ignore. He stole the show at the Daytona International Speedway in 2011 and the 26-year old could easily just be approaching the prime of a brilliant career.
That probably isn't your take away after an up and down 2017 season, but he did finish inside the top-10 six times and cracked the top-15 in 13 events, as well.
Bayne at least hovers around the middle of the pack in a lot of events and after finishing 10th here a year ago, it's not crazy to think he could be gearing up for a big push to start off 2018.

Danica Patrick (+6600)
Patrick is not an easy play, but despite stepping away from full-time racing, she's still going to run at the Daytona 500 and other big events. She not only has never taken first here, but she's also never recorded a single win during her Nascar career.
Some would brush Patrick off due to that, but she actually finished 8th here back in 2013 and stayed in the thick of things for several races (14 runs inside the top-20) last year.
Patrick is far from the most talented driver in this pool, but perhaps the relief of the regular grind could ease things up for her. This is a track she did find success at before and the value is clear to see. She's admittedly a flier bet, but she's certainly an interesting one.

Kasey Kahne (+10000)
Of all the sleepers here, Kahne is the most compelling to me. He's a pretty big name to be sitting in last place in terms of odds.
Kahne has never taken first at a Daytona 500 race, but he has been highly competitive (18 wins, 176 top-10 finishes) throughout his Monster Energy Nascar Cup Series career.
That long string of success extends to 2017 when the 38-year old Kahne took first at the Brickyard 400 and finished inside the top-10 six times, overall. One of those instances was actually at least year's Daytona 500, where he held strong at 7th place.
Kahne is no stranger to success at the Daytona International Speedway, as he owns four career top-10 runs here, including two over his last three tries.
Given his talent and success, Kahne might offer bettors the most bang for their back, overall.
As I touched on before, Nascar tends to be pretty wide open and this field certainly makes that obvious. The top Nascar betting sites like BetOnline don't make it any easier with such tight odds up top, either.
The lack of a clear favorite also intensifies things, but bettors will have some time yet to gauge where they want to go with their cash. While I wouldn't go too hard on any one sleeper listed above, these are some interesting options that could pay off in a big way.