Darren Till vs. Jorge Masvidal – UFC Preview with Odds and Predictions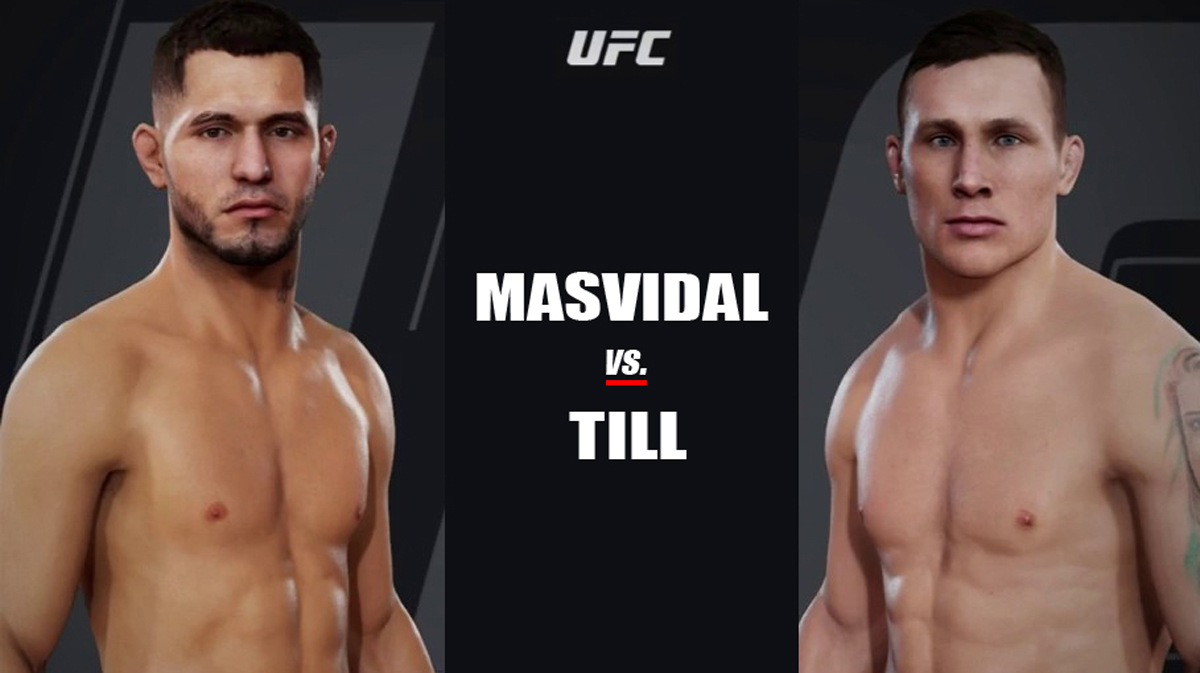 Tyron Woodley has reigned over the UFC welterweight division since July 2016.
It's safe to say that "The Chosen One" has not always seen eye to eye with the promotion's top brass in that time, especially UFC president Dana White.
To some, it would appear that the promotion would favor a fighter in Woodley's position who had more…mass appeal.
Personally, I believe Tyron Woodley to be one of the finest mixed martial artists on the planet and someone who should have a lot more respect from his employers.
The 36-year-old should also have more of a promotional push from the UFC. Of course, those onboard with the theory that the promotion would rather see Woodley removed from his throne would point towards this as another brick in the conspiratorial wall.
When the relatively unknown Darren Till blasted through Donald "Cowboy" Cerrone in Gdansk, Poland, in October 2017, he caught the attention of many.
A questionable decision victory over Stephen Thompson in front of a home crowd in Liverpool in May of last year effectively crowned him as the next hype job of the promotion.
Suddenly, the man to topple Woodley was identified. Thompson couldn't do it in two attempts, and Till beat Thompson. MMA math, right?
Ahead of Till's first title shot at UFC 228, the promotional coverage focused almost exclusively on the unbeaten Brit. Highlight videos and interviews released by the UFC made it seem like he was their man.
It took less than two rounds for Woodley to stop Till in front of a Texan crowd at the American Airlines Center in Dallas. Despite Till looking a couple of weight classes bigger than Woodley, the champ looked incredible.
For Till, the hype train had crashed and was last seen burning somewhere in the Liberty Park area of Dallas.
Darren Till – The Great (Dana) White Hope?
Liverpool's Till is an excellent fighter with great potential. That is clear from watching any one of his fights.
However, he simply was not on the same level as Tyron Woodley on the night. I don't believe Till is on the same level as the champion, period.
Was he fast-tracked to a title shot off the back of two wins? Maybe. Was there a reason Till was favored over other fighters in the division?
It could be argued that Till's ability to promote the sport of MMA in England — and more specifically, the work of the UFC across the pond — could translate to dollars for the promotion. That's understandable.
For those criticizing Till for taking the title shot, who wouldn't in his position? "The Gorilla" also claimed that he didn't ask for it.
I ain't asking for a title shot! It got offered.

— Darren Till (@darrentill2) 19 July 2018
Regardless of the past, Till will now be looking to the future. On March 16, the 26-year-old will lock horns with the dangerous Jorge Masvidal. This one looks to be every inch of the "war" that both men have described it as and will provide the two with the chance of staking a claim for a title shot.
Although he had initially claimed that he would move up to middleweight following his loss to Woodley, it seems he has been persuaded to stay at 170. It's highly likely that a loss against "Gamebred" would see him endure more brutal weight cuts.
Another loss would also severely harm the remnants of the hype built around Till by the promotion.
Is this one do or die for Till? Not exactly, but it could set him back a long way.
Darren Till vs. Jorge Masvidal Odds
Jorge Masvidal to Win
+200
Odds provided by Bovada sportsbook are accurate as of Feb 15, 2019.
Darren Till comes in as the favorite ahead of the UFC's first trip to Britain in 2019.
A $100 bet on Till to overcome the challenge of the dangerous Masvidal (at -260) will return $138.46 ($100 stake and $38.46 profit).
As you can see, MMA betting sites seem to agree that the combination of his skill set, age, and the support of an English crowd will see him past the tough "Gamebred." Till is 4-1 in his last five fights.
Conversely, a $100 bet on Masvidal to win at +200 will return $300 ($100 stake and $200 profit).
The Miami, Florida, native has not fought since dropping a decision loss to Stephen Thompson in November 2017 and is 3-2 in his last five fights.
Let's take a look at both fighters in a little more detail.
Darren Till – Tall, Rangy, and Powerful
Okay, so the bubble around Till being the greatest prospect in years has been burst.
However, it would be unfair to say that he is not a great talent. Till has one major thing going for him in the welterweight division, and that is his size. He's a lot bigger than most of the fighters at 170 pounds.
Much like Conor McGregor did at featherweight, Till crucifies himself to cut weight in order to fight at welterweight. Then again, as Tyron Woodley proved, size isn't everything.
However, with Till coming from England — a country that has no school or collegiate wrestling program — he will always be under pressure against wrestlers. The same applies to McGregor, given that Ireland is similar to England in this regard.
Till's first test against a wrestler was, unfortunately, against one of the best wrestlers on the roster (Woodley). That fight just happened to go down as his first loss. Ironically enough, Woodley relied more on his power to gain the advantage over Till.
Although he has wins over Donald Cerrone and Stephen Thompson on his record, Till's resume is not exactly…premier. The Liverpudlian can only fight who is put in front of him, though.
Against Masvidal, Till will be facing a fighter that is solid. Masvidal's boxing acumen is up there with the best in the UFC, and this will be a test for Till.
Throughout his career in the promotion, Till has fought with a relaxed posture and easy stance. If he leaves his hands down against "Gamebred," this could spell trouble.
In terms of advantages, Till has a slight advantage in height (6ft vs. 5ft 11), no advantage in reach (both 74 inches), but a 42 to 39-inch advantage in leg reach.
Just as Thompson used his leg reach to keep Masvidal from coming in, expect Till to do the same, with a few leg kicks thrown in for good measure.
Jorge Masvidal – A Strong, Punchy All-Rounder
A firm fan favorite, Jorge Masvidal has been a pro in MMA since 2003. Since then, the 10th-ranked welterweight has amassed a record of 45-32-13.
What Masvidal has shown over the years is that he is not extremely skilled in any particular department. In other words, he is a solid all-rounder. That being said, I am a huge fan of his MMA boxing and his ability to throw the right shots at the right time and mix it up a little.
While "Gamebred" has boxed as a professional, his record currently stands at 1-0, which is pretty much negligible.
Another very underrated skill of Masvidal's is his stand-up defense. He rarely gets tagged, and when he does get hit, he is rarely inviting shots or walking into dangerous situations.
While he is not the greatest in the clinch, he does have an exceptional ability to set up counter shots and combinations while under pressure. His understanding of close-range combat is part and parcel of his experience as a brawler.
While Till is unlikely to utilize wrestling against Masvidal — he even went as far as to say that he wanted to "brutally knock Masvidal out in the first round" — he can cause him trouble with his clinch game. Till is the bigger man and has a solid Muay Thai and Luta Livre background.
That being said, Masvidal has a high fight IQ and will only be too aware of what Till brings to the table. If he can anticipate Till's gameplan within the first round or two, you can see Masvidal finding a way to unravel it. Whether that will be enough to convince the judges is another thing altogether.
What Might Influence the Fight
The coaching teams of Darren Till and Jorge Masvidal will be kept busy over the course of the next month or so.
When preparing for a fight, one of the first things to come to mind is the opponent's previous bouts. To be more specific, their wins, losses, and general performances in their fights leading up to this one.
Till and Masvidal have something in common.
Both men have fought Stephen Thompson — one of the best strikers in MMA — and Till beat him (albeit, in controversial circumstances). "The Gorilla" did look better against "Wonderboy" and can take a lot from both Masvidal's and his own performances against him.
As such, I would not be surprised to see Till adopt a similar approach to the one Thompson demonstrated against Masvidal.
Yes, both men fought Donald Cerrone, too, but given that Till blitzed "Cowboy" — and Masvidal registered two rounds before stopping him — the Englishman's team will be the only one studying the opposing camp's fight against the Colorado native.
How Till Can Win
Once again, Till's size and leg reach could very well come into the fray.
The Liverpudlian will be cutting a lot of weight to make 170 pounds but will be hydrated and beefed up come fight night.
Using this weight advantage in clinches can really wear down on Masvidal, but the key to Till grinding a win out by using the Muay Thai clinch with elbows, knees, and pressure will be closing distance.
Masvidal is a smart fighter with a great understanding of distance and range. Just like he did against "Cowboy," the American will be fighting from behind a snapping jab and raising his knee to keep his midriff protected from roundhouses and knees.
Till will likely be aiming to advance on the defense-minded Masvidal behind frequent low kicks and mixed punches. To find success this way, he will need to work on his proclivity of telegraphing his punches. If he is sloppy against Masvidal, he could very well end up walking into a counter.
I believe Till's best chance of beating Masvidal is forcing the fight from the first bell. "Gamebred" will be looking to size the Englishman up from the outside, progressively disrupting him with shots and counters down the middle.
Masvidal has shown in the past that he struggles to capitalize on the advantages he has in fights. He has dropped a few winnable fights in the past due to being too conservative at the wrong times.
Keeping him under pressure, staying active against a fighter coming off the back of a lengthy layoff, and keeping the rounds ticking over will likely be his game plan.
How Masvidal Can Win
Masvidal may have been inactive for a while. He might be coming off the back of two losses. However, he can win this fight.
The great thing about the 34-year-old is that he is always down to fight. He is one of those extremely likable characters in MMA that is a fighter first and last. In the age of self-promotion and over-the-top antics, Masvidal is humble outside the Octagon but a warrior inside it.
Although he lost to Demian Maia and Stephen Thompson in his last two fights, he was 3-0 prior to that, with two knockouts. His performance against Cerrone was a technical masterclass.
By controlling the center and relying on excellent defense and distance management, Masvidal completely negated Cerrone's striking game. If he can adopt a similar approach against Till, he can very well end up with his hand raised at the end of the bout.
Where Cerrone failed against Till was that he allowed him the space to force him backward, eventually ending up against the cage. We have seen the English fighter doing this against other fighters in the past, but he could not do this against Woodley.
Against Till, the champion circled him, using lateral movement to stay out of range. This led to "The Gorilla" chasing Woodley around the cage. What he didn't expect was for Woodley to pounce in and take advantage of his compromised balance, clinching up and actually forcing him backward.
This is where Masvidal will have to back himself in order to win. While Woodley's strength allowed him to rely on his clinch game and hold Till down, "Gamebred" is not as strong. However, he can lure Till in and look to profit from counter shots.
In front of a home crowd — and aiming to set the record straight following his first loss — Till will be amped up. Emotional fighters make mistakes. Masvidal's best chance of winning is to capitalize on these errors.
How the Fight Will Likely Pan Out
I like both guys in this fight.
Till, the up and comer, is an exciting addition to the welterweight division. While he lost to Woodley — one of the greatest welterweights of all time — there is certainly no shame in that. If anything, that experience will serve him well going forward, providing he reacts positively against Masvidal.
I see Till staying true to his word and coming out of the blocks looking to apply the pressure early on. Where he will find it difficult to get his own way is in Masvidal's composure and understanding of range and distance.
The American can really force Till into errors from the get-go, and if he does manage to land a hard strike or two, he could give the Englishman something to think about.
Given that Till is coming off the back of his first loss in pro MMA, he will be more cautious than he has ever been in previous fights.
Losing for the first time can play with a fighter's head and prevent them from taking risks they would have previously.
While I am certain that he will start well, Masvidal's response to early pressure and exchanges could determine whether this fight becomes a game of chess rather than the stand-up war many of us expect it to be.
If Masvidal lands — and convinces Till that he has power in his punches — the fight will be a slow burner.
On another note, I don't believe there will be any takedowns in this fight. This one will stay on the feet, unless either man gets rocked and panics.
The Prediction
I don't believe that these fighters are as mismatched as the odds might suggest.
Till is a big, rangy lump of a welterweight who has solid striking skills and throws with confidence. However, it'll be interesting to see just how much that loss to Woodley affected him.
If he comes out of the blocks fast and manages to catch Masvidal, this could set the tone of the fight. Otherwise, I can see the first round being a "feeling-out" process with the next round up for the taking.
Masvidal will have to prove to Till that he's not rusty following a long layoff. As such, he will need to be sharp from the first bell. I believe he will try to keep the fight in the center of the Octagon and force Till into throwing shots he can counter.
Expect a tough, tactical bout that goes all the way to the cards. It should be a lot closer than some might think.
At the end of the fight, Darren Till should have his hands raised.