Hide Bonus Offers
| | | | | |
| --- | --- | --- | --- | --- |
| #1 | Bovada Sports | 50% Up To $250 | Visit Site | Bovada Sports |
| #2 | BetUS | 125% Up To $2,500 | Visit Site | BetUS |
| #3 | MyBookie | 100% Up To $1,000 | Visit Site | MyBookie |
| #4 | Everygame | 100% Up To $500 | Visit Site | Everygame |
| #5 | BetOnline Sports | 60% Up To $1,000 | Visit Site | BetOnline Sports |
Daniel Cormier vs. Stipe Miocic at UFC 241 – Odds and Prediction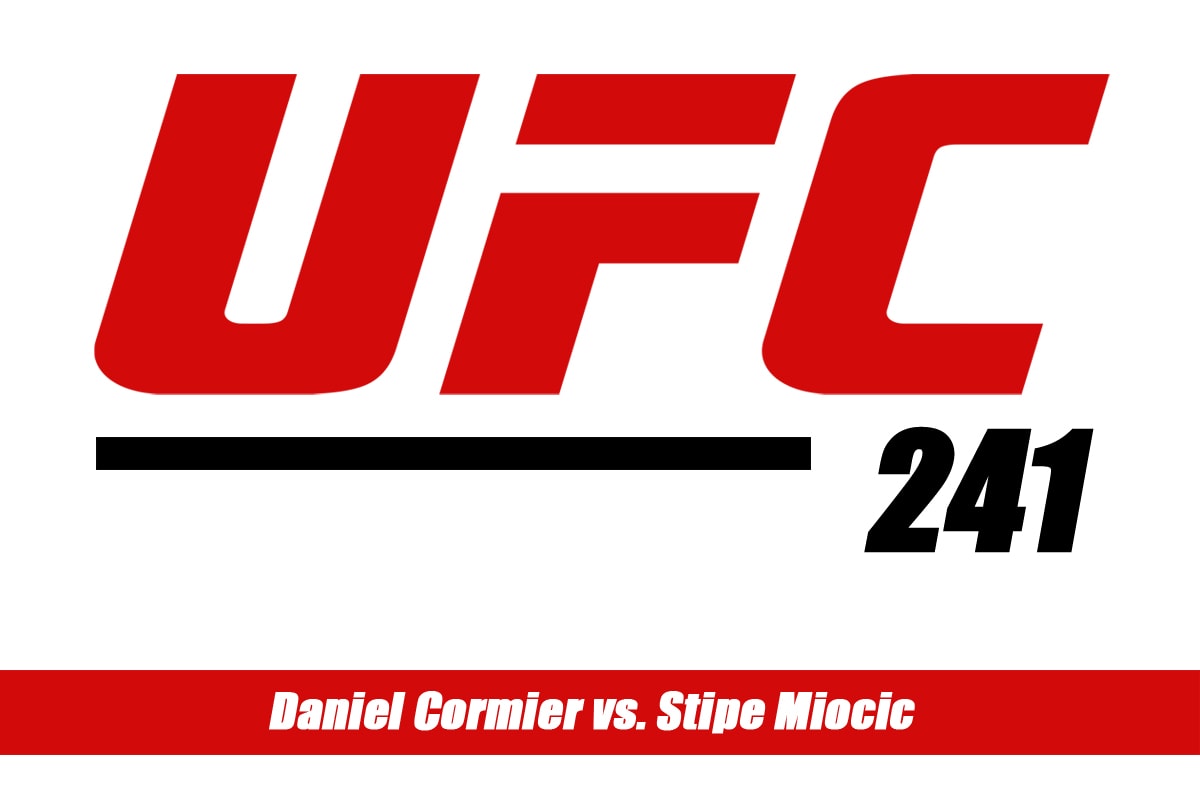 Daniel Cormier is a special fighter.
Having achieved so much in the sport of MMA, Cormier is set to retire at some point in 2019 or 2020.
At 40 years old, one of the UFC's most recognizable faces surely has no more than a couple of fights left in the tank. With a super fight with former UFC heavyweight champion and WWE superstar Brock Lesnar now off the cards, Cormier's options are limited.
And that's where Stipe Miocic comes in.
Miocic is the most successful heavyweight in the history of the promotion, with four successful title defenses. The heavyweight throne has traditionally been the most difficult to occupy, and Miocic stayed there longer than anyone.
The man who removed him from his perch was Cormier — with a showstopping knockout punch — so it only seems fitting that a rematch should happen.
And it has.
UFC betting fans will be licking their lips at the prospect of this contest scheduled for UFC 241 on August 17 at the Honda Center in Anaheim.
Those who want to get in on the action early could avail of some pretty tasty odds. Having looked at the odds for Cormier to defend his title — and Miocic to win the belt back — I can wholeheartedly say that there is a chance to make some profit on this one.
So, let's take a look at the odds for UFC 241's headline bout before I break the fight down a little with an early preview.
Early Cormier vs. Miocic Winner Odds
I have taken these early UFC 241 odds from Bovada. They are accurate at the time of writing but are subject to change.
What do you make of these odds? Tempting, I think.
After all, the closer we get to the bout, the more movement we will see. Sometimes, for this reason, it can be a good idea to get your hands on favorable odds ahead of the bout.
In this case, Cormier is the favorite to win at -145 while Miocic is the slight underdog at +115. For both guys, there will be plenty of fans with at least one reason to believe their man can win the fight.
Cormier is the defending champion. He has a stellar record in the UFC and is one of the true all-time greats in the light heavyweight and heavyweight divisions.
Prior to being beaten by Cormier in their UFC heavyweight title fight in July 2018, Miocic was unbeaten in four years. A fireman on the side, Stipe certainly extinguished the threats of some of the division's most talented fighters.
If you are sure who you are backing in this fight, you might be tempted to get your hands on these early odds. If not, read on, and I'll break down who I think will have their hand raised at the end of the night and why.
First of all, let's have a little look at what both men bring to this fight.
Stipe Miocic – The Greatest Heavyweight of All Time?
Statistically speaking, Miocic is the most successful heavyweight champion of all time, with four defenses.
Now, this isn't a record in the double digits or anything, but hey, it's pretty good for the heavyweight division. I mean, you have to consider the fighters we have had competing at heavyweight over the years to see just how impressive that has been.
For example, Cain Velasquez, Fabricio Werdum, and Junior dos Santos couldn't do better when they were champions, so all props to Stipe.
On that point, Miocic would lose his title to a guy that has been fighting at light heavyweight since 2014. Daniel Cormier started his career at heavyweight, of course, and fought his first two UFC bouts at this weight, but still.
So, while Miocic may not be the best heavyweight in UFC history, he has to be up there with the best.
Agree or disagree?
To those who agree with me, you know your stuff. To you heathens who disagree, let me try to change your mind a little.
What Makes Miocic a Great Heavyweight?
The guy is a fricking firefighter that knocks dudes into parallel universes when he steps into the cage.
A great heavyweight? This guy is a superhero.
Miocic is far from the most marketable UFC fighter of all time, and — in the modern landscape — this can seriously play against a fighter's chances of excelling.
To many fans, Miocic symbolizes the old-school mixed martial artist: the silent type who banishes trash talk and pre-fight theatrics in favor of getting the job done inside the cage.
The problem with this is that the UFC is a business and favors fighters who have more zeal when it comes to self-promotion.
Does this take anything away from Miocic, the fighter? Of course not. The ability to sell pay-per-views isn't always a consistent representation of a fighter's skill levels, but it does help.
What makes Miocic a great isn't how well he can sell himself. It is how consistently good he has been in the UFC's heavyweight division over the years.
Remember, Miocic was the first man in the UFC to beat the colossal Francis Ngannou.
He has four consecutive first-round wins over Andrei Arlovski, Fabricio Werdum, Alistair Overeem, and Junior dos Santos.
Stipe is 18-3 in a division that is dog-eat-dog, to say the least.
Daniel Cormier – The Greatest Fighter of All Time?
Who doesn't like Daniel Cormier?
Well, to be fair, there used to be quite a few fans that didn't.
I guess being the arch-rival of UFC lightweight champion Jon Jones doesn't help that cause, given that Jones was one of the most popular fighters in the history of MMA.
Jones' popularity may have waned in recent times, but it's still very high. Given his troubled past, you would have expected him to be targeted, if not fall foul of the armchair fans who demand blood.
Cormier, however, is more popular than ever.
His only official loss came at the hands of Jones at UFC 182, with a subsequent loss and UFC 214 declared a No Contest following Jones' positive test for banned substances.
With his move into commentary and his heroics in becoming the "champ champ" of the light heavyweight and heavyweight divisions, it seems the 40-year-old is finally getting his props.
Does he enter the conversation as the greatest of all time? Well, he certainly has a case for being considered the best to ever do it. The only bone of contention that some would bring up is that he could never beat Jones.
Controversial, sure.
With a Win Over Stipe…
Well, a win over Miocic would settle, once and for all, who the best heavyweight in the world is at this moment.
The UFC might be thinking a little further down the line, however.
If Cormier can overcome Miocic's challenge, it is highly likely that Dana White and the promotion's top brass would push for a super fight with Jones.
Cormier might consider this as the final chance to prove to the world that he is the best to ever do it. A win over Jones would convince many that he is the G.O.A.T.
A third fight with Jones makes sense for all parties involved.
First things first though, if this is to happen, Cormier will need to be on top of his game to beat Miocic.
Betting on Cormier vs. Miocic
When it comes to comparing boxing fans to their MMA counterparts, you cannot deny who has the better end of the deal.
Cormier vs. Miocic is yet another mega-fight between two of the best in the business, proving that the elite fight the elite on a consistent basis in the sport. The UFC's dedication to putting on the best shows in combat sports might not always deliver, but in this case, it clearly does.
So, the question I have for you here is… who are you backing?
Do you believe Daniel Cormier has the skills and nous to lay a second beating on Stipe Miocic? Or will Miocic get his revenge and his title back in the same night?
While we are a little while away from August 17 yet, there is a clear reason for providing this early preview — the odds.
It can often be a good idea to get in as early as possible when it comes to the big bouts. Odds can be favourable, and as the old saying goes, the early bird catches the worm.
The issue some will have with this bout is deciding which worm demands their bets.
Separating Cormier and Miocic
In all fairness, these two are tremendous competitors and the best in the heavyweight division, in my opinion.
Cormier has always been known as a powerful, astute wrestler, but — as he showed against Miocic in the first fight — he has hands, too.
Although not the most imaginative striker or flashy exhibitionist, Cormier is highly efficient and very adaptable. With a win over Miocic already, he has the mental advantage, making this bout even more intriguing for fans.
Stipe, of course, is a big, bad heavyweight with an excellent understanding of his opponents' strengths.
He is a cerebral fighter with the ability to overcome challenges that others have struggled with, with his impressive soul-taking of Francis Ngannou being the best example.
Stipe is the type of fighter that is just so hard to dislike.
That said, I have to give the edge to Daniel Cormier for the rematch.
Cormier's mental advantage will play a part in this fight, as will his wrestling. In the last fight, he just seemed to have that edge, and I can't see him losing it in the rematch.
I am certain that there will be others who agree with me on this one as we get closer to the fight. As such, you are unlikely to get odds better than -145, so fill your boots if you are backing DC.
Final Thoughts
So, there you have it, boys and girls.
My early prediction for Cormier vs. Miocic at UFC 241 is the champ, Daniel Cormier.
If you like the look of these early odds, why not put your money where your mouth is over at one of the top UFC betting sites out there?