Hide Bonus Offers
| | | | | |
| --- | --- | --- | --- | --- |
| #1 | Bovada Sports | 50% Up To $250 | Visit Site | Bovada Sports |
| #2 | BetUS | 125% Up To $2,500 | Visit Site | BetUS |
| #3 | MyBookie | 100% Up To $1,000 | Visit Site | MyBookie |
| #4 | Everygame | 100% Up To $500 | Visit Site | Everygame |
| #5 | BetOnline Sports | 60% Up To $1,000 | Visit Site | BetOnline Sports |
D'Angelo Russell Free Agency Betting – Is He Staying Put in Brooklyn?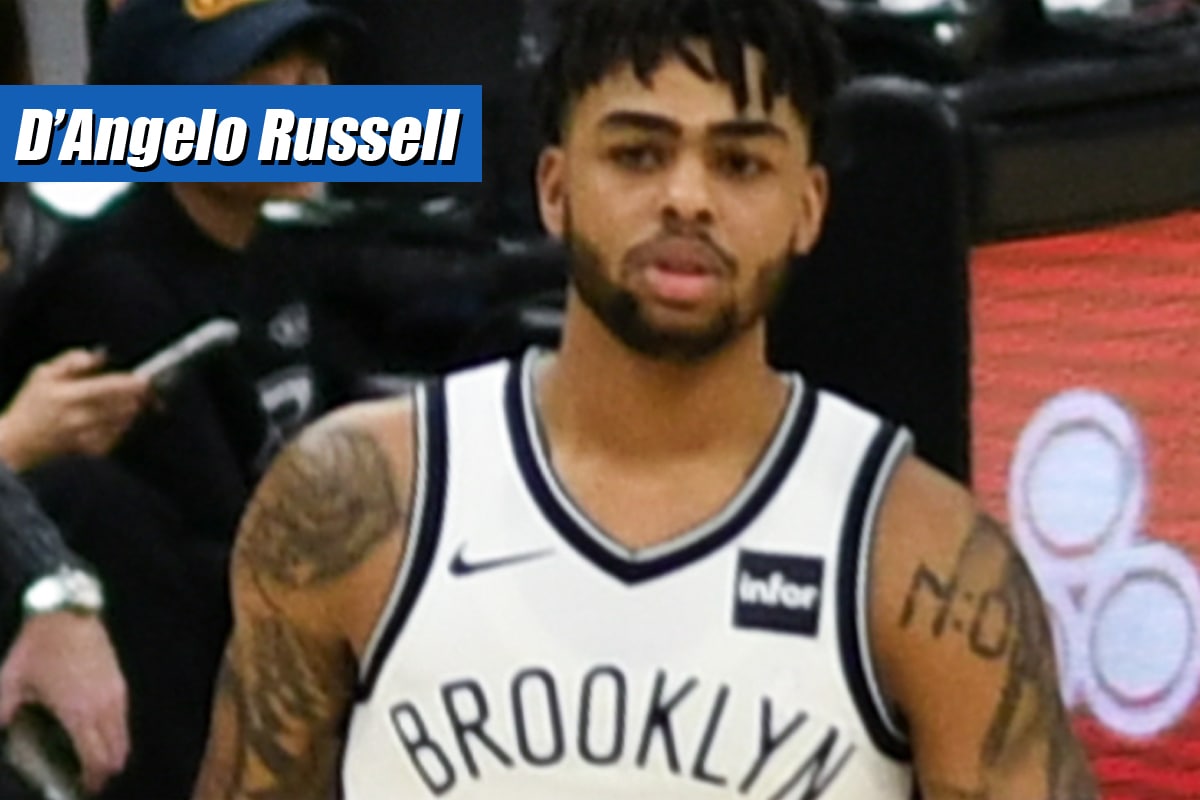 First, it was Magic Johnson who felt the pain. Now it's the entire Lakers fan base that has boiled over in frustration.
Los Angeles fell in love with D'Angelo Russell in 2015, drafting the highly-touted freshman out of Ohio State with the second overall pick in that summer's draft.
After just two seasons that weren't up to par, the Lakers organization gave up on a kid who was just 21 years old at the time, packaging Russell with Timofey Mozgov and sending the pair to Brooklyn.
As a result, the Lakers could only watch D'Angelo flourish in a new city.
Now a restricted free agent and coming off a career year, I have to imagine Russell's services will be highly sought after. The question is, where will he land?
D'Angelo Russell Odds – Who Has Interest?
The Nets were supposed to be one of the laughing stocks in the league but instead stormed into the playoffs in large part due to Russell's stellar play.
Forget about his recent citation for marijuana possession at LaGuardia Airport. That won't be enough of a red flag to scare any pursuer away. As you can plainly see by what the top NBA betting sites are offering, the Nets are still the front runners when it comes to where Russell will end up playing during the upcoming season.
There are a few interesting landing spots I could potentially see, although I need to point out why Brooklyn will have the leg up.
Is It Already a Done Deal That Russell Stays in Brooklyn?
I wouldn't say it's a done deal, but I would certainly agree with the bookies that it's the most plausible outcome. Not only did D'Angelo play terrifically for the Nets and have his best year yet, but he also stayed healthy and started 81 regular season games.
To put things into perspective so that you can see just how fantastic Russell was in 2018/2019, consider that he notched career highs in the following six categories.
Points per game 21.1
Assists per game 7.0
Rebounds per game 3.9
Minutes per game 30.2
Field goal % .434
3-point % .369
I also need to unveil that Brooklyn carries a distinct advantage over every team in the league when it comes to signing D'Angelo Russell this summer. Because Russell is a restricted free agent, that means that if any team decides to sign D'Angelo to an offer sheet, the Nets have the opportunity to match the deal within 48 hours.
In a nutshell, an NBA team can offer Russell a contract, and D'Angelo can choose to sign, but the Nets get a full two days to figure out if they want to match the deal (and retain his services) or let the point guard walk.
Here's the kicker and what could end up throwing a kink into any plans of Brooklyn maintaining Russell.
D'Angelo played well enough in 2018/2019 to come close to warranting a max contract — especially from a team who has money to spend and is desperate. Can Brooklyn really afford to cough up top dollar, especially if recent reports of Kyrie Irving signing with the Nets are a real thing?
There is no doubt that a backcourt combo of Irving and Russell could do some damage, but making the financial numbers work would mean sacrificing in other areas. Personally, I think Kyrie lands elsewhere, and Brooklyn focuses their efforts on clinging to D'Angelo.
The Nets might seem like the favorite at this point, but look out for some of the non-playoff teams to throw their hats in the ring.
Do the Mavericks Have Interest?
The Dallas Mavericks will be one of the more intriguing teams to follow this summer. We know all about their rookie sensation Luka Doncic, not to mention that Mark Cuban acquired Kristaps Porzingis from the New York Knicks on January 31st.
Well, I'm in the camp who thinks the Mavericks will land Kemba Walker this summer. I believe that uniting the scoring PG with the pair of international superstars who are already in the Big D is the main objective for the Mavs, although I could certainly be wrong.
Maybe D'Angelo is a better fit than Kemba after all?
Opting for a 23-year-old point guard who stands at 6'5" might make more sense than pursuing someone who is 29 and just 6'1". I'm just not entirely convinced that Mark Cuban would be on board offering a max deal to Russell given his baggage.
And right now, it's looking like a max deal will be the only thing that can pry Russell away from Brooklyn.
Will D'Angelo Russell Figure Into the Knicks' Summer Plans?
At +400 on the betting sheet, it appears that D'Angelo Russell to the Knicks could be a possibility. With that being said, here is what needs to happen in order for that scenario to play out.
Let's assume that Kemba Walker signs with Dallas or stays in Charlotte, and let's pretend that the Knicks go after Kyrie Irving. Well, let's say that Kyrie elects to sign with Brooklyn instead….
That wouldn't just open the door for a potential Russell-to-New York deal; the gates would burst open.
The Knicks have an abundance of cap space, they're going to wind up with one of the first few picks in the draft, and they play in the biggest media market in the country. Who wouldn't want to come play in the Big Apple, aside from the obvious answer of having to be employed by the most incompetent owner in professional sports!
Add everything up, and I think the most likely sequence of events is the following.
Kyrie ends up playing in Madison Square Garden, which would push D'Angelo closer to a return to Brooklyn.
Are the Phoenix Suns in Play?
Yes, they are, but only if Brooklyn hits on one of the big-time free agents this summer. If Nets GM Sean Marks swings and misses with the likes of Kevin Durant and Kyrie Irving, then it's nearly a foregone conclusion that D'Angelo stays in Brooklyn.
However, if the Nets end up inking Kyrie to a max deal and decide to move on from Russell, the Suns would be a logical landing spot. Phoenix would have to get creative and move some money around, but it's already "out there" that Devin Booker and D'Angelo Russell would love to team up.
When asked about that concept, Booker responded,
"I would love to play with him. He makes people around him better. He's a dynamic player. He has the utmost confidence in himself that I don't think will change ever. That's why we have the relationship we do."
This isn't just a one-sided friendship, either. When questioned about the possibility of playing in Phoenix, D'Angelo confirmed the theory that he and Devin would love to join forces.
"Wow. I mean, you never know. It's not something I really can control. But no one would have ever thought KD and Steph would be on the same team either. When you come from a long relationship, if you end up on the same team one day, that would be really great."
I think Russell's heart is in Brooklyn, but I'd be lying if I told you I don't think he contemplates what playing with Booker in Phoenix would be like. Deandre Ayton showed promise as a rookie, and the Suns have a plethora of young pieces to build around.
Retaining Kelly Oubre Jr. is still up in the air, but keying in on D'Angelo Russell could be the major step that GM James Jones decides to take.
D'Angelo Russell Will Sign With…
There are so many moving parts to this decision that it's impossible to know anything for sure in the month of May. Nonetheless, when it's all said and done and rosters are shaping up in July, I imagine we'll see D'Angelo Russell remaining in Brooklyn.
I unequivocally believe that the Nets will be vehemently trying to lure in one of the other household names, specifically Kyrie Irving. Even still, D'Angelo could end up playing alongside another superstar in one of New York's five boroughs and not end up changing jerseys.
The payout is much more rewarding should you correctly predict him landing in another city, but my gut tells me that Russell will be wearing #1 in Brooklyn during the upcoming year.
The Rehash
The frenzy of player transactions in the NBA is going to be off the charts this summer. With so many massive names hitting the market, there are countless developments that could pan out. The interesting thing here is that much of what transpires will directly impact where D'Angelo Russell winds up.
It could be either of the New York squads, and it could very easily be the Mavs or the Suns. Heck, the Bulls are set to reconstruct their roster, and the Clippers have ample cap space to make an aggressive offer.
You'll just have to wait and see what happens!