Hide Bonus Offers
| | | | | |
| --- | --- | --- | --- | --- |
| #1 | Bovada Sports | 50% Up To $250 | Visit Site | Bovada Sports |
| #2 | BetUS | 125% Up To $2,500 | Visit Site | BetUS |
| #3 | MyBookie | 100% Up To $1,000 | Visit Site | MyBookie |
| #4 | Everygame | 100% Up To $500 | Visit Site | Everygame |
| #5 | BetOnline Sports | 60% Up To $1,000 | Visit Site | BetOnline Sports |
Dallas Cowboys vs. Los Angeles Rams – Odds, Predictions, and Pick for Betting the 2019 NFC Divisional Round Matchup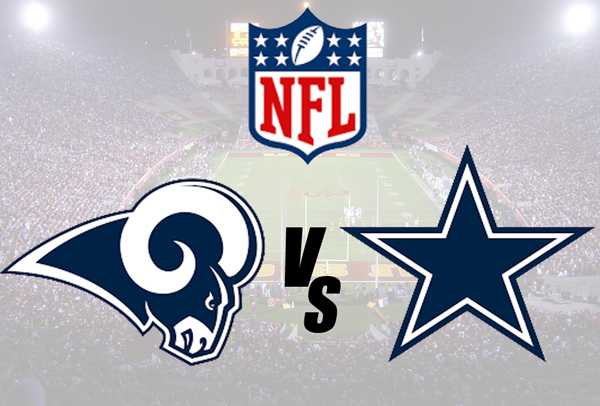 The NFL finally learns if the Los Angeles Rams are true contenders and if the Dallas Cowboys are just pretenders.
These two face off in LA this weekend, as Sean McVay's genius tries to power the Rams to their first playoff victory since 2004.
If the Rams win, all of the praise surrounding McVay and this stacked Los Angeles squad is validated.
Suddenly, a rematch with the Saints in New Orleans (supposedly) would be must-see television, pitting the two best NFC teams against each other for the right to go to Super Bowl 53.
Of course, Dallas might have something to say about that.
I have an idea as to how I'd pick this game, but two heads are better than one. Welcome Michael Wynn as he joins me and provides his own take on the best wager for this Rams vs. Cowboys showdown.
Dallas Cowboys vs. Los Angeles Rams Matchup
Records: Dallas Cowboys (10-6), Los Angeles Rams (13-3)
Where: LA Memorial Coliseum
When: Saturday, January 12th – 8:15 pm ET on FOX
Dallas Cowboys
The Cowboys have a compelling narrative. They have stormed back since an ugly 3-5 start, winning eight of their last nine games and looking more and more like a title contender in the process.
The rise of Dak Prescott has put them on the map, as the previously beleaguered passer has made strides ever since the team swung a trade for star wide receiver Amari Cooper.
In fact, the Cowboys are 8-2 since that deal with the Oakland Raiders, and it's given them more explosiveness and greater balance on offense.
While that Prescott and Cooper connection could be a reason to buy Big D, their steady defense and elite rushing attack continues to be their bread and butter.
Los Angeles Rams
LA plays host with a 7-point edge and looks like a difficult matchup for the Cowboys on paper.
Todd Gurley does not have an easy matchup against the Boys' solid run defense, but he's automatic in the red-zone and is as good of a dual threat out of the backfield as anyone.
The Rams balance things out with a very capable passing game. Jared Goff regressed down the stretch without the help of slot demon Cooper Kupp, but he's still a quality passer, and he's blessed with fantastic weapons in Gurley, Brandin Cooks, and Robert Woods.
Josh Reynolds has popped up as a solid scoring option and may end up being this offense's x-factor when all is said and done.
That's especially true due to the Rams operating with three-wide receiver sets more often than not, which could end up pulling the Cowboys away from their more effective base 4-3 defense.
If Dallas is taken out of their comfort zone and/or they struggle to dictate the tempo of this game, that could play directly into the hands of the Rams.
Dallas Cowboys vs. Los Angeles Rams Betting Lines and Picks
Noah Davis' Pick
There could be a lot of offense in this one, as the Rams are rather dynamic offensively. They can run it down your throat, and they can torch you through the air. It should shock nobody that they rank inside the top five in both areas, and even with a tough matchup, they look like the natural aggressor in this one.
Suffice it to say, Vegas has it right that the Rams should be the favorites. They did fall flat in the playoffs last year, but they were a staggering 7-1 at home this season, and they've yet to really show their potential on defense.
Offensively, the Rams have the edge and should be able to push the Cowboys. Dallas has not been nearly as reliable on the road this year (3-5 straight up), and their points per game drops from 21 to 17. They have to dictate the pace by running the ball and playing stingy defense to really have a shot here, but chances are the Rams will get them out of their comfort zone.
I think both teams can create mismatches, and the Cowboys have enough to keep it tight even if this gets away from them a bit. They also are still in play for the upset. Due to LA's offensive upside, the over is also quite viable.
Ultimately, though, I trust the Cowboys to at least keep it close. The Cowboys were 4-3 against the spread as road dogs this year and 6-3 ATS as flat underdogs. The Rams, as dominant as they were at times during the regular season, were a middling 7-8-1 against the spread overall. LA was also just 3-4 against the spread at home and 3-4-1 ATS when favored there.
All of the data leads to a closer-than-expected game, and I honestly wouldn't be that shocked if Dallas somehow pulled out a win.
PICK
Dallas Cowboys (+7)
-101
Michael Wynn's Pick
I would be surprised if the Cowboys somehow found a way to emerge from this game victorious, as I just think Sean McVay will be too prepared to let that happen. But it's hard to argue with some of the points that Noah made about the Dallas D being persistent enough to at least hang around.
It seems that ever since Cooper Kupp was lost for the year, this offense just really hasn't been the same. Jared Goff still has ample weapons, as ND alluded to, but I imagine that Rod Marinelli and Kris Richard will be doing everything they can to take Todd Gurley out of this game.
Even though I wouldn't consider Dak Prescott an elite talent at the quarterback position, I can't deny his ability to make plays when his team needs him most. Los Angeles finished the regular season ranked 23rd in rushing yards allowed (122.3), and we know what Ezekiel Elliott brings to the table.
I like the Rams to win this one, but if you can lock the Cowboys getting a full touchdown, that's probably the most logical play, especially considering we only have to lay -101.
PICK
Dallas Cowboys (+7)
-101
Summary
The analysis isn't the same, but the end result is. Both Michael and I tend to agree that the Rams are the straight-up winner to get behind here, but this will not be an easy game for them.
The Cowboys have that classic playoff formula for success. They defend well, the passing game makes timely plays, and they can run it down your throat. Against an underperforming LA defense, Dallas is a threat to make some serious noise in this one.
I think there are multiple bets to look at here, but the best figures to be Dallas against the spread. Considering what they're capable of, Vegas is favoring the Rams a bit too much.