Daily Fantasy MMA Picks for UFC on ESPN 23

Anything compared to UFC 261 is going to be a downgrade, so it only makes sense that the latest installment of UFC Fight Night feels pretty "meh".
I won't be too shocked if this event is a bit of a wash when it comes to MMA DFS either, seeing as last week's MMA DFS picks were a smashing success.
Five of my six fighters scored wins. One was a bit lucky, but the rest were dominant, and hopefully you made that one necessary pivot to win all the money.
Had you backed my daily fantasy MMA picks in the MMA betting scene, you could have found your way to some more cash.
Adam Haynes has you covered there in his UFC on ESPN: Reyes vs. Prochazka predictions, and I'll break things down in the fantasy realm.
With that, let's explore the best MMA DFS picks and top lineup for UFC on ESPN 23.
Sean Strickland ($9.2k)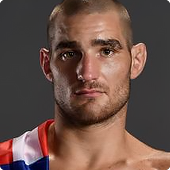 I'll start things off with my favorite fighter at UFC Vegas 25, and that's the highly skilled Sean Strickland.
Strickland has looked good after returning from a long layoff. He's 2-0 since coming back, and in his last bout he was rather convincing with a round two finish of Brendan Allen.
If you weren't quite sure about Strickland's comeback, you are now. He's pricey due to his talent level and upside, as he offers major stoppage ability.
The matchup with Krzysztof isn't the easiest, but he's not nearly the threat to finish this thing early.
Strickland is the superior fighter standing up, and he offers more upside. That makes him a good bet, and it makes him one of the top MMA DFS picks of the slate.
Dustin Jacoby ($8k)
I'll drop down and get a solid value play in Dustin Jacoby for my second MMA DFS core pick.
He's facing the volatile Ion Cutelaba, who is just $200 more, so you really can financially go either way as you build your daily fantasy MMA lineups.
To be frank, if building multiple lineups, consider one being the same as my final squad, but with one variation; flipping from Jacoby to Cutelaba.
That said, if I am only building one MMA DFS lineup, I want Jacoby. He's the better striker, he's more controlled, and he's shown better form.
Cutelaba really pushes the pace and is the more aggressive fighter, and that is a big reason why he's the favorite at the best sites for betting on the UFC.
However, his style leaves him open to a lot of damage, and that's where a Jacoby KO could factor in.
I think playing both sides of this bout makes a lot of sense if you're rolling out multiple MMA DFS lineups, but I prefer Jacob's control and striking here.
Dominick Reyes ($7.9k)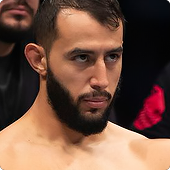 You can drop down for further savings with Reyes, who feels overlooked here as a mild underdog against Jiri Prochazka.
I won't sugarcoat this one; Reyes got dropped by the nasty Jan Blachowicz, and now he has a stiff test in the explosive Prochazka.
While it is a tough matchup and he's the underdog, let's be real about two things; losing to Blachowicz in any fashion is far from embarrassing, and this guy just hung tight through five rounds with Jon Jones.
Some even felt Reyes should have won that fight, and these two sobering (but totally understandable) defeats follow a perfect 12-fight winning streak where Reyes scored nine finishes.
It's totally possible Reyes is about to endure a free fall after building himself up – and Jiri is a monster – but this guy was an established, impressive 12-0 before two of the toughest fights of his life.
The value, talent, and upside are all too alluring for me here.
Top MMA DFS Lineup for UFC Vegas 25
Sean Strickland ($9.2k)
Dustin Jacoby ($8k)
Dominick Reyes ($7.9k)
Gabriel Benitez ($8.8k)
Giga Chikadze ($8.6k)
Felipe Colares ($7.5k)
You have my UFC Vegas 25 core MMA DFS picks to work with.
I think there is a lot of volatility in some of these fights, so keep in mind that flipping some of these matches (especially ones where the pricing makes it so easy) is encouraged if you're making a lot of lineups.
That said, the three fighters I broke down are the trio I'd start with, and you can branch out from there.
My final three MMA DFS picks start with Gabriel Benitez, who could easily be among my core plays when you look at his elite finish ability (18 career wins by stoppage).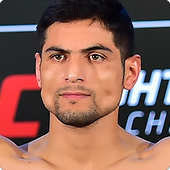 However, some of his fights can go the distance, and his recent form (4-4 over his last eight fights) doesn't really pop off the page.
That said, Benitez got it going again with a KO win over Justin Jaynes in his last bout, and he's the superior fighter on the feet as he faces Jonathan Pearce.
Pearce has a real shot if he can get this thing to the floor, but Benitez's advantage standing up should be the deciding factor.
Chikadze is on a roll (5-0) in the UFC, and he just got a finish in his last fight. He gets the seasoned veteran in Cub Swanson, who could keep this thing alive and force a Decision, but is pretty unlikely to win by stoppage.
The more aggressive, higher upside play is undoubtedly Chikadze. I think he's a strong bet to win by Decision, but he also has some KO potential here.
Lastly, you can fire up Colares, who honestly has a decent shot at taking out Luke Sanders. The matchup could favor him, as he has a strong floor game, and Sanders hasn't been great defensively lately.
Sanders is obviously the bigger name, but his recent form (2-4 over his last six fights) is highly questionable. He's still a dangerous striker, but the takedown defense and inability to get out of jams is troubling.
Three of his last four losses have come via submission, so he's a real risk to be taken out on the ground again.
Betting Advice for UFC Fight Night: Reyes vs. Prochazka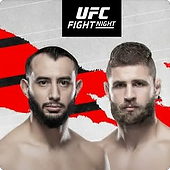 If you're looking to bet on this weekend's UFC event, I'd first check out everything Adam Haynes has to offer in our UFC betting picks section.
I already linked to this week's betting preview at the top of this post, but Haynes also issues individual fight breakdowns.
While I'd defer to Haynes for strict MMA betting advice, I do think you can still use my MMA DFS picks and logic to bet on the UFC.
I target high upside plays or fighters I believe will win, so depending on the pricing, that could really hammer home the notion of backing a favorite or targeting an underdog.
You know who I like based on my daily fantasy MMA picks above, and my lineup can help you in DFS and assist you with your betting.
Whatever path you take, I hope it leads to a win. Good luck and enjoy the fights!