Current Best Sportsbook Promotions You Need to Take Advantage Of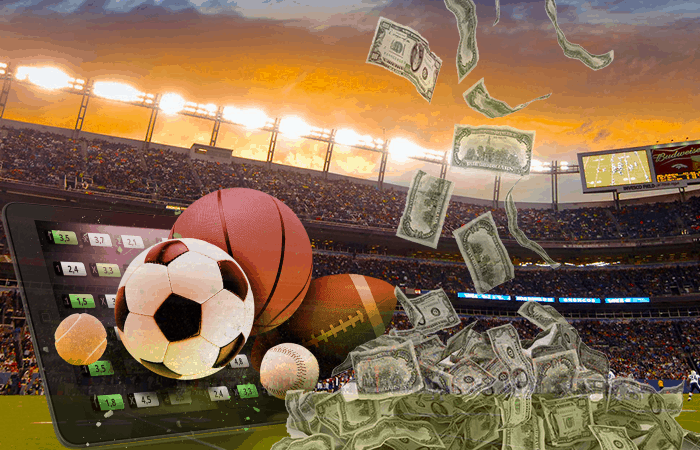 There are a handful of things you should really care about when gambling online. First, you always want to be safe. Whether that means choosing a site you trust or just keeping yourself in line, you always want to make sure you're not betting in a bad environment or betting with money you can't afford to lose.
A second thing is value. Whether it's the best wager types, the best odds or site withdrawal, and deposit fees, you always want to make sure you're getting the most bang for your buck.
Thirdly, you want all of the promotions.
It's funny, but it's also flat out true. The top online sportsbooks offer killer bonuses and promotions to repay their loyal customers, while they also know how to offer promos that are going to make you want to be a customer.
The first two things we touched on are probably more important than anything else, but once you have a handle on where to play, how to play and how to locate the best value, promotions then reign supreme.
Those said promotions can change from week to week and month to month, so it's always a good idea to check up on your favorite betting sites to see what they're offering. Luckily you have us to do that for you, as we've corralled some of the best sportsbook promotions that are currently running.
Bovada
Bovada is one of the best multi-purpose sportsbooks online right now. They haven't been around all that long, yet their pristine customer service and strong lines have quickly made them one of the best sites to bet on.
Another stellar aspect that helps prop them up is their sweet promotions – and they have a few to stop and take a look at.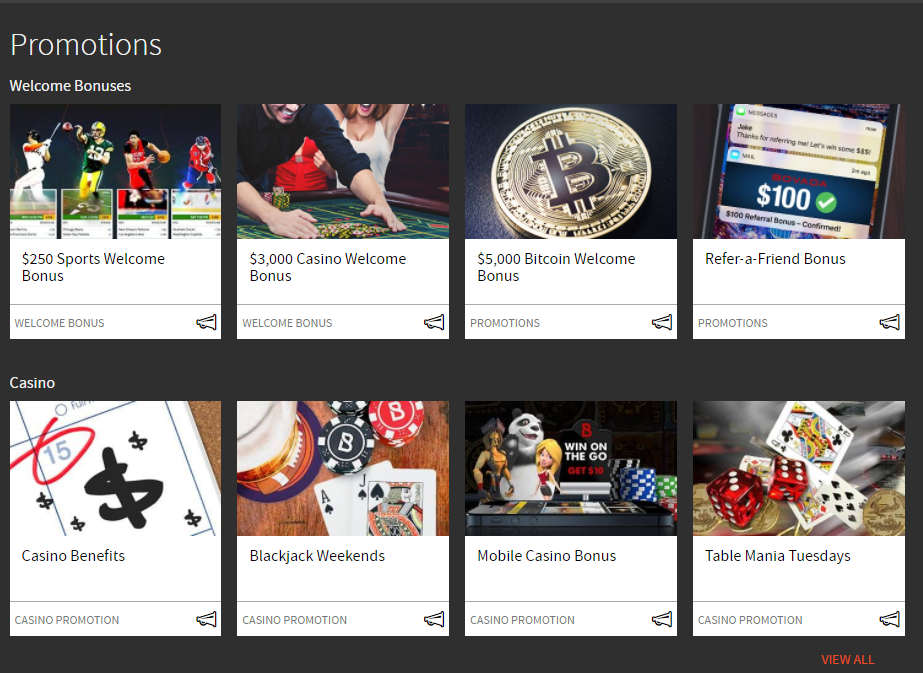 $250 Sports Welcome Bonus
Bovada currently has a fun sportsbook promotion, where you redeem the bonus, deposit your cash and receive 50% back – up to $250! And if that's not good enough, as of August 18th, it will be increasing to 100% up to $250!
This promotion is only for new users on their first deposit, but it's still a great draw for anyone new to the sports betting realm. Not only do you get an incentive to dive into sports betting head first, but you get rewarded with a fistful of cash if you deposit a big dollar amount.

$5,000 BitCoin Welcome Bonus
BitCoin is the easiest (and best) way to deposit and withdraw money and Bovada wants you to use it to make the entire process simpler. Bovada offers two different BitCoin bonuses, which can be used to bet on sports or to play in their online casino: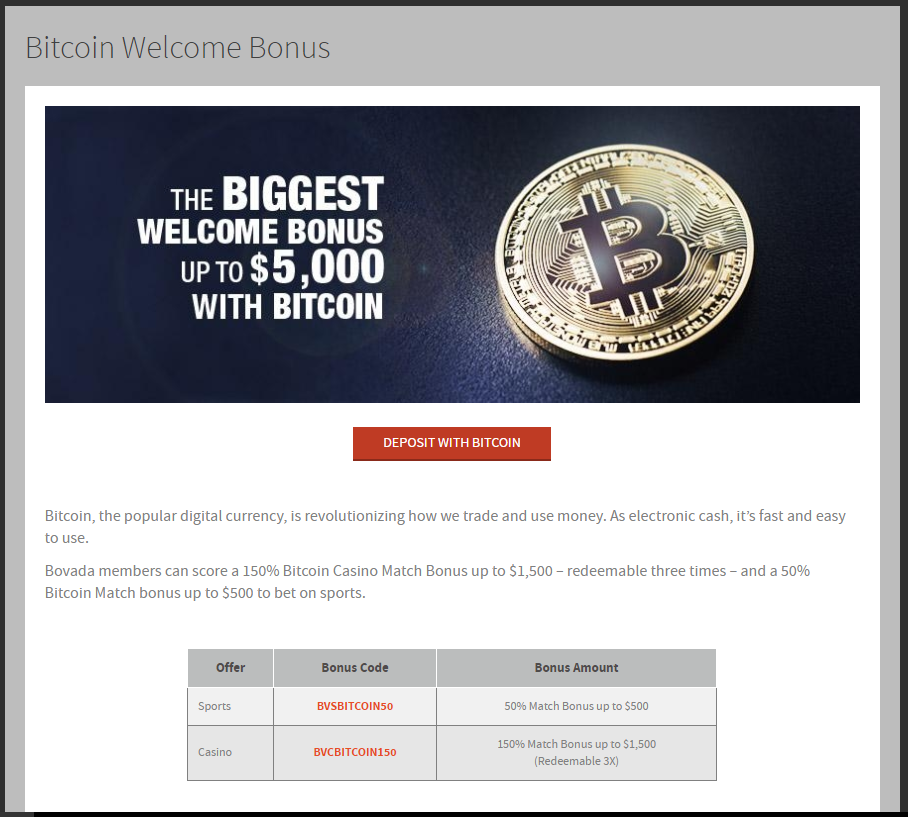 Using BitCoin is the popular route for quick, easy payment processing and you get rewarded for doing it. It doesn't get a whole lot better than that.

Refer-a-Friend Bonus
Most betting sites off some type of "word of mouth" promotion and Bovada is no different. Once you get situated at the site and confirm you like what they have to offer, you can then benefit by spreading the positive word to your friends.
You'll get more than a handshake or a "thank you" text from your pals who go on to win big at Bovada, too. Instead, Bovada will award you up to 200% of your friend's initial deposit (up to $100) and for a limited time only, you can even be entered to win tickets to the huge August 26th bout between Conor McGregor and Floyd Mayweather Jr.!

$10 Mobile Bonus
This one is a bit of a catch-22, but it also works with the old adage "you gotta spend money to make money". Bovada obviously wants you to check out their sweet mobile digs, and if you do that (and then wager $250) you get $10 back for free.
Bookmaker.eu
One of the most reputable online betting sites, Bookmaker has been around forever and continues to impress with stellar promotions.
A site with this type of longevity, customer service, and betting value really doesn't need to offer much incentive to bet, but Bookmaker goes that extra mile, regardless. Here's a look at their top promotions right now:

Welcome Bonuses
Bookmaker currently offers two fantastic welcome bonuses, with new users being able to get 50% cash back on deposits up to $1,000.
Users can also take advantage of the Bookmaker 50% + 50% bonus, which offers 50% return on deposits of $300 or more for each section of the site.

BitCoin Free Play Bonus
Users can benefit from using BitCoin deposits, as BitCoin will give back a 100% Free Play up to $1,000 with deposits done with BitCoin. This reward is subject to a 20-time rollover, but still, gives users a huge free play when they deposit with the best payment method there is.

$25,000 Streak Challenge
In the same vein of ESPN's "streak for cash", Bookmaker rewards users that get on hot streaks with their $25,000 Streak Contest.
This isn't just a one-off run for the best streak, either. Bookmaker hands out cash for 5, 9, 13, 17 and 21 consecutive picks and also hands out a $1,000 monthly prize to each month's user with the most wins.
The best part? It's completely free to enter. It's always fun to deposit cash, bet and win, but it's even better when you can rack up earnings without spending a dime.

BetPoints Rewards
Beyond their Streak Challenge, Bookmaker pays their loyal users back with a rewards program, as well. Users can earn up to 8% back daily depending on how much they play, whether it be operating in Bookmaker's casino or betting on sports.
It's not necessarily all about getting money back, either. BetPoints can be redeemed for various prizes like gift cards, airline miles and more.
In addition to winning back cash and prizes, BetPoints Rewards members also qualify for free contests and payouts. All it takes is a one-time deposit of $300 or more and you can benefit from the BetPoints Rewards program, too.

Horse Rebate
Love to bet on horse racing? Bookmaker is a great place to do it, as users basically get paid to place bets. Bookmaker gives back up to 8% daily via this rebate, win or lose.

Refer-a-Friend
Bookmaker is another betting site with a sweet Referral program, as you can clue all of your buddies in on this great betting site and make money every time they sign up.
They do have to pass the signup requirements to activate your bonus, but you can make up to $500 per friend.
Topbet.eu
Topbet is another strong online betting site where you can find sports wagers you otherwise wouldn't find anywhere else. Like the other sites on this list, they're also very reputable and easy to trust.
On top of solid betting value and elite customer service, Topbet.eu is another site that offers some solid promotions:

Welcome Bonus
New users receive a nice welcome bonus, 100% matching their deposit, up to $1,000. This welcome bonus is subject to similar rollover requirements you'll find elsewhere, but that's still a nice chunk of change you could get back and the site 100% matching your deposit is always nice.

Free Bets
All users that join and deposit get weekly free bets, ranging from $5 in Topbet.eu's online casino to $10 for sports betting purposes. These aren't massive handouts, but after your initial deposit runs out, it's nice to see paying customers get a little something thrown back their way every week.

Free Contests
On top of the weekly free bets, Topbet.eu also issues a litany of free contests. Users don't have to pay at all to play and they range from special free contests to specific free bets on marquee sports matchups.

Cash Back Rewards
Topbet.eu users can also earn cash back just by playing in the site's online casino. For every hand of Blackjack or pull of the slots, they earn money back. It sounds cliche', but it really does "pay to play" at Topbet.eu.
MyBookie.ag
We get another top notch betting site with My Bookie, which offers a wide array of sports betting opportunities, along with an online casino.
My Bookie offers some of the best odds in the industry, but they're also known for some solid promotions:

Refer-a-Friend
MyBookie.ag has one of the better Referral programs around, as you get 100% of whatever your friends deposit the first time they come to the site. That is capped at $100, but depending on how many friends you refer and how much they deposit, you could clean up pretty quickly.
There is even serious incentive for the pal you're referring, as referred friends can earn up to $4,500 in future bonuses on the site.

All of the Bonuses
You can gauge on your own which betting sites offer the best bonuses, but there is no denying the fact that My Bookie offers a slew of them.
We've got the 50% sign up bonus, a 100% casino sign up bonus up to $300 and a 25% reload bonus up to $300.
These are pretty mainstream bonuses that you can find anywhere, though. What sets My Bookie apart are their separate, unique bonuses like the Steam Your Streak bonus that hands out $25 free plays when users get 10 correct bets in a row and $50 free play bets after 25 correct picks.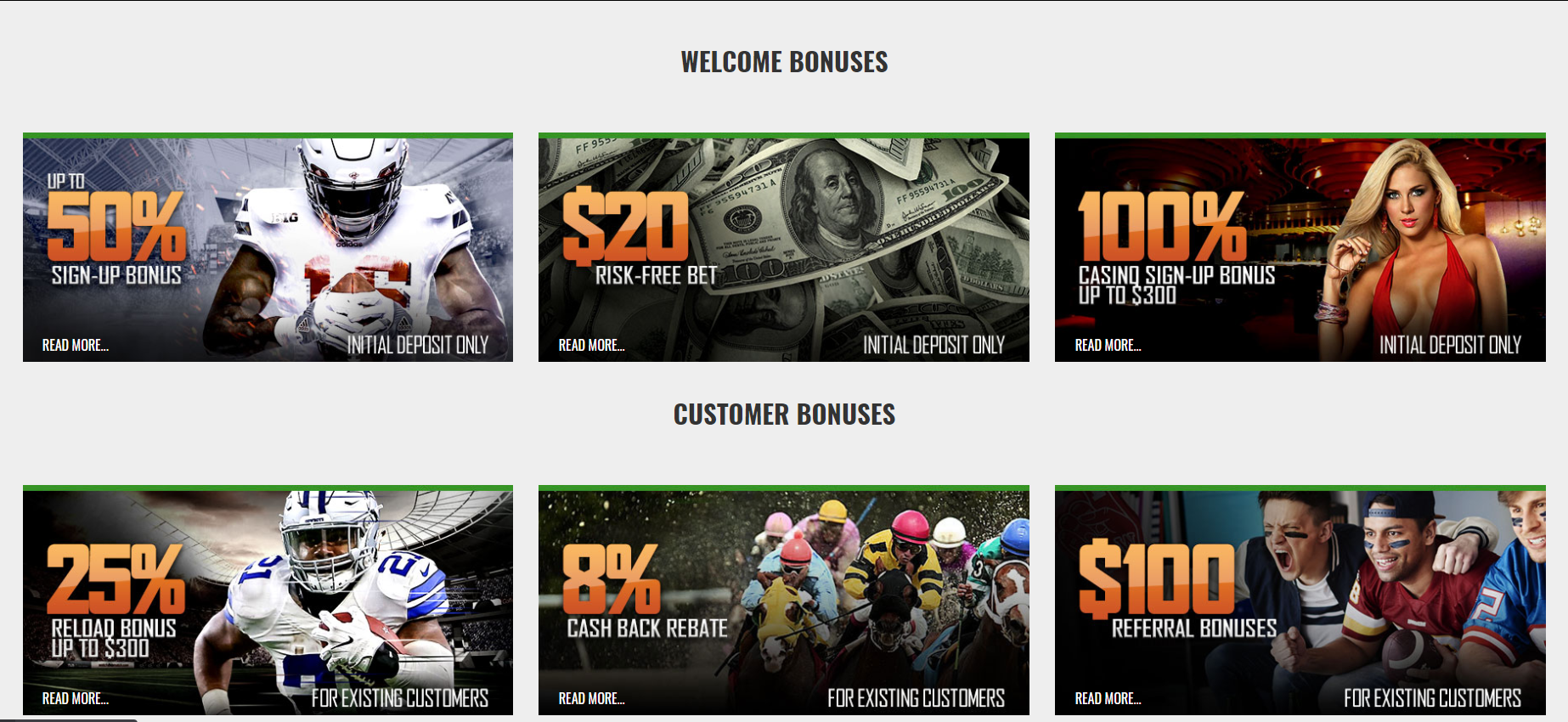 There's more, as My Bookie saddles up with you and has your back when you're stuck in a rut, too. Their Snap Your Skid promo gives users who endure 10+ bet losing streaks $25 free to get things back on track.
For players that keep depositing without taking their money out, MyBookie.ag offers a fun promotion. Users that deposit 10 consecutive times without taking cash out get their 11th deposit free and it equates to the average of their previous 10 deposits.
Normally 10 straight deposits without a withdrawal means you're not winning, but if you want to rack up the cash and take advantage of this killer bonus, it might be worth considering.
The list goes on at My Bookie, which provides an MMA/Boxing Bad Beat Special, Fresh Start and Refund bonuses. No matter which path you take, My Bookie seems to have you covered.
Sportsbetting.ag
This is another high profile betting site where you can wager on sports, play poker and participate in online casino games. Whatever your online betting fancy is, odds are you'll find it at Sportsbetting.ag.
As diverse as this site's betting opportunities are, they're just as good in the promotions department:

100% Welcome Bonus
A lot of these sites tend to reward new users more than existing users, which is only fair as they try to bring in more business. That still doesn't take away from another strong welcome bonus at Sportsbetting.ag, where they offer a 100% bonus up to $1,000 in deposited cash when using BitCoin.
Users that have yet to deposit via BitCoin are encouraged to do so, as their deposit ($20 to $1,000) will be fully matched.
There is also a 75% welcome bonus that exists outside of BitCoin, where new users that are making their first deposit on the site use the promo code: NEW1000. The return caps out at $1,000, but new bettors can get a leg up on the competition if they deposit a hefty sum.
These sweet bonuses don't stop just at new customers for Sportsbetting.ag, though. With the new NFL season just around the corner, the site is offering a 50% deposit promotion, which gives bettors 50% of their deposit back from now until the end of September.

Mobile Incentive
Sportsbetting.ag is another site that has taken things to the mobile-sphere and wants their customers to join them. If you do, you can get a $50 free bet when you place your first mobile bet with the site.
Like other sites, Sportsbetting.ag also offers a staple Refer-a-Friend program, which allows users to earn up to $100 for every friend that they refer.
Another cool promo going on at Sportsbetting.ag is their free live in-game betting bet ($25) that is awarded to any user that was unsuccessful in their first bid at live betting.

Bonus Overload
Sportsbetting.ag is another site stacked with so many sweet bonuses and promotions, that it's tough to pick which ones are the best. One quick stop at the Sportsbetting.ag promotions page reveals that fairly easily.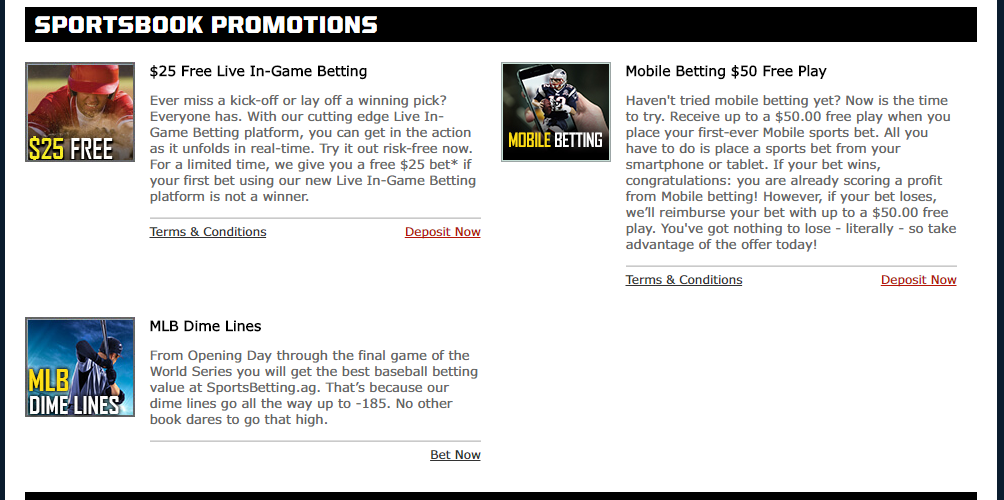 There you will find a slew of tantalizing promotions, ranging from a $100k guaranteed poker contest at the end of the month, 100% slot reload bonuses, a high roller bonus, new player freerolls ($5,000) and thousands of dollars in free contests and bonuses across all of their betting platforms.
Summary
This is really just a small taste of what is out there in the online betting world. The options are endless and depending on whether you're mostly into sports betting, online poker or casino games, different sites (and promotions) will appeal to you more than others.
As always, our first goal is to always point our readers to betting sites we personally know and trust. That means these sites are safe, they have solid payment options and when you win, you know you're going to get your cash.
It's even better when the best sites also treat new and returning customers well by issuing excellent bonuses and promotions. Hopefully, this list of some of the top promotions helps you score big at the site you choose!