Hide Bonus Offers
| | | | | |
| --- | --- | --- | --- | --- |
| #1 | Bovada Sports | 50% Up To $250 | Visit Site | Bovada Sports |
| #2 | BetUS | 125% Up To $2,500 | Visit Site | BetUS |
| #3 | MyBookie | 100% Up To $1,000 | Visit Site | MyBookie |
| #4 | Everygame | 100% Up To $500 | Visit Site | Everygame |
| #5 | BetOnline Sports | 60% Up To $1,000 | Visit Site | BetOnline Sports |
Current NFL Power Rankings – Where Every Team Stands Entering the 2019 NFL Draft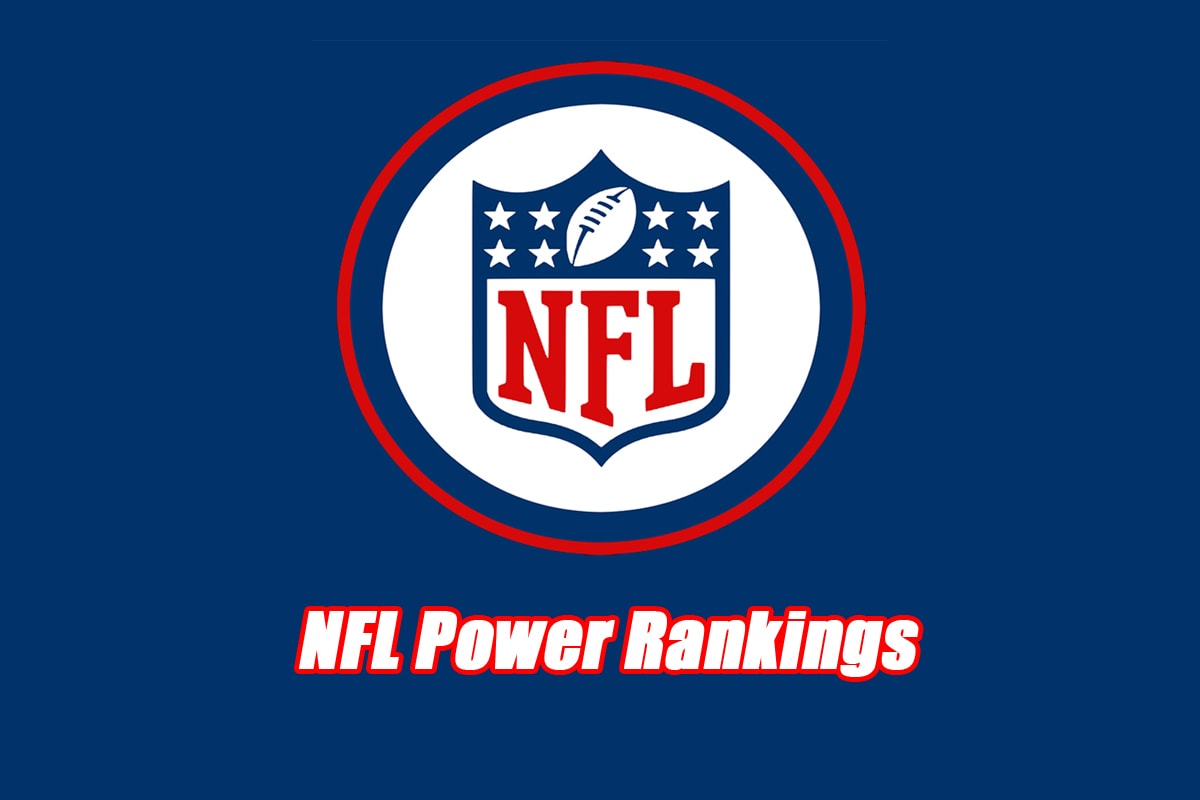 The countdown to the 2019 NFL Draft has begun. It's the day for all of the losing teams to feel like they're making real progress and where the best teams strive to create further distance between themselves and the bottom feeders.
It's true that this is where the New England Patriots keep adding slot receivers and 6th-round quarterbacks destined to win all of the Super Bowls. But even the Cleveland Browns proved over the past two years that the worst franchises in football can excite when they get the right talent.
Those are two teams at very opposite ends of the spectrum, of course, but they're two of 32 NFL teams striving to get better.
What I want to know, though, is just how far away they really are. In addition, how do all of the other teams in pro football stack up against the defending champs?
A lot has changed since New England won yet another Lombardi Trophy. It's still very possible that won't change by the time 2020 rolls around (Patriots are +700 Super Bowl 54 favorites), but free agency and the coming draft will allow everyone the opportunity to close the gap.
I'll be doing some betting on the 2019 NFL draft, but before we actually get to the big day, it's interesting to check in on where every team is right now. That's what I've done here in my first 2019 NFL power rankings for the upcoming campaign.
New England Patriots
The Patriots didn't look like the best team in football, and they won it all again anyways. Everyone wants to know what Rob Gronkowski will do next and whether or not team owner Robert Kraft gets slapped with a suspension.
Those are mild distractions that will only fuel the fire.
New England also has a plethora of draft picks early in this draft, so the rich get richer. Love or hate them, the Pats know what they're doing and may very well be the title favorite the top Super Bowl betting sites presently peg them as.
New Orleans Saints
My pick to win it all last year, the Saints got hosed so badly by a non-call in the NFC title game that it literally got the NFL to change how they're officiating.
It remains to be determined just how much the ability to review pass interference calls will impact NFL betting, but I guess the Saints can now rest easy.
Regardless, Drew Brees is back to again lead a loaded and driven Saints roster. I loved them to storm back after the Minnesota Miracle, and I think they'll respond well to the NFC title game debacle as well.
Kansas City Chiefs
Not much has changed up top. The Pats are the defending champs, and the Saints were arguably the best team in the NFC last year. Kansas City, meanwhile, was without a doubt the best offensive juggernaut in football.
I just don't know if they were/are the best team.
Patrick Mahomes claimed the league MVP award, but his defense has been trash, and he lost star running back Kareem Hunt due to off-field issues. His defense might even be worse, too, as safety Eric Berry hit free agency, and the team traded away their best pass rusher, Dee Ford.
Kansas City put up 30+ points with regularity last season and still couldn't win a title. They may have to double-down on that strategy if anything is going to change in 2019. Still, the top NFL betting sites love them, as they share the lead (+700 Super Bowl odds) over at Bovada.
Chicago Bears
Most will demand the Rams be next (or earlier), but they have some question marks, and I love this Bears team. Khalil Mack ignited a fire under an already strong Bears defense, and now Chicago is back to being a truly dominant force on that side of the ball.
Chicago was also pretty good offensively last year, which is saying something considering quarterback Mitchell Trubisky wasn't the most consistent presence under center. That could change in his second season under Matt Nagy's tutelage, while ridding the offense of stone-handed running back Jordan Howard could be a case of addition by subtraction.
I don't love that Chicago lost safety Adrian Amos, but they still look stout on both sides of the ball. Based on the strong drafting they've done in the recent past, they appear set to only get better. People need to take them and their +1200 Super Bowl odds a lot more seriously.
Los Angeles Rams
Okay, so I can't drop the Rams down too far, but they failed in Super Bowl 53, and they do have some red flags. The biggest one is that they just lost the biggest game of their life.
Sure, the Rams could come back better than ever. They did add veteran safety Eric Weddle on defense and will get a healthy Cooper Kupp back, after all.
However, the Super Bowl hangover can be all too real, and the deterioration of star running back Todd Gurley to close out the year was rather troubling. LA is still a threat to make a title run and should win the NFC West, but a mild step back wouldn't be too shocking.
Los Angeles Chargers
Provided you're not a Lakers fan, it's good to be in LA right now. The Clippers made the playoffs, the Dodgers look like they're ready for another World Series run, and both NFL teams look like legit title contenders.
The Rams are still just ahead of the Bolts, but anytime you have Philip Rivers under center, I'd say you have a chance.
Rivers and company folded in a brutal loss to the Patriots last year, but they still have a great offense and a talented defense. Veteran Thomas Davis adds a little bite, and a healthy Hunter Henry will lift the offense even more.
Los Angeles is looking like a nice value (+1600 title odds), and they should only get better in the 2019 NFL Draft.
Pittsburgh Steelers
I know a lot of people are expecting some steep regression out of the Steelers in 2019, but I'm not buying their demise just yet. In fact, discarding team-killing cancers like Le'Veon Bell and Antonio Brown may actually help them get back to what made them great faster.
James Conner and JuJu Smith-Schuster give Pittsburgh stellar replacement options for their departing superstars, while not keeping Bell and Brown also saves the Steelers a ton of cash.
Ben Roethlisberger is still on hand to spread the ball around to a slew of viable offensive weapons, while Pittsburgh obviously has the freedom to keep adding pieces in the draft.
I'm a bit more concerned with a porous defense, but if the Steelers attack that side of the ball in the draft, they could find their way back to the playoffs in a hurry.
Indianapolis Colts
I don't doubt the race for the AFC South title will be difficult, but I'd argue Indy proved throughout the second half last year that they're the best team in this division.
Andrew Luck heads a versatile offense that really just needs to add one more receiver to be completely unstoppable. If the Colts can do that, they can spend the remainder of the 2019 NFL Draft trying to rack up quality defensive prospects.
Regardless, Indy isn't about to take a step backwards.
Luck is healthy, he's got a good coach in Frank Reich, and he has solid supporting talent around him. The Colts could be a threat for years to come and are absolutely a team to target (+1800) when placing Super Bowl 54 bets this year.
Cleveland Browns
I understand the buzz when it comes to the new-look Browns. Baker Mayfield is certainly a talent worth rallying around, while guys like Nick Chubb, Kareem Hunt, Jarvis Landry, David Njoku, and of course Odell Beckham Jr. give him a star-laden offense.
The problem is two-fold: the Browns still aren't elite defensively, and the expectations are already absurd.
Seriously, Cleveland sports the sixth-best Super Bowl 54 odds (+1200), and they haven't even gotten back to the playoffs yet. They're also assembled with a slew of talented players that don't exactly have a rich history of winning.
Quick, tell me about all the playoff games Odell Beckham Jr. won. Yeah, the answer is zero.
That isn't to say the Browns can't live up to and smash expectations. I'm buying into the talent and buzz by ranking him this high, after all. I'd just pump the brakes a bit and maybe hold off on pouring all of my Super Bowl betting funds into a team that was 7-8-1 a year ago.
Houston Texans
After the first 4-5 teams in the NFL, I'd argue it gets pretty messy trying to pinpoint who the next challengers really are.
It's still unclear when you look at the Texans, just because they aren't much beyond their passing game. If we're just to look at Deshaun Watson and DeAndre Hopkins, then yeah, the Texans are a lot of fun and worth a flier bet (+2800 Super Bowl odds).
However, Houston's o-line is trash, and their running game isn't always what it needs to be. There is reason for excitement in Houston, but the Texans still have a lot to prove in an increasingly more competitive division.
Dallas Cowboys
The Cowboys surprised a lot of people last year, as they turned around after a slow start and won the NFC East. They rode Ezekiel Elliott to a playoff win as well, delivering optimism for a bright future.
Dallas isn't just a one-man show, either, as Dak Prescott showed growth last season, and the Cowboys also have a very solid defense. If contract-year guys like Prescott and Amari Cooper can play with an edge, it's still pretty possible the Cowboys will own this division.
I'd put more focus on the defense, though. That's a rising unit, and if the Cowboys can land an impact defender or two in this year's draft, they may inch closer to being a very interesting Super Bowl bet.
Seattle Seahawks
The Seahawks are going to be interesting to monitor, as they're always going to be in the playoff mix as long as Russell Wilson is around. Seattle also remains solid defensively and has proven they can run the football.
But that Russell Wilson part is pretty key, and his recent contract ultimatum may ruffle some feathers in Seattle's front office. Needless to say, rumors involving a potential trade aren't as crazy as you'd think.
If Wilson stays like he should, the Seahawks will remain a threat, both for the NFC West and more. If traded, Seattle will plummet down my 2019 NFL Power Rankings.
Philadelphia Eagles
The Nick Foles era is officially over. I'm not sure what that was about, seeing as Foles was always a pedestrian regular-season quarterback and seemed to somehow turn it on during the playoffs.
The Jaguars will find out if Foles is for real, while Philly is "forced" to go back to their franchise passer in Carson Wentz. I'm personally thrilled, as a healthy Wentz is incredibly dynamic and explosive.
Wentz also gets a shiny new toy in deep threat DeSean Jackson, while Philly's running game gets better with early down workhorse Jordan Howard coming to town in a trade with the Bears.
I'll admit Wentz has something to prove, and you have to hope Philly uses the 2019 NFL Draft to improve their defense, but the Eagles are surprisingly floating under the radar (+1400 Super Bowl odds) a bit going into the new year.
Green Bay Packers
Another team constantly disrespected and seemingly left for dead appears to be the Packers. Green Bay endured an ugly fall from grace, but they responded by making a necessary coaching change and beefing up a weak defense.
The free agency moves were out of character but extremely welcomed. By all accounts, Green Bay got instantly better on that side of the ball, and it opened them up to do as they please in the 2019 NFL Draft.
For the first time in years, Green Bay has legit talent on both sides of the ball, and more could be on its way. That's a dangerous thing when Aaron Rodgers is your quarterback, even if there is a faint argument #12 could have been part of the problem all along.
I won't vouch for the Packers as true title threats again just yet, but they're making all the right moves. Their +2200 Super Bowl 54 odds currently look like an elite value at Bovada and other NFL betting sites.
San Francisco 49ers
A team that seemed destined for a meteoric rise last year but could actually live up to the hype this year may be the Niners.
Injuries to quarterback Jimmy Garoppolo and running back Jerick McKinnon derailed the 49ers before they ever really got going, but Kyle Shanahan's crew remained impressively competitive.
That has me pretty confident this team can win a lot of games when at full strength, especially since they own the second pick in the 2019 NFL Draft. San Francisco also already loaded up in free agency, as they landed stud pass rusher Dee Ford and signed explosive running back Tevin Coleman.
The only true blemish on San Francisco's roster comes at wide receiver.
Perhaps they trade down and acquire more picks en route to landing a superstar receiver? Only time will tell, but I do think they're on the upward swing and are understandably a trendy Super Bowl bet (+2500 odds).
Minnesota Vikings
I always feared that the Vikings were putting too much pressure on themselves by paying for Kirk Cousins to be the answer under center. He certainly looked the part of a star franchise passer in spurts in 2018, but in the end, he delivered the same result he always did in Washington.
Personally, I'm not a big believer in Cousins as a Super Bowl-winning quarterback. He makes too many mistakes at the wrong time and plays in a division that should be extremely tough in 2019.
Minnesota may have been the best team in the NFC North going into last year, but now they're at risk of ranking third in that debate. The defense is sound, and the offensive talent is there. I just don't trust the quarterback.
Carolina Panthers
Speaking of quarterback play, the Panthers may have actually had something special last year, had Cam Newton not sustained a crippling shoulder injury.
Newton played through it the best he could, but he simply couldn't push the ball down the field effectively, and it hurt Carolina's offense deeply.
That ultimately wasted a fantastic season by star running back Christian McCaffrey but unearthed a dangerous weapon in the process. Provided Newton's shoulder is okay and that the defense can bounce back, Carolina is a sneaky fun Super Bowl bet (+5500 title odds!) over at Bovada.
Jacksonville Jaguars
The Jaguars were arguably competent quarterback play away from competing for a championship two seasons ago. After a strong start in 2018, the struggles of Blake Bortles doomed Jacksonville once and for all.
There are still other issues the Jags need to figure out, but going out and paying Nick Foles to give them that upgrade they so desperately needed does put them in a position to succeed.
Jacksonville's defense still took a major step back, and running back Leonard Fournette wasn't the player the Jaguars drafted him to be. Perhaps the mere presence of a stable mind under center can help correct all that ails the Jags, however.
Atlanta Falcons
The Falcons can always move the ball and put up points, but they were not very consistent in 2018 and were rarely bailed out by a regressing defense.
That's alarming when you have Julio Jones and Calvin Ridley to work with in the passing game, but Atlanta did have some injuries on both sides of the ball. The return of a healthy Devonta Freeman could restore balance to this offense, while a draft focused on improving the defense could work wonders.
It's always possible the epic collapse these Falcons went through in Super Bowl 51 still lingers, but it's time to move on. The offensive talent is there to do so. If the Falcons can fix their defense, they may have a real shot at paying back bettors (+3500 title odds) in a big way.
Baltimore Ravens
John Harbaugh is the main reason I can't quite rule the Ravens out. He made a painful switch at quarterback, completely changed his offense, and leaned hard on a gritty defense.
That got Baltimore back to the playoffs and kept them in every game down the stretch. If that's not Coach of the Year type of stuff, I don't know what is.
The problem is Harbaugh is probably stuck with the beast he created. Lamar Jackson doesn't strike me as a pocket maestro, so if he breaks down or his run-first offense doesn't get the job done, this could be a long year.
Tennessee Titans
The feeling is similar with the Titans, who have gotten really shaky play out of Marcus Mariota. Mariota has always flashed solid ability, but he's either been erratic or simply not healthy.
I can't know which version shows up this year, but I do know the Titans lack reliable offensive talent. Their best bet is to lean on a surging Derrick Henry on the ground and also ease the pressure off of their defense.
That probably isn't going to be good enough to get past the best teams in the AFC, but it could be enough to keep the Titans in the mix for a postseason run.
New York Jets
The Titans have at least proven they can win to a certain extent, so it may take some time before I'm all-in on this current rendition of the Jets.
New York got 2018 started off with a bang and ended strongly, but for the majority of Sam Darnold's first season, they weren't very good. They did add a stud defensive player in linebacker C.J. Mosley and franchise running back Le'Veon Bell, so the arrow is most certainly pointing up.
The trouble is Bell was out of football for a year, and he's just one guy.
Does he automatically turn Darnold into a consistent passer who doesn't turn the ball over? No, so the Jets will have to work their way up my 2019 NFL power rankings.
Tampa Bay Buccaneers
Bruce Arians returns to football, and his workplace of choice was Tampa Bay? I get it for the weather, but he now has to deal with the sexual assault magnet that is Jameis Winston.
Even aside from his off-field shenanigans, Winston has never been a consistently great quarterback. This offense also lost reliable slot receiver Adam Humphries and deep threat DeSean Jackson.
Arians is a great offensive mind, but he's really got his work cut out for him here. Tampa Bay's defense also leaves a lot to be desired, and despite posting the league's best overall passing offense, they stumbled to just five wins in 2018.
Seriously, what was Arians thinking?
Cincinnati Bengals
Cincy is in a weird spot. They have a decent starting quarterback in Andy Dalton, an arguably loaded supporting cast around him, and an atrocious defense. Incoming head coach Zac Taylor is young and unproven, but it's still possible he works some serious magic here.
I'll bite on Taylor maximizing an offense featuring A.J. Green and Joe Mixon, but he alone won't fix a truly bad defense. On top of being awful last year, the Bengals also lost bodies. They should focus most of this year's draft on fixing their many issues.
Even if the draft goes well, the Bengals still have uncertainty potentially swallowing them whole. There is sneaky upside with their crazy +12500 Super Bowl odds, but I can't help but feel duped by even remotely considering them as a flier bet.
Denver Broncos
The Broncos deserve credit for not diving into that "truly terrible" abyss, as they've done an okay job of patching holes and remaining somewhat competitive.
They're again doing that under center, as Joe Flacco is the most recent member of Denver's revolving doors: quarterback edition.
The Broncos can run the ball, and they have some rising young talent at wide receiver. Their defense has some nice talent up front, too, so if they can keep adding pieces (and a legit franchise passer for once), maybe they'll finally go from "meh" to "okay, now you're talking my language."
I just don't see that happening in 2019, no matter how loud their +6000 title odds scream to me.
Buffalo Bills
Josh Allen gave the Bills hope for the future, while an underrated Buffalo defense allowed this team to steal some impressive wins in 2018. The progression of that defense and Allen's continued development will be the story to track in 2019 for this franchise.
Buffalo certainly did their best to set Allen up for success. Frank Gore adds to an older but respectable stable of running backs, while John Brown and Cole Beasley enhance a previously suspect receiving corps.
From here, the Bills need to upgrade at tight end and keep adding impact defensive talent. A true running back of the future (Josh Jacobs, anyone?) would also be good. The Bills aren't knocking on the door of the Super Bowl just yet (+10000 title odds), but there's little doubt they're headed in the right direction.
Detroit Lions
Matt Patricia stole pass rusher Trey Flowers from the New England Patriots this offseason, potentially turning a respectable Lions defense into a great one. Now the question will be if Matthew Stafford really is the guy to push Detroit to record heights.
It's a tall order to push the Lions to Super Bowl status, but Detroit does finally have the talent at running back and a defense good enough to make some noise. Adding 1-2 impact receivers and plugging a couple more holes on the defensive side could boost the Lions, but they still have a lot to prove.
Detroit finished dead last in the NFC North, and the division will only be tougher in 2019. Stafford being able to bounce back will be the difference for a team with weak +8000 Super Bowl 54 odds.
Washington Redskins
The Alex Smith injury turned a solid 6-3 Redskins team into an easy win for opponents last year. Smith won't play in 2019, so it's up to Case Keenum or whatever young passer Washington obtains to keep the Redskins' heads above water.
I don't believe in Keenum, and any young quarterback is walking into a tough situation.
Washington does have a solid defense and some nice offensive talent, but they also lost Jamison Crowder in free agency. Unless the quarterback play is markedly better, trusting in the Redskins (+10000 title odds) feels like a mistake.
If they're as bad as they were during the second half of last season, they'll plummet even further down my 2019 NFL power ranking in short order.
Oakland Raiders
I still can't be sure what Jon Gruden has planned for the Raiders.
He's trading away viable talent left and right — some that might even be Hall of Fame type of special. He did acquire one of the best wide receivers in the game in Antonio Brown, but that walking headcase could spell disaster just as easily as he could help Oakland's passing attack.
Gruden isn't done shaping this roster in his image, but Raiders fans have to wonder if that's even a good thing. Oakland's defense is awful, they don't have a go-to running back, and there are still doubts that quarterback Derek Carr is the answer under center.
The Raiders improved their roster in the offseason and have a terrific chance to enhance their talent level with a slew of early picks in the 2019 NFL Draft. I just don't know if I trust them to make the right calls going forward.
New York Giants
Speaking of NFL decision-makers who have built a potentially faulty house of cards, the Giants are run by the no-nonsense Dave Gettleman. Hilariously enough, everything the G-Men have done under Gettleman to this point has felt nonsensical, and there is little optimism he's about to craft a winner as the 2019 NFL Draft approaches.
Trading away solid defensive talent, dumping Odell Beckham Jr. on the Browns, and letting go of star safety Landon Collins all fall under the "they did what?" category, but Big Blue will have a chance to make everyone else look silly later this month.
New York does still have Saquon Barkley, and they improved their offensive line. I won't write them off just yet, but I'm getting awfully close.
Miami Dolphins
The Dolphins are an odd organization. I'm all for side-stepping mediocrity, but Miami had a solid head coach in Adam Gase and a fine quarterback in Ryan Tannehill. They dipped on both of them, instead opting to tank the 2019 season.
Brian Flores could get the defense going, but he has very little to work with on offense. It's going to be the Ryan Fitzpatrick show in South Beach, and while it will have its ups, we all know how that ride ends.
Miami lacks high-level talent, and right now, we don't know their direction. It can't be great for 2019, but a strong draft class will only aid their rebuilding process.
Arizona Cardinals
The Cardinals might have even less talent than the Dolphins, and I personally have little faith in their GM or rookie head coach. Kliff Kingsbury couldn't even succeed in the college ranks, and now he's expected to be Arizona's savior?
That's a reach, plus the Cardinals are potentially giving up on Josh Rosen and spending the #1 pick on Kyler Murray. That has the stink of a gaffe, and until the Murray/Kingsbury pairing leads to wins, it's going to be awfully easy to doubt the Cardinals.
Summary
There are several teams that are going to compete at a high level no matter what they do at the 2019 NFL Draft and even more that can't hope to do much of anything even if they crush the draft.
Still, changes can absolutely impact how you bet on teams and also how those teams actually end up performing. The draft can as well, and the right pick can change the fortunes of any NFL franchise.
I don't believe this year's draft is going to alter anyone's fate enough to get me to bump them up my list when it comes to predicting the winner of Super Bowl 54. For the most part, that's down to the Patriots, Saints, Chiefs, Rams, and Bears, and I'm not sure I feel like budging too much.
There are faint cases for the Chargers, Cowboys, Colts, and others, but those teams aren't presently good enough to get past the very best teams in the NFL.
Maybe the draft can change that. Until it does, this is how I see all 32 NFL teams grading out. Hit me up in the comments to let me know where I went wrong or right.