CS:GO Betting Tips and Tournament Preview for the ELEAGUE Major: Boston 2018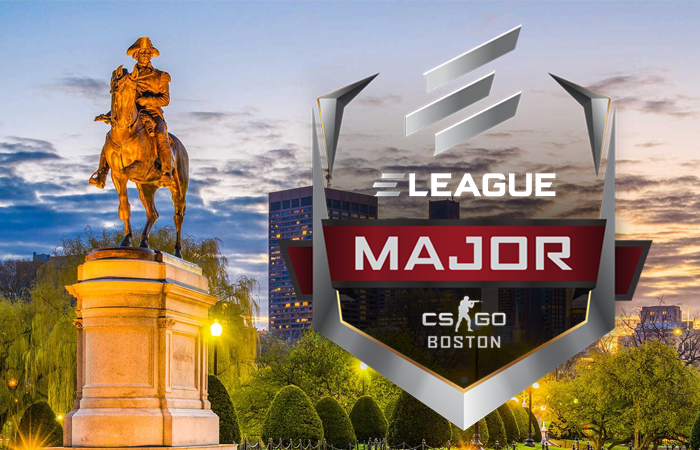 The ELEAGUE Major: Boston 2018 is the 3rd and final stage of the ELEAGUE Major tournament, which is much like a world championship of Counter-Strike: Global Offensive. This stage, also known as The New Champions Stage, has a prize pool of 930,000 dollars and is scheduled to take place in Boston between January 26th and January 28th.
Tournament Structure and Prize Distribution
The ELEAGUE Major: Boston 2018 features 8 teams from 4 different regions:
North America: Cloud9.
South America: SK Gaming.
CIS: Quantum Bellator Fire, Natus Vincere.
Europe: G2 Esports, Faze Clan, mousesports, Fnatic.
The tournament will be played in a single elimination bracket format. All matches will be Bo3, including the Finals.
The prize distribution for the ELEAGUE Major: Boston 2018 is the following:
1st place: $500.000.
2nd place: $150.000.
3rd-4th place: $70.000.
5th-8th place: $35.000.
Analysis of the Teams

Cloud9
They are a very strong team at the moment and have been for the past 5 months. Cloud9 has had a pretty good run since their latest roster changes, winning 3 tournaments and getting a lot of top 4 finishes in important competitions. After the acquisition of Will "RUSH" Wierzba and Tarik "tarik" Celik from OpTic Gaming, the team's playstyle has improved considerably.
During the first two stages of the ELEAGUE Major, Cloud9 obtained 6 victories and 2 defeats. The victory that is still relevant at this point (because it happened against a team that's still in the tournament) was against mousesports (on Train). The losses were against G2 Esports (on Cache) and Space Soldiers (on Cobblestone). In particular, the first of these losses weigh heavily, because the French team will be Cloud9's opponent in the Quarterfinals.

SK Gaming
With their standard formation, they are probably the best team in Counter-Strike: Global Offensive. Just last year alone they won 8 important tournaments and looked unstoppable against almost every single opponent they faced.
At the ELEAGUE Major, SK Gaming qualified for the Playoffs with a score of 3-1. They defeated Space Soldiers, mousesports, and Gambit Esports, but lost against Faze Clan on Cache, after a spectacular comeback from the Europeans. Faze Clan and mousesports are playing in the playoffs as well, so these results might turn out to be quite relevant along the way.
SK's performance so far at this event has been great, but they're facing one big problem: they are playing with a stand-in (boltz was replaced by felps for this tournament). This lineup change doesn't show in most of SK's matches, because they're so many levels above their opponents that they win even with little-practiced strategies. Also, felps has played really well so far throughout the tournament. However, against tough opponents like Faze Clan, who are extremely good at spotting weaknesses and capitalizing on them, the Brazilian CS:GO machine can certainly break down.
If FalleN, the team's captain, can make the right adjustments in time and find a playstyle that will minimize the exposure of SK's weak side, then I'm pretty sure SK can qualify for the Finals and maybe even win this Major. Otherwise, they will fall victim to their opponents.

Quantum Bellator Fire (QBF)
They are the dark horse of the tournament and have impressed everyone with their resilience. They came close to being eliminated in the earlier stages of the ELEAGUE Major, but somehow, someway, this underdog team of unknowns have made it to the Playoffs.
With the odds heavily stacked against them, it remains to be seen how far they can actually go. Normally, a team like Natus Vincere (their opponent in the Quarterfinals) should crush them in a Bo3, especially since they beat them before in the New Challengers Stage (score 16-8 on Inferno). But a glimmer of hope still remains.

Natus Vincere
A formidable team in the past, Natus Vincere had a rough season last year and only won one tournament: DreamHack Open Winter 2017. They also went through big roster changes, losing one of their key players (GuardiaN) and also their coach (Andi). Now they seem to be back in shape and the team is once again in the Playoffs of a huge CS:GO tournament.
So far, Na'Vi's run at the ELEAGUE Major has been bittersweet. Bitter because they lost against the tough teams (including Faze Clan and mousesports, who are also competing in the Playoffs), and sweet because in spite of the setbacks, they ultimately qualified for the New Champions Stage of what is pretty much the world championship of Counter-Strike: Global Offensive.
Right now, Na'Vi live and die by the performance of their superstar player, Oleksandr "s1mple" Kostyliev. If he's at the top of his game (and honestly, he certainly seems to be right now), Na'Vi is a strong team. But if he happens to have a bad day, their entire system of play collapses.

G2 Esports
Their latest success came at the beginning of September last year, when they won DreamHack Masters Malmo 2017, defeating North in the Finals (score 2-0).
Since then, they've been going from one bad result to another, until the ELEAGUE Major.
G2 Esports have been without a doubt the team of the tournament so far, going undefeated in their first two stages: 6 victories, 0 defeats. Keep in mind however that their only high caliber opponent has been Cloud9. All the others were underdogs, even though one of them (Quantum Bellator Fire) has managed to qualify for the Playoffs.
Every player on G2 looked good during the first 6 matches of the event, and the team as a whole seemed to be synergizing very well. But they've yet to be tested by a top-level opponent and that test will most likely come in the Semifinals, where they will probably face SK Gaming, should both teams qualify.

Faze Clan
They were the second-best team in 2017 but are likely the strongest team at this event, even though they didn't have the best overall score (they went 6-1 in the first two stages of the competition, losing one match against Vega Squadron).
Faze Clan qualified for the Playoffs by playing great Counter-Strike and beating tough opponents along the way: Fnatic, SK Gaming and Na'Vi were among their victims. Quantum Bellator Fire is also on that list, which means that with the exception of G2 Esports, mousesports and Cloud9, whom they didn't encounter during the first two stages, Faze Clan defeated all of the other teams that are still in the race.

mousesports
zThe German precision has been missing so far in the case of mousesports, who are quite lucky to be still in the race. Maybe the nerves got to them, or maybe it was because none of the players in this German team is actually German. In any case, mousesports barely made it from one stage to the next, qualifying both times with a score of 3 victories and 2 defeats.
The important matches they lost were against Cloud9, SK Gaming and Quantum Bellator Fire. The only notable victory came against Natus Vincere.
As their past results prove, mousesports is a strong team that is fully capable of getting top placements in important tournaments. But they haven't looked to be at the top of their game so far, so I wouldn't count on them winning their Quarterfinals match against Faze Clan.

Fnatic
The highly successful team from 2014 and 2015 has done it again, qualifying for the Playoffs of yet another Major. This time they're the underdogs, going up against SK Gaming in the Quarterfinals, and the odds are heavily stacked against them.
Fnatic hasn't won an important tournament in almost 2 years. It's not that they're playing bad, but the professional scene has changed tremendously over the last few years and a completely new level of skill is required to win important events.
Fnatic has played 5 matches so far at the ELEAGUE Major, winning 3 of them (against Virtus.pro, Astralis and Gambit Esports) and losing 2 (against Faze Clan and Natus Vincere). Going into the Playoffs, I do not believe they have much of a chance against the opposition.
Opening Matches

Faze Clan vs mousesports
These two teams met before just two months ago, in the Esports Championship Series Season 4 Finals. Faze clan won with the score of 2-1. All things considered, Faze Clan are clear favorites to win this time as well.

Natus Vincere vs Quantum Bellator Fire
This will likely be one of the most disputed matches of the Playoffs and may actually end up in an upset. On paper, Na'Vi is the clear favorite in this encounter, but having seen Quantum Bellator Fire during the first two stages of the competition, I can say that the chances of a miraculous QBF victory are quite high. It will ultimately be up to s1mple to win this one for his team. If he performs as usual, Na'Vi should win this 2-0. Otherwise, they're in trouble.

G2 Esports vs Cloud9
This will be another close match between two titans. G2 Esports has been in better shape during this tournament and has even defeated Cloud9 along the way. But Cloud9's overall form during the past 4 months has been superior to G2's.
Everyone sees G2 Esports as the clear favorite in this dispute, but the truth is, the French team could easily lose this. At the last Bo3 match between G2 Esports and Cloud9, Cloud9 won with the score of 2-0. At that match took place just 4 months ago, in October 2017.

SK Gaming vs Fnatic
This match will likely be a one-sided affair. SK Gaming is a very consistent and very strong team at the moment and are unlikely to lose unless their opponent has a flawless game and manages to capitalize on every single mistake, which doesn't often happen when it comes to Fnatic.
Tournament Predictions
For the New Champions Stage, I'm expecting a Faze Clan vs SK Gaming match in the Finals. At that point, either of these teams could win, but I'm not expecting them to be beaten by any of their opponents until they reach this stage.