CS:GO DreamHack Masters Malmö 2017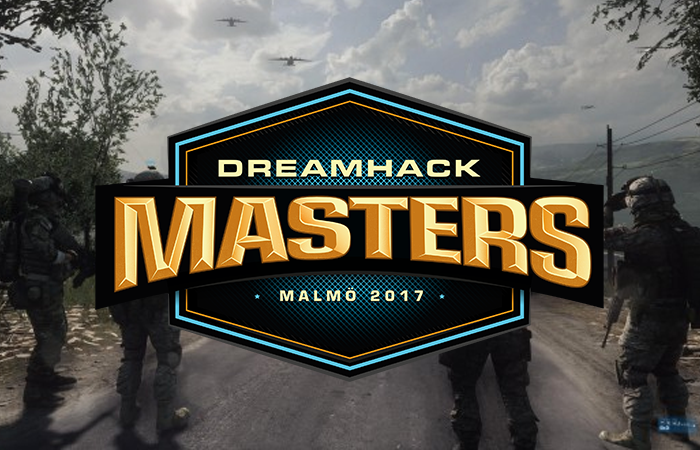 The next major tournament is DreamHack Masters in Malmö, Sweden. The second DreamHack Masters event of 2017 will run from August 30 to September 3 at Malmö Arena, with 16 teams competing for $250,000 in prize money. This tournament has shown some good opportunities to take some underdogs so this is one of my favorite tournaments to watch and wager on since they have such good value for the dogs in this situation. The reason I like the underdogs in this situation is twelve spots of the sixteen will be determined through invites.
They usually invite some lower ranked teams in order to gain exposure. Then the final four will go to the top teams of online qualifiers held in Europe, North America and Asia-Oceania. These four teams are always the odds in favorite, but since they're separated in 4 different divisions there is usually one to two upsets in the divisional play. The teams will play double elimination format with the top two teams from each division will move to a single elimination best of three matches up.
Team Astralis
Team Astralis is one of the favorites and the main reason behind this is the lead player Xyp9x. He is their top player and has the most experience on the team. I always refer to him as the finisher, because he does not perform well early in the matches, but always able to close out matches. Team Astralis is from Denmark and has always been competitive in tournament play, but struggles at winning tournaments consistently. The Astralis team is currently spotting a 222-129 record in professional play.
They are also spotting a positive kill to death ratio in overall tournament play at 1.10. They always seem to come out on top in close matches. The most recent victory was finishing 3rd in the PGL Major Krakow 2017. They went 6-3 in the overall tournament dominating the early matches, but couldn't hold on to the lead against Gambit ultimately knocking them from the semi-finals. I will not be taking them to make it out of the division especially since it will likely be against Gambit early in the tournament. So I expect them to be knocked out before the final 8 in the tournament.
Current Odds: 3.9 to 1 to win the tournament
Team B.O.O.T-d[S]
The BOOT-d[S] team is definitely a team I will stay far away from in the tournament. A lot of their team members are no experience and new to pro circuit. They have shown good numbers in the 62 games they have played spotting a solid 40-22 record in competitive play. They're extremely streaky in tournament play since they either wipe the competition off the map or just cannot get a round together. Their most recent win was 1st at DreamHack Masters Malmo qualifier for Asia-Oceania so they have won their privilege in this tournament.
I do normally love positive winning momentum going into the tournament, but I do not expect them to win the tournament, but maybe be a dark horse for the final 8 spot. I am planning to maybe place a small wager on them especially if they end up on their best map Overpass which a lot of the other teams struggle with.
Current Odds: 260 to 1 to win the tournament
Team EnVyUs
Team EnVyUs is definitely one of my favorites to bet on mainly because of their consistency across all maps. They're one of the few teams that can perform on every map. This is very effective in tournament play since early on you will play several matches and this will pay dividends. They're known for very aggressive play mainly led by Happy. He is always marching across the map putting on extreme pressure in the high risk and high reward style. He is also the most experience on the team and always depends on his game play in order to make the team victorious.
This is one of the most experienced teams in competitive play as well having played 700 matches spotting a 412-288 record. So I will definitely be betting this team in the early tournament and seeing how well they perform. They're also one of the hottest teams coming into this tournament getting in the top 3 spots in the last 3 tournaments they've played. So we will definitely cash in on them winning some matches for us this tournament. I am also leaning towards taking them to win the tournament since the 34 to 1 odds are extremely solid.
Current Odds: 34 to 1 to win the tournament
Team FaZe
Team FaZe is an amazingly balanced team. The best players are all of their players. They can play any way you want and do it better on most maps and matches. They have currently placed in the top 3 in the past 5 events, but always seem to come up short. They do have a rather even kill to death ratio so their matches are extremely close. I do like this since it shows they're able to win the tough matches and not demolish their competition. This will likely increase their value on individual match ups.
The most recent match in ELeague Major did not bode well for them losing three straight to SK then dropping another two matches to FlipSid3 and mousesports. I do not like taking teams who are currently struggling so stay away from them in individual and overall tournament victory. I put them at an extreme longshot to win 2 matches let along advance to the playoffs. The betbrain.com shows them as a decent competitor in this tournament, but I am not buying it.
Current Odds: 7.8 to 1 to win the tournament
Team fnatic
Team fnatic are a hometown team in this tournament. They do well with the home advantage usually dominating early on in the tournament and do well enough to cash. I recommend betting them early and often especially against the tougher competition those of the likes of EnVyUs and BOOT-d[S]. They're the most dominate team on the map Inferno winning 9 out of the 10 games played in tournament play. So since this is one of the major maps we will be a fanatic about team fnatic.
Not only having an wealth of experience they have two of the best snipers in the business in the names of olofmeister and flusha. These two will take apart the enemy with amazing skills in quick sniping. They have a solid 976 games under their belt spotting a 635-8-333 record. I will definitely pick them in my final 4 teams in this tournament with a good chance of winning.
Current Odds: 16.2 to 1 to win the tournament
Team G2
Team G2 I like most viewers in the CSG:GO love this team. They have dominated some Majors from the ELeager Major and PGL Major Krakow Main Qualifer. Placing 1st in the last 3 of the 5 tournaments played. They're also the only team I am taking who won the qualifier to either dethrone the previous champ of this tournament or lose a close match up against Ninja In Pajamas. G2 is a dominate team on the Cobblestone map which is definitely a map to take them on in this tournament.
They have clinched victory in their tournaments on that map so that is what I refer to as the crunch time map. They do have average experience in tournament play with a 314-252 record, but with their recent momentum. This makes them a force to be reckoned with. Definitely take them to win the tournament.
Current Odds: 8.9 to 1 to win the tournament
Team Gambit
Team Gambit is the team that was once a middle competitor, but then disappeared for a while after a troublesome couple tournaments. Now we are starting to see a positive rise in this team mainly because of the recent play by Mou. He has been absolutely unstoppable when it comes to recent matches. So if he is still alive in a match it will likely lead in a Gambit victory. They're the ultimate kryptonite for Astralis and fnatic so whenever Gambit is versing either of these two.
Take my advice and take Gambit with the house payment you will not be disappointed. Mainly because Gambit has a combined 19-1 record against those two teams. Gambits when versing any other team will likely split the first two matches and ultimately fall in the clinching matches. So I will not be taking them to get very far in this tournament.
Current Odds: 12.61 to 1 to win the tournament
Team Immortals
Team Immortals is a team who started at the bottom in ranking, but has slowly gained respect and the ranking to go with it. They have only won 1 tournament in the past 12 months, but have been in the top 5 for nearly half the recent tournaments they've played. They're extremely balanced as well when it comes to maps not one map favors them. This team is one of the lowest experience teams having a combined 287 games in tournament play spotting an amazing record of 189-98. So this team is winning often in this limited experience.
They definitely could use some more clutch players performing in the big matches, but they're one of the best teams at winning the first match spotting a 70% win in the first match of a series. So I will be taking them every first match with ease. They're decent odds going into this tournament, but I recommend staying away from them since they do not close out in big matches.
Current Odds: 16.2 to 1 to win the tournament
Team mousesports
Team Mousesports has one of the most unique logos which definitely define their unique playing style. This team enjoys losing matches, I always seeing them lose match after match due to improper communication. The team is never on the same page which definitely explains why they lose matches. Especially if they're playing on the train map they've only won 4 out of 22 matchups. So I recommend betting against them in every shape and form, because they're a dog for a reason.
They do have experience in professional play having 890 games but having a 491-4-395 record isn't very impressive since most of their losses have came recently. Reason why they're not higher odds is mainly due to their past records from a year ago, but their time has faded.
Current Odds: 31.2 to 1 to win the tournament
Team Natus Vincere
Team Natus Vincere use to be a great team, but with the recent departure of GuardiaN and Zeus this team has lost a lot of its firepower. I find this team roster is starting rookie new comers into their lineup hoping to find the next CSG:GO guru, but it has not been kind. They have an enormously bad losing streak this year and the bad gets worse. Natus Vincere does well against G2 so this is the only match up I would take this dog in, but other than that take the opposition. Betting against Natus Vincere will grow your revenue slowly since they will be a large dog.
Current Odds: 19.4 to 1 to win the tournament
Team NiP (Ninja in Pajamas)
Team NiP the hometown favorites coming into this tournament and the reigning champion. Now I definitely enjoy a repeat champion and NiP is the team I am backing. The only time I would bet against them in a single match is when they're on the Overpass map because recently they have struggled to put it nicely on that map. This team has a lot of new players to the pro circuit, but has three of the most experienced players guiding the noobies. F0rest is my favorite since he is deadly with his assault rifle and always seems to get the craziest knife kills.
This team also has the most experience with 1120 games played on the pro circuit and has a record of 746-4-370. They also spot one of the top kill to death ratios at a solid 1.12. The only negative with this team is they're not coming into this tournament on a hot streak, but I love them in the hometown.
Current Odds: 13 to 1 to win the tournament
Team North
Team North is a team that overpass is the only vice when it comes to maps. Other than that this team is a solid match winner and I will be betting in the early rounds to gain some victory and see them in the final 4. The problem with this team is lack of research on their roster and experience since they've only played 101 games in the pro circuit. They do have a solid record of 62-39.
They do come into this tournament playing well plus being an unknown and young team this will increase their game to game value. So take them in individual match ups when not in the overpass map is in play. They show healthy odds to win the tournament, but shy away from it since they have not taken down a major tournament yet.
Current Odds: 16.4 to 1 to win the tournament
Team OpTic
Team OpTic is the USA team I always love going for my home country, but this team is definitely lacking in overall play. This is one of the most passive teams, but does not benefit them. They have struggled as of late and sinked from 9th ranked team in the US to 16th in the last few months. They currently spotting a 7 game win streak so this is why some people are going to take them in early game. I will not be one of those people and I suggest you follow. This team's win streak will end and will likely end sooner rather than later. The team has some pro experience, but only 366 I do not see them overcoming a NiP or G2 team.
RUSH is their best player and expect him to contribute to victory early and quickly. He is a fast aggressor and tries to end matches as soon as they begin. I would not take this team to get to the final 8, but if it happens I would not be surprised. The odds should be much higher to win the tournament for me to take them.
Current Odds: 89.5 to 1 to win the tournament
Team Renegades
Team Renegades is the Australian team. This team will not win more than one match. I do not see it they're one of the lowest ranked teams in Australia especially Australia does not have a deep competitive pro teams. So this is a team where you take the opposition 99 times out of 100. They do not have good numbers in any particular map and have struggled against several of these teams in this tournament at previous events. Nifty is the only player I could see being a game changer since he is always breaking them down like a shotgun, but he is always targeted early which cripples the Renegades. If you want a lottery ticket then this is the team, but the odds do not make this a good investment.
Current Odds: 160.5 to 1 to win the tournament
Team SK
Team SK is a deadly team. This is the Special Forces of Special Forces. This team is usually always the odds in favorite to win tournaments and that's because when they get hot you will not beat them. The good news is they're not playing at their best which is only losing 3 matches out of their last 15. Yes that is a cold streak for them. In that streak they have won 6 of the last 9 tournaments. If the map is Cobble Stone they're the best at it and will dismantle their opponent.
This team wins when it comes to crunch time as well so if they get to the final four only a fool would bet against them. The problem with team SK is they may win a lot of matches, but the odds do not pay well. They are notorious for taking teams for granted and losing games which are gimme games. So I will take them as an early upset loss, but if they do survive it I will be betting them till the finals.
Current Odds: 3.9 to 1 to win the tournament
Team Virtus.pro
Team Virtus.pro has slowly lost their touch. They have been a slowly sinking ship. The team was rather solid when first coming together, but since has been on a downwards spiral. I do not expect them to revive themselves in this tournament either. So continue to bet against them like in previous Major events they will lose to the big favorites and struggle to get past weaker teams. They do not do well on any particular map every map has a roughly 45% win percentage as of late.
So no matter the arena bet getting slaughtered even with all the experience of 977 games under their belt. They're a .500 team in any given tournament which does not bode well. Snax has been the silent killer and if he his razor steel stabs some opponents they could make a run, but I wouldn't bet on it. They're mainly a favorite in this tournament due to being one of the most experienced, but this has not helped them.
Winner Of The Tournament
When it comes to predicting the winner of the whole tournament I rarely find value in betting the odds on favorite. This is due to there no being much value in the wager and the dogs have large success in this tournament. Ninja in Pajamas won the 2016 edition of DreamHack Masters Malmö after defeating Natus Vincere 2-0 in the grand final of the tournament, which had $250,000 on offer. The Ninja In Pajamas team was a 12-1 dog going into the 2016 tournament. Both of these final two teams have some favorable odds to win the tournament.
Ninja In Pajamas is sitting at a solid 13-1 which being the previous champs this is an absolute steal. The runner-up in last year's tournament is currently 19.5 to 1. I will definitely engage in some future championship bet here. The value is too great. Especially since they're in separate divisions this adds our overall value for the tournament. So I will be pulling for a repeat for the Ninja in Pajamas after defeating the favorite going into the tournament SK.