Cryptocurrency Market Update for June 2018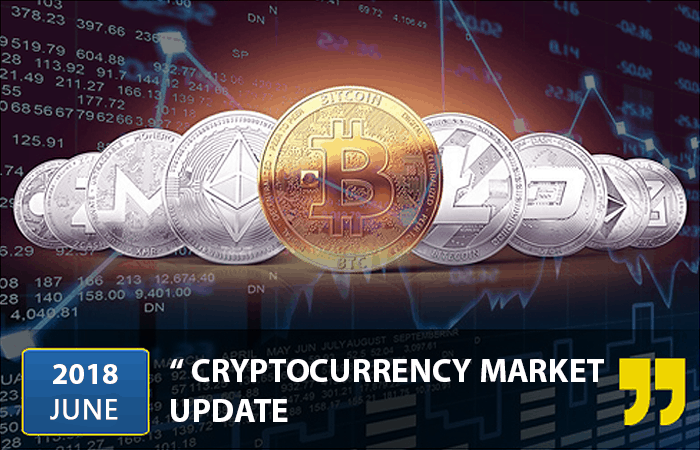 June has been another poorly-performing month back-to-back with May's market decline. We know that the stock market typically sees a slump in performance during the summer, which could be something that the cryptocurrency market is also experiencing in its own way.
Because of our lack of historical data, we can only really speculate as to what is causing this decline.
Using Bitcoin as a model, we can see that a year ago 1 BTC had a value of around $2,500 USD. It hit its all-time price high on January 6, 2018, at $17,527 per 1 BTC and is now back down to around $6,100 per BTC.
Because the public Bitcoin boom didn't really take off until April/May of 2017, the data for that summer isn't applicable when we're speaking in terms of observable trends.
With that being said, we can use this month's data to take a closer look at short-term predictions made for the remainder of 2018.
Predictions of this nature are used by potential buyers to see if purchasing the coin would be financially worth it, and in the current market, it's important to do as much research as possible to make the most informed decisions about where to put your hard-earned money.
Luckily for you, this June cryptocurrency market update is laid out to help you navigate the tumultuous and often stressful world of buying and selling crypto.
In addition to the top 10 market cap coin information, we've also broken down the predictions made by John McAfee last month that he expects will come to fruition by the end of July and how they measure up to those coins' performance this month.
If you'd like to read more about how a US Senate candidate was forced to return a donation made to his campaign in Bitcoin, the hacking and theft of $30 million in cryptocurrencies from Korean exchange called Bithumb, or how authorities are having trouble locating illegal World Cup bettors in Asia, check out our top stories section.
Top 10 Market Cap Coins
Keeping an eye on the crypto market is an important part of being involved with any coin. We've compiled a list of the top 10 market cap coins and have ranked each based on their performance this month.
There has been a slight change in position of the top market cap coins from last month, with Tether jumping to #9 and TRON bumping down to #11.
Unfortunately, 9 of the 10 coins had a negative percent increase in June, with the outlier being Tether, which ended the month at a 0% change. We hope to see a market turnaround by the end of July.
The coins are listed here by greatest to least market capitalization among the bunch, but each coin has also been assigned a rank that you'll find in the individual tables. This ranking goes from 1, the coin that performed the best over the course of the month, to 10, the coin that performed the worst.
#1 – Bitcoin
Bitcoin (BTC) is a decentralized digital currency that was introduced in 2009 along with the blockchain software. It was created by an anonymous person or group named Satoshi Nakamoto.
It was not the first digital currency to make its way onto the scene, but it did fix the issues that took down the previous currencies.
It had no value until 2010, when two Bitcoin users on the Bitcoin forum negotiated a transaction between them to purchase 2 Papa John's pizzas for 10,000 BTC. If each pizza cost around $12 each, they assigned the value of 1 BTC at $0.0024 USD.
The next year, a non-profit group called The Electronic Frontier Foundation began to take donations in the form of Bitcoin, but later stopped due to the lack of legal precedent surrounding digital currencies. WikiLeaks began accepting Bitcoin as donation in June 2011, as did a handful of other groups.
Of the 10 market capitalization coins on the market currently, Bitcoin did the second best in terms of percent change. Because all of the coins this month experienced losses, Bitcoin's #2 rank means that it experienced the 2nd-smallest percent loss in the month.
June Rank: 2
June 1, 2018: $7,541.45
June 29, 2018: $6,238.07
Percent Change in June: -17.2%
#2 – Ethereum
Ethereum (ETH) is another coin based on blockchain, making it a public ledger. It was founded by Vitalik Buterin in 2013, and its design simplifies the use of blockchain for the purpose of making peer-to-peer transactions, as well as transactions being made by companies.
It was introduced to the market in July 2013 with almost 12 million ETH "pre-mined" for ease of the crowd on that day. Unlike Bitcoin, Ethereum does not currently have a maximum supply set.
The coin has seen a few different changes since its implementation, which have been made to improve upon the previous version.
Ethereum did the 5th best this month, only experiencing a 24.5% loss. It began the month at almost $600 and has ended at just over $430
June Rank: 5
June 1, 2018: $580.04
June 29, 2018: $437.43
Percent Change in June: -24.5%
#3 – Ripple
Ripple was developed by Canadian web developer Ryan Fugger in 2004. He began to build a digital financial service to allow its users to engage in secure peer-to-peer payment transactions that he called Ripplepay.
From there, a digital currency system was developed called Ripple (XRP) in 2011. The coin was created as an alternative to Bitcoin that promised to use less electricity and perform transactions much faster.
The coin was launched to give users access to "secure, instant and almost free global money operations of any size without any chargebacks."
Like most other coins, you can purchase Ripple using fiat currency and other cryptocurrencies, and it also supports purchases made in units of mobile minutes or flight miles earned with your credit card.
Ripple, the 3rd in market cap, is the 6th-best performer this month. Ripple is much smaller in value as compared to the first 2 in market cap, remaining mostly under the $1 mark since it began, and its 29% percentage decrease in June means that those that own the coin only experienced a $0.20 loss.
June Rank: 6
June 1, 2018: $0.62
June 29, 2018: $0.45
Percent Change in June: -29%
#4 – Bitcoin Cash
Bitcoin Cash was born after a "fork" occurred in the original Bitcoin setup in August 2017. Transactions are said to be faster than Bitcoin, have an increased block size limit, and be cheaper to use.
Though it's currently a few thousand short of the original Bitcoin in value, it wouldn't be a huge surprise to eventually see it surpass the coin in market capitalization at some point in the future.
Bitcoin Cash had the 4th-best month of the top 10 market cap coins at a 21% decline in value from the first day of the month to June 29th. Its monetary loss from the 1st to the 29th was around $280.
June Rank: 4
June 1, 2018: $1,002.92
June 29, 2018: $720.14
Percent Change in June: -21%
#5 – EOS
This coin began as an ICO in June 2017 and was initially met with heavy criticism. At the ICO stage, it earned over $170 million and is now the 5th-largest coin in terms of market capitalization.
They have a 1 billion EOS supply cap and a current circulation of 896 million.
Of the 10 coins, EOS had the fourth-largest negative percent change. Its value per share isn't huge, so the 36.9% decline wasn't detrimental to those who have purchased it, but it still dropped by almost half in 1 month.
June Rank: 7
June 1, 2018: $12.31
June 29, 2018: $7.76
Percent Change in June: -36.9%
#6 – Litecoin
This coin was released by former Google employee Charlie Lee. It's known as an altcoin because it operates similar to Bitcoin. Released in 2011, Litecoin promised to produce faster transactions than Bitcoin because it is an improvement to the original code.
Litecoin had the 3rd-best performance of the month, only experiencing a 19% negative percent change. In USD, that is around $40 lost from the first of the month to market close on the 29th.
June Rank: 3
June 1, 2018: $119.92
June 29, 2018: $80.03
Percent Change in June: -19%
#7 – Stellar
Stellar is another coin that was based off of and created from another coin on this list. It was introduced in 2014 as an improvement to Ripple's code. This means it offers faster transaction speeds to its users.
Like most other coins, the Stellar network supports the use of traditional fiat currency in exchange for cryptocurrency.
Stellar came in at #8 in terms of performance this month, with a negative percent change of 37.9%.
June Rank: 8
June 1, 2018: $0.29
June 29, 2018: $0.18
Percent Change in June: -37.9%
#8 – Cardano
Cardano was developed by one of the former co-founders of Ethereum and claims to not only be a peer-to-peer transaction platform but also a platform that will eventually be capable of facilitating everyday financial transactions by individuals, businesses, and even governments
Cardano is ranked second to last this month due to its negative percent change of 45% from the 1st to the 29th.
June Rank: 9
June 1, 2018: $0.22
June 29, 2018: $0.12
Percent Change in June: -45%
#9 – Tether
Tether is a unique cryptocurrency because it is a representation of traditional fiat currencies applied to the blockchain. It was introduced in 2015 and offers 2 tokens to its users: USDT which represents the US dollar, and EURT which represents the Euro.
Tether was the top performer this month with its value holding steady from the 1st to the 29th.
June Rank: 1
June 1, 2018: $1.00
June 29, 2018: $1.00
Percent Change in June: 0%
#10 – MIOTA
This coin has caught on fast due to its reliance on a different kind of ledger called a directed acyclic graph. It processes transactions faster and more efficiently than Bitcoin, making it ideal for peer-to-peer transactions.
This month, MIOTA was the biggest negative percent change coin at almost 50% of its value lost from the 1st to the 29th.
June Rank: 10
June 1, 2018: $1.93
June 29, 2018: $0.97
Percent Change in June: ↓49.7%
June's Top Stories
This month's top cryptocurrency stories include attempts to crack down on illegal World Cup betting in Asia, a US Senate candidate in Missouri returning a donation of around 20 BTC due to federal regulations, and an exchange hack that has reminded us all that the convenience of crypto wallets hosted by exchanges is not worth the risk.
Remember, being informed about all of the current events in the crypto world is an essential part of participating in the purchase of a coin!
Taking the time to brush up on what's going on can be crucial, and we recommend you take a little time out of every day to browse your favorite source for cryptocurrency news.
Return to Sender: Political Campaign Donation Made in Bitcoin Given Back
Bitcoin – it's everywhere. You can use it online to purchase a sectional from Overstock.com, a ring for your spouse's birthday, and even other types of cryptocurrency! We should have known that sooner or later, it would be used to contribute to other things, such as political campaigns.
Austin Petersen, Republican running for US Senate in Missouri, has taken donations in Bitcoin before through the donation platform BitPay. Unfortunately, the supporter who attempted to donate 20 BTC (roughly $130,000) to his campaign was refused and asked publicly via Petersen's Twitter to re-submit a smaller donation through the proper channel.
This isn't the first time that Petersen has run into this problem.
Petersen has twice before had to refuse donations of $250,000 in Bitcoin because they've exceeded the limit put in place for an individual financial contribution.
The US Federal Elections Committee (FEC) has specific regulations in place that limit individual campaign contributors to $5,400 per year. In his tweet, Petersen suggested that the generous donator start a Political Action Committee (PAC) to support his campaign instead.
PACs do not have a donation limit set, as long as they are not directly involved with the candidate's campaign or committee and meet all federal regulations.
Petersen is a big supporter of cryptocurrency, going so far as declaring it "the future of American creativity and American liberty." He went on to say to CCN that he's happy to accept donations to his campaign in cryptocurrency. Just make sure they comply with the FEC's regulations!
Bithumb Exchange Hackers Take $30 Million in Cryptocurrency
Another large exchange based in Asia was hacked on June 19th, leaving it with $30 million less in cryptocurrency.
This hack came 12 minutes after the exchange temporarily suspended deposits in an effort to change the wallets directly connected to the exchange.
After the hack, all transactions were stopped, and the exchange went on lockdown. The official Bithumb Twitter reported the $30 million crypto loss on June 20th, stating that all of the losses would be covered by the exchange, and all remaining assets would be transferred to the cold wallet to ensure no more are taken.
The hackers are still unidentified, and it's likely that the hack occurred due to the wallet change being made.
This brings up an important point for everyone using a wallet that is directly connected to or hosted by their exchange of choice: keep your coins in a secure third-party wallet that is not linked to the exchange for less of a chance of having your crypto taken in a hack.
Founder of Litecoin, Charlie Lee, points this out in a tweet made on June 19th.
Another day, another hack. Hopefully BitThumb is able to cover this amount, though $30MM is not a small amount.

As I've said many times, be smart and only keep on exchange coins that you are actively trading. It's best to withdraw right after trading. https://t.co/8YpVcHx8tK

— Charlie Lee [LTC⚡] (@SatoshiLite) June 20, 2018
Remember to keep your cryptocurrency close to the vest, as you would with your other finances. Your cryptocurrency is an asset that you need to protect because it represents a portion of your hard-earned money.
If you'd like to learn more about which wallets we recommend for the smoothest, safest crypto experience, check out our cryptocurrency guide.
Illegal World Cup Gambling in Asia
Cryptocurrencies are often seen as somewhat of a taboo because they're mostly unregulated and decentralized and can be used for potentially illegal activity by criminals that can remain almost anonymous and untraceable.
And while most of that is inflated to seem more prevalent than it actually is, a large number of illegal gamblers in Asia are using cryptocurrency on illegal sites to bet on the World Cup.
Illegal gambling is fairly commonplace in countries like Thailand and Malaysia, both countries where soccer is very popular, and coincidentally where most forms of gambling in general are prohibited.
But an influx of illegal gamblers is flooding the sports betting sites to hopefully bring in some money on their World Cup bets.
Why are so many people brazen enough to try?
The answer is WeChat.
WeChat is an app developed in China that is like most other messaging apps, except it has a mobile payment service built in. This is making it easier for people to place bets and collect payouts, especially if they're dealing in cryptocurrency.
This app and the use of cryptocurrencies is making it difficult for authorities to hold illegal bettors responsible because it's hard to know exactly where they're located.
What's in Store for July?
The old saying "knee high by the 4th of July" is typically used when talking about corn, but we're hoping we can count on a positive growth in the cryptocurrency market next month as well.
As we said earlier, the stock market typically experiences a slump during the summer months, so it's entirely possible that the crypto market is experiencing something similar, but it's impossible to say for sure.
After an overall loss in both May and June, cryptocurrency owners need the market to bounce back before any more of their investment is lost. It's possible that people will start to lose hope in the market and sell their remaining coins, which would not positively impact the market.
But because we have no data to go by, we're all continuing down this path blindly, hoping it will turn around.
There haven't been many forecasts made about what we might see in July in terms of the market, but we have some predictions made at the end of last month that we can re-examine with the June performance for each coin.
Though most people know that short-term predictions are less than reliable, they can be used to track a coin's immediate path. John McAfee is well known for his computer safety software but has also made a name in the crypto world after predicting that the price of Bitcoin will hit $1 million per share by 2020.
In our May crypto market update, we mentioned McAfee's predictions, most of which were made for July, but we'd like to take another look at them with June's data.
At the end of May, he made a few predictions using his "algorithms" for things both in and out of the cryptocurrency world. Some were world events and meetings of leaders, but we're most interested in what he believes is in store for crypto in July.
In this tweet, he made 2 predictions about Bitcoin. The first was that Bitcoin will surpass $15,000 in June, and we know that didn't exactly come to fruition. Instead of meeting his expectation, it actually fell even lower than it was in May when the prediction was made.
The second was that the price will dip in July. With the path that it's currently on, a dip in price wouldn't come out of left field. But a dip could also potentially bring the price per share down to as low as $5,000 per share, less than half of what it was on the first day of the year.
He also predicted the path of a few smaller coins.
"Golem will surpass $5 by the end of July."
The price per share of Golem (GNT) at market close on May 24th, the day the prediction was made, was $0.48. In order to make it to the $5 mark, it would have to increase by 90% at that time. A month later on June 24th, GNT had dropped to $0.28.
At this point, the coin's value will need to increase by almost 2,000% in about a month. Cryptocurrency is volatile as we've said, so really anything is possible in terms of value fluctuation, but that rate of increase is probably unlikely. We'll have to see what July has in store for the market.
"Docademic will hit 73¢ by mid-July."
Docademic (MTC) is one of the few coins that actually experienced a price increase from the 1st of June to the 29th. It has fluctuated a bit, almost hitting the 40¢ mark at one point in the month, but it has experienced a general bump in value.
At the time McAfee made this prediction, MTC was at 14¢ per share. A month later on June 24th, it had increased to 29¢. If it continues on this path, fulfilling this prediction is certainly not out of the question.
"Bezop will hit 52¢ by mid-July."
Bezop (BEZ), another small coin, was at ICO status until January 10th of this year. It was at $0.11 USD at the time the tweet was sent out and was up to $0.12 a month later on June 24th.
Though 52 cents seems ambitious, every day on the cryptocurrency market is a surprise. We think that it will probably hit somewhere between $0.17 and $0.20 if it continues on its current pattern.
"Bitcoin Private will surpass $200 by the end of July."
This coin is much smaller than its namesake and is clocking in at $10.18 USD per share at market close on June 29th. When McAfee's prediction was made on May 24th, it had a value of almost double what it is today, $26.22. A month later on June 24th, it was down to $11.73.
We may see him revise some of his predictions soon, but he seems to be confident in what he's said. If Bitcoin Private were to reach $200 by the end of July, it would have to see a growth of $189.82 in a very short period of time.
"EOS will hit $32 by the end of July."
EOS is one of the top 10 market cap coins, currently valued at $7.74 per EOS. On May 24th, it was valued at $12.75 per coin, which is almost double what it is today.
In order to fulfill this prediction, EOS will need to see an increase in value of $24.26. Again, not impossible, but it seems unlikely with the market at its current state.
Summary
Regardless of the predictions made, keep an eye on the overall market and the individual coins you own over the next month.
Do what feels right for you in terms of buying and selling because, after all, it is your financial asset.
Take these predictions with a grain of salt, and do your own research and observations before you buy any of these coins for the upcoming month of July.