Crying Jordan and the Best Memes in Sports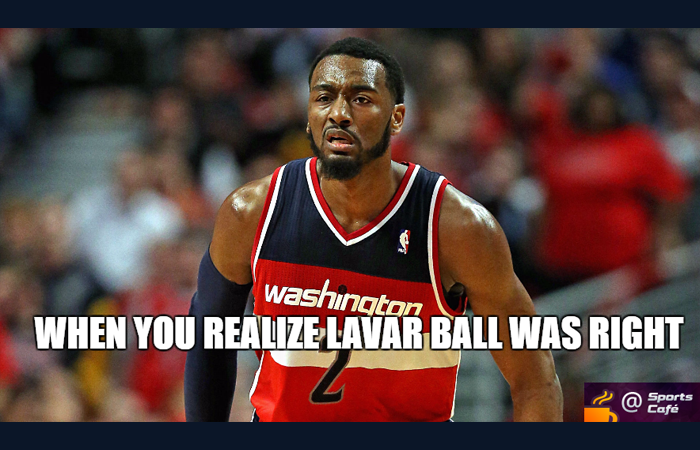 Pictures can say a thousand words, so just imagine what pictures with words on them can do. I'm guessing that was the inspiration behind memes and the reason that memes have become the most effective way to capture the interest of Internet surfers with a shorter attention span than a goldfish.
Like them or not, memes have a place in all aspects of life. I think that's particularly true of sports, a realm many of us enter to be entertained, inspired or even just to enjoy a good laugh.
Here's a list of my 10 favorite sports memes from over the years, along with some background information on all of them. Keep in mind, this is my own personal list, so feel free to chime in with your own favorites in the comments section below.
1. Crying Jordan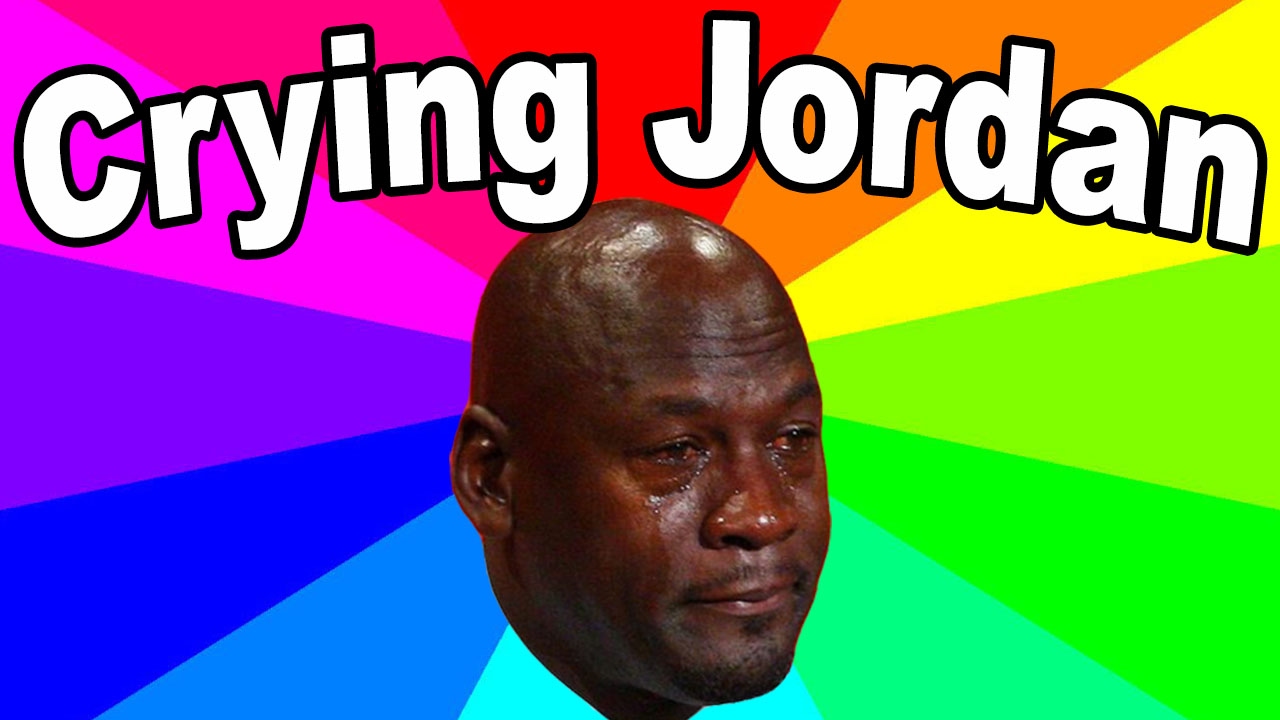 Many high-profile athletes have broken down in tears after a dramatic victory, tough loss or other emotional moments.
But meme creators everywhere have fixated on a picture of Michael Jordan crying during his acceptance speech at the Basketball Hall of Fame induction ceremony in 2009. Now, it seems like any time a team loses a big game, a meme of Crying Jordan's face superimposed onto their bodies (or even onto their logo) is quick to follow.
Despite media criticism questioning the ongoing use of the meme and even suggesting that it isn't funny, Crying Jordan doesn't appear to be going away anytime soon. Jordan himself has been said to actually find the meme funny and the sight of one of sports most iconic figures blubbering away is one that isn't easy to forget.
2. Smokin' Jay Cutler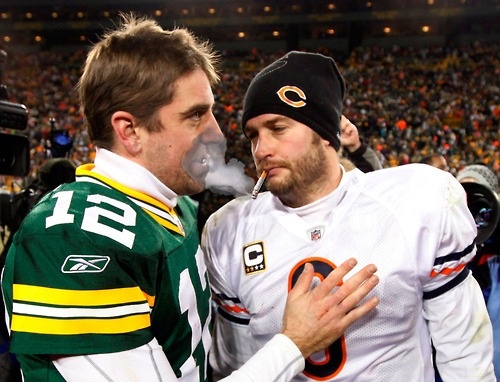 It's hard to think of a more apathetic athlete than Jay Cutler. Blessed with a rifle for an arm and tons of athleticism, Cutler is known mostly as a chronic underachiever during his NFL career with the Broncos and Bears. The biggest criticism of Cutler is that he doesn't really give a damn, a vibe all fans get from the nonchalant, disinterested look that is always present on his face.
The Smokin' Jay Cutler meme encapsulates all of those character traits. Nothing says too-cool-for-school, bored and indifferent more than a picture of you doing your thing with a dart dangling from your lips.
3. Warriors Blew a 3-1 Lead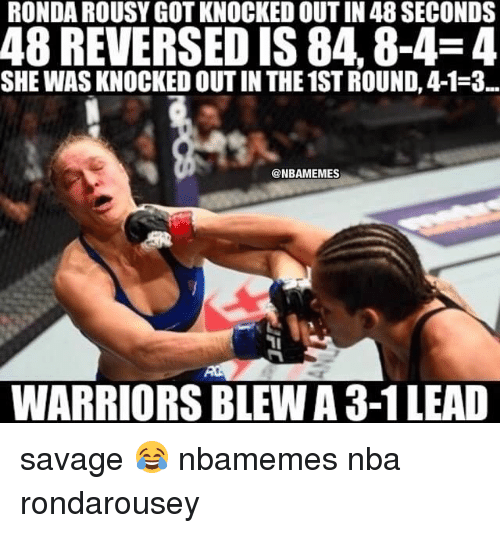 The bigger they are, the harder they fall. So naturally, those of us who aren't Golden State fans were quick to revel in the fact that the Warriors, who had set an NBA record that season with 73 regular-season wins, choked away a 3-1 series lead over the Cleveland Cavaliers and lost 4-3 in the 2016 NBA Finals.
Though there have been several occasions since then that a team or individual saw certain victory slip through their fingers (the Indians blew a 3-1 lead in the 2016 World Series, Hillary Clinton lost the presidential election to Donald Trump and the Falcons blew a 28-3 lead over New England in last year's Super Bowl), the Warriors remain a hot meme target for their 2016 collapse – even if it requires a lot of creative math to make the connection.
4. Kevin Durant to the Penguins
Speaking of the Warriors and blown 3-1 series leads, Kevin Durant's Oklahoma City Thunder saw a 3-1 lead over the Dubs slip away in the Western Conference final of those very same 2016 playoffs.
That made for the perfect storm of ridicule when Durant announced last summer that he was leaving OKC to join the very super team he had just lost to. The old saying "If you can't beat them, join them" had never been truer, and K.D. was grilled mercilessly for chasing a ring instead of earning it on his own.
When the Pittsburgh Penguins won their second straight Stanley Cup this past summer (and before Durant had won his first NBA championship with the Warriors), this hilarious meme popped up in reference to Durant's "My Next Chapter" announcement on The Players' Tribune the previous year. The fact that Durant actually responded to tweets about it indicated that the meme hit the sensitive NBA superstar where it hurt.
5. Butt Fumble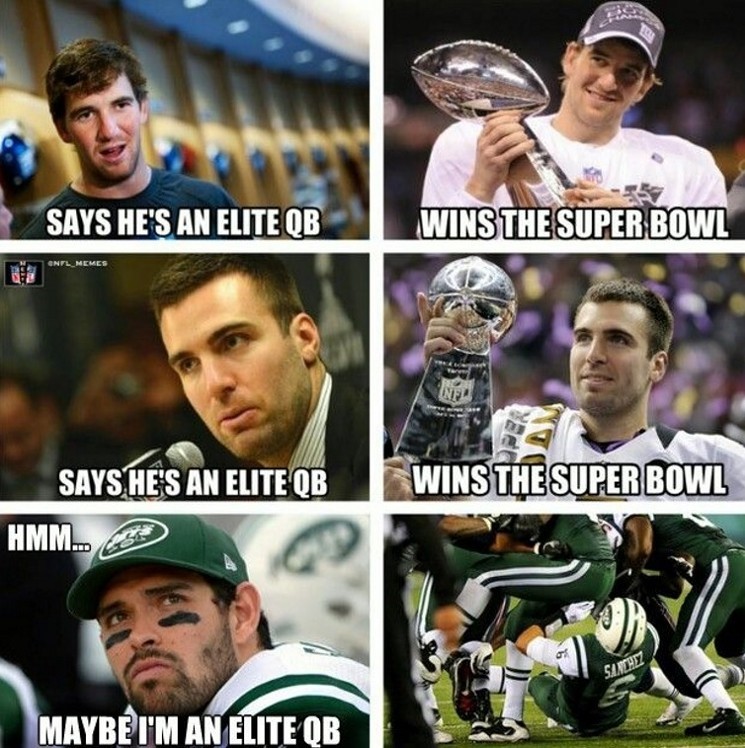 There aren't many quarterbacks who have had a farther and quicker fall from grace than Mark Sanchez.
The former USC Trojans standout and Rose Bowl MVP enjoyed a strong start to his NFL career, reaching the AFC championship game in each of his first 2 seasons, but things quickly went south after that.
Rock bottom for Sanchez was epitomized by the infamous "butt fumble" in 2012, when the Jets quarterback lost the ball after colliding with his own teammate's backside against the Patriots. It didn't help matters that the game was on national TV in prime time on Thanksgiving Night or that the Jets were pounded 49-19 at home by their AFC East rivals.
The meme above is my personal favorite from the hilarious misplay, though you can view a collection of some of the other top ones here.
6. Homer Simpson Disappearing Into Bushes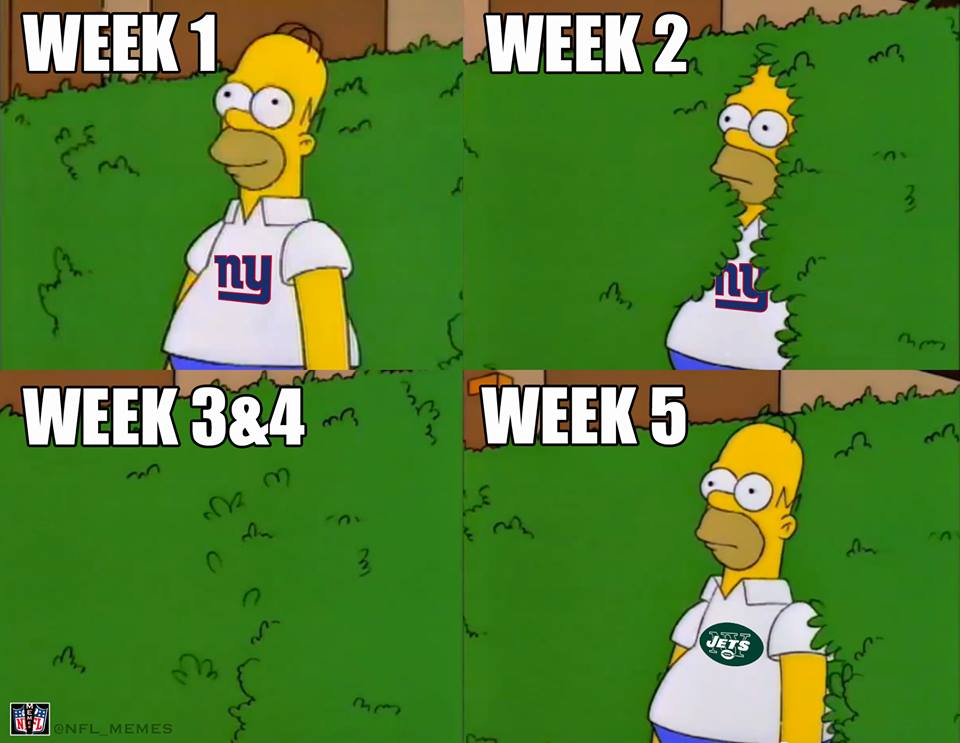 Fans of the Simpsons might recall a scene from a 1994 episode titled "Homer Loves Flanders" when America's lovable idiot backs into the bushes and out of sight in embarrassment after the Flanders tell him they don't want to hang out with him.
More than 20 years later, the short scene has taken a life on its own, appearing as a sports meme whenever fans have a reason to quickly jump off one team's bandwagon and onto another.
7. Darvish World Series MVP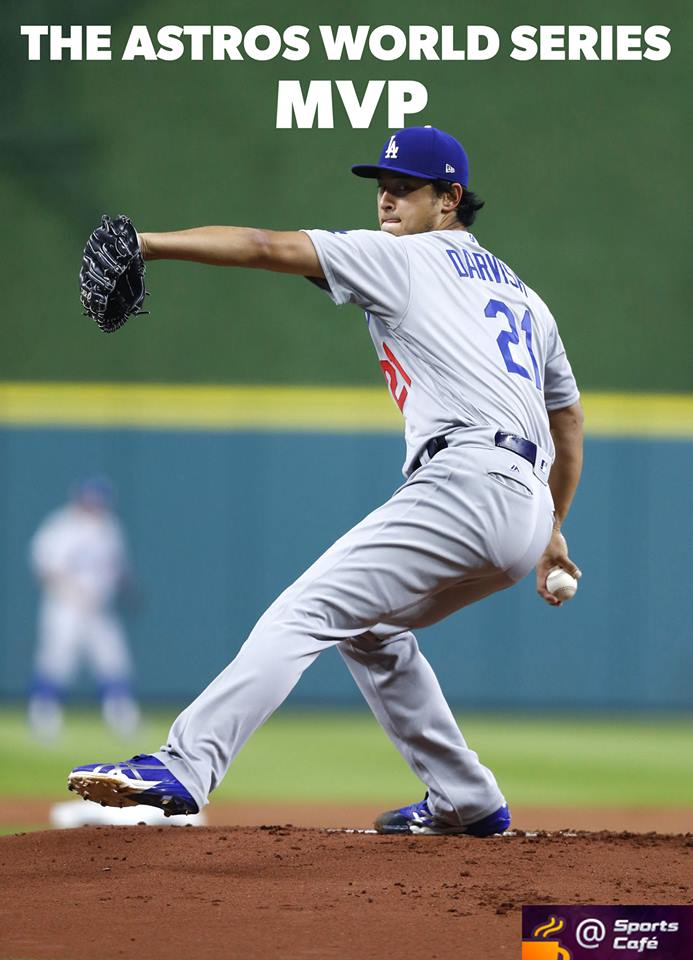 Yu Darvish was great for the Dodgers in the first 2 rounds of the 2017 playoffs, going 2-0 while allowing just 2 earned runs in 11.1 innings of work against the Diamondbacks and Cubs.
But he stunk out the joint for LA in the World Series against the Astros, getting lit up for 4 runs in 1.2 innings in Game 3 and then giving up 5 more in the first 2 innings of Game 7. And entertainment website Sports Cafe was quick to pounce on Darvish's horrific showing in the Fall Classic, mockingly suggesting LA's trade deadline acquisition was the World Series MVP because of how much he helped Houston win it all. The meme ended up receiving more than 18,000 likes on Facebook.
8. Tom Brady Deflategate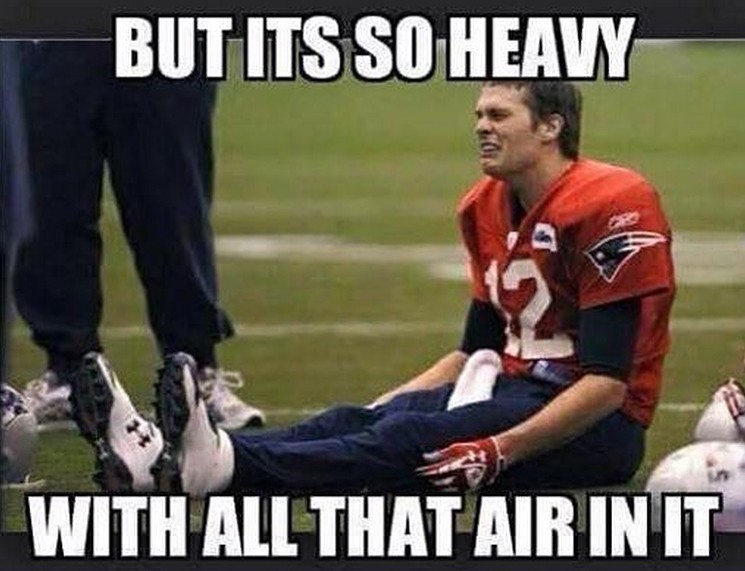 The deflategate saga involving Tom Brady and the Patriots was pretty ridiculous, considering that it was never actually proven that Brady had any involvement in or knowledge of the under-inflated footballs used by New England in its 45-7 pounding of Indianapolis in the 2014 AFC Championship Game.
The polarizing nature of the Patriots and the bizarre circumstances surrounding the incident made Deflategate a buzzword on the Internet for months, leading to tons of great memes.
9. Sad Simba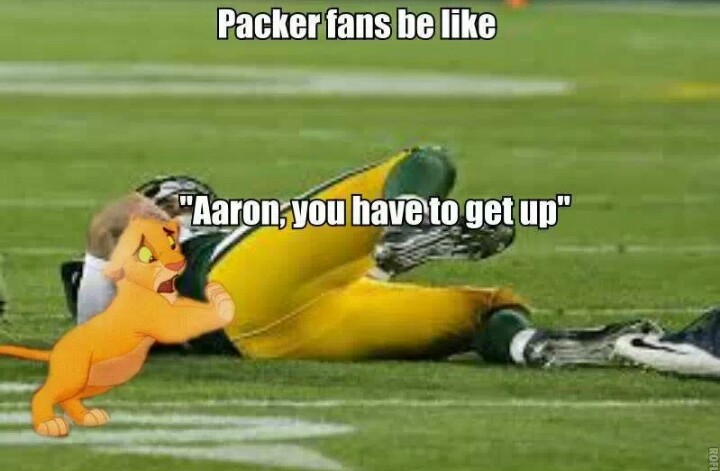 Anyone who has seen the Lion King (let's be honest, who hasn't?) remembers the scene in which young Simba goes down into the gorge to check on Mufasa after he was run over in a stampede of wildebeests. Even for an animation, it was pretty sad to see Simba nudging his dad and futilely attempting with all his might to will him back to life.
The silver lining to that sad story is that it makes for a really funny sports meme whenever an athlete goes down or even when fans in the crowd are upset.
10. Steve Harvey Vikings Win!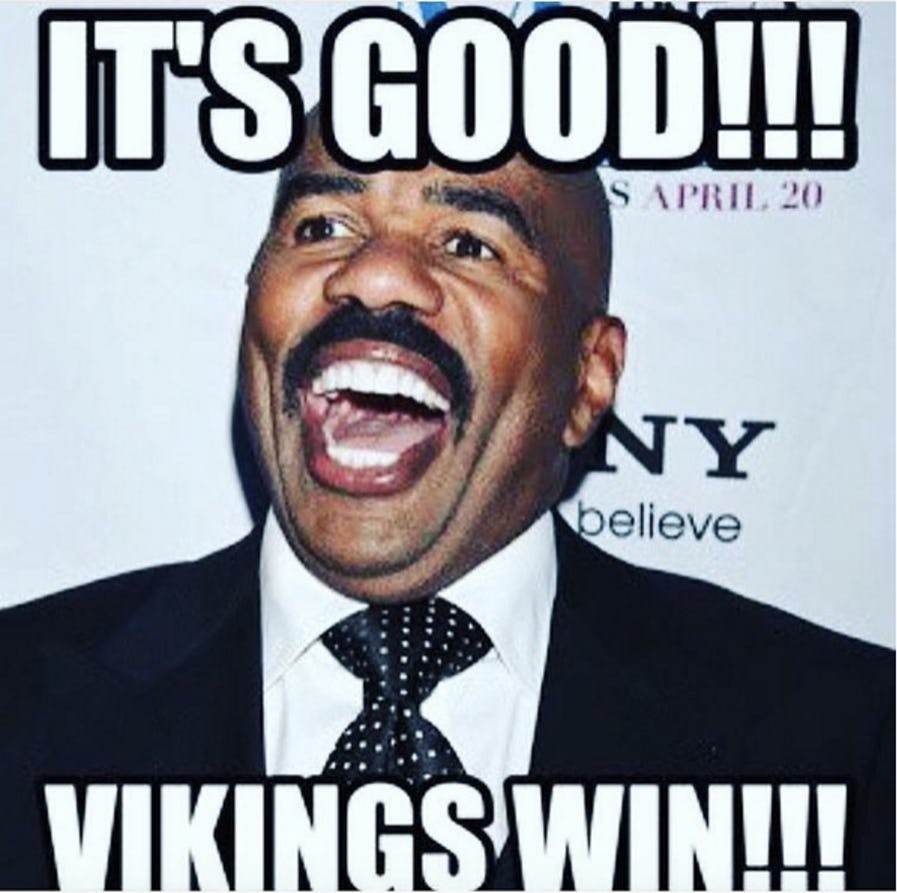 Savage is the best word I can come up with to describe the meme that Seahawks wide receiver Ricardo Lockette quickly posted on Instagram after Vikings kicker Blair Walsh inexplicably missed a chip-shot 27-yard field goal that would have beaten Seattle in the 2016 NFL playoffs.
Lockette, who was on injured reserve at the time, not only "kicked" Walsh while he was down, he also got a shot in on Steve Harvey while the wound of Harvey's bumbling of the Miss Universe 2015 pageant was still fresh. Harvey, you might remember, mistakenly announced the runner-up of that pageant as the winner, then had to go back on stage 4 minutes later with his tail between his legs and correct his embarrassing mistake.
Ironically, Walsh is now the kicker for the Seahawks. A locker room confrontation about the meme was avoided, however, because Lockette had to retire from the NFL in 2016 due to injury.