Creating a Casino Version of Family Game Night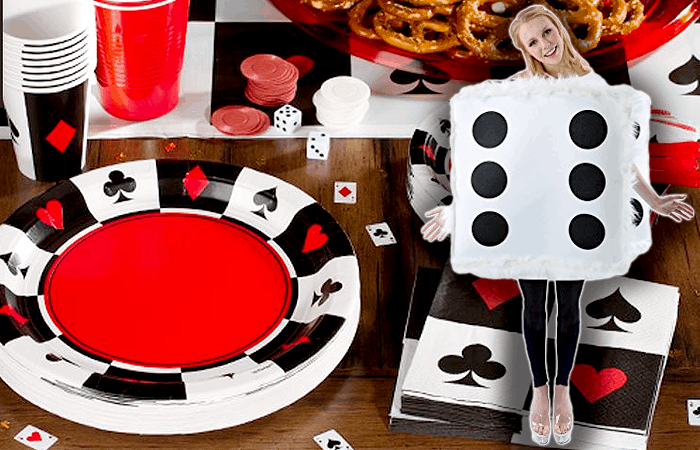 Back before everybody had smartphones and constant access to the internet, people leaned heavily on board games for entertainment.
Even with the influx of recent technology, some families still enjoy classic board games like Charades, Clue, Cluedo, Monopoly, Scrabble, and Uno.
Adults also like getting together and playing games like Apples to Apples, Bad Medicine, and Cards Against Humanity.
One good thing about playing board and card games is that they offer more socialization than playing console and smartphone games. And this socialization creates more memories than simply mashing buttons on a video game console or smartphone.
What's nice is that you can create the same type of memories with a family casino night. Even non-gambling enthusiasts will enjoy the competition of trying to win the most chips.
Plus, anybody who already plays casino games online and/or in land-based venues will appreciate the change of scenery.
If you're interested in hosting a casino version of family game night, keep reading as I cover 9 steps to make it happen.
Step 1 – Recruit Players for Family Casino Night
The first thing that you need to do is find out who wants to participate in your family casino night. As the name implies, the best place to start is with your family.
But parents must also decide if they think that casino night is appropriate for younger kids.
I don't personally see anything wrong with having children aged 12+ play poker and blackjack for fun. This can also be a learning experience, where you teach kids how to properly manage their money in relation to risk.
The other side of the spectrum, though, is that some parents will feel that they're pushing their children towards gambling. And those who are totally against casino gambling won't even think of having a family casino night anyways.
If you're on the fence about whether to include your kids, you can always opt for a poker night. This skill-based game is versatile enough that it can be played among both non-gamblers and serious players.
Another option is to hold a family casino night around the holidays and only include the adults. You can set up fun activities for the children to do on the side of your playing. This solves the problem of involving kids in the gambling and keeps the family factor intact.
You'll especially have plenty to keep the kids occupied if it's Christmastime and they have presents!
One more option includes ditching the family aspect and holding your casino night for a group of adult friends. This is particularly appealing if you know casual gamblers who'd like to play casino games in a home-based setting.
Step 2 – Create a Theme
Many people who attend your family casino night will already have fun playing the games. But you can make this an even more memorable occasion by theming and decorating your casino night.
Las Vegas is the world's most iconic gambling destination. Therefore, a Vegas theme is always a hit with everybody.
You can also use a more exotic location like Monte Carlo or Macau. Monte Carlo is the second-most-popular theme used by charity organizations that hold casino nights.
Once you've settled on a theme, you can get decorations to match it. Here some examples for Vegas:
Small "Welcome to Fabulous Las Vegas Nevada" sign
Oversized dice – fluffy or hard plastic
Gold letter balloons that spell out "Las Vegas"
Plates and cups decorated with card suits – found at plenty of online retailers
Large 7 and cherry decorations
You can get even more creative than this with your Vegas-themed decorations. But this gives you a starting point on how to transform your living room into Sin City.
Step 3 – Create a System for Determining the Winner
Much like board games, family casino night isn't meant to be played for real money. You'll need to come up with an alternative system for determining the winner.
The most obvious way to do this is by choosing the person who ends casino night with the most chips. This can be unfair, though, because a skilled poker player could use their advantage to clean up most of the chips. Meanwhile, luck-based games like craps and roulette can distribute the chips more evenly.
Another method includes treating each casino game as a separate competition and awarding the winner a predetermined number of chips. For example, the winners of the blackjack, craps, and poker portions would all receive 100 chips.
This would be a "fairer" way to distribute the competition across all games.
Nevertheless, the simplest way to choose the family casino night champ is by picking the overall chip leader.
Step 4 – Figure out What Games to Play
You can get input from your family and/or other casino night participants on their favorite casino games. Including everybody's favorites will make the evening more fun.
But there are other things to consider here besides what games are most popular, including laws in your area and the difficulty in obtaining certain equipment.
Some states and countries have laws against owning regulation craps and roulette tables. You must also consider the tremendous amount of work and money involved in getting authentic casino tables.
You should offer gimmicky versions of these games to stay on the legal and inexpensive side of things.
A simple way to run casino night is by having all card games. Many people are familiar with poker, while you can also include other popular games like blackjack, three card poker, and war.
Step 5 – Set a Casino Game Night Budget
You can put as much into a family casino night as you wish. But remember that you'll need to spend more money and time creating an elaborate casino night.
If you're just playing casino games with your family, you don't need to go all out with authentic gaming equipment and create the second coming of Vegas. You can also keep things simple if you're merely having a few friends over.
Of course, you can try to impress when holding a large casino night with lots of family and/or friends. This includes hiring a dealer, serving hors d'oeuvres, and having alcohol for adults.
In any of these cases, you want to set a budget that you're comfortable with. Here's an example of how to create this budget.
Available funds = $150
Gaming equipment = $50
Decorations = $50
Food = $50
You may want to expand on this simplistic version. But the key is that you create a budget so you're well prepared.
Step 6 – Get Gaming Equipment and Know the Laws
Gaming equipment is another area where you can go big or small for family casino night.
Again, you'll probably only be playing a few card games when holding a true family casino event. But you can also find cheap, imitation craps and roulette tables online.
These don't perfectly emulate the gambling tables at Vegas, but they're still cheaper alternatives that are fun to play. You can purchase cheap craps and roulette tables for $15 (felt and craps) and $60 (table and wheel), respectively, on Amazon.
You can also purchase a tabletop felt for blackjack, poker, and any other card game for $20 or less.
Odds are highly unlikely that you'll buy a regulation blackjack, craps, or poker table. These cost anywhere from $1,000 to $3,000 and take up a ridiculous amount of space in a home.
You may consider renting these options if you're really serious about family casino nights. But this is still overkill for what's meant to be a few hours of entertainment among family or friends.
I recommend sticking with the basics and focusing your energy on an all-around entertainment experience with the right decorations and food.
Also pay special attention to the laws in your state/country before purchasing equipment. Some states have legal language that makes it illegal to own bona fide gambling devices like a craps or roulette table.
You can see gambling laws for all 50 American states here.
Step 7 – Order or Make Food
Your family may be perfectly satisfied with pizza and hot wings for casino night. But you can always take things up a notch by having hors d'oeuvres and a delicious dish like prime rib.
If you're accommodating a large group of people and don't want to break the bank on food, you can serve a lot of people with hotdogs and hamburgers.
This won't live up to eating at Joël Robuchon in Las Vegas. But it's an affordable way to feed either your family or a large group of friends.
Step 8 – Make Sure Everybody Understands the Game Rules
Family casino night is a lot more fun for everybody involved when they each understand the game rules.
If one of your family members/friends doesn't know Texas hold'em rules, for example, you can have a 10-minute instructional session and/or watch a YouTube video beforehand.
Another option is to offer simplified versions of games to cut down on confusion.
If you're running a craps game, you can cut out all bets except for pass line, don't pass line, come, and don't come. Another example includes limiting roulette wagers to outside bets, including red/black, odd/even, high/low, columns, and dozens.
Ideally, everybody will know the rules and bets for each game. But simplification is good if your family/friends are new gamblers who are mainly interested in a fun game night.
Step 9 – Determine a Winner(s) and Award Prizes Accordingly
The final step to a family casino night is figuring out the winner. Earlier, I discussed a couple ways to score this, including picking the overall chip leader or assigning chip counts to the winner of each individual game.
In both cases, you need to add the chips up and determine who the player of the night is.
You can further spice up the action by giving a prize to the winner. This can be as simple as a candy bar for the winning family member or something more valuable like a gift certificate.
I like the idea of playing for pride, like with board games. But you should award prizes at least once to see if they add anything to the occasion.
Conclusion
Running a family casino night isn't difficult if you break everything down into steps. And once you've held a casino night, you can easily pull out your gaming equipment or just a deck of cards and have casino night again.
The good thing about family casino night is that there are different options for how to run it. You can make these events extravagant – complete with gourmet food and authentic gaming equipment – or you can just have a fun night for the family.
I feel that you should treat family casino night just like you would a board-game affair, where you're having casual fun with nothing too fancy involved. But you might ultimately decide to recreate Vegas or Monte Carlo in your home.
Whatever the case may be, family casino night puts an entertaining spin on the concept of a board-game night. And your family/friends might learn that they have more fun with casino games as opposed to board games.