Hide Bonus Offers
| | | | | |
| --- | --- | --- | --- | --- |
| #1 | Bovada Sports | 50% Up To $250 | Visit Site | Bovada Sports |
| #2 | BetUS | 125% Up To $2,500 | Visit Site | BetUS |
| #3 | MyBookie | 100% Up To $1,000 | Visit Site | MyBookie |
| #4 | Everygame | 100% Up To $500 | Visit Site | Everygame |
| #5 | BetOnline Sports | 60% Up To $1,000 | Visit Site | BetOnline Sports |
The Craziest McGregor vs. Mayweather Prop Bets You Should Wager On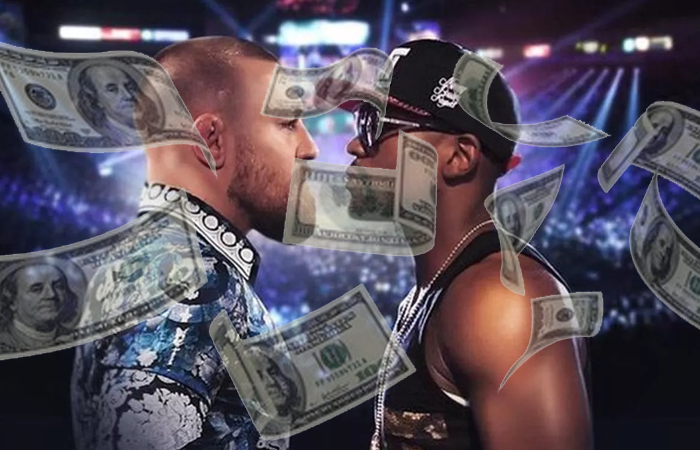 Boxing and MMA combine for quite arguably the craziest fight we've laid our eyes on come August 26th, when UFC star Conor McGregor and living boxing legend Floyd Mayweather Jr. prepare to square off.
Even more ridiculous than the fight itself? The insane McGregor vs. Mayweather prop bets that have already been born out of it. Anyone familiar with sports or the betting world wouldn't be shocked to see plenty of McGregor vs. Mayweather wagers already popping up on MMA and boxing betting sites, but some of the prop bets that are already surfacing take it more than a step or two further.
Forbes recently pointed out that some of the crazy McGregor vs. Mayweather prop bets border on Super Bowl-like insanity, but crazy or not, all of these extra bets only add to the entertainment. More than that, they give us another potential avenue for serious profit.
Whether you can about this huge bout or not, you can place money on a litany of bets that could potentially see you winning big. Which ones you target is up to you, but it might be worth a second to peruse the craziest options on the web:
Touch Gloves?
There has to be at least some degree of true respect between these two iconic fighters, but we rarely sniff any of that until after the fight is finished. Is there any chance we get a hint of it immediately before the bout when the fighters have an opportunity to touch gloves?
Mayweather seems somewhat more respectful than McGregor and he's used to the boxing world, so he might be fine with it, but it shouldn't shock anyone if Notorious tries to get the crowd going by rejecting Money Mayweather of that chance before the fight starts. You can bet yes (-225) or no (+165), but neither side offers insane value.
Method of Victory – Conor McGregor Win by KO
This is Floyd Mayweather's fight to lose (-550 favorite at Bovada) and it's quite unlikely the 49-0 boxing icon drops this one, but what if he does? Conor McGregor isn't a traditional boxer, but he certainly is known for his striking in the UFC and he's also proven to be one tough nut to crack.
Should McGregor find a way to stage the upset, his most likely path to doing so is via some type of KO, TKO or DQ finish. We can aim high with this bet (+550 odds) which both provides strong upside and probably the ideal finish to this bout.
Mayweather Assault
An intriguing issue has always been Floyd Mayweather's negative past that has included a domestic assault. Is it beyond Notorious to bring that up to try to rattle his upcoming opponent? Perhaps, but he's certainly talked some mad trash against all of his past competition and it's fair to say nothing is truly off limits under arguably the biggest fight spotlight we've ever seen.
Depending on which boxing site takes this bet, you could see and Over/Under of about 1.5 (times he references the assault) and an Over at -185 and Under at +155.
McGregor vs. Mayweather II
One fun bet is to speculate whether or not we'll get a rematch between these two stud fighters before the first one ever goes live. The only way that happens is if this ends up being a far tighter fight than expected, or if Notorious actually stages a wild upset win. In either case, we'd probably make good on the +250 odds for a rematch to go down.
Headed to the Octagon?
We could always consider taking it one step further and letting round two go down in McGregor's neck of the woods – a UFC Octagon. McGregor is losing some of his power with bigger gloves, as well as some of his fighting expertise (no kicks and submissions), so if he loses, it'd only make sense for him to challenge Mayweather to beat him at his own game.
Such a bet is rather unlikely to pay off, but anyone searching for some serious upside in the event we get a second go around between these two stars could be looking at very playable (Yes – +800) odds.
Who Has Quit in Them?
This prop bet is pretty far out there, as it involves either side actually throwing in the towel and giving up the fight. It's tough to see this happening given the talent and pride on hand, but if McGregor is just flat out gassed and out-matched, it's possible he won't have the endurance to finish a full 12-round fight.
The only other way the fight could end prematurely is if one side is getting beaten to a pulp or someone gets hurt. But flat out quitting feels like a stretch for either side, so as tempting as +300 odds for the "yes" side of that argument are, we'd probably have to pass.
Low Blow Central
In the name of Mike Tyson, we may want to prepare for one of these fighters ditching a classy fight for an "anything goes" brawl in the ring. That's an interesting bet (Yes +175, No 250), but it's an unlikely one. Conor McGregor is brash and more unorthodox compared to Mayweather, but both of these guys fight fairly and have enough composure to thwart off a weird bet like this.
First Minute Win
A lot of people betting on McGregor vs. Mayweather want to see a big upset, because that's where the money is. What could make that even better is if an early McGregor KO win happened within the first minute of this bout.
That is one crazy prop bet we can consider, and if it happens it can pay out as much as +2400. Of course, you can shoot for that upside on the other side and favor Mayweather to notch a quick KO, too. Regardless of how you look at this fight, that makes for a leveled playing field and makes this a very interesting (and potentially profitable) prop bet to consider.
Conor's Strut
McGregor is certainly known for his wild antics and in-ring flair, so early KO or not, we may want to prepare for more of that in what is financially the biggest fight of his career. That brings the "Billionaire Strut" into play, with oddsmakers giving weak odds (-225) for Notorious to present it at some point during this high profile boxing match.
Of course, if you're on the side that thinks McGregor will be largely business and/or dream up something different to express himself, you could make some serious coin on the "no" side (+165), depending on your bet.
Press Conference Altercation
There's nothing like hyping up a big fight, so you better believe everyone will keep an eye out for the official pre-fight press conference ahead of this boxing match. That gives way to a very interesting bet that lays +260 odds on there being a physical altercation.
McGregor has been involved in some scuffles and has been known to have some bottles thrown around, so with the amount of trash talk already dripping from this bout, we wouldn't put it past either fighter to initiate some early contact.
F Bombs Away
Speaking of pre-fight nonsense, there is also a weird prop bet on whether or not McGregor will have a loose tongue at the initial weigh-in. More specifically, we can bet on the number of F-bombs Notorious delivers. The Over/Under starts at 4.5.
Accidental Kick
Another interesting McGregor vs. Mayweather prop bet could be whether or not Notorious knows how to reel in his MMA skill-set during a punch-only fight. After all, McGregor utilized kicks and takedowns in his regular fighting in the UFC, so without the ability to do that, it will be interesting to see if muscle memory "kicks" in and he accidentally does something that would be deemed illegal in the world of boxing.
Does that count as a "low blow" like we already touched on? Who knows, but you could get 99:1 odds, depending on where you're placing bets on this fight.
Twitter War
Both fighters remain quite active on social media, specifically on Twitter. McGregor trumps Mayweather in that department when it comes to tweet ratio, but we can bet on their combined tweets during August (Over/Under 40.5 at -115), as well as which fighter will be more active on the social media platform (McGregor -160, Mayweather +130) ahead of the fight.
The early money should be on the Over and side with McGregor. Both fighters are active enough to potentially surpass the 40.5 tweet Total relatively easily, but Notorious is slightly more active on average. He sure loves his trash talk and with a new baby boy in his world, extra tweets could keep popping out that may not even have anything to do with the fight or boxing/fighting in general.
What Fight?
Before any of these crazy Mayweather vs. McGregor prop bets can even come to fruition, there has to be an actual fight. Even the biggest fights have had their struggles to actually go live and finish in the past, so until it's here and officially happening, we should always be ready to have the rug ripped out from under us.
Preparing for that disappointment with a bet (+350 odds for the fight to be cancelled) could be highly profitable.
The beautiful thing about all of these killer McGregor vs. Mayweather betting options is that this list only features our favorites. There are a slew of extra prop bets we will want to consider, ranging from precisely how the fight will end, which round it will go until, and the list goes on. In fact, with over two full months to go before this massive showdown, there are sure to be more prop bets added to a litany of MMA and boxing sites.