Hide Bonus Offers
| | | | | |
| --- | --- | --- | --- | --- |
| #1 | Bovada Sports | 50% Up To $250 | Visit Site | Bovada Sports |
| #2 | BetUS | 125% Up To $2,500 | Visit Site | BetUS |
| #3 | MyBookie | 100% Up To $1,000 | Visit Site | MyBookie |
| #4 | Everygame | 100% Up To $500 | Visit Site | Everygame |
| #5 | BetOnline Sports | 60% Up To $1,000 | Visit Site | BetOnline Sports |
Countries You've Never Heard of That Offer Online Gambling Licenses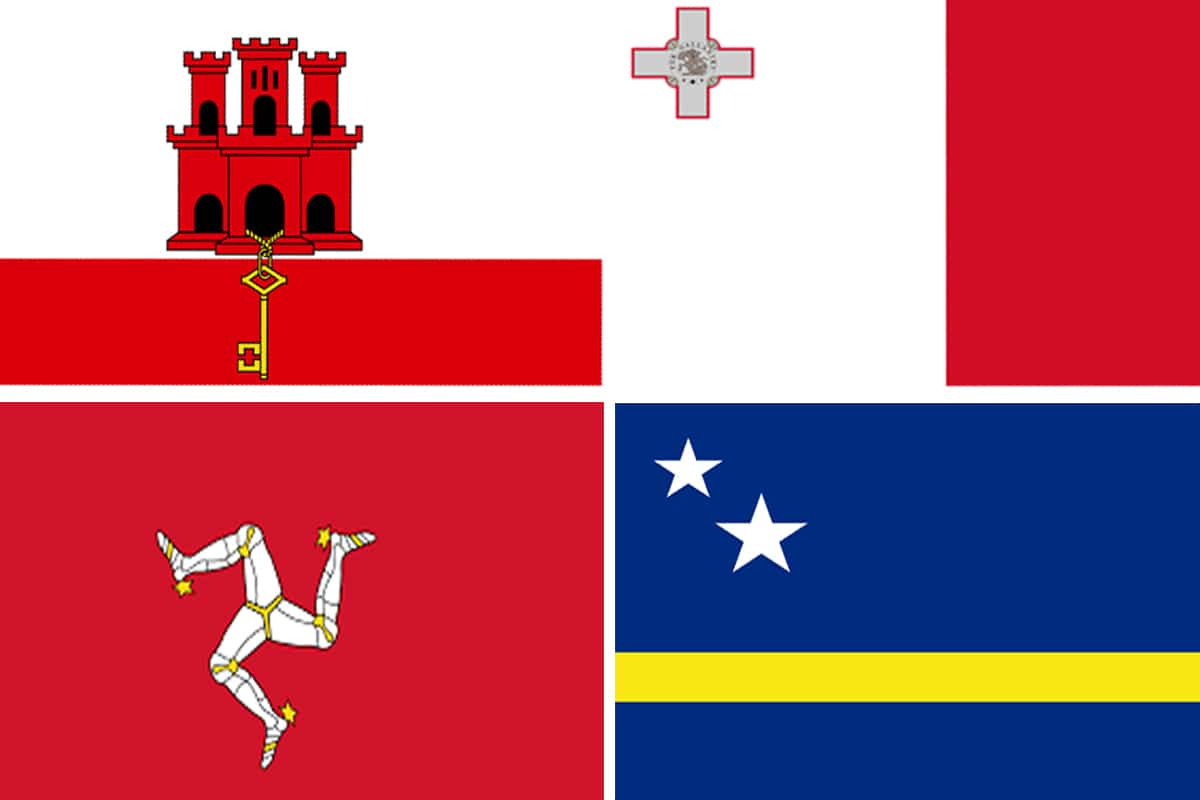 If you're an online gambling aficionado (and why would you be reading this if you weren't?), you're already aware that many small nations offer online gambling licenses to boost their respective coffers.
You know, for instance, that Malta and Gibraltar offer such licenses, as do the Isle of Man and Curaçao.
And it's quite possible that until you saw "licensed and regulated in Curaçao" at the bottom of your favorite online casino's main page, you hadn't been aware that Curaçao existed.
You're still probably a bit hazy (as I am) as to where Curaçao is located, what its major exports are, and how it is governed (don't worry; this won't be on the test).
I bet you probably don't even know why they insist on punctuating the second "C" in their name, either, do you?
Okay, that's fair. How many of us speak Papiamentu? Show of hands.
That's what I thought. By the way, Curaçao is pronounced "ku-rah-SOW" and sometimes simply "kor-SOW" by its inhabitants. Oh, and the SOW is pronounced like the word for lady pig, not the one for wild oats.
You're welcome. Let's move on.
Other tiny nations offer online gambling licenses, and for the same reason their (slightly) larger sisters do: revenue.
That's right. It's all about the Benjamins. The cheese. The necessary. The dough-re-mi, baby.
And what they offer you, the online gambler, varies as broadly as it does among the major players in the wonderful world of governmental oversight.
Some gambling licensing jurisdictions treat online casinos like an annual booty call, paying little to no attention to the activities of the casinos otherwise — until annual license renewal time comes around, of course.
Others take their responsibilities seriously, adopting draconian regulations designed by somebody with a Torquemada or two in their family tree and generally paying entirely too much attention to stuff that should be between the casino and its patrons.
Here are a few of the countries you almost certainly have never heard of that offer licensure to online gambling operations. And if you have heard of them, send a note right now to Mr. Henderson and thank him for that B+ in Geography class. It's really paying off.
No, Monty Python Did Not Name the Bailiwick of Jersey
Ah, the sun never sets on the scattered, mostly independent nations formerly belonging to the British Empire (that sounded a lot better in my head. Probably should have left it there).
Now considered a "British dependency," the Bailiwick of Jersey is a mostly independent island nation off the coast of Normandy.
Jersey is the largest of the Channel Islands, which isn't quite as impressive as it sounds — you could fit 19 Bailiwicks of Jersey inside the city limits of Jacksonville, Florida.
The Bailiwick of Jersey is roughly the same size as Kahoʻolawe, the smallest of the eight main Hawaiian islands. At last count, Jersey's population was about 100,000 people — about twice the population of Cañon City, Colorado.
Okay. I see you nodding impatiently, like you're saying, "It's freakin' small, smart guy. We get it."
I'll move on.
Size apparently doesn't matter in Jersey, at least where online casinos are concerned.
The nation missed out on the Gold Rush days of internet gambling (otherwise known as the 1990s) and has maintained a leisurely pace in its slouch toward regulation, agreeing legislatively in 2011 to issue online gambling licenses but waiting until 2015 to actually issue one.
It was worth the wait.
Jersey's regulatory structure mirrors that of other British dependencies such as Alderney and Isle of Man, while its fees are comparatively modest. Provided you can meet Jersey's standards, you can apply for an online gambling license for £5,000 (about $6,600 in real money), and the annual licensing fee is a very reasonable £15,000 (just short of $20k).
So while some of the top-rated online casinos might have gone the "cheap route" by obtaining a gaming license from the Bailiwick of Jersey, you can rest assured that the flaming hoops a casino had to leap through in order to qualify (and remain qualified) for its license more than justify your trust.
With a Name Like Kahnawà:ke, It's Got to Be Good
I'm cheating here, because it's quite possible you have heard of the Mohawk nation of Kahnawà:ke (spelled Kahnawake everywhere but on the nation's own website, because gringos).
As an online gambler, it would be hard to ignore the existence Kahnawake, since it has hosted and licensed as many as 250 online casinos in its time.
Located on the south shore of the St. Lawrence River in Quebec, Canada (across the river from Montreal), the Kahnawake reserve comprises 13,000 acres (roughly 20 square miles) of property the Mohawks have inhabited since time immemorial.
The tribe helped the French fend off a US attempt to invade Canada during the War of 1812 and later provided the high-rise workers to New York that inspired the legend that Indians do not fear heights.
Obviously, the Kahnawake Mohawks walk their own path, and a prime example of that is the tiny nation's declaration of its sovereignty in the late 1990s and nearly immediate offering of online gambling licenses.
Its early years as a licensing jurisdiction were marred by rumors (and accusations) of frauds and thefts committed by some of its licensees, but Kahnawake elders moved quickly to remedy that, and today its regulatory structure and commitment to privacy (it runs its own server farm that hosts many of its online gambling clients) compare well with other top jurisdictions.
Federation of Saint Christopher and Nevis
Nobody calls St. Kitts by its formal name any more than anyone ever called the president of another island nation in the neighborhood Fidel Alejandro Castro Ruz (I just called him Stinky McBedwetter, but children during recess can be so cruel, ya know?).
St. Kitts is a tiny Caribbean nation with a land mass the size of a stamp and a population of 40,000 people, although I wouldn't discount the likelihood that they counted a few of those people twice.
It's allegedly a popular Caribbean vacation spot and boasts three brick-and-mortar casinos, which suggests strongly that every single one of those 40,000 people is employed in the hospitality industry.
St. Kitts was actually among the first jurisdictions to offer licensing to online gambling operations and draws no distinction between land-based and cyberspace gambling.
Pay $82k and comply with some lax rules (like swearing that none of your casino operation's officers and shareholders is an owner of a bank), and you're in like Flynn.
Incidentally, just who the heck is Flynn, and why is he considered the archetype for easy entry? Hmmm, now that I put it that way, I don't really think I want to know.
The Mouse That Roared Was Actually Named Vanuatu
What is there to say about a place with the national anthem "Yumi, Yumi, Yumi"? Now that I've planted that 1910 Fruitgum Company earworm in your head (you're welcome), I'll explain that the title means "We, We, We" in Bislama, one of this nation's official languages.
Actually, now that I think about it, "we, we, we" is almost as funny. All the way home, people. All the way home.
Returning to our muttons: Well-known for nothing but its anonymity, Vanuatu is a chain of some 80-odd islands far off the northeast coast of Australia. In case you actually are studying for an important test, Vanuatu's main exports are copra (coconut meat), timber, and beef. It has three official languages — the aforementioned Bislama, English, and French, and its population of 200,000 is comprised almost entirely of Ni-Vanuatu, the Melanesians native to the islands.
Aside from obtaining its independence from France and Great Britain in 1980 and joining the United Nations in 1981, Vanuatu pretty much minded its own business — until the turn of the century, that is, when it established the Gaming Act of 2000 and became one of the first nations to begin licensing and regulating online gambling.
But while Vanuatu jumped on the casino licensing bandwagon early in the game, whether through inexperience, unwillingness, or both, it has since failed to capitalize on its early-adopter positioning that might otherwise have secured their legacy as a popular source for online gambling licenses.
Currently, all licensing applications, as well as regulatory duties, are the province of a third-party firm that is the official go-between for online gambling operations and the Vanuatu government.
Incidentally, the 1990 Australian movie Till There Was You starring Mark Harmon was filmed in Vanuatu. Oh, and all the "blue lagoon" scenes for the 1980 movie The Blue Lagoon? Yep, filmed in Vanuatu.
One last thing: You may have known about Vanuatu and not even known it. Until 1980, Vanuatu was called New Hebrides. Still not ringing a bell? Okay, never mind.
For more information on all organizations mentioned here, and many more besides, please visit our page on online gambling licensing authorities.
Literally the End
The perhaps surprising sophistication of licensing and regulatory policies from an equally surprising number of tiny countries we didn't even know existed 15 minutes ago is, well, surprising. It's also a sign that the internet really is the world's largest lending library.
Shut-ins — and nations can be shut-ins as often as people — have ceased to exist. Today, even the smallest countries can connect quickly and thoroughly with other, larger nations that have already gained experience in various areas of legislation, particularly those affecting the online gambling world.
But even more surprising is my lack of awareness of all this.
I fancy myself a bit of a wonk on any number of subjects (my wife's opinion notwithstanding), and I'm personally not willing to accept that Monty Python had absolutely nothing to do with the naming of the Bailiwick of Jersey.
I'm also extremely disappointed with myself for not knowing that the seminal film of the '80s — The Blue Lagoon — was filmed (in part) in Vanuatu.
So, um, we'll keep this just between us, what do you say? Thanks!