Hide Bonus Offers
| | | | | |
| --- | --- | --- | --- | --- |
| #1 | Bovada Sports | 50% Up To $250 | Visit Site | Bovada Sports |
| #2 | BetUS | 125% Up To $2,500 | Visit Site | BetUS |
| #3 | MyBookie | 100% Up To $1,000 | Visit Site | MyBookie |
| #4 | Everygame | 100% Up To $500 | Visit Site | Everygame |
| #5 | BetOnline Sports | 60% Up To $1,000 | Visit Site | BetOnline Sports |
Conor McGregor vs Floyd Mayweather: Updated Odds and Prediction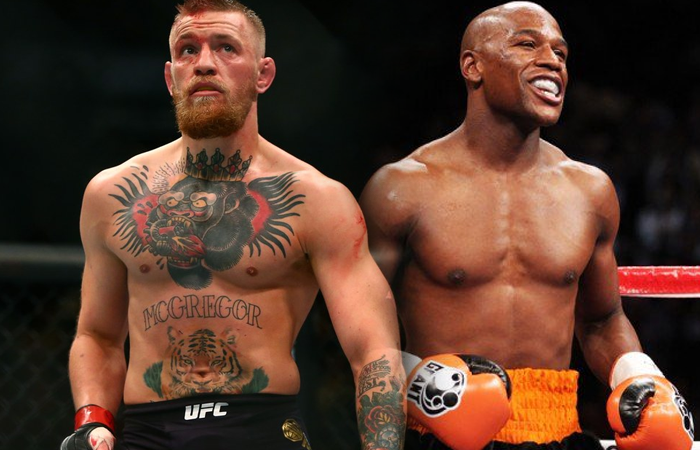 The boxing super-fight that no one expected to actually happen looks closer now to being a done deal than it ever has before. Per BoxingNews24.com, the website of the MGM Hotel and Casino in Las Vegas shows that Floyd "Money" Mayweather Jr.'s company, Mayweather Promotions, have booked the Grand's Garden Arena for both August 25 and 26, presumably for his much-anticipated showdown with MMA superstar, Ireland's "Notorious" Conor McGregor.
Behind the scenes, UFC President Dana White has been working exclusively on the Mayweather side of the equation as McGregor has already signed a contract. The official statement originally from McGregor's website reads:
"It is an honor to sign this record-breaking deal alongside my partners Zuffa LLC, The Ultimate Fighting Championship and Paradigm Sports Management," McGregor said. "The first, and most important part of this historic contract, has now officially been signed off on. Congratulations to all parties involved. We now await (Mayweather adviser) Al Haymon and his boxer's signature in the coming days."
The Odds
Mayweather is still the favorite, as it was expected he would be, at -500 with McGregor now a +350 underdog. These odds are current as of August 12th.
A Long and Bumpy Road
There had been some concern that what wouldn't grant McGregor a temporary release and it had also been reported by multiple sources that White might no longer be involved in negotiations at all, claims he disputed:
"We live in a world right now where you can't believe anything that you read,"
White told TMZ
recently. "Who else would be running the Mayweather-McGregor deal than me? When WME was brought up by the interviewer, Dana responded by rhetorically asking, "What does WME know about making big fights? I've had a couple of bad days back-to-back with bad, 'legitimate news stories' with the Las Vegas Review-Journal and now the LA Times. Trust me, I'm running the Mayweather-McGregor deal."
However, that could have violated the Ali act, legislation that became law (after ironically being enacted on May 26, 2000) to keep the roles of a boxer's manager and promoter apart. Apparently, White is negotiating on McGregor's behalf. Read more about that situation here.
Conor McGregor vs Floyd Mayweather: Breaking Down the Bout
Unfortunately, you shouldn't be expecting a change in prediction just because of a change in the betting odds because all of the factors still remain the same.
Mayweather made a poor sales pitch to make the contest sound more competitive than it likely will be due to the age difference between the two (28 to 40 in favor of McGregor if we're exclusively talking about youth.) However, we are not exclusively talking about that because with age comes experience. Not only that, McGregor doing well in a gym with training partners (who keep you relatively safe) is a lot different than being in a live fight against one of the greatest boxers (and specifically greatest defensive boxers of all time) who is actively trying to fight you back.
Also, McGregor getting used to having 12-ounce gloves on for 12 training rounds (a full-length, 36-minute fight) for around a year or so compared to his usual four-ounce gloves and 25 minutes does not mean that he will be able to keep heavy, tired arms up against Mayweather, who has been using 12-ounce gloves for decades.
He's Got the Left Hand… But What Else?
Additionally, although McGregor has been known as more of a boxer in the MMA sense, everyone now knows to plan for his left hand, especially after his 13-second knockout of Jose Aldo and the title fight win against now-former UFC lightweight (155-pound champ Eddie Alvaraez, in which by winning he became just the third man in the promotion's history to win titles in two different weight classes while being the first to have belts simultaneously.
Any other attacks he may want to use he can't. So, this really comes down to being a question of speed, of if the defensive Mayweather will be able to pick McGregor apart slowly while staying outside of his range while in route to a victory based on points. If "Mystic Mac" goes chasing his would-be opponent in search of a shocking KO, he could be in trouble depending on if he over commits to his strikes and depending on how he uses up his energy.
Power vs Point-Fighting
Still, McGregor has power so another factor will be Mayweather's own ability to take a punch, which he has done for years now. He hasn't had a knockout win since 2011 but had gone the distance seven times since then (five of the wins being unanimous) until his retirement in 2014 at 49-0-0 (with 23 wins by decision in a pro career that dates back to 1996.)
Fight Prediction: Floyd Mayweather def. Conor McGregor by way of a unanimous decision
Time to Make Mayweather Crack
It took over a year for McGregor and Aldo to fight, but they went around the world promoting the bout and verbally sparring with each other so much that when fight night came, the would-be "Champ-Champ" had gotten to Aldo. McGregor's other skills is on a microphone and there hasn't been a fight in the UFC in which he didn't utilize mental warfare. Mayweather has probably heard and said everything (and has McGregor beaten in the profit-talk as well.)
However, the underdog could have a field day with Mayweather's past of domestic violence: "Money" was given six-month suspended sentence and two days of house arrest and was ordered to perform 48 hours of community service (2002,) there were similar incidents in 2004, 2005, and 2010. He served 90 days in jail after being sentenced in yet another case in late December of 2011 and he was released in August of 2012.
This may be McGregor's greatest weapon.
Why Watch?
The real win is for both men, again in terms of profit as the number $100 million has been thrown around in conversations for a while and in taking the fight at all on McGregor's part for being willing to fight Mayweather in a boxing match when Mayweather wouldn't dare engage in an MMA bout.
If McGregor goes the distance with Mayweather, this could be a real-life Rocky story.