Hide Bonus Offers
| | | | | |
| --- | --- | --- | --- | --- |
| #1 | BetOnline Sports | 60% Up To $1,000 | Visit Site | BetOnline Sports |
| #2 | Bovada Sports | 50% Up To $250 | Visit Site | Bovada Sports |
| #3 | BetUS | 125% Up To $2,500 | Visit Site | BetUS |
| #4 | Everygame | 100% Up To $500 | Visit Site | Everygame |
| #5 | MyBookie | 100% Up To $1,000 | Visit Site | MyBookie |
Your Complete Guide to Prop Bets for the 2021 Super Bowl

Super Bowl Sunday is one of the most entertaining days of the year. Between the beer, the food, and the football, I'm one of the many who wish the Monday after was deemed a national holiday.
With parties and large gatherings being frowned upon due to certain restrictions in place, my plans on February 7th are simple. Once the grill is turned on, and the Blue Moons are on ice, it's time to wrap up the most exciting element of the entire afternoon.
Making sure I've got a slew of Super Bowl prop bets locked in.
I've already spent time scouring the best sites to bet on Super Bowl props in 2021, and I recommend you do the same.
If you're unsure where to begin, the answer is right here. This ultimate guide to Super Bowl 55 prop bets is all you need.
My Top 3 Prop Bets for Super Bowl 2021
There are a litany of prop bets for Super Bowl 55 that come in all shapes and sizes. Trying to sort through every single wager in one big list would be tedious, it'd be overwhelming, and it'd difficult to keep track and remember all of the possibilities.
The good news is I'm going to break it all down in an organized manner. I'm guessing you'd like to make some money, so I'll start by introducing my favorite prop bets for Super Bowl 2021.
Clyde Edwards-Helaire more carries than Knicks 3-Pointers (+110)
Patrick Mahomes to have the most passing yards (-105)
Jim Nantz mentions Queen Latifah's name more than once (+110)
CEH averaged 13.9 carries per game during the regular season and has had two weeks to rest for the Super Bowl. The New York Knicks are the worst three-point shooting team in the NBA and average fewer than 10 treys per contest.
Tom Brady ranked third in the NFL in passing yards per game (289.6) and threw for 345 yards in the Week 12 matchup versus the Chiefs. Here's the thing, though. Patrick Mahomes led the league with 316.0 passing yards per game and dismantled the Bucs in the previous matchup to the tune of throwing for 462 yards.
A few underlying factors lead me to believe that Jim Nantz is going to say Queen Latifah's name on more than one occasion. Nantz and Queen Latifah both spent time living in Colts Neck Township – a place in New Jersey with fewer than 10,000 inhabitants. Secondly, and most importantly, Queen Latifah is the star of CBS' new series, The Equalizer – which is set to air immediately following the conclusion of Super Bowl 55.
It's only natural for Nantz to plug the new show at least a couple of times.
I alluded to there being an extensive list of prop bets for Super Bowl 55 – bets that cross a wide range of interests. The best way to expose them is to separate them by category. Starting with my favorite prop from each group.
Player Props for Super Bowl 55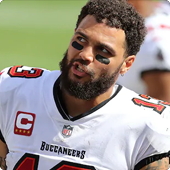 Not all Super Bowl prop bets odds are appetizing. However, based on Mike Evans' track record with Tom Brady under center, +120 seems like a more than fair price that he'll reach pay dirt on Sunday.
Evans reeled in 13 touchdown passes during the regular season – including two versus Kansas City in week 12. Brady's favorite red-zone target caught a TD against the Saints in the divisional round and another one against the Packers in the NFC title game.
As much as Steve Spagnuolo wishes he did, he's got no answer for the Bucs 6'5" athletic specimen.
There is no shortage of player props for the Super Bowl. The most common ones have to do with how many yards or touchdowns specific players will account for, but they go far beyond that.
You can bet on how many receptions Travis Kelce will have or how many incompletions Tom Brady will throw, or you can get even more precise. You can bet on the distance of Scotty Miller's first reception or how long Tyreek Hill's longest reception will be, and on and on and on.
The opportunities are endless.
2021 National Anthem Props
Releasing a handful of National Anthem props has become commonplace throughout the industry. Basically, any sportsbook that offers Super Bowl prop betting will have wagers surrounding the singing of "The Star-Spangled Banner."
Simple bets like how long the Anthem will last or if the performer will omit a word are fun, but it's hard to extract any genuine value. On the flip side, there are a couple of National Anthem prop bets I really like in 2021.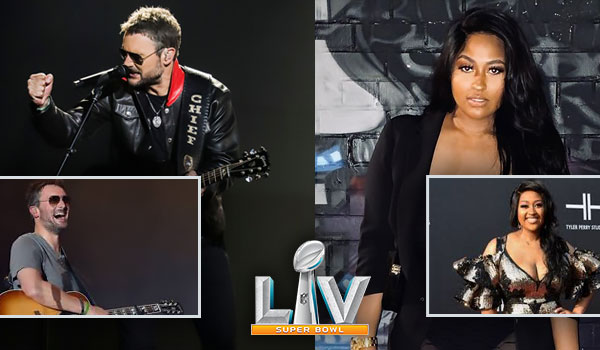 First, "Eric Church wearing sunglasses" is close to a lock. I latched on as soon as that bet was unveiled at +350, and I'm not surprised MyBookie has pushed "Yes" down to -600. Rather than offer my two cents on the matter, I'll simply reiterate a statement straight from the horse's mouth.
"If I'm not playing shows, I usually don't wear them. But my eyes don't do real well in lights. So if I'm playing shows, I'll have shades on. It doesn't feel right if I don't."
Case closed.
Secondly, Jazmine Sullivan not showing any cleavage at +155 piques my interest. Especially being able to grab hold of some serious "plus-money." None of the previous three female performers for the National Anthem revealed any cleavage – most likely a call made by the production team. I see more of the same in 2021.
More detail regarding these two National Anthem prop bets can be found below, along with insight into a bunch of others.
The Weeknds First Song and Other Halftime Show Props
I bet on "Starboy" at +250 when the Halftime Show prop bets first came out. The price attached to "Starboy" has since plummeted to +150, so I feel like I'm on the right track.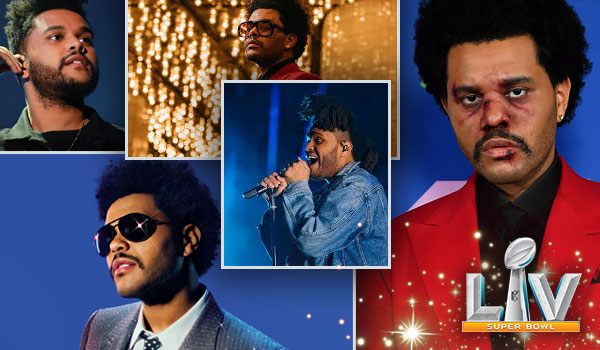 Some of The Weeknd's other hits featured on the betting sheet are as follows
Halftime Show props comprise of all things to do with The Weeknd's much-anticipated performance. Other examples of intriguing Super Bowl prop bets for the Halftime Show include these.
What color jacket The Weeknd will be wearing when he's first seen?
Will The Weeknd change outfits during his performance?
Will Joe Biden be mentioned by The Weeknd?
As far as if any other familiar faces make their way onto the stage, that remains to be seen. If you have a hunch on anyone, in particular, making a cameo during the Halftime Show, feel free to fire away.
Commercial Super Bowl Prop Bets for 2021
Here are the odds for which bag will be seen first during the Frito-lay commercial
Too bad this isn't like a typical multiple-choice question in high school as I'd love to go with, e) all of the above.
Frito-Lay appears to be coming in hot with multiple Super Bowl 2021 ads involving lots of personalities, so stay tuned for what's in store.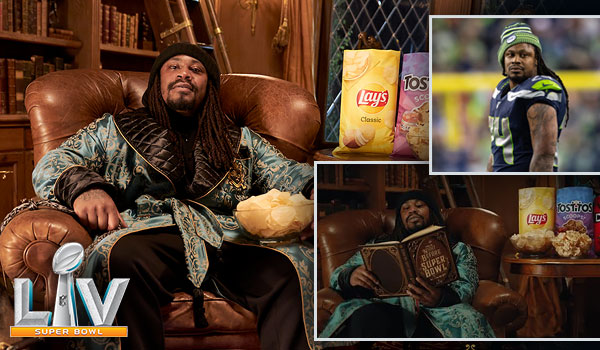 If I had to pick one of these choices, I'd go with Doritos. Luckily we don't have to specify between nacho cheese and cool ranch.
Lots of questions related to beer commercials (how many, what brands) are showcased at the best Super Bowl betting apps, as are props tied to whether or not masks will be worn.
To get a closer glimpse at what's out there when it comes to Super Bowl commercial props, peruse through the following blog Noah Davis generated.
Weirdest Prop Bets for the 2021 Super Bowl
A pretty strange Super Bowl prop bet for 2021 is "how will Sarah Tomas wear her hair?"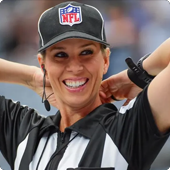 Any miscellaneous Super Bowl prop bets that are purely designed for entertainment purposes fall into the category of "weirdest Super Bowl props."
Much has been made about Sarah Thomas becoming the first woman in history to officiate a Super Bowl, so leave it to the top sites to unleash associated prop bets. I'm not "touching" the one about a player touching her rear, nor do I see any value in whether or not a player will knock her down.
Having said that, I see merit in betting on her hair being in her hat at +200.
I don't have a lot to offer on why or how – other than I've seen her referee an NFL game with her hair in her hat on multiple occasions. Remember, there generally aren't a lot of edges to be had when you're perusing the weirdest Super Bowl props.
Have a look for yourself, and you'll see exactly what I mean.
Tips for Betting on Super Bowl Props in 2021
As much as betting Super Bowl props has to do with having fun and spicing up the action, making money is hopefully one of your top priorities. To give yourself the best chance at turning a profit, it's important that you're selective in the wagers you choose to place. It's crucial that you shop your lines, as many of the same props are offered in numerous spots.
I'll give you a prime example.
One of the most popular Super Bowl bets to make is who wins the Super Bowl MVP. This blog tells you everything you need to know about betting on Patrick Mahomes to win the award, but what if you want to bet on Tom Brady?
Gauging Tom Brady's Super Bowl 55 MVP Odds
BetNow
BetUS
Bovada
MyBookie
BetOnline
+125
+175
+200
+200
+240
BetNow is one of the best Super Bowl betting sites, but backing Brady to win his 5th SB MVP trophy at +125 when he's hanging out at +240 at BetOnline would be criminal. That's just way too much equity to leave sitting on the table.
Once you've surfed multiple bookies to find the best odds, it's about gathering relevant data and making educated assumptions. I'll shine a light on a specific prop bet to further explain this notion.
Patrick Mahomes Total Passing Attempts
We know that Mahomes attempted 42 passes in Super Bowl 54. A quick look at his game log and a punch into the calculator tell us Patrick averaged 39.2 attempts during the 2020 regular season.
But let's take it a step further and dive into particular situations.
Mahomes squared off with four of the top eight rushing defenses in the league this past season. If you think Andy Reid opted to go with a pass-heavy game plan on each of those occasions, you would be correct.
| | | |
| --- | --- | --- |
| Opponent | Opponent's Rushing Defense NFL Ranking | Patrick Mahomes Passing Attempts |
| Buccaneers | 1st | 49 |
| Saints | 4th | 47 |
| Falcons | 6th | 44 |
| Ravens | 8th | 42 |
Most notably is the fact that Mahomes tossed it 49 times against the Bucs in week 12. Tampa Bay happens to be the league's top-ranked rushing defense, and the ground attack isn't the strength of KC's offense.
Add everything up, and Mahomes should be in line for 45+ attempts on Sunday.
More on Super Bowl 55 Betting
Between betting on the pre-game festivities and the action on the field, I've uncovered an assortment of Super Bowl 55 prop bets that'll garner lots of interest.
And there's more. A whole heck of a lot more.
If you're willing to spend time scanning the best sites for Super Bowl prop bets, you're going to encounter more options than you can imagine. Take the cross-sport props, for example – arguably my favorite Super Bowl props of all.
There are well over 100 different ones.
From bets correlated to NBA and NHL games to ones connected to the Phoenix Open and Saudi International, be prepared to spend several minutes searching.
In closing, I'll leave you with a few links that may captivate your attention. If you're planning on running any prop pools with friends or colleagues, you'll need to set up prop sheets to keep things organized.
Thankfully, one of our top football writers already did the work for you.