Christmas Gifts to Buy Your Favorite Gambler

Christmas is by far my favorite holiday. Unfortunately, the stress of the holiday season can suck the Christmas spirit right out of some folks.
How well do you know your family and friends? How much can you afford per gift per person? And what should you get for your fellow gamblers? These decisions can be difficult as the holiday season draws nearer.
To keep you all from turning into Grinches at the end of this year, here are seven Christmas gift ideas for your favorite gambler.
Hopefully, you'll find a winner, and some of that holiday stress will be avoided!
1 – Poker Set
What do you get the gambler that has everything? Try a custom poker set!
These unique and easy sets are completely customizable. You can put your picture on the card backs or leave a special note on the poker chips. What an amazing way to remind your brother-in-law that you care all year-long.
The beautiful thing about the customization on these is that you'll be able to tailor the kit to your budget. You can find decent poker sets on Amazon for under $30.
Basic poker kits come with a couple of decks of cards and enough chips in various denominations to easily facilitate a weekly poker game of up to eight.
Poker sets typically have a shiny aluminum case to safely and securely transport the set when you're gambling on the go. This also makes a great way to store the set.
You can even order sets with personalized cards. You upload an image to the manufacturer, and voila! Four to six weeks later, you have the set.
If you had a great year and want to show a little extra appreciation, you can order truly unique sets. Geoffrey Parker offers the most expensive poker sets in the world. They are what you might call a masterpiece.
The alligator-bound case with white gold locks holds 384 18-count white gold poker chips. These chips contain precious stones like rubies, diamonds, and sapphires. Everything about these sets screams opulence. The case itself even has diamonds strung within its suede interior.
So, if you've got an extra $6.6 million burning a hole in your pocket, this will definitely impress the in-laws. Fortunately, the extravagant set does come with free shipping. It's important to save money wherever you can at Christmas.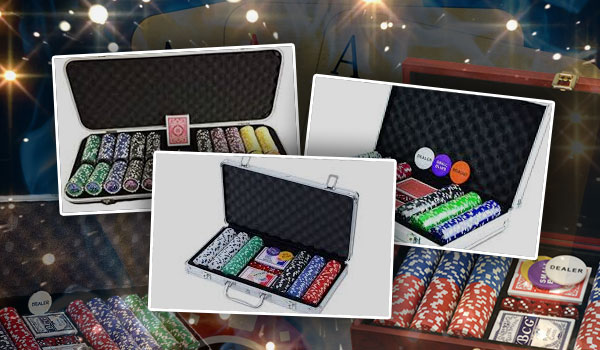 2 – Roulette Wheel
Roulette is one of the most popular games of chance in the world. Gamblers enjoy the spinning wheel from casinos in the French Riviera to the Mississippi River Basin.
I don't know many aficionados that wouldn't jump at the chance to have their own roulette set up at home.
Of course, I'm not advocating that you do anything illegal. However, I have spent many nights huddled around a roulette wheel in an acquaintance's garage.
Even novice gamblers can enjoy countless hours of learning roulette and laying bets on their own wheel.
You can pick up an inexpensive roulette wheel for $35. These sets come with a 16-inch roulette wheel, two balls, a rake, 140 casino style chips, a table felt, and two decks of cards.
The felt can be flipped over to a blackjack table when the action gets stale, and everyone needs a change of pace.
If your favorite gambler is of a more high-brow variety, you can find some pretty awesome wooden box setups for under $200. Just don't expect more than the wheel when you open the box. Again, if you want to leave an impression on the in-laws, you'll find beautiful mahogany 32-inch wheels for around $5,000.
A roulette wheel may pay for itself over time if you can relieve friends and family of their dollar bills one bet at a time!
3 – Earbuds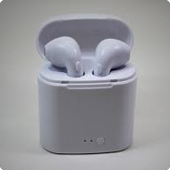 When I started my casino gambling career, the smartphone wasn't around yet. In fact, I'm not sure if Bluetooth even existed. Thankfully, it exists today, and I can only name around three to five people I know without a smartphone.
Many gamblers enjoy putting on their headphones and listening to their favorite music, podcast, or even an audiobook as they play. Personally, I will alternate between music and podcasts while I'm at the poker table.
I have tried several of the popular brands of headphones over the past few years. I use them constantly; whether I'm working for the man or working out, they are almost always in arms reach.
I tried the high-dollar brands first, and Bose, Beats, Apple all failed me. Or I failed them in some cases when I jumped into the lake with a pair in my pocket.
Next were the waterproof earbuds; I left those on the rail. Then, I went with the same people that made my phone and left those in a golf cart. Sigh, what's a man to do?
I'll tell you what I did, bought a $30 pair of JLabs. I took a similar approach with sunglasses several years ago after breaking another $200+ pair. I'll only buy $20 sunglasses from convenience stores now. They keep the sun out of my eyes as is their purpose.
The JLabs go way beyond my expectations. They're so good that I bought myself a second pair, just as a spare to keep in my golf bag.
So, for $60, I have a pair in my office and a pair in the back of my SUV. Earbuds are perfect for anybody on the go and are especially handy in the casinos. It helps to block out all the noise and get lost in the games.
4 – Gambling Movies
Suppose your favorite gambler is also a movie buff (I know a few). You have a perfect avenue to score some points this Christmas. You have several different directions you can go with this one, and movies are very reasonably priced.
You may choose to go the traditional route. There are a dozen classic gambling movies that belong in every gambler's library. Here are a few of my favorites.
The Color of Money
The Gambler
21
Eight Men Out
Rounders
Vegas Vacation
The list goes on. You could also go with instructional Blu-Rays or archival discs of past events like the World Series of Poker. Your options are as vast as your imagination.
The great thing is that for less than $20, this is a gift option that won't break the bank, and they're the perfect stocking stuffer.
5 – Books About Gambling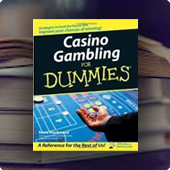 For the gambler that's also a bibliophile, books about gambling are a surefire way to spread some Christmas cheer.
Beginner gamblers can learn a ton just by picking up a book and reading about their favorite games. By the same token, veteran gamblers always enjoy reading about the history of casinos, famous gamblers, and the origins of casino gaming.
Of course, you shouldn't dismiss the fiction section either. Casinos and gambling are inherently filled with interesting characters in exotic locations.
You'll find something for everyone on your list at the nearest local bookstore. Typically, books aren't terribly pricey, which will leave you more money for your own casino adventure.
6 – Poker Table
Every aspiring poker star yearns to have their very own poker table. Sure, you can play a game around the dining table, but it just doesn't feel the same.
Get your favorite poker player their own table for Christmas, and you'll see them light up like a tree. Nobody wants to worry about their silly neighbor Tim spilling his drink or dripping ranch all over their nicely upholstered chairs.
Let them take the game out to the garage and light up a cigar for the weekly game. I'm sure their spouse will appreciate the game moving out of the house.
You can get a standalone poker table for between $150 to $200. Some of them come complete with built-in cupholders and ashtrays.
Most home game poker tables fold up flat and take up hardly any room. In fact, during my 20s, I kept mine behind the sofa. So, anytime we wanted an impromptu game, it was as easy as pulling some chairs into the living room and moving the coffee table.
This is also an ingenious way to earn that invite to the exclusive poker game that you always hear about.
7 – Lottery Tickets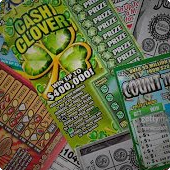 Lottery tickets are fun to play. Strangely, many gamblers refuse to buy the scratch-offs because the return to player is extraordinarily low. That may make them a bad investment, but they're a great gift. Most state lotteries even have Christmas-themed games around the holiday.
The anticipation of scratching the paper ticket can be exhilarating. Plus, some of the prizes are insane. It's as close as I'll ever get to giving someone $1,000,000 for a Christmas present.
Lottery tickets are also easy on the wallet, you can find tickets for $1 up to $50, and they make great stocking stuffers.
There's always that chance that the recipient wins a giant prize and, in the spirit of giving, decides to share some of their newfound wealth with you.
Conclusion
I'm confident that you are now ready to tackle the task of finding the perfect gambling-related Christmas gift. These seven Christmas gifts for your favorite gambler friend or family member should have you pointed in the right direction.
Put your own personal touch on the gift, and you may become Uncle Jimmy's new favorite.