Chiefs or Buccaneers – Which Team Has the Best Offense for Super Bowl 55?

Can you think of another Super Bowl that possessed this much flair and firepower on offense?
We're talking about a couple of teams that combined to average more than 60 points per game, and we're talking about the two-most prolific passing offenses in the entire sport.
Comparing the Super Bowl offenses is like comparing a Lamborghini to a Ferrari. Both are luxurious and high-octane enterprises loaded with all the bells and whistles. As for which one is better, let's lift up the hood.
We'll start with the most important aspect, the engines that keep each team humming along at lighting fast speed.
Brady vs. Mahomes
Tom Brady is the GOAT. No ifs, no ands, no buts – even a die-hard New York fan who has been terrorized by Brady for the last 20 years has no trouble admitting it.
However, if there's a single soul on this planet who has the ability to one day pose a threat to that throne, it's his adversary in Super Bowl 55.
Highest-graded QBs since 2017:
1. Tom Brady – 95.6
2. Patrick Mahomes – 95.2 pic.twitter.com/YJjp35akZl

— PFF (@PFF) January 25, 2021
There's no question that Mahomes is the most gifted quarterback that I've ever seen, but Brady's cerebral advantages are uncanny. Both guys continually put their respective offenses in prime positions to succeed.
Rather than dive too deep into this topic, I'll direct you to Noah Davis' elaborate piece that gets to the bottom of this debate.
Weighing the Wide Receivers
Part of the reason Tom Brady came to Tampa Bay was because of their explosive supporting cast. Mike Evans took no time developing a strong rapport with Brady and racked up a career-high 13 TD receptions. Tom has praised Chris Godwin for having as good of hands as any wideout he's ever been around.
Cameron Brate's a proven commodity who acts as a safety valve in the red zone, and I can promise you nobody on Kansas City is sleeping on Scotty Miller. Especially after the former 6th-round pick out of Bowling Green gave the Chiefs all sorts of bulletin-board material.
Scotty Miller says he's the fastest player in the NFL ?

(via @dpshow) pic.twitter.com/G0IfL3ZrOT

— B/R Gridiron (@brgridiron) January 27, 2021
Oh yeah, and then there's this guy named Antonio Brown who should be locked and loaded thanks to an extra week to rest an ailing knee. And before I transition to Patrick Mahomes' outside weapons, look out for rookie Tyler Johnson to be one of the x factors in Super Bowl 55.
Moving straight into the Chiefs WRs, this group is a lot more balanced than you might think. Tyreek Hill is nearly impossible to cover in the open field, not that Todd Bowles needs any introduction.
"The Cheetah" incinerated the Bucs secondary in the week 12 matchup to the tune of catching 13 balls for 269 yards and 3 touchdowns. Typically Bowles would blanket Hill will multiple defenders, but that leaves the rest of KC's speedsters licking their chops with one-on-one matchups.
Mecole Hardman and Byron Pringle are "big-plays" waiting to happen, and don't forget about Sammy Watkins potentially rejoining the lineup. Watkins hasn't played since week 16 (calf) but has a good shot at suiting up for Super Bowl Sunday.
Last but not least, Demarcus Robinson hauled in 45 passes for 466 yards and 3 touchdowns during the regular season. When Andy Reid has "that" as his fifth option on the perimeter, it's safe to say his wide receiving corps is in pretty good hands.
Taking Stock in the Tight Ends
I raved about the quarterback play and boasted about the wideouts. As we shift gears and start discussing the tight ends in Super Bowl 55, there's a lot more lauding to do. Starting with Travis Kelce – a guy who continues to rewrite the record books at the position.
Travis Kelce adds another record to his list.

Kelce becomes the FIRST tight end in NFL history with 5 postseason games of 100+ Rec Yards. pic.twitter.com/fWwI4KIN44

— NFLonCBS (@NFLonCBS) January 25, 2021
After a record-setting regular season in which he compiled a robust 105/1,416/11 line in just 15 games, Mahomes' favorite target has continued his torrid pace into the playoffs.
Travis Kelce This Postseason – By the Numbers
Opponent
Receptions
Targets
Yards
Touchdowns
First Downs
Bills
13
15
118
2
9
Browns
8
11
109
1
4
It'll take a concerted effort from all of Tampa Bay's linebackers and safeties to try and contain Kelce.
As for the other #87 in this game – he happens to be pretty good too.
The public understands what Rob Gronkowski brings to the table as far as being a reliable target and a menacing blocker, but his impact on the Bucs locker room goes far beyond his play on the field. Just ask Buccaneers GM Jason Licht, who wasn't shy about extolling his future Hall of Fame tight end.
"There's a lot of talk of what Tom has done for this locker room, and it's all warranted, but what Gronk has done for this locker room is equally amazing. He's just a great teammate and loves life."
Interestingly enough, Gronk's lone contest with 100+ receiving yards in 2020 came in week 12. Just like Super Bowl 55, that was a game against the Chiefs at Raymond James Stadium. Throw in Cameron Brate's ability to create separation near the goal line and Tom's back to having two trusty TEs he knows he can fall back on.
Reviewing the Running Backs
Bruce Arians will feature a two-headed monster at running back, although the full expectation is that Leonard Fournette will serve as the primary option. That's certainly been the case through Tampa's first three games in the playoffs.
Leonard Fournette vs. Ronald Jones – Postseason Comparison
Carries
Yards
Rushing TDs
Yards/Carry
Receptions
Receiving Yards
Receiving TDs
Leonard Fournette
48
211
2
4.4
14
102
1
Ronald Jones
23
78
0
3.4
0
0
0
Having said that, Ronald Jones was the most effective RB for the Buccaneers this season. and it wasn't even particularly close.
Leonard Fournette vs. Ronald Jones – Regular Season Comparison
Carries
Yards
Rushing TDs
Yards/Carry
Receptions
Receiving Yards
Receiving TDs
Leonard Fournette
97
367
3
3.8
36
233
0
Ronald Jones
192
978
6
5.1
28
165
1
It's unlikely that LeSean McCoy factors in at all. Same goes for rookie Ke'Shawn Vaughn – who has been a healthy scratch in each of the last two weeks.
Andy Reid is dealing with a similar scenario in that he'll also be leaning on pair of RBs to carry the load.
See, whether or not Le'Veon Bell can play in the Super Bowl is fairly trivial. Kansas City's backfield duties will be split up between Clyde Edwards-Helaire and Darrel Williams, however, don't expect the Chiefs to employ some sort of "ground and pound" philosophy.
The strength of Tampa Bay's defense revolves around stuffing the run, hence, KC ran the ball on just 27.8% of their plays when these teams clashed on November 29th.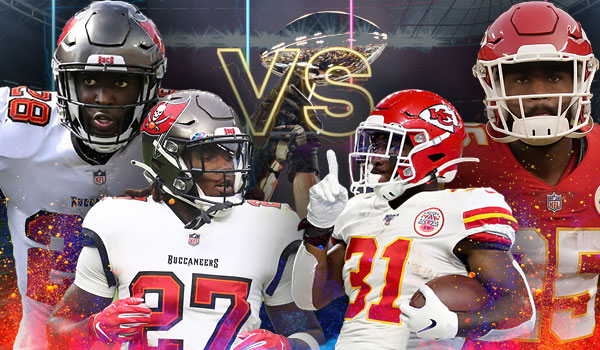 Observing the Offensive Lines
You'll notice that as I'm comparing the Super Bowl offenses one position group at a time, I've been a bit cautious to wholeheartedly tell you that one bunch is better than the other.
Now that we've arrived at the units in the trenches, one side's advantage is clear.
Kansas City's offensive line is banged-up at the worst time, as it has been confirmed that Eric Fisher will be out after tearing his Achilles against Buffalo. Remember, KC is already missing their right tackle (Mitchell Schwartz) with a back injury and now has to find a replacement at left tackle.
Between Mike Remmers, Andrew Wylie, and Stefen Wisniewski, Chiefs O-Line coach Andy Heck and will be playing musical chairs in order to find a group who can protect.
On the flip side, the Bucs head into the 2021 Super Bowl with one of the most resolute offensive lines in football. The same five guys played in 100% of the offensive snaps against New Orleans and Green Bay, and their motivation levels to shield Tom Brady are through the roof.
The best of the bunch is their rookie right tackle, who has quickly elevated himself into the conversation of the best tackles in the NFL.
Tristan Wirfs this postseason:
? 114 pass-block snaps
? 1 pressure allowed
? 0 sacks pic.twitter.com/XcTuk1Y3rX

— PFF (@PFF) January 28, 2021
We can solemnly give an edge to the Buccaneers in this department.
So Which Super Bowl Offense is Better?
This goes back to the analogy I used in the introduction. Would you rather take a Ferrari for a ride or a Lamborghini for a spin?
Perhaps the regular season numbers help us get to the bottom of the dispute.
Chiefs Offense vs. Buccaneers Offense in the 2020 Regular Season
Points
Passing Yards
Rushing Yards
Third Down Conversion Rate
Chiefs
29.6
303.4
112.4
49.0%
Buccaneers
30.8
289.1
94.9
43.5%
So maybe Kansas City has a tiny bit of an edge, but that's pretty close to being a wash. You may need to assess the other side of the football before you bet on Super Bowl 55.
Check out the following post to see how the defenses compare.