Hide Bonus Offers
| | | | | |
| --- | --- | --- | --- | --- |
| #1 | Bovada Sports | 50% Up To $250 | Visit Site | Bovada Sports |
| #2 | BetUS | 125% Up To $2,500 | Visit Site | BetUS |
| #3 | MyBookie | 100% Up To $1,000 | Visit Site | MyBookie |
| #4 | Everygame | 100% Up To $500 | Visit Site | Everygame |
| #5 | BetOnline Sports | 60% Up To $1,000 | Visit Site | BetOnline Sports |
Champions League Group Stages: Final Round Betting Preview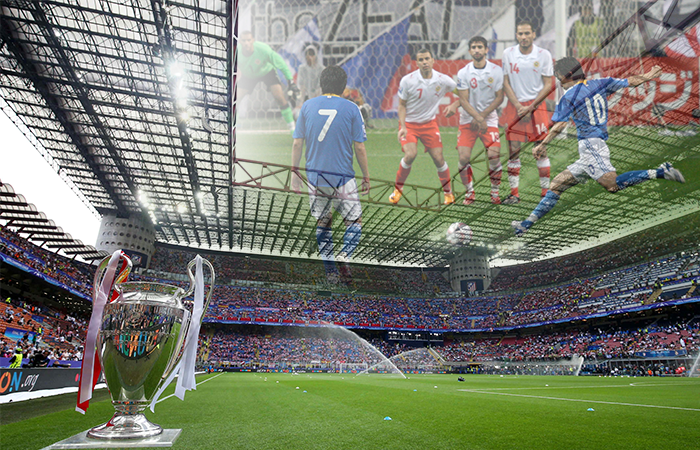 It all comes down to this: the final round of games in the group stage of the 2016 Champions League tournament. Several teams have already gained a qualifying spot, and some have even guaranteed themselves a first place finish. For the rest of the teams, who don't know where they stand, this last week is crucial. It should make for some very interesting games.
The highlight of the tournament so far came in the previous round of fixtures. Borussia Dortmund played Legia Warsaw at home, and the game featured an incredible TWELVE goals. Dortmund came out well ahead with eight of them, but Warsaw can be proud of the part they played in a thoroughly entertaining game. This is the same team that held the mighty Real Madrid to a 3-3 draw. Although that result represented the only point they've managed to pick up so far, that's one more point than anyone expected.
There have been several other high scoring games too, and I've really enjoyed watching the tournament this season. I hope it continues to deliver. More importantly than that, I hope it continues to present some good betting opportunities for us to take advantage of.
In this post, I am going to cover each of the eight groups to see what betting opportunities there might be at this stage. As always, I'll do my best to find some value for you and provide you with a few picks to follow.
Group A
Group A has been predictable from the start. Arsenal and Paris Saint Germain were expected to qualify ahead of Ludogorets and Basel, and that's exactly what's happened. With one game to spare, both teams have secured their places in the knockout rounds. However, not everything is set in stone just yet. Here are the current standings and the remaining fixtures.
| | Team | GD | Points |
| --- | --- | --- | --- |
| 1 | Paris Saint Germain | 6 | 11 |
| 2 | Arsenal | 9 | 11 |
| 3 | Ludogorets | -9 | 2 |
| 4 | FC Basel | -6 | 2 |
Remaining Fixtures
Basel vs Arsenal
Paris Saint Germain vs Ludogorets
As you can see, PSG and Arsenal are currently tied at the top of the table. Although they will both move on to the next stage of the tournament, we don't know who will win the group. And the difference between finishing first and second can be significant when it comes to potential opponents in the first knock-out round.
PSG and Arsenal both have relatively easy games in the final round of fixtures, so I expect them both to win. That will mean PSG finishing top, as they'll have the better head to head to record courtesy of their 2-2 draw at the Emirates.
The logical thing to do would be to place a wager on PSG to win the group, but the odds are ridiculously low. The best price I can find is 1.10, and there's just no point in betting at these odds. It's very unlikely that PSG will slip up against Ludogorets in their upcoming game, but there's always a chance. Either way, I can't recommend a wager here.
The other outcome to be determined here is which team will finish third and progress to the UEFA Europa League. Ludogorets look the most likely, but again the odds are pretty low at around 1.50. I could probably make a case for placing a wager here, but I honestly just don't think that it's worth it.
Group B
Group B looked like a tough one to call from the outset, and there's still no clear outcome. Napoli, Benfica and Besiktas can all finish anywhere from first to third. The fate of Dynamo Kiev is sealed though, as they are guaranteed to finish bottom of the group. Here's how the group looks going into the final round of fixtures.
| | Team | GD | Points |
| --- | --- | --- | --- |
| 1 | Napoli | 2 | 8 |
| 2 | Benfica | 1 | 8 |
| 3 | Besiktas | 1 | 7 |
| 4 | Dynamo Kiev | -4 | 2 |
Remaining Fixtures
Benfica vs Napoli
Dynamo Kiev vs Besiktas
Napoli and Benfica meet in what is likely to be a very hard-fought game. If either team wins, they're guaranteed to top the group. A draw will ensure that Napoli secures at least second place, while Benfica will then be at risk of being overtaken by Besiktas.
Although Besiktas are currently in third place, they're actually in pretty good shape. The top two teams can't both take maximum points from the final game, so Besiktas know that a victory against Kiev will guarantee them a place in the next round. I fully expect them to get that victory, seeing as Kiev have nothing left to play for here. Not to mention, Kiev have an important game in their domestic league coming up just four days after. Let's face it; they're more likely going to be focused on that.
With this in mind, Besiktas to qualify at 1.91 looks like a good wager. However, they're also 3.25 to come in second and 7.50 to come in first. So there's actually better value in placing two separate wagers on those two outcomes. That's my recommendation here.
Recommended Bets:
Besiktas to finish 2nd at 3.25
Besiktas to finish 1st at 7.50
Groups C & D
Similarly to Group A, the outcome of Group C was practically set in stone from the onset. Barcelona and Manchester City were predicted to be the top two teams, and that's exactly what happened. Barcelona easily secured first place, and Manchester happily claimed second. This may come as a surprise, but the current standings are guaranteed to stay the same, regardless of what happens in the final round of fixtures.
| | Team | GD | Points |
| --- | --- | --- | --- |
| 1 | Barcelona | 12 | 12 |
| 2 | Manchester City | 2 | 8 |
| 3 | Monchengladbach | -3 | 5 |
| 4 | Celtic | -11 | 2 |
Remaining Fixtures
Barcelona vs Monchengladbach
Manchester City vs Celtic
There's nothing more to say about this group really. The only available wagers are on the two remaining games, and there's no value available in either of them. So this group doesn't present any betting opportunities worth considering.
The same goes for Group D. At the beginning, we thought that Atletico Madrid and Bayern Munich would put up a close fight. It wasn't as close as we thought though, as Atletico Madrid has already secured a first place finish. Bayern Munich is now safely in the second place position. We've provided the current tables, along with the remaining fixtures.
| | Team | GD | Points |
| --- | --- | --- | --- |
| 1 | Atletico Madrid | 6 | 15 |
| 2 | Bayern Munich | 7 | 9 |
| 3 | FC Rostov | -6 | 4 |
| 4 | PSV Eindhoven | -7 | 1 |
Remaining Fixtures
Bayern Munich vs Atletico Madrid
PSV Eindhoven vs FC Rostov
PSV could overtake FC Rostov and secure third place if they win their final game in this group, but it's tough to know how motivated they'll be to do this. So, again, as far I'm concerned there are no opportunities worth considering here.
Group E
Group E was perhaps the hardest group to predict. Tottenham, Monaca and Leverkusen are almost all on the same level in terms of quality, and it's always hard to know what CSKA Moscow will accomplish. I expected this group to go right down until the final game, but it hasn't worked out that way. Let's look at how the group stands after five games.
| | Team | GD | Points |
| --- | --- | --- | --- |
| 1 | Monaco | 5 | 11 |
| 2 | Bayer Leverkusen | 1 | 7 |
| 3 | Tottenham Hotspur | -2 | 4 |
| 4 | CSKA Moscow | -4 | 3 |
Remaining Fixtures
Bayer Leverkusen vs Monaco
Tottenham Hotspur vs CSKA Moscow
As you can see, Monaco have made first place their own already, and Leverkusen are secure in second place. So qualification from this group is all sewn up. All that's left to be decided is whether Tottenham or CSKA Moscow will finish third.
These two teams play each other in the final game, and the general consensus is that Tottenham should at least get the draw they need for third place and a spot in the UEFA Europa League. That's why they're just 1.13 to finish third.
However, Tottenham have been incredibly disappointing in their European campaign this season. They've been playing their Champions League home games at Wembley due to construction work on their new stadium, and that doesn't seem to have done them any favors. They've lost both the games they've played there so far, which means losing a third one would not be out of the question.
I'm not saying it's likely that CSKA Moscow will get the victory they need to finish third, but I think the odds of 5.50 represent good value. Since this is a long shot, I wouldn't recommend staking too much money on it. It IS worth a small wager in my opinion, though.
Recommended Bets:
CSKA Moscow to finish 3rd at 5.50
Group F
Everyone would have expected Real Madrid and Borussia Dortmund to be the two teams qualifying from Group F. While that is exactly what happened, there could still be a twist in the outcome. Real Madrid were comfortable favorites to finish first, but they're currently behind Dortmund in second. Here's the full table and the remaining fixtures.
| | Team | GD | Points |
| --- | --- | --- | --- |
| 1 | Borussia Dortmund | 12 | 13 |
| 2 | Real Madrid | 6 | 11 |
| 3 | Sporting Lisbon | -2 | 3 |
| 4 | Legia Warsa | -16 | 1 |
Remaining Fixtures
Real Madrid vs Borussia Dortmund
Legia Warsaw vs Sporting Lisbon
The game between Real Madrid and Borussia Dortmund is guaranteed to be a game worth watching. The only way Madrid can top the group is if they win, while Dortmund can win on only a draw. I think Dortmund are more than capable of getting the result they need, and I wouldn't be surprised to see them qualify in first place. They're at 2.30 to do that, and in my view that represents value.
The battle for third place is technically still alive, as Legia Warsaw can move above Sporting Lisbon with a victory in their final game. The chances of this happening are slim, but there's no value in backing Lisbon to finish third at 1.25. So, for me, the best bet in this group is on Dortmund to win the group.
Recommended Bets:
Borussia Dortmund to finish 1st at 2.30
Group G
When Leicester won the English Premier League last season, it was a major upset. They'd been expected to battle relegation, but they surprised everyone by claiming the league title. Although they've had a poor domestic campaign so far this season, they're still continuing to surprise us. They've qualified already, and even guaranteed first place.
| | Team | GD | Points |
| --- | --- | --- | --- |
| 1 | Leicester City | 6 | 13 |
| 2 | FC Porto | 1 | 8 |
| 3 | FC Copenhagen | 3 | 6 |
| 4 | Club Brugge | -10 | 0 |
Remaining Fixtures
FC Porto vs Leicester City
Club Brugge vs FC Copenhagen
The race for second place is still very much alive in this group, as either Porto or Copenhagen can take that spot and qualify for the knockout stages. The bookmakers have made Porto the firm favorites to finish second, at odds of 1.20.
This prize seems crazy to me. I understand that Porto will have home field advantage for the final game, while Copenhagen is forced to play away at Club Brugge. However, Club Brugge has failed to pick up any points yet, so Copenhagen should have no problem walking away with a win. If they win, then Porto HAS to beat Leicester City to get second place.
It's possible that Leicester City may not be playing to the best of their abilities, as their chances of finishing first are already secured. If they decided to give it their all anyways, then Porto may just be denied the victory. With that in mind, I really like Copenhagen to finish second at 4.60. Although this is another longshot, I think that's a great price.
Recommended Bets:
Copenhagen to finish 2nd at 4.60
Group H
We're on to the final group. Juventus have already qualified, and are all but guaranteed to finish in first place. Second place is up for grabs though, with Sevilla and Lyon both in with a chance. They're playing against each other in the final game, so their fate is truly in their own hands. Here's the full table as it stands.
| | Team | GD | Points |
| --- | --- | --- | --- |
| 1 | Juventus | 7 | 11 |
| 2 | Sevilla | 4 | 10 |
| 3 | Lyon | 2 | 7 |
| 4 | Dinamo Zagreb | -13 | 0 |
Remaining Fixtures
Juventus vs Dinamo Zagreb
Lyon vs Sevilla
It's safe to assume that Juventus are going to beat Dinamo Zagreb. So, as far I'm concerned, first place is theirs. There's no point backing that though, as the odds are just 1.05. Although it's about as safe a wager as you'll even find, I can't recommend betting at these odds.
The final round of fixtures in this group is all about Lyon versus Sevilla. It's hard to make a prediction here, as the two teams are fairly evenly matched. Lyon does have home field advantage, but they still need to win by two goals in order to finish above Sevilla. While that is a lot to ask, I'm still convinced that they'll do it.
However, they're priced at 6.00 to come in second. I don't think the odds should be this high, so I'm going for yet another outside bet here.
Recommended Bets:
Lyon to finish 2nd at 6.00