Hide Bonus Offers
| | | | | |
| --- | --- | --- | --- | --- |
| #1 | BetOnline Sports | 60% Up To $1,000 | Visit Site | BetOnline Sports |
| #2 | Bovada Sports | 50% Up To $250 | Visit Site | Bovada Sports |
| #3 | BetUS | 125% Up To $2,500 | Visit Site | BetUS |
| #4 | Everygame | 100% Up To $500 | Visit Site | Everygame |
| #5 | MyBookie | 100% Up To $1,000 | Visit Site | MyBookie |
Betting Guide for the 2022 CFL Season with Odds and Prediction

With the CFL season approaching, let's look at which teams we should be betting on to win the Grey Cup in 2022.
The first week of the regular season kicks off on June 9th with a matchup between the Montreal Alouettes and the Calgary Stampeders. That will be the official kickoff to the season, and the battle for the Grey Cup will be underway.
Our 2022 CFL betting guide will help break down this season's outlook with the top teams, sleepers, and more. Let's not waste any more time and see what the 2022 CFL season will look like.
Where to Bet on the CFL in 2022
Before we dive into our 2022 CFL betting preview, we must ensure everyone knows where to go for all their CFL betting needs. These will be the top football betting sites that will offer CFL odds all year long.
Signing up to these sites is quick, easy, and rewarding. Not only do you get access to unique props, competitive odds, and fantastic promos, but you also get a nice boost to your account just by signing up.
For Example
MyBookie offers a welcome bonus of 100% of your deposit up to $1,000. If you load your account with $1,000, you will get an extra $1,000 just by joining.
If you aren't super interested in the welcome bonus, maybe you will like a particular site layout over the other. Be sure to look around to see which site fits your style the best. You can even sign up on multiple sites, so don't be afraid to do that.
Once you choose your site, you'll want to grab your personal information (ID, SSN) and preferred payment option to sign. All it is from there is entering some of your basic info, and you'll be on your way before you know it.
With that being said, let's go ahead and hop right into our 2022 CFL betting guide.
Latest 2022 CFL Grey Cup Odds
Winnipeg Blue Bombers
+250
Saskatchewan Roughriders
+550
British Columbia Lions
+1400
Here are the official 2022 CFL Grey Cup odds before the season gets started. You can find these odds on Bovada, so be sure to head over there when you pick which team you want to bet on for this year.
After winning the Grey Cup in back-to-back seasons , it's not a surprise to see the Winnipeg Blue Bombers as the heavy favorite right now. Over the last few years, they have been a dominant team and could continue that in 2022.
It may seem not worth it to bet on future bets with just (+250) odds for a payout, but the Blue Bombers have been so good over the last couple of years that it could be the best possible price you can get them at.
After Winnipeg, four teams are even in the 2022 CFL odds. The Tiger-Cats, Roughriders, Argonauts, and Stampeders are all within the (+500) to (+600) range after the Blue Bombers.
Hamilton was the team that made it all the way to the Grey Cup in 2021, but they couldn't beat the mighty Winnipeg. They did make things interesting, though, as the game headed into overtime. Winnipeg came out on top, though to the final score of 33-25.
Toronto and Saskatchewan also made the Division Finals last year but couldn't reach the Grey Cup.
Why the Winnipeg Blue Bombers Are Favored to Win
Who will win the 2022 CFL Grey Cup? There are many teams in the discussion, but one thing's for sure: they will have to go through Winnipeg. Winnipeg won the Grey Cup the last two years in a row, but they've also dominated in the regular season.
They went 11-3 in the 2021 regular season, while the following teams went 9-5 (Toronto Argonauts and Saskatchewan Roughriders). 2020 was canceled due to COVID-19, but they were a solid 11-7 in 2019.
It wasn't the best record in the CFL, but they were 7-3 in a tough division and went on to win the Grey Cup. If the 2020 season were able to happen, the Blue Bombers could have been a huge threat to winning the Grey Cup.
In 2021, Winnipeg was both the leading scorer and the league's best defense. It's hard to be the best in the CFL in just one of those categories, let alone both. That helped them have the league's best point differential (+173) by a long shot.
The West Division is also arguably the better of the two, and the Blue Bombers dominated their division opponents with an 8-1 record. They were also a perfect 7-0 in their home stadium.
After so much dominance in the previous season, it's no surprise to see the Blue Bombers as the 2022 CFL betting odds leader.
They are led by quarterback Zach Collaros, who threw for a league-best 20 touchdowns with just 6 interceptions. He will have to adapt to different playmakers around him, but the Blue Bombers' defense will still be dominant.
Other Grey Cup Contenders for 2022
Do we place our CFL Grey Cup pick on the Blue Bombers right now? Not exactly; there are some potential sleeper teams that we want to look at on our 2022 CFL betting preview. Here are a couple of teams that you should consider betting on as sleepers for the upcoming season.
Hamilton Tiger-Cats (+500)
Things could be way different in the 2022 CFL odds if the Tiger-Cats could win the Grey Cup in overtime last year. They made it a very tough game for the Blue Bombers, but they fell just a hair short.
Maybe that gives them some extra motivation for 2022. They went 8-6 in the 2021 season but were able to make it all the way to the Grey Cup. Here's a breakdown of last season's playoff game for the Tiger-Cats.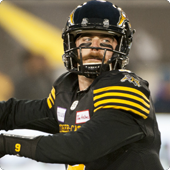 Division Semi-Finals: 23-12 win over Montreal Alouettes
Division Finals: 27-19 win over Toronto Argonauts
Grey Cup: 25-33 overtime loss to Winnipeg Blue Bombers
Toronto was the East champion at 9-6, but Hamilton could defeat them in the playoffs. It doesn't matter who places where in the standings, as long as you make it to the final tournament.
Dane Evans will be the full-time quarterback for Hamilton this year. His game logs were sporadic, so it will be interesting to see how he does with the starting job. If he proves to be a quality quarterback, the Tiger-Cats might be able to get over the hump this year.
Toronto Argonauts (+550)
The Argonauts made some huge moves in the offseason and acquired some top-tier players. Those players include Andrew Harris and Brandon Banks. Harris and Banks are two of the top offensive players in the league, so that they will help Toronto out this year.
Harris only played in 7 regular-season games last year, but he could still finish 5th in the league in rushing yards. To put that in perspective, he was the only player within the top 15 to play less than eight games.
Andrew Harris will be suiting up for the @TorontoArgos next @CFL season 👀 pic.twitter.com/3dZlx56zpN

— TSN (@TSN_Sports) February 8, 2022
His best game of the year was against Edmonton when he ran 24 times for 150 yards and 2 touchdowns. In the playoffs, he also rushed for 136 yards and 1 touchdown against Saskatchewan and 80 more yards against Hamilton in the Grey Cup.
Banks didn't have the best year of his career in 2021, but he's still capable of playing at his Most Outstanding Player potential. He won the award in 2019, thanks to 1,550 receiving yards and 13 touchdowns.
If Harris and Banks can both suit up for most of Toronto's games this year, they could be a hazardous team.
Calgary Stampeders (+600)
Another sneaky 2022 CFL prediction would be the Calgary Stampeders. They could have one of the best offenses in the CFL for 2022. T
The Blue Bombers led the league with 361 points, but the Stampeders were right behind them with 346. No other team reached past 315, so it's clear that both teams' offenses are on a different level.
Trevor Harris and Vernon Adams Jr. make up for a strong QB room, while top targets Jake Wieneke and Eugene Lewis are huge receiving threats. Their air raid could cause headaches for opposing defenses and lead them to a deep playoff run this year.
After six games, Harris started the year on the Elks but moved to the Stampeders. He played four games for the Stampeders and threw for a solid 8 touchdowns with just 2 interceptions.
Now that he has a full offseason with his new team under his belt, maybe he will take them to the next level. Their defense will be risky to rely on, but you will have to score points in this league if you want to win.
2022 CFL Most Outstanding Player Candidates
Not only can you bet on the 2022 CFL Grey Cup odds, but there's another big prop that will be available later this year. That would be none other than the Most Outstanding Player of the Year award.
Lucky for you, our 2022 CFL betting preview will be a great way to get a head start on who you think will be your 2022 CFL MVP.
Here are a couple of players that could be targets to bet on to win the 2022 CFL Most Outstanding Player award.
Zach Collaros, QB, Winnipeg Blue Bombers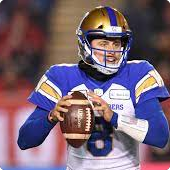 It's hard not to mention last year's winner of the MOP award. Zach Collaros was the best player on the best team in 2021. That's an easy argument if you want to win the award in any given year.
The same scenario is possible for this time around as well. Winnipeg is projected to be the league's best team by a healthy margin, so why wouldn't Collaros be in for another MOP-worthy year.
His 20 touchdowns to 6 interceptions ratio were probably the best part of his 2021 season. He also led the league in passing quarterbacks' completion to play at least 13 games (70.2%).
He was efficient with scoring, turnovers, and completion percentage. Oh, and his yardage also ranked second in the league.
The only other player to pass for more yards than Collaros in 2021 was BC's, Michael Reilly. Rielly retired this past offseason, so it could be even easier for Collaros to win it again. See where he winds up in my 2022 CFL fantasy football rankings.
McLeod Bethel-Thompson, QB, Toronto Argonauts
After adding Andrew Harris and Brandon Banks to Toronto's offense, McLeod Bethel-Thompson will see a jump in his numbers. He was a bit inefficient in 2021, throwing for 12 touchdowns and 11 interceptions.
Bethel-Thompson was much better in 2019 when he threw for 26 TD's and 13 INT's. His 26 passing touchdowns ranked first in the league that year, making him a strong candidate to win the award.
His now-teammate Brandon Banks was the one who stole it from him. Now that the two are together, they can wreak havoc on the league. The quarterback always tends to shine a little brighter than his receivers, though, so Bethel-Thompson could have the edge over Banks.
Harris is also a powerful running back, which can help keep the offense on the field. Bethel-Thompson could be the best 2022 CFL prediction in terms of value for the MOP award.
Cody Fajardo, QB, Saskatchewan Roughriders
Another solid player with a shot to win the MOP award is Roughriders' QB Cody Fajardo. Fajardo only finished behind Collaros and Reilly in passing yards for 2021. He also threw for 14 touchdowns, but 11 interceptions weren't ideal.
If he trims that number down, maybe he can be a nice bet to win this award as well. Like Bethel-Thompson, Fajardo was better in 2019 than he was in 2021.
Cody Fajardo had a rough WSF.. but on the final scoring drive of regulation he brought it..
– 9 Plays
– 7 first downs
– 6/6 for 70 yards

This week in WPG is all about mental toughness, that drive was a GOOD sign for Sunday & the future if you enjoy wearing green.#Riders | #CFL pic.twitter.com/KPm0jcKTOw

— 🇨🇦 Marshall Ferguson 🏈 (@TSN_Marsh) December 2, 2021
Fajardo led the league in passing yards with 4,302, which was 275 more than second-most (Trevor Harris). He also had a better TD-INT ratio at 18-8. The 30-year-old also has most of his top options still on the team for this year.
If he and his receivers get back on the same page as they were in 2019, Fajardo might be a sneaky bet to win this award.
Quarterbacks always have the upper hand for this award, winning 5 of the last six years. Saskatchewan will be an underrated team this year, so be on the lookout for Fajardo when making your 2022 CFL prediction.
Betting on the CFL Grey Cup in 2022
That will wrap it up for our 2022 CFL betting guide for this year. There will be many exciting things to happen this year, so make sure you mark your calendars for this year's season opener.
As for my CFL Grey Cup prediction for this season, I am leaning towards the Winnipeg Blue Bombers again, but Toronto is sticking out to me more. Their odds are more profitable than Winnipeg's at +550.
Adding Andrew Harris and Brandon Banks could take their team to the next level while McLeod Bethel-Thompson leads the charge. Harris would love to get revenge on the Blue Bombers as well since that's his former team.
If you feel that the Blue Bombers, Argonauts, or another team will win the 2022 Grey Cup, be sure to place your bets on the best Canadian gambling sites.
Gambling in Canada