7 Examples of the Rich and Famous Gambling in the Headlines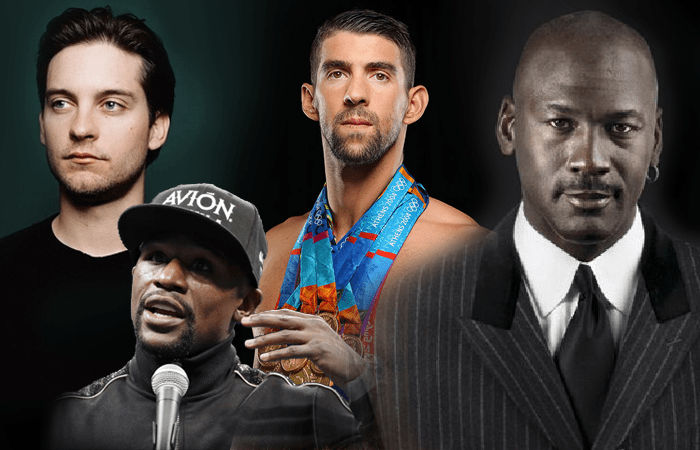 Celebrities live a different lifestyle and are on a higher pay grade than the rest of us.
Therefore, they can afford to bet much higher stakes than the average person.
This has led to some incredible stories involving multimillion-dollar wagers, exclusive underground poker rings, and scandals. Some of these stories have surfaced in the news and become legends.
That said, I'm going to cover 7 celebrities who've been involved in the biggest gambling news stories of all time.
1 – Ben Affleck
Ben Affleck has always had an affinity for playing poker. But 2014 news reports revealed that he also has a penchant for blackjack and is an adept card counter.
The Batman v Superman actor is so good, in fact, that Las Vegas' Hard Rock asked him to play a different game because he was successfully counting cards.
Afterward, Affleck discussed his love of blackjack and why he became a card counter.
"I knew with blackjack that there's a way you can improve your odds," he said. "And so I started trying to learn. And then I just got to a point in my life where I'm like, 'If I'm going to do something, I'm going to try and do it really well.'"
Unfortunately, this cool story turned into a nightmare, because Affleck's gambling habit affected his family life. A TMZ report shed light on just how bad things got between him and then-wife Jennifer Garner.
"Our sources (not surprisingly) have two views of what happened," the report stated. "Some align with him and some with her. The Jen sources say Ben's drinking and gambling have escalated over the last few years to the point 'she couldn't take it anymore.'"
Affleck initially denied the rumors. But it was obvious that there was more to the story when the couple separated in 2015.
2 – Tobey Maguire
One of the biggest celebrity gambling stories ever was an underground poker ring that ran in 2011.This wasn't just any poker game either because it featured some of Hollywood's biggest stars, like Affleck, Matt Damon, Leonardo DiCaprio, and Tobey Maguire.
The reason the poker game was uncovered is because Brad Ruderman, an LA-based hedge fund manager, lost $35 million to the other players. Brad Ruderman's former clients then sued the winners to recoup some of their money.
Maguire was one of the key defendants, given that he was the biggest winner. In fact, a Daily Mail report claimed that he won between "$30 and $40 million."
This is a massive fortune that few poker pros can dream of winning – let alone a Hollywood star. But while this story makes Maguire out to be a legend, the recent movie Molly's Game portrays him in a negative light.
Based on stories told by Molly Bloom – the woman who hosted the underground poker games – Maguire seems like a major jerk.
The Ringer states that the Spiderman actor is almost assuredly depicted by "Player X." Played by Michael Cera, Maguire is "a sinister figure who takes pleasure in, as he puts it in the film, 'destroying [the] lives' of his fellow players, and eventually Bloom herself."
While Bloom and the movie go light on the other celebrity depictions, it's pretty clear that Player X is the film's main antagonist.
Player X degrades Bloom and is annoyed at how much money she makes in tips from the players. He eventually moves the game to another venue and swears at her.
Player X later lightens up, though, upon hearing the emotion in Bloom's voice and getting satisfaction over his control of the situation.
It's important to note that these are only accounts from Bloom herself. But they make Maguire out to be a very skilled yet mean-spirited gambler.
3 – Michael Phelps
Michael Phelps is known for smashing almost every Olympic and competitive swimming record known to man.
He holds records for the most Olympic medals (twenty-three), gold medals in individual events (thirteen), and overall individual Olympic medals (sixteen). Phelps also broke American swimmer Mark Spitz's record for most gold medals in a single Olympics with eight at the 2004 Athens Games.
It's no wonder why the poker world got so excited when Phelps began competing in live tournaments in the early 2010s. Many hoped that he would sign a sponsorship deal with a major online poker site and further the game's popularity.
But this never materialized because Phelps is mainly interested in playing the game for fun. Even as a recreational player, though, Phelps is very competitive on the felt.
Phelps' poker journey began in 2011 when he bought a house in Baltimore and roomed with poker pro Jeff Gross. The latter said that Phelps took the game seriously and was one of the top celebrity players.
His poker passion was evident during the 2016 Rio Olympics when Phelps was seen relaxing poolside and playing Crazy Pineapple on his phone.
Meanwhile, rival Chad le Clos was jumping around intensely and getting fired up. This actually became a famous scene used to show the rivals' differences in personality.
Phelps' poker relaxation technique worked, as he
beat le Clos and won the gold medal in the 200-meter butterfly.
He's tallied six live tournament cashes for $8,383 and continues to make regular appearances at the World Series of Poker.
4 – Floyd Mayweather
Retired boxer Floyd Mayweather has never been against creating a spectacle. And his showmanship, combined with his 50-0 boxing record, has helped him amass a $400-million net worth.
Mayweather likes using his insane fortune to make some of the biggest wagers in the sports betting world.
He reportedly won $5.9 million by betting on a 2013 NBA Playoffs game between the Miami Heat and Indiana Pacers. He picked the Heat to cover the spread, and they won by a comfortable 23-point margin.
Another rumor claims that Mayweather wagered $10 million on the Denver Broncos in the 2014 Super Bowl. His wager reportedly revolved around Denver both covering the spread and leading at the half.
The Broncos lost 43-8 to the Seattle Seahawks, meaning he would've dropped a lot of money. Mayweather denied the rumors; but then again, he doesn't discuss or tweet his losing bets.
While "Money" has never confirmed the Heat and Broncos bets, it's well known that he's placed other huge wagers. In fact, he bets so much on sports that Las Vegas casinos regularly give him top-notch VIP service.
Mayweather also attempted to wager on himself in a 2017 boxing match with Conor McGregor. He'd tried wagering $400,000 on himself at -200 odds, and the fight ending in under 9.5 rounds.
The M Resort had concerns over the legality of Mayweather betting on his own fight. Money eventually grew tired of waiting for a decision and left without placing the wager.
5 – Michael Jordan
A six-time NBA champion, Michael Jordan is widely regarded as the greatest basketball player of all time. It just so happens that he's one of the biggest gamblers ever, too.
MJ is the source of many famous gambling stories.
Fellow NBA legend Charles Barkley said that Jordan once bet another man $300,000 on a single golf putt.
Earvin "Magic" Johnson told a story about Jordan's poker habits during the 1992 USA Dream Team run at the Olympics. Johnson said that MJ would sleep for one hour per night while staying up to play poker with Magic, Barkley, and Scottie Pippen.
The amazing thing is that Jordan still woke up and completely dominated his international competition en route to the Dream Team winning gold.
But while Jordan is the center of some great stories, his gambling problem also caused serious controversies.
He was spotted gambling in Atlantic City during the Chicago Bulls' 1993 run to the NBA title. The Bulls were playing the New York Knicks in the Eastern Conference Finals, and Jordan spent the night before on a gambling binge.
Shortly after Chicago won their third straight championship, the NBA began investigating Jordan's gambling habits. Four months afterward, MJ made the stunning decision to retire from basketball.
During his retirement press conference, Jordan was asked if he would ever come back to back to basketball.
"Five years down the road, if the urge comes back, if the Bulls will have me, if [league commissioner] David Stern lets me back in the league, I may come back," he said.
This odd comment about Stern has led to conspiracy theories that the NBA handed Jordan a lengthy suspension for various gambling-related incidents.
6 – Charles Barkley
Jordan's buddy Charles Barkley also made his share of negative headlines for gambling. In Barkley's case, it's because he lost so much money playing casino games.
"I went to Vegas a bunch of times and won a million dollars," Barkley once said. "Probably 10 times. But I've also went to Vegas and lost a million probably three times as much."
The reason why the "Round Mound of Rebounds" had such big losses is because he also set lofty goals. In fact, he wanted to win a seven-figure profit every time he took a trip to Vegas.
Eventually, he admitted that he had a major gambling problem and needed to work through it.
"My agent has really worked with me to try to get it where I can go and gamble and have fun," he told ESPN. "That's easier said than done."
"Do I have a gambling problem? Yeah, I do have a gambling problem, but I don't consider it a problem because I can afford to gamble. It's just a stupid habit that I've got to get under control, because it's just not a good thing to be broke after all of these years."
Some of Barkley's preferred gambling activities include blackjack, golf, and poker. It's unclear to what extent he gambles these days, given that he toned down his wagering following "$10 million" in lifetime losses.
7 – Charlie Sheen
Charlie Sheen has produced plenty of negative headlines over the last decade-plus. He famously had a meltdown in 2011, where he was ousted from may-hate CBS show Two and a Half Men.
Sheen has since dealt with alcoholism, drug addiction, mental illness, anti-Semitism, and gambling addiction.
The latter was revealed in 2006, when his ex-wife Denise Richards explained in divorce papers that Charlie was losing $200,000 every week on gambling.
Richards noted that the bulk of the losses came from betting on sports, where he was very unsuccessful.
She detailed an incident in 2005, where Sheen was placing a sports bet over the phone while taking her to the hospital for the birth of their child, Lola.
Sheen also frequently checked his pager while Richards was undergoing a C-section to see if he'd won a big sports bet. Richards said that her ex spent the bulk of his time gambling online when they'd leave for romantic getaways.
Conclusion
Some of the celebrities covered here are good at gambling, while others are degenerates who've lost millions of dollars.
The best celebrity gamblers who became big news stories are Tobey Maguire, Ben Affleck, Michael Phelps, and Floyd Mayweather. Celebs who could've really used some gambling lessons include Charles Barkley and Charlie Sheen.
As for Jordan, I'm not sure what level of success he did or didn't achieve. But it's clear that he was extremely passionate about gambling to the point where he'd sacrifice sleep.
I know at some point in the future, we'll hear even more interesting stories about celebrity gamblers. That said, I'd love to see if their stories top any of the celebrities on this list.