Hide Bonus Offers
| | | | | |
| --- | --- | --- | --- | --- |
| #1 | Bovada Sports | 50% Up To $250 | Visit Site | Bovada Sports |
| #2 | BetUS | 125% Up To $2,500 | Visit Site | BetUS |
| #3 | MyBookie | 100% Up To $1,000 | Visit Site | MyBookie |
| #4 | Everygame | 100% Up To $500 | Visit Site | Everygame |
| #5 | BetOnline Sports | 60% Up To $1,000 | Visit Site | BetOnline Sports |
How Likely Is It That Casino Gamblers Will Love Virtual Casino Tech?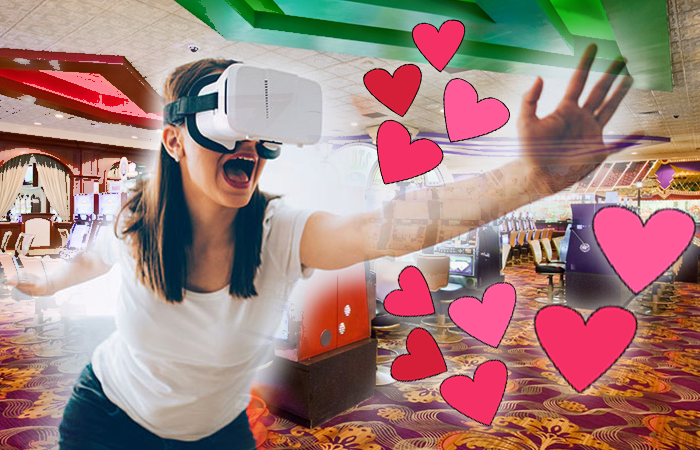 The concept of virtual reality originated in the 1980s, and online casinos emerged in 1994, but it took until 2015 for an intrepid entrepreneur to blend them both.
When the SlotsMillion virtual reality (VR) online casino launched just over two years ago, the site represented the next step in online gambling's evolution.
Utilizing the highly advanced Oculus Rift VR headset and high-powered gaming PCs, SlotsMillion was the first fully immersive online casino to transport players directly into cyberspace.
At the time, gamblers and industry insiders alike celebrated SlotsMillion as a trailblazer, paving the way for eventual widespread adoption of VR casinos.
After all, why would anybody stick with pointing and clicking pixels, when they could walk through a glitzy VR casino and spin the wheel for themselves?
As it turns out, players spanning the spectrum from teenagers to senior citizens are interested in VR casinos.
According to a survey conducted by the research firm Opinium, 66% of respondents reported themselves as "interested" in VR gambling. In fact, 40% of people aged eighteen to thirty-four have already given the technology a go, along with 24% of thirty-five to fifty-four year olds, and 10% of the fifty-five and older crowd.
But even as people express interest in VR casinos, platforms like SlotsMillion and its newly launched competitors aren't exactly gobbling up market share.
The rate of adaptation continues, but only at a crawl, prompting many within the iGaming industry to wonder whether players will every truly embrace VR casinos.
I'll try to answer that question on this page, first by examining the primary barrier to entry that has worked against VR casinos. From there, I'll discuss the many benefits of VR gambling, before offering my own opinion on the technology's viability down the road.
Buying in Requires a Hefty Bankroll
While the SlotsMillion platform is available in a 3-D rendered browser based version, the site's true VR experience can only be accessed through the Oculus Rift headset.
The going rate for an Oculus Rift is $350 or so, which is rather reasonable, given the product's innovative nature. For that flat fee, users can enjoy boundless VR immersion, from the casino at SlotsMillion to any adventure you can imagination.
When the latest iPhone will set you back $800, paying $350 for your own VR machine is nothing short of a steal.
Unfortunately, owning an Oculus Rift headset is only the start for SlotsMillion players. From there, you'll also need a modern gaming PC outfitted with enough processing power to render VR in real time. I'm not talking about your Toshiba laptop and the like, as you'll need a dedicated gaming PC setup to really enjoy SlotsMillion as its designers intended.
Depending on the make and model, you can expect to drop another $1,500 or so on a new gaming rig – putting the price of entry to SlotsMillion's VR casino at just under $2,000.
For that price, you can forego virtual reality altogether and simply book a suite on the Las Vegas Strip.
At this point, cost appears to be the primary hurdle preventing widespread adoption of VR casinos like SlotsMillion.
Indeed, that Opinium survey found that the crucial eighteen to thirty-four demographic, while highly interested in VR experiences, is willing to spend an average of just $134 on the technology.
And for folks in the fifty-five and over age bracket, $74 is the average limit to their prospective VR investment.
That's a far cry from the $2,000 baseline cost, which helps explain the gulf between interest and actual play.
Alexandre Tomic, the co-founder and chief executive officer of SlotsMillion, recognizes that fact. In an interview with VegasMaster, Tomic explained that the price of VR technology will gradually come down, allowing more players to experiment with experiences like SlotsMillion:
"Virtual reality is the next logical step, but it won't happen quickly; it may take five or ten years to enter widespread use, especially as the costs are still quite high as a high spec gaming PC is necessary for the goggles to work properly.
Once headsets and the related technology becomes more affordable, I fully expect the interest and experience levels to continue to rise sharply."
Thankfully, as recent tech innovations like the smart phone and home assistance computers have shown, prices tend to drop dramatically after the first year or two of use.
A voice activated artificial intelligence machine used to run $1,000 or more, but I just bought my mother in law an Alexa for $29.99.
If VR technology follows the same trendline, it should only be a few years before Best Buy and the rest have Oculus Rift on sale.
The $520 Million Question
Once the costs come down for users, operators of VR casinos are expected to make a killing.
Per a recent report by Juniper Research, entitled "Mobile & Online Gambling: Casinos, Lotteries, Betting & VR 2016 2021," the VR gambling industry is expected to grow to $520 million by 2021. That's good enough for an astounding 500 percent rate of growth.
In fact, Juniper Research estimates that a full 40% of the worldwide gambling industry will be composed of VR products by 2021.
Those products aren't limited to online VR casinos either.
In late 2016, the Gamblit Gaming company rolled out a new skill based Virtual Reality Cube concept. Placed in brick-and-mortar casinos and designed to resemble video game arcades, the Virtual Reality Cube is a kiosk that offers real-money wagering on VR games.
The first game packaged within the Virtual Reality Cube was "The Brookhaven Experiment," a horror themed zombie shoot 'em up that plays more like a video game.
Darion Lowenstein, chief marketing officer for Gamblit Gaming, described "The Brookhaven Experiment" as a fusion of arcades, casinos, and VR:
"Imagine if we had this on the casino floor.
Imagine if not only you were able to bet money on how good you are killing monsters and then able to have your friends, instead of just sitting around watching you in goggles, have them not only see your viewpoint but also be able to bet on your experience.
The way the game works is you start up the experience, and you can bet out $15, $25, or $50, which basically affects your payout return. And as soon as you select [your wager], you're given three different challenges that change each time you play the game."
Along with online VR casinos and skill-based kiosks like the Virtual Reality Cube, the gambling industry is exploring several other ways to monetize the emerging technology.
The MGM Grand in Las Vegas opened its Zero Latency Virtual Reality experience this year, inviting guests to take a break from gambling to explore a VR zombie wasteland.
As part of the casino's LEVEL UP Lounge area, the Zero Latency Virtual Reality attraction doesn't provide gambling per say, but it has provided thousands of gamblers with their first exposure to VR.
And if they like what they see while zombie hunting, they'll be more inclined to load up a site like SlotsMillion to see what all the hubbub is about.
Camaraderie at the VR Casino
One of the most common complaints lodged by online casino enthusiasts is the solitary nature of the experience.
Sure, you have access to hundreds of slot machines, video poker variants, and table games just one click away, but there's just something missing. Without fellow players at the table to sweat, or a dealer making small talk to pass the time, gambling online often feels sterilized and impersonal.
Indeed, sitting silently for hours staring at a screen, not saying a word, is the default setting for most online gamblers. That's no fun at all, which is why the live dealer sector of the industry has taken off in recent years.
But even with live dealer games — which connect players to human dealers and genuine equipment via live streamed footage — players are stuck staring at the screen.
You can watch the dealer distribute actual playing cards, which is definitely an improvement over a pixelated animation, but you can't squeeze and sweat the cards as you would at a real table.
With a VR casino, however, players can walk around, sidle up to a table, and perform any action as they normally would.
Handling chips, checking cards, and even ordering a cocktail – anything you can do in real life is possible on the VR casino floor.
That includes making friends, as a VR casino like SlotsMillion is a fully immersive world. While you're exploring the venue and searching for your favorite games, fellow players are doing the same in real time.
Take a seat and buy into a baccarat game, and you'll find your virtual avatar alongside peers who are doing the very same thing.
With chat boxes and microphones in play, it only takes an icebreaker to get the conversation going, and from there you'll feel like you would gambling it up in Las Vegas.
The excitement of watching your new pal win, their own celebration when you drag a pile of chips, and the mutual commiseration when the dealer makes their hand all add to the immersive nature of VR casinos.
Tomic knows this better than most, as he helped to design SlotsMillion as an outlet for social engagement on par with the best brick-and-mortar casinos:
"VR seemed to solve something problematic that we've seen in real money gaming since the beginning of online casinos — you could play while sitting on the sofa, from the comfort of your own home, but alone.
Without the thrills of playing with other people and seeing them winning, the sensation of being in a casino is not the same — you don't get that buzz that you feel when you're there in real life.
Now, with VR, you've got that. It's what we have all been waiting for. Experiments have been done with 3D casinos but they didn't work — the two most important aspects, immersivity and social, were missing. But with VR, you've got both."
This phenomenon is already on display within the world of competitive video games, as players in their teens encounter strangers on the other side of the world through Halo, Counter Strike, and League of Legends.
Communicating through headsets, and engaging with one another in real time, people who will never meet in the physical world can develop meaningful relationships by playing together online.
That trend should only accelerate as VR casinos become the rule, rather than the exception.
Millennial Adoption
One reason for the delay in widespread VR gambling adoption might just be that the target audience isn't yet old enough to gamble.
Players like myself who cut their teeth in the brick-and-mortar setting were already reluctant to bring their bankrolls online. Personally, I've come around on the idea of online casinos, and nowadays I spend just as much time grinding blackjack on Bovada as I do at the Bellagio.
But it took time for me to embrace online gambling, and I suspect many of my old school peers rejected the technology out of hand. Random number generators that nobody can see, the occasional cheating scandal, and unscrupulous operators were enough to push many avid — but older — gamblers right out of the iGaming industry.
Fast forward to today, and the same phenomenon is occurring with VR casinos. As the Opinium study cited above makes clear, interest in VR gambling is directly correlated to age, with younger players far more likely to take the plunge than their predecessors.
Sarah Blackburn of VentureBeat explained that divide perfectly in a 2015 profile on the VR casino industry:
"The casino giants of Nevada have long lamented the millennials' reluctance to embrace traditional casino games. Reared on console gaming, they naturally get their buzz from Halo 5 rather than staring hypnotically at spinning reels.
Thus, the first users of virtual reality casinos will likely be gamers of the millennial generation, and not the casual or traditional gambler.
The virtual online casinos of the future are likely to be hybrid hodge podge of skill games, video games, social games, and traditional casino games — geared towards the millennial generation."
As Blackburn astutely points out, the millennial generation is already biased against the traditional casino industry. With full access to information on odds against and house edge, younger players rightfully consider games of chance like the slots, craps, and roulette to be "sucker" games.
If younger players are increasingly wary of gambling in live casinos, VR alternatives must take a different track to bring them onboard.
For this reason, most VR gambling products fall into the skill based category, as you've already seen with the Virtual Reality Cube's zombie hunting game. Over at SlotsMillion, one of the site's most popular virtual slot titles is Beehive Bedlam Reactors, which includes a skill based side game.
Millennial gamers are all about control, and they don't enjoy leaving their fate up to the fickle whims of fate. They've spent their developmental years target shooting alien invaders, putting together massive architectural puzzles, and teaming up to conquer epic fantasy worlds.
VR casinos, perhaps more than any other online gambling option, have the power to put players back in control.
Through a combination of skill based games, and the social engagement added to traditional games of chance, VR casinos create a sense of camaraderie that — until today — could only be found at the nearest brick-and-mortar casino.
Addiction Therapy
On a final note, with the advent of online gambling creating a new wave of problem gambling concerns, VR casinos have tremendous potential to assist in addiction therapy.
For a player who finds themselves hooked on gambling, what was once an enjoyable hobby can transform into a hopeless addiction.
Compulsive play is a reality, and it's none too pretty.
I've watched good friends succumb to gambling addiction over the years, and I only wish we had VR casino technology back then.
As part of a groundbreaking study virtual reality as addiction therapy, Stéphane Bouchard of the Université du Québec's Cyberpsychology Laboratory has created his own VR casino.
When patients suffering from problem gambling feel that all too familiar urge to hit the casino, Bouchard invites them to don a pair of VR goggles instead. By exploring the VR world, and even enjoying the games, these players are able to scratch that itch without ever setting foot on the casino floor.
Bouchard explains his approach to the age-old conundrum of compulsive gambling thusly:
"It's easy to control relapse in my office but it's more challenging when they're in front of a real slot machine. We can then challenge them 'if you feel a strong urge now in this virtual reality, imagine what would happen if you go to a real casino?'
If they say, 'I think I can control myself,' that's good, and we can play the VR simulation with the goal of control.
We want to get to a point where my patient could actually learn to control what's happening, control themselves, get out of the situation if they have to. All of this has to be practiced."
As Bouchard makes clear, the role of a VR casino in gambling addiction therapy is to retrain a player's ingrained behaviors.
For folks who have trouble walking away from a losing session, a few trips to the VR blackjack tables can help them work on accepting a downswing and walking away.
Those who lose track of time and waste entire days spinning the slots can establish limits on their play, before using in-game clocks to monitor their progress.
The possibilities for problem gambling therapy truly are limitless, offering yet another reason for VR casinos to gain widespread acceptance in the coming years.
Conclusion
Virtual reality has been promised to be the wave of the future for three decades and counting, so doubts about VR casinos are completely understandable.
But I believe we've reached a technological tipping point, wherein reduced prices and increased utility will combine to bring VR gambling mainstream.
Remember, it wasn't so long ago that veteran gamblers — myself included — scoffed at the idea of betting real money on computerized blackjack or poker.
Today, the online gambling industry has exploded into a multibillion dollar global enterprise, with millions of players worldwide viewing internet wagers as the de facto way to get in on the action.
Ten years from now, I expect the same conversion to occur with VR casinos, because VR gambling is simply an extension of online play. Eventually, the idea of clicking at pixels and watching animated graphics while gambling will be quaint and outdated.
And when that time comes, you'll be more than happy to ditch your browser based games for a fully immersive experience.