Hide Bonus Offers
| | | | | |
| --- | --- | --- | --- | --- |
| #1 | Bovada Sports | 50% Up To $250 | Visit Site | Bovada Sports |
| #2 | BetUS | 125% Up To $2,500 | Visit Site | BetUS |
| #3 | MyBookie | 100% Up To $1,000 | Visit Site | MyBookie |
| #4 | Everygame | 100% Up To $500 | Visit Site | Everygame |
| #5 | BetOnline Sports | 60% Up To $1,000 | Visit Site | BetOnline Sports |
A Case For Mike Evans Winning the Super Bowl MVP in 2021

The Pete Rozelle Trophy, otherwise known as the Super Bowl MVP Trophy, is typically handed out to the winning team's quarterback. The keyword being, typically.
In fact, more than 44% of the time (24/54) a QB does not scoop up the hardware.
There are a handful of non-quarterbacks playing in Super Bowl 55 who have an opportunity to shine, and one man comes to mind in particular. Should the Buccaneers go on and hoist the Lombardi Trophy, Mike Evans projects to be a big reason why.
Now I'll tell you why you should pull the trigger on a Mike Evans Super Bowl MVP bet.
Two Touchdowns in the First Meeting
Three catches for 50 yards hardly stands out, but here's what caught my eye about Mike Evans' week 12 performance against Kansas City.
Two Touchdowns
Team-High Nine Targets
No matter what type of scheme Steve Spagnuolo employs, Evans is bound to find himself matched up on the outside with Charvarius Ward on multiple occasions. He's going to get shots against Bashaud Breeland.
Well, Mike's got 35 pounds on Ward and six inches on Breeland. That spells trouble for the people back home at Arrowhead.
Tampa Bay will have to put up points if they're going to emerge from this game, and it's unlikely they get that done by running the football at will. Tom Brady is going to need to air the football out, and who better to target than his top-flight wideout?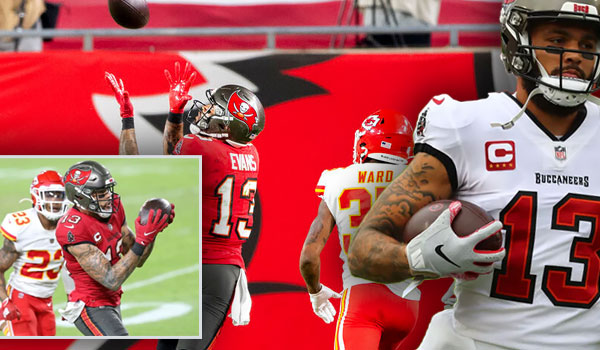 His Super Bowl MVP Odds Are Juicy
Mike Evans may or may not win the Super Bowl 55 MVP. Nevertheless, I'm convinced that betting on Evans is warranted.
Not just at any of the best Super Bowl betting sites, but specifically at BetOnline – where his odds are screaming with value.
Mike Evans' Super Bowl 55 MVP Odds
BetOnline
XBet
BetUS
Bovada
BetNow
+4000
+3500
+3500
+2800
+2200
Here's another table giving you visual representation to help elucidate just how juicy this +4000 price tag is.
Super Bowl MVP Odds in 2021 at BetOnline
Player
Odds to Win the Super Bowl MVP
Patrick Mahomes
-110
Tom Brady
+225
Travis Kelce
+1000
Tyreek Hill
+1200
Chris Godwin
+3300
Leonard Fournette
+3300
Clyde Edwards-Helaire
+4000
Mike Evans
+4000
Neither team is expected to lean too heavily on their running game, not to mention, both Leonard Fournette and CEH will be splitting carries with Ronald Jones and Darrel Williams, respectively.
TDs matter the most, and Mike Evans has a much higher touchdown expectancy rate than Chris Godwin. What I'm getting at is that Evans seems to be one of the most realistic options (outside of the quarterbacks) for those betting on the Super Bowl 55 MVP.
Evans is a Machine inside the 10 Yard Line
I alluded to Evans being more likely to score a touchdown than Chris Godwin in the previous segment. Here is where I support that claim using hard data.
Evans hauled in 13 touchdowns in the regular-season; no other Tampa Bay pass-catcher amassed more than 7. Brady trusts Mike implicitly in the red zone, and he really zeroes in on him once they get inside the 10.
Case in point – Evans has 10 receptions inside the 10 yard line this season. All 10 of those catches have resulted in six points for the Bucs.
Whether it's a fade to the corner or a quick slant toward the middle, the Texas A&M product is a matchup nightmare around the goal line. Part of that has to do with Brady's on-point accuracy in the red area; part of that is due to Mike's incredible footwork and agility.
Oh yeah, and it helps that the guy is 6'5", 231 pounds, and understands how to use his hands to create separation.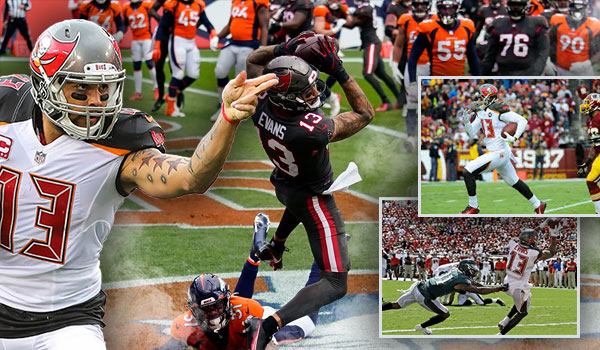 4 WRs Have Won Since 2005
The Super Bowl MVP list of winners is littered with lots of quarterbacks. However, of the six non-QBs who have won the award in the last 16 years, four are wide receivers.
Deion Branch, Patriots, Super Bowl 39
Hines Ward, Steelers, Super Bowl 40
Santonio Holmes, Steelers, Super Bowl 43
Julian Edelman, Patriots, Super Bowl 53
Interestingly enough, two of these guys were catching passes from Tom Brady.
Despite Evans "not liking" Brady as an adolescent, it's safe to say he's grown quite fond of his 43-year-old quarterback.
"It's great catching passes from the GOAT. I never thought I'd be able to get that opportunity. When I was a kid, I grew up not liking Tom Brady because I was a Peyton Manning fan. And now I'm the biggest Tom Brady fan. So it's great to be able to catch balls from him."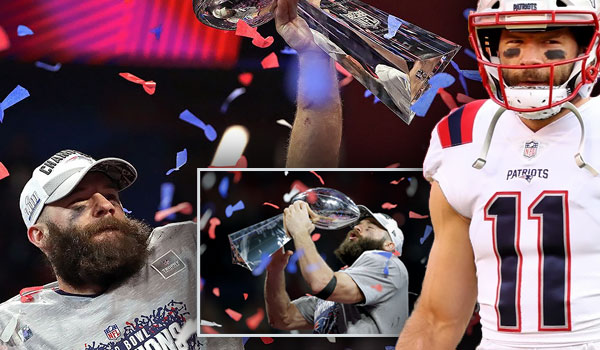 First Down Specialist
Regular-season and playoffs combined, only Davante Adams has scored more receiving touchdowns than Mike Evans. I've highlighted his dependability once Tampa Bay gets inside the 10-yard line, and he was by far the most targeted Bucs wide receiver in 2020.
With that being said, racking up touchdowns is only part of what makes him Brady's most dynamic weapon.
When Mike isn't scoring touchdowns, he's making defenders miss and gaining large chunks of yards. You want a wide receiver who turns catches into first downs – nobody does it better than #13 in Tampa.
Mike Evans since 2019:
? 147 receptions
? 118 first downs

Highest conversion rate in the NFL pic.twitter.com/lPAvTBkgfs

— PFF (@PFF) February 1, 2021
Evans terrorizes even the best corners in football. You know he's going to be licking his chops going against the Chiefs DBs. Mike is too big, too strong, and too fast.
Ultimately, Brady should have a field day playing pitch and catch with the only man in history to post 1,000+ receiving yards in each of his first seven seasons.
Should You Place a Mike Evans Super Bowl MVP Bet?
If Super Bowl MVP betting is part of your arsenal, don't be afraid to invest in Mike Evans. He's scored the first touchdown for the Bucs in each of the last two games, and his usage inside the 10-yard line is off the charts.
If that's not enough to entice you your mood, surely you'll account for his +4000 odds at BetOnline. For some additional perspective, Mike Evans' Super Bowl MVP odds are sitting at +2000 at some casinos in Vegas.
All things considered, the answer to this question is yes.
If you're absolutely convinced that the Chiefs will win the game, then my best advice is to throw all of your eggs into the following basket.