Carmelo Anthony Trade Rumors: 7 Potential Landing Spots For the Knicks Star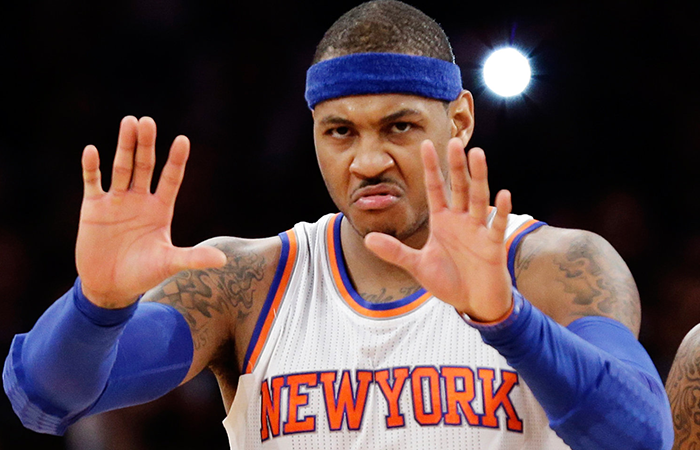 The Carmelo Anthony era in New York could finally be coming to an end. Carmelo Anthony trade rumors have been alive and well for the past few seasons, and with the New York Knicks again struggling mid-way through the 2016-17 NBA season, talk has started up again surrounding his future with the franchise.
Per reports, Melo and New York Knicks President Phil Jackson held a meeting on Tuesday to specifically discuss the star forward's future with the franchise:
Phil Jackson met with Carmelo Anthony today and asked him if he wanted to remain with the Knicks, sources told ESPN.

— Ramona Shelburne (@ramonashelburne) January 17, 2017
Melo holds all the power in trade talks currently, as he has a no-trade clause in his contract and to this point has remained adamant that he'd like to remain with the Knicks. Even Melo may be slowing growing sour due to all of the losing however, and the latest conversation could potentially give real legs to all of those Carmelo Anthony trade rumors.
It's unclear what was said during the meeting, but Jackson likely would love to see what he could get in return for Melo. The Knicks do have some solid young talent and a possible franchise cornerstone in big man Kristaps Porzingis, but they aren't close to competing for a title as they stand.
At 32 years of age, Anthony may no longer be the difference-maker the Knicks need him to be, and it could make sense for both sides to come to a mutual divorce. The biggest question of all, of course, might come down to whether or not the Knicks can compute a big haul and an ideal landing spot for their star scorer.
Carmelo Anthony may be open to a trade if the right situation unfolds, but it may need to be a perfect situation. With that being said, let's consider the seven most likely destinations if Melo ends up being on the move in the near future:
Where Could Carmelo Anthony Be Traded?
Sacramento Kings
The Kings come in as the first realistic Carmelo Anthony trade suitor, just because Rudy Gay has an expiring deal and wants out and this team isn't really going anywhere at the moment. They could be, of course, if they stop the DeMarcus Cousin trade talk and bring in Melo and get rid of the distraction that is Gay.
Sacramento would still have questions at point guard and shooting guard, but they'd fix the Rudy Gay problem and get an arguable upgrade in the process. It's unclear what else the Knicks could get in a deal, but some picks and maybe a young player could help make it happen.
Atlanta Hawks
Atlanta just unloaded Kyle Korver in a recent trade and had to talk down Paul Millsap trade rumors not too long after. That doesn't point to a Carmelo Anthony trade, but it could.
The Hawks seem more inclined to start blowing what they currently have up, but they may not need to if they can bring in Melo and make a decent team even better. The pieces would be in doubt, but if they wouldn't have to let go of Millsap or Dwight Howard, they could be suddenly looking at a very dangerous starting five.
The real issue here could be compensation on Atlanta's end, although they do have some interesting young talent in Kent Bazemore, Malcolm Delaney and DeAndre Bembry.
Oklahoma City Thunder
The Thunder have been good all year, but they haven't been consistent or elite ever since losing Kevin Durant to free agency. They've seen nothing but inconsistency at small forward and power forward and if they traded for Melo, they could help themselves out by getting a scorer who can help at both spots.
OKC is already a playoff team without Melo, but with him they might have enough to compete for a title. They'd probably have to unload some solid prospects and picks for a shot at nailing this trade, however, and it's arguable they just don't have enough ammunition to make it happen.
Chicago Bulls
The Bulls could be an interesting landing spot for three reasons: Melo almost went there before deciding to return to New York when he was last a free agent, the Bulls have some interesting pieces already and the Knicks and Bulls have already done some traded together.
All of that could make this work, but the Bulls would have to give up some interesting prospects to swing a trade that might not really help them all that much. They'd probably love to unload Rajon Rondo at this point, but he's not a big enough draw. The likes of Doug McDermott, Bobby Portis and Nikola Mirotic would have to be dangled if a trade was at all possible.
The move would give the Bulls a boost in the starting five, but it really wouldn't fix some serious issues they have at point guard and this trade could also sap any depth they currently have on the bench.
Boston Celtics
Boston is a big trade option to consider, as the Celtics are very close to threatening the Raptors for the #2 seed in the Eastern Conference and really could be one more go-to player away from threatening both the Raptors and Cavaliers.
Carmelo Anthony to Boston rumors have been discussed in the past and this could be a great place for him to play out his current contract. It could take a lot to make it happen, but Jae Crowder and Marcus Smart seem to always be thrown into trade talks and the Celtics would probably part with the likes of Kelly Olynyk and/or Amir Johnson to pull a trade like this off, as well.
Boston also has some picks to unload, so they could be the most enticing destination when it comes to what Phil Jackson and the Knicks would like to do.
Toronto Raptors
Melo would surely jump at the opportunity to go play with the Raptors, who can already defend and sport one of the most efficient offenses in the entire league. Anthony wouldn't need to shoulder the scoring load all by himself and he wouldn't move too far away, as the Raptors are just North of New York in Canada.
Toronto is already the second best team in the Eastern Conference and still have a hole at power forward next to Jonas Valanciunas. Melo playing power forward every game may not be ideal, but he's proven he can be very effective there and especially gives Toronto a strong small ball look.
As far as winning is concerned this could be one of the best spots for Melo. The kicker could be what the Raptors give up. Luckily they have a plethora of young prospects to toss New York's way. Jakob Poeltl, Lucas Nogueira, Terrence Ross and Bruno Caboclo are just a few names Toronto could toss into trade talks to try to facilitate a Melo trade.
Houston Rockets
Houston is without a doubt a team to watch when it comes to Carmelo Anthony trade rumors, as we've seen Anthony's name tossed around in Houston before and he's also played under current Rockets coach, Mike D'Antoni.
Ryan Anderson has delivered mixed results as the starting four in Houston's lineup, so there is an argument to be made that Melo would be a massive get for one of the league's best offenses.
The Rockets aren't broken, of course, so adding an iso scorer like Melo could potentially be a really bad move. However, if the Rockets could sacrifice a few picks and some prospects/veterans, it could also end up being the move that pushes them to the top of the NBA.
Other Options
These aren't the only options. Several teams would be more ideal situations for Melo or there are bad teams that would love him to boost their offense or sell tickets. You can consider the Bucks, Grizzlies, Cavaliers, Clippers – and probably over half of the league – but the situation needs to be right and there needs to be proper compensation.
That's why some of the options on our list won't even work. Melo needs to waive his no-trade clause and work with the Knicks to find the right deal. For New York, that'll be a team that gives them a nice haul for one of the game's best scorers. For Melo, that will be somewhere he can win and still be remotely close to "the guy".
Carmelo Anthony Trade Prediction
Obviously the first course of action lies in Melo's hands. If he denies any possible trades by not waiving his no-trade clause, then this recent meeting means nothing and the Knicks have their hands tied with what they can really do going forward.
Assuming Melo is sick of losing and wants to go play for a contender, of course, we can look at which Carmelo Anthony trade rumors come off as being most realistic. Any of these 10 we touched on are certainly possible (plus there's always that Cleveland Cavaliers dream trade), but there's only one that stands out above the rest: the Boston Celtics.
Whether the Celtics believe Melo can get them over the hump is yet to be determined, but he certainly can help relieve some of the scoring pressure from Isaiah Thomas. Jae Crowder doesn't feel like a long-term fit with this team, anyways, and Boston is one of the few teams sitting on prospects and picks these days.
Boston could be holding out to land Gordon Hayward or someone else, but why wait? Melo is 32, but he's not useless. He gives the Celtics one more true gamer, a clutch performer and a proven scorer. It's worth wondering if he can be a winner with this team and settle into a defined role beyond just being "the guy", but if the Celtics swing the deal, odds are they believe he can and will.
That still might not be enough to get the Celtics to the #2 seed or help them get past the Cavs, but they're certainly not doing that as they stand. Pulling a trade for Melo could and if he goes, that's probably the trade that goes down.
Back to Reality
Of course, none of this is happening, as Melo reportedly doesn't want out:
Carmelo Anthony reaffirmed his desire to stay with Knicks in meeting with Phil Jackson today, league source tells @TheVertical.

— Adrian Wojnarowski (@WojVerticalNBA) January 17, 2017
Even more important, is the rumor that Melo would only be willing to waive his no-trade clause to go to the Cavaliers or Clippers.
As we touched on, those trades don't make sense. The Cavs just won a title with their current team, got a shooter in Kyle Korver and will be getting J.R. Smith back before the playoffs. They don't need or want Melo and they'd be stupid to swing a trade for him.
The Clippers would love to have Melo and aside from the Celtics – who make a ton of sense – they actually do make a little sense. Unfortunately, they have nothing to trade and their key players are about to hit free agency. A starting five of Chris Paul, J.J. Redick, Carmelo Anthony, Blake Griffin and DeAndre Jordan could be deadly, but what bench would the Knicks have if they swung a trade to make it happen?
The answer is none, and it's quite likely they'd also have to unload Redick and/or one of their other stars to make it happen. Melo isn't worth that at this point in his career and he's really only a help if they can somehow get him, keep their depth and also not lose any of their key stars.
That probably means the Clippers and Cavs aren't serious contenders when it comes to Carmelo Anthony trade rumors, and the latest information also likely kills any trade talk. Still, if Melo changes his mind, keep an eye on the Celtics.