Can You Legally Bet Money on the 2020 Presidential Election?

Questions. We sure have a lot of questions going doing the rounds right now. But the one I'm here to answer for you today is "is it legal to bet on the presidential election?"
Getting to the bottom of this is going to take more than a few lines, given the various gambling laws around the world. There are many rules to consider depending on where you gamble from, and there are often grey areas.
So, doing this right involves explaining everything you need to know.
You will be delighted to learn that there ARE options for betting on the US presidential election legally. To the best of my knowledge, any laws that prohibit presidential election betting are aimed at those providing a gambling service rather than gamblers themselves.
While I can't speak for every country in the world, you can breathe a sigh of relief knowing that the chances of finding yourself in trouble for betting on the election in places such as the US, Canada, and the UK are pretty much zero.
The following sites all offer presidential election betting odds and markets and have been vetted by our in-house experts. That's means that they are safe and secure, fully-licensed, and operating legally in the jurisdictions where they are based.
You can join any one of these sites and freely bet real money on the presidential election right now. If you want to learn a little more about gambling laws in different parts of the world, and how they relate to political betting, please read on.
US Gambling and Betting Laws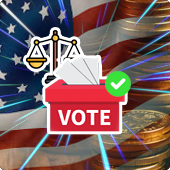 Gambling laws in the US have changed over the years, and many of these changes have caused more than a little confusion.
Both federal law and state law apply to gambling. Two individuals reading this from two separate US states could find that their situations are very different.
The problem is that some states have gambling laws that go back centuries, while others have never entertained the practice at all. In pre-revolutionary America, laws were introduced by moralists in an effort to crack down on gambling in places like New Orleans.
Post-revolution, frontier settlers and gold prospectors in San Francisco celebrated gambling as an elite practice before Californian laws pushed the practice underground.
Some of the basic tenets of early US gambling laws are still around today and, crazily, they can even be applied to online gambling.
The internet has revolutionized the way we gamble, and this has led to changes in gambling legislation. In May 2018, the US Supreme Court deemed The Professional and Amateur Sports Protection Act of 1992 unconstitutional and effectively gave every state the option to allow or ban gambling within state territory.
Even though gambling is now effectively legal under US federal law, the legislation governing online gambling is still tricky. It all comes down to how your state deals with betting.
Now, many states have legalized and regulated gambling, including online. But to the best of my knowledge, there are no US states that have expressly legalized and regulated presidential betting, or political betting in general.
West Virginia became the first state to offer legal bets on political races but made a quick U-turn on that decision. The reason? An 1868 state law against this type of betting would be broken.
While there is no regulated political betting at the state level, there ISs good news for those wishing to bet on the presidential election legally. There are several online sportsbooks and betting based which are based in other areas that cater to US bettors.
These sites are legal and regulated from where they are based, and there are no laws that exist that make them illegal to use. Is it legal to bet on the presidential election with these sites? Yes.
You can find out more about the sites we recommend for presidential election betting in the following blog post.
Is Presidential Election Betting Legal in Vegas?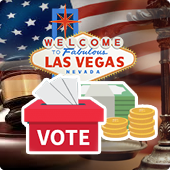 You probably expect that it is legal to bet on politics in Las Vegas sportsbooks. After all, it's the gambling capital of the United States and you can place real money wagers on all sorts of sports events there at any given moment.
Well, your intuition would be wrong this time around. Gambling on politics is not explicitly forbidden, but nor is it is explicitly allowed.
Every betting market that Las Vegas sportsbooks want to offer must be approved by the Nevada Gaming Control Board. Among other things, this committee is there to protect the customers from betting on things that may involve unfair risk.
The gaming board has numerous rules that effectively prevent the Vegas sportsbooks from offering politics betting. The biggest issues are around the lack of clarity on when voting is over and how votes are counted. Because this information is not freely available for the presidential election, it's a betting market the gaming board can't sanction.
Simply put, the board is trying to avoid any betting markets that could lead to disputes or frauds. While this could change in the future, you won't find any sportsbooks in Vegas offering wagers on the 2020 presidential election.
However, there are online betting sites for Nevada that do cover this market.
Political Betting Laws Around the World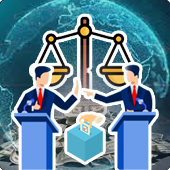 Online gambling can be a delicate topic and every country has its own regulation on the industry. Exploring each and every one of them would take forever, so I recommend that you visit our section on gambling laws for the finer detail.
Many countries, like the United Kingdom, have fully regulated gambling industries and you can easily gamble real money on the 2020 US Presidential Election. You just need to join a betting site with a license from the UK Gambling Commission, or visit a legal bookmaking shop.
In other countries the gambling laws are less clear, and in a few places there are restrictions on certain forms of gambling. The good news is that there are no special laws about betting on politics in most countries.
If you can bet on sports or entertainment, it's highly likely that you can bet on the presidential election legally as well.
Can You Gamble on Other Political Elections Legally?
The US presidential election is the political event that attracts the most attention on a global scale, so it's only natural that it also draws the most wagers. However, many bookmakers and gambling sites also offer several other politics related betting markets.
You can bet on political elections from various regions, including Europe, Australia, and Canada. The laws are typically not much different from what I discussed so far.
There might be exceptions, though, as some bookmakers are restricted from taking wagers on political events where they are based.
More Presidential Election Betting Advice
Hopefully I've satisfactorily addressed any concerns you may have about whether it is legal to bet on the US presidential elections. Now it's time to think about what wagers you want to place.
Our team is covering the 2020 US presidential election extensively, so you can find our predictions, betting tips, and other useful posts in the politics section of our blog.
The section already has plenty of information about the upcoming elections and there will be more in the following days, so stay tuned.
AUGUST
Casino of the Month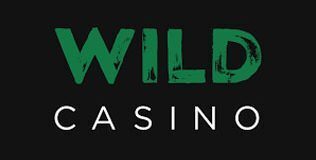 Welcome Bonus
250% up to $5,000
Read Review
Visit Site