Hide Bonus Offers
| | | | | |
| --- | --- | --- | --- | --- |
| #1 | Bovada Sports | 50% Up To $250 | Visit Site | Bovada Sports |
| #2 | BetUS | 125% Up To $2,500 | Visit Site | BetUS |
| #3 | MyBookie | 100% Up To $1,000 | Visit Site | MyBookie |
| #4 | Everygame | 100% Up To $500 | Visit Site | Everygame |
| #5 | BetOnline Sports | 60% Up To $1,000 | Visit Site | BetOnline Sports |
Are the Philadelphia Eagles Primed to Repeat as Champs in the 2018 NFL Season?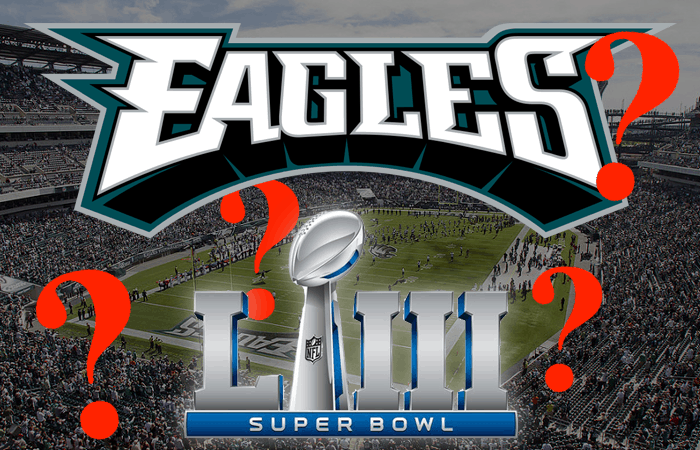 The Philadelphia Eagles made fans in Philly proud back in February when they won their first Super Bowl in team history.
As expected, things got a little rowdy down in Center City, as the police department had to grease the street poles with Crisco and hydraulic fluid to avoid seeing people climb them in celebration.
It was quite the scene after Super Bowl LLI, one that those involved will never forget.
But guess what, folks? It's a brand-new season!
It's time to put last year's victory behind us and move on to the 2018 campaign. Vegas seems to be respecting the runner-up New England Patriots a lot more than the Eagles, but Philly is still lurking at +1000 on BetOnline.ag to win it all.
Is that a good bet? Do the Eagles have what it takes to repeat as champs?
History would tell us no, as no team has won consecutive titles since Brady and Belichick got it done in 2004 and 2005. However, with the roster that Howie Roseman has put together in the City of Brotherly Love, something tells me that this team could make history.
When you really look at what the Eagles have in front of them, you'll start to realize that another victory lap in February might not be so out of the question.
Allow me to break it down and tell you why I think that the Five-O in Philly might be getting out the Crisco again in early 2019.
This Team Improved During the Offseason
At first glance, one might not think this is possible. After all, the team went 13-3 last season and clinched home-field advantage throughout the postseason.
For crying out loud, the Eagles upended the world-class Patriots in the big game and brought the Vince Lombardi Trophy back to Philadelphia!
So how can this team be even better?
They cleaned up through free agency and trades.
When you consider their departures and compare them with their acquisitions, I think you'll see what I mean.
LeGarrette Blount Departs
The Eagles let LeGarrette Blount walk out of the organization, leaving the backfield duties to be handled by Jay Ajayi and Corey Clement. This is more than a formidable duo and a pair that complement one another's skillsets very favorably.
Not to mention, Darren Sproles will be back as a speedy weapon on special teams and may even have some scripted plays on some third-down situations.
Smith for Worley
Philadelphia traded WR Torrey Smith to Carolina for cornerback Daryl Worley, who has since been released and picked up by the Oakland Raiders. When you realize that Torrey caught just 36 of the 69 balls that were thrown his way, you'll realize that losing Smith was actually "addition by subtraction."
With the emergence of Nelson Agholor, the Eagles now have three wideouts that are more than capable of winning one-on-one matchups against their defenders.
Don't forget, Alshon Jeffery was able to avoid any serious nicks or injuries and suited up for all 16 regular-season games. He'll be back and ready to rock for first-year offensive coordinator Mike Groh.
So who is third trusty wideout?
Signing Mike Wallace
Former Ravens wide receiver Mike Wallace was signed on a 1-year deal and should provide a deep threat down the field for Carson Wentz and this offense.
This is a chance for Wallace to prove his worth and show the NFL that he still has the speed and ability to be effective on a consistent basis.
Michael Bennett via Trade
The longtime defensive end in Seattle was clearly disgruntled with his situation and wanted a fresh start. The Eagles let go of a backup receiver (Marcus Johnson) and a fifth-round future pick to land Michael Bennett and a future 7th-round pick.
I get that Bennett will turn 33 this season, and I don't expect him to be the player he once was for Pete Carroll. But the thing is, the Eagles don't need him to be. The front 7 is already stacked for DC Jim Schwartz, and there are pass rushers and ball hawkers all over the place.
As long as Bennett can bring in a positive attitude and push his ego aside, I see him being a nice addition.
Sign Haloti Ngata, Nab Corey Nelson
Haloti Ngata is 34 years old and is most definitely not the elite run-stopper he was during his heyday in Baltimore. But he is a guy that can plug in as a backup defensive tackle and should see a fair amount of snaps on first and second down.
Corey Nelson came over from the Denver Broncos and could open the regular season as the Eagles' starting weakside linebacker. In the event that he is relegated to a platoon role, Nelson will still figure to be a big part of what this team does on defense.
Carson Wentz Is the Real Deal
Nick Foles was the guy receiving all the love at the end of the season for the Eagles, and rightfully so. The guy basically came in off the streets in relief of Wentz in Week 14 and rallied this team all the way to a Super Bowl victory.
Despite not playing the final 3 games of the season, Carson still ended the year tossing 33 TDs and just 7 picks. The front-runner to win the MVP award suffered a devastating injury at the most inopportune time, but Wentz has looked tremendous during his rehab and will be ready to go when the bell rings in Week 1.
When owner Jeffrey Lurie traded up to snag Wentz with the 2nd pick in the 2016 Draft, it was unsure if a guy from North Dakota State could excel in the NFL.
Here we are just a short two years later, and I consider Wentz one of the elite signal-callers in all of the league.
He has poise in the pocket and can step up and make big-time throws. He has undeniable athleticism and an extraordinary work ethic. His ability to escape the clutches of defenders and make plays with his feet makes him an incredibly unique talent.
The ceiling is sky-high for the 25-year-old, and the fans in Philly have embraced him as one of their own.
I'm looking for big things from Wentz, both this season and beyond. I wouldn't be surprised to see him lead the Eagles to the big game on February 3rd in Atlanta, and in fact, I think he'll do just that.
Wentz Has an Assortment of Weapons
Earlier, I touched on the three wideouts that Wentz will be utilizing this season. Alshon Jeffery and Mike Wallace will man the outside, while Nelson Agholor will run the majority of his routes from the slot position.
Jay Ajayi is a back who blends power and speed to evade the defense. With Ajayi charging through the gaps and Corey Clement getting the lion's share of touches on third downs, Wentz has himself a solid group of skilled position players around him.
And I haven't even gotten to what I believe is the greatest asset for Wentz: his trusty safety blanket, Zach Ertz.
Philly has a great tight end, and they happened to draft another.
Everybody in the NFL knows that Rob Gronkowski is the league's top tight end when healthy and on the football field. Chiefs pass catcher Travis Kelce has blossomed into a world-beater as well.
But you know who was 3rd among all tight ends in both receptions and yards last year? It was Zach Ertz. Zach also matched Kelce and Gronk with 8 touchdown catches in 2017, and there is no doubt that his rapport with Carson Wentz is off the charts.
I expect Ertz to continue his rise, despite already reaching the upper echelon of NFL tight ends. An added role this season for the former Stanford Cardinal will be to guide and mentor the Eagles' first selection in April's draft, Dallas Goedert.
Dallas should fit right in with this locker room, and I expect him to gel with Wentz immediately. Playing in the Football Championship Subdivision (FCS) at South Dakota State, Goedert's journey to the NFL sounds eerily similar to that of Wentz's.
At 6'5" and 250 pounds, the 23-year-old block of muscle has a chance to immediately impact this offense in a positive way. I except the Eagles to plug the former Jackrabbit into a lot of two-tight-end sets with Ertz. When that's the case, all I can say to opposing defenses is good luck trying to stop these guys charging up the seams.
Quick Recap
I could continue going on and on about why I like this team so much and why I think they have all the necessary tools to make another run at the title. Most teams in the NFL are lucky to have either an imposing defense or a high-octane offense.
In the case of the Philadelphia Eagles, they happen to have both.
Teams will be gunning for the defending champs, and the target on their back won't make things easier for HC Doug Pederson. However, I think he has enough on both sides of the ball to be able to navigate through the pressure.
I'm by no means guaranteeing a victory in Super Bowl LIII for the Philadelphia Eagles.
But everything I laid out in this blog should tell you that the likelihood of it happening is very real.