Hide Bonus Offers
| | | | | |
| --- | --- | --- | --- | --- |
| #1 | Bovada Sports | 50% Up To $250 | Visit Site | Bovada Sports |
| #2 | BetUS | 125% Up To $2,500 | Visit Site | BetUS |
| #3 | MyBookie | 100% Up To $1,000 | Visit Site | MyBookie |
| #4 | Everygame | 100% Up To $500 | Visit Site | Everygame |
| #5 | BetOnline Sports | 60% Up To $1,000 | Visit Site | BetOnline Sports |
Can StarsDraft Challenge DraftKings & FanDuel?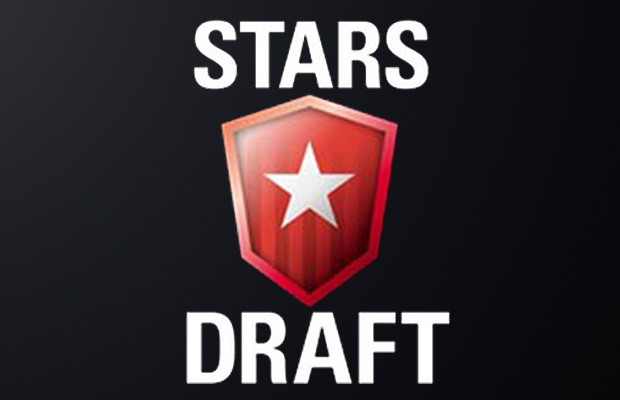 Any American with even a vague interest in either sports or gambling must surely be aware by now of daily fantasy sports (DFS). This latest form of online gambling is no longer just the latest craze and it can legitimately be considered a full blown phenomenon.
Fantasy sports contests are popular in many parts of the world, but it is in the United States where the online daily and weekly contests have really taken off. A big reason for this is that there is nothing confusing about the legalities involved. The online gambling laws in the US are somewhat complicated to say the least, and this puts many people off the idea of using the internet to bet on sports, or play poker or casino games.
Playing daily fantasy sports contests online for real money is completely legal in most American states though. This is because they are considered games of skill rather than games of chance. As a result, many people have chosen to get involved. There are several sites that offer these contests, and experts have predicted that the daily fantasy sports market will be worth over $2 billion per year by 2020.
Out of all the different daily fantasy sites, there are two that have established themselves as the clear market leaders. These are DraftKings and FanDuel. If you watch much television then there's a very good chance that you'll have seen their adverts, as they have been pushing their brands extensively recently. It appears to have worked for them too. At the moment, no other site can touch these two in terms of number of customers.
A few sites have been vying for the title of third largest behind DraftKings and FanDuel, and one of those is VicTiv. Although VicTiv was only launched last year, it managed to quickly make a name for itself as a possible contender. It certainly stood out to Amaya Gaming, a giant company in the online gambling industry, as they acquired the operation last month. It's now been rebranded as StarsDraft.
In this post I'm going to take a look at whether StarsDraft has a realistic chance of challenging the two big players in this market. To start with, I'll provide a bit of information about Amaya Gaming.
Who Are Amaya Gaming?
Amaya Gaming is a Canadian company, traded on the Toronto Stock Exchange. It's currently the largest publically listed online gambling company in the world, having been involved in one of the biggest ever takeovers in the industry.
Until 2014, Amaya was primarily engaged in business to business services. They supplied their gaming products and services to many well-known gaming operators, and continue to do so today. However, in August 2014 they took a huge step forward in the business to consumer side of the industry. They purchased the Rational Group, the parent company of PokerStars and Full Tilt Poker, in a $4.9 billion deal. PokerStars and Full Tilt are two of the most recognizable brands in online poker, and this takeover firmly established Amaya Gaming as a major player in online gambling.
Why Buy VicTiv?
A move into the daily fantasy sports niche makes a lot of sense for Amaya. We've already mentioned how playing online fantasy contests has become very popular very quickly, and looks set to become even more so in the coming years, so getting a piece of the action must seem appealing. Amaya is well positioned to gain a significant market share, as they have both funding and experience of operating in the online gambling industry.
Buying an existing site rather than developing one from scratch is a logical route to take, even though they've immediately ditched the brand and replaced it with a new one. It's not known how much they've invested in the purchase of VicTiv, but it would likely have been small change compared to the sums of money involved in taking over the Rational Group. Building their own fantasy sports interface and platform may have worked out cheaper, but it would have delayed their entry into the market. The fact that the deal went through just before the start of the 2015 NFL season is a telling one, as it suggests that they were keen to take advantage of the increased activity the new season will generate.
Interestingly, a few months ago the CEO of Amaya Gaming seemed to suggest that such an acquisition was unlikely. David Baazov announced in March that he intended to move into the daily fantasy sports niche, but also said "Nobody's software that we've seen can currently support our volume that we would have if we launched fantasy sports."
It's possible that Amaya had not actually done much research in to the various platforms offering DFS at that point. It's equally possible that they've simply decided that scalability is not an immediate issue. Either way, they settled on VicTiv and all that remains to be seen now is how they fare with their new StarsDraft brand.
The Future of StarsDraft
At this early stage, there is no way of telling for sure how well StarsDraft is going to perform in the daily fantasy sports market. However, my view is that they are very likely to do well. There are four main reasons why I think like this, which are as follows.
Funding
Global Presence
Existing Player Base
Matthew Primeaux
Funding
A successful gambling site can be very profitable for its owners, but it takes time to build up a customer base and actually reap any rewards. Simply being good is rarely enough; it's also necessary to gain significant brand exposure in what is a very crowded marketplace. This invariably takes a great deal of money, and in the relatively short history of online gambling there have been many ventures that have failed purely to being underfunded. This won't be an issue for StarsDraft though, as they'll have plenty of funding with the weight of Amaya Gaming behind the operation.
Global Presence
DraftKings and FanDuel have both built up a strong presence in the United States. Neither of them have done much to expand their exposure outside of America though. This will probably come in time, and indeed DraftKings has recently announced their intention to enter the United Kingdom market by the end of the year, but at the moment they are very US focused. Amaya, on the other hand, already has a presence in many other countries around the world with its PokerStars brand. This could prove crucial in terms of building a player base that is not reliant on a single region.
Existing Player Base
Closely linked to the above point is Amaya's existing player base, which is again primarily due to their ownership of PokerStars. DFS and poker require very similar skill sets in some respects, and research has shown that poker players form a sizable percentage of those currently playing daily fantasy sports. With PokerStars, and to a lesser extent Full Tilt, Amaya has a huge database to tap into. It will be able to market StarsDraft directly to that database, and it's reasonable to assume that this should attract a large number of players.
Matthew Primeaux
The success, or otherwise, of StarsDraft is not going to be solely down to one man. However, the involvement of Matthew Primeaux is likely to be key to how the site performs. Primeaux was the man who launched VicTiv, and he is being kept on as CEO following the takeover. He has a background in online gaming that could prove very beneficial, having previously held the role of chief revenue officer at PokerStrategy.
Summary
DraftKings and FanDuel have done well to become the leading options for those wishing to play daily fantasy sports contests, and there is nothing that makes me think their success won't continue for the foreseeable future. However, as the popularity of DFS increases, it is inevitable that they will face strong competition from other companies looking to challenge their positions at the top of the market.
StarsDraft is almost certain to be one such company in my opinion. I don't think Amaya Gaming is in any desperate hurry to take over the market, but I'd be very surprised if they haven't devised a clear plan for gaining a substantial market share in the coming years.