Can the Newly Promoted Clubs Stay up in the 2019/20 English Premier League?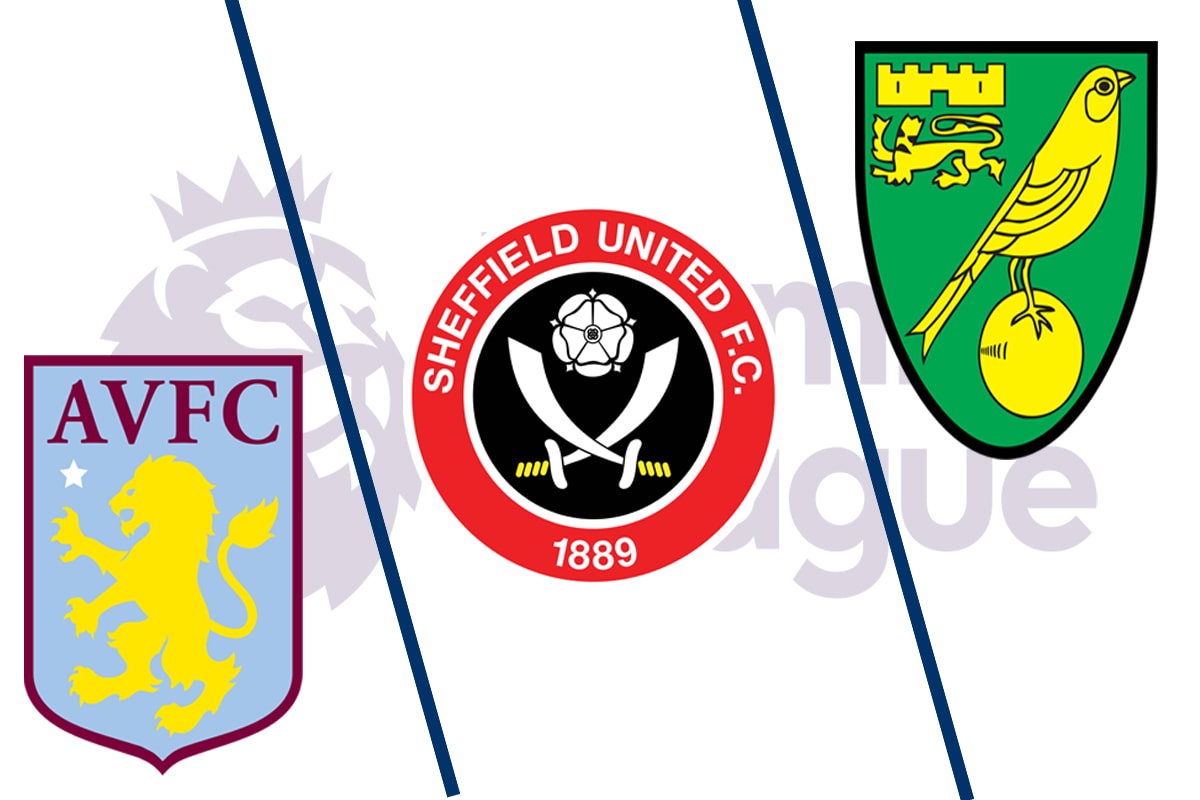 So it is Aston Villa who is the third promoted club from the EFL Championship this season.
Villa won the playoff final against Derby County, guaranteeing a reported £170 million and a place in one of the best leagues in the world.
With a summer of rebuilding ahead of all three promoted clubs, it is going to be a busy couple of months for Norwich City, Sheffield United, and Aston Villa.
But can any of these teams survive a season in the Premier League?
I'm going to take a look at the history of promoted clubs, what — if anything — marks these three as different, and whether we can expect to see any of them dropping back down to the Championship (parachute payment in hand) this time next year.
History of Promoted Clubs
Since the old English Division One rebranded as the Premier League back at the start of the 1990s, there has been a growing gulf between the top flight and what is now called the EFL Championship.
This difference in levels of ability and talent is mostly down to money.
The huge sums that each Premier League club receives have allowed those at the top of the table to buy up the best players in the world, leaving the second-tier clubs a long way behind.
In the early days of the Premier League, promoted clubs actually fared pretty well on their promotion to the top flight. Although there was more money to be made, it was nowhere near the amounts we see today.
That meant that clubs such as Newcastle United and Nottingham Forest were able to finish third in their first seasons back. These kinds of performances are unheard of today, however.
It is more likely now that the three clubs are the favorites to be relegated almost as soon as the celebratory promotion parties finish. Just over 40% of newly promoted clubs are relegated the following season. That suggests that at least one of Norwich, Sheffield United, or Aston Villa will make an immediate return.
In fact, since the inception of the Premier League, there have only been three seasons when all three promoted clubs have stayed up — the last time being just two years ago.
How Did Last Season's Promoted Clubs Get On?
Wolves and Cardiff achieved automatic promotion last season, with Fulham winning the playoff final.
We now know that these three teams enjoyed very different levels of success.
Wolves had already invested heavily while in the Championship and with its Portuguese connections had been able to bring in players that would be of the standard required in the Premier League. That proved to be the case with the club's seventh-place finish and FA Cup run that only ended in the semi-final.
The other two sides went about their Premier League campaign in very different ways — but both ended with relegation back to the Championship.
Fulham followed Wolves' example and paid a lot of money to bring in a lot of new faces but defended poorly throughout the season, conceding far too many goals to give it a chance of staying up.
Cardiff spent relatively little and also returns immediately to the second tier. The South Wales club found scoring goals difficult — less than one a game on average — and just couldn't compete at the higher level.
How Will the New Clubs Fare Next Season?
Betway has already installed the three promoted sides as relegation favorites, with Sheffield United presumed to be the club least ready to face the quality already in the Premier League.
These are the latest relegation odds.
If you consider that the next clubs fancied for the drop are Brighton and Burnley, with odds of 3.00 to go down, then you can see that these three already have a mountain to climb just to stay in the top flight.
All three will need to spend heavily — but wisely — in the summer if they want to stay up, but the statistics suggest that at least one of these sides will survive the season.
Sheffield United
Sheffield United was probably the surprise club of the three, having only come up from the third tier the season before after spending six years in League One. Head coach Chris Wilder should receive much of the credit for where the club is today, but he will know that much needs to be done if the Blades are going to stay up.
Veteran striker Billy Sharp provided the vast majority of goals this season, so Wilder will need to dive into the transfer market for at least one new forward — preferably with Premier League experience. The obvious candidates will be from the clubs that were relegated this year, but wherever they come from, they will need to start scoring as soon as the season kicks off.
Norwich City
Norwich will more likely face a different problem than Sheffield United. Finland striker Teemu Pukki managed 30 goals in all competitions this season, and although Premier League defenses are incredibly different from Championship back lines, he will probably be given the chance to prove himself in the top flight.
It is at the back that head coach Daniel Farke will need to invest. Norwich conceded an incredible 57 goals in 46 games this year and will need to tighten up considerably if it is not to go straight back down. In comparison, Wolves only conceded 39 when it went up the year before.
Aston Villa
Many pundits are looking at Villa as the one team out of the three that has a chance of staying up next season, but much of that reasoning seems to be based on the fact that it is traditionally a big club and has Premier League experience.
I don't think that counts for much, and although it does have an infrastructure in place that means all money can go towards the playing side of things, there is much to do there.
It is now likely that Villa's talismanic captain, Jack Grealish, will remain at his boyhood club rather than leaving as seemed likely in January. But the other main driving forces behind the race for promotion have been players that have been brought in on loan.
Tammy Abraham, Tyrone Mings, and Anwar El Ghazi are all now scheduled to return to their parent clubs. If they all do, then Villa is left with big holes throughout its starting eleven.
Who Will Stay Up?
None of the three clubs promoted seem to have the financial means or playing staff to emulate the successful season Wolves enjoyed this year. But that does not necessarily mean that they are all guaranteed to go straight back down.
If there is a financial gulf between the Premier League and the Championship, then there is also one between the top and bottom of the top flight.
Although clubs like Bournemouth, Burnley, and Brighton earn vast amounts of money thanks to broadcasting rights, their income is nothing compared to the likes of Manchester City, Manchester United, and Chelsea.
It could be argued that the Premier League is split into three distinct levels of clubs now, and although all three promoted sides will be battling in the lower third, it only needs one or two of the existing teams to have a bad season, and then a real relegation scrap begins.
It is unlikely that Wolves will experience the "second season syndrome" that has historically affected clubs that managed to survive the first year in the Premier League, but I would say that Brighton will need to turn things around very quickly under new boss Graham Potter if it is not to have a real fight on its hands to remain in the top flight.
Southampton looked poor this season as well and will need to start the new campaign as it ended the last if it is not to go through the same tense experience. There are a number of other clubs that only need to make a bad start to the season to give themselves problems at the wrong end of the table, so Villa, Sheffield United, and Norwich may not be alone struggling to finish at least 18th.
Final Words
It is likely that one of three promoted clubs will return immediately to the Championship at the end of next season. Without some very careful investment in the team, that would seem to be Sheffield United. But in Chris Wilder, United has a very capable manager who the existing players really want to play for. It remains to be seen whether the new additions sign up for the same way of thinking.
Norwich and Villa seem to stand more of a chance of staying up, but both clubs need to think very carefully about bringing in new players in the summer. Daniel Farke has his Norwich side playing a very pleasing style of soccer, but he will need to sort out the defense if they are to have a chance, and Villa needs to concentrate on permanently signing its on-loan stars and then adding more quality to the mix.
All three clubs have a fight on their hands to remain in the Premier League for more than one season. But even if they do fail, the parachute payments and TV money for just that one campaign already put them at a great advantage of achieving Championship glory and earning another shot at the top flight in two years' time.