Can the Boston Celtics Reach the NBA Finals Without Gordon Hayward?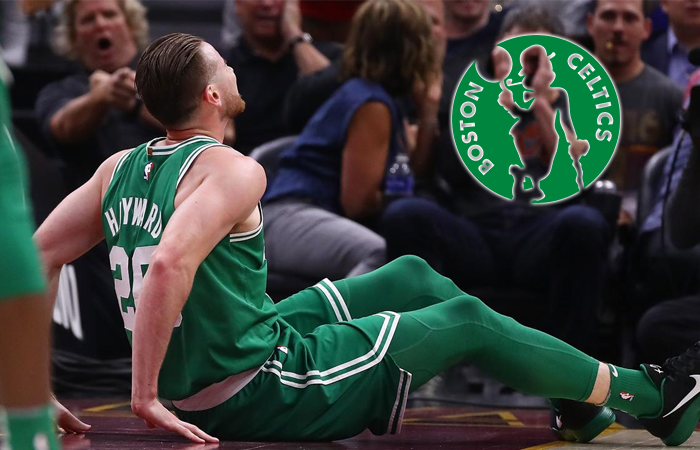 It was only days ago that some were speculating the Boston Celtics could make a run at this year's NBA Finals. It wasn't just some talking heads or NBA experts that felt that, either.
Vegas seemed to be somewhat open to the Celtics making the next step up, as some NBA betting sites had them listed with +1200 odds or far better.
Boston made the big moves to warrant some optimism, too. They traded for former Cavaliers star point guard Kyrie Irving, signed All-Star forward Gordon Hayward in free agency and drafted rookie phenom, Jayson Tatum.
All of that optimism came to a crashing halt on Wednesday night, however.
Just six minutes into his Celtics debut, Gordon Hayward landed awkwardly while attempting an alley-oop and suffered a gruesome injury. Reports detailed a dislocated ankle and a fractured tibia, injuries together potentially derailing Hayward's (and Boston's) season before it ever got started.
Initial Prognosis
There is still some faint optimism that Hayward could return at some point this year. Perhaps that happens late in the regular season or at some point in the playoffs.
The injury looked awful and Hayward won't be the same when he first returns, but if things go just right, it's not yet out of the realm of possibilities that he sees the court again this year:
Orthopedic Surgeon & TSL's official Doctor Fred Cushner says "yes I do think it's possible" that Gordon Hayward will be back this year pic.twitter.com/OOJkrsNBBX

— SiriusXM NBA Radio (@SiriusXMNBA) October 18, 2017
The NBA saw former Indiana Pacers star forward Paul George do something similar. While practicing with Team USA back in 2014, George also went up in the air and came down awkwardly. The man known as PG-13 suffered a compound fracture while sustaining breaks in both his tibia and fibula.
Despite that devastating injury, George worked hard to return that very year, managing to suit up for six games during the 2014-15 NBA season. With more hard work and rehabilitation, George eventually returned to form and has averaged over 23 points per game in each of the last two seasons.
The initial fear with Hayward's injury was that due to a break lower in his leg and an ankle dislocation, that he'd be at risk of suffering severe ligament, tissue and possibly even nerve damage.
However, to this point, Hayward is said to have had a "clean break" to his tibia and that there have been no signs of extra damage to his leg.
That is comforting news and potentially helpful for a speedy recovery. Still, as things stand, NBA bettors need to proceed as if Hayward won't return this year.
Celtics NBA Finals Odds
Boston hasn't seen the massive NBA Finals odds downgrade we thought they would. Bovada, for example, has them still somewhat in the mix at +1600.
It's not like Boston has nothing at their disposal, after all. Kyrie Irving leads the way as a dynamic scorer, Al Horford is a useful big that can stretch defenses and the Celtics are loaded with young athletes that are willing to compete.
We all saw that right away in the team's opener, as they quickly erased a 16-point half-time deficit and nearly upset the Cleveland Cavaliers on the road.
That's just one game, though. The Celtics could have been bogged down by the Gordon Hayward injury and cratered, but they responded about as well as anyone could have hoped.
Can they parlay that resilience and team unity into another successful run and possibly even a championship? Early signs suggest that might be asking quite a bit too much.
Can the Celtics Win Without Hayward?
The harsh reality concerning the Celtics was that they probably weren't ever a realistic NBA Finals threat, even with Hayward. If Hayward works his way back and defies all the odds to return for the playoffs, that still might not change the fact that this is simply a brand new Boston team that needs to earn their stripes and figure out who they are.
Doing that with Hayward sidelined will only be tougher. Hayward added a dynamic forward that can shoot, create, space the floor and defense. The Celtics have other wings that can fill a similar role, but they lost those qualities in a star who can help Irving dominate games.
On a high and immediate level, the Celtics have zero chance of winning the title this year and they probably can't even get there. But that's less about Hayward and more about a team that was going to be remarkably different than they were a year ago.
Jaylen Brown even questioned what Celtics basketball was anymore after Boston swung two huge trades – one landing Kyrie Irving and another getting rid of Avery Bradley.
The thing is this rendition of the Celtics isn't (and never was) about winning right now. It was all about competing this year and building towards a title contender. Irving and Hayward are still the foundation for that, but now with Hayward out, the rest of Boston's pieces are now forced to mature and come together a lot quicker.
Avery Bradley and Isaiah Thomas (both traded) were headed for contract years, anyways. Boston was going to have to make tough decisions that either were going to blow this thing up or commit serious money to guys they didn't necessarily believe could win a title.
Instead, Boston's long-term plan now has a minor setback. Given modern medicine, Hayward's support system and his drive to come back as good as ever, he probably will.
It will take time and the journey will be brutal, but Hayward will be back here next year and the year after that and the Celtics will keep pushing the envelope as rising title threats.
But they weren't there yet, even with a healthy Hayward. And if anyone is having ideas that they're magically there without him, they've got another thing
coming.