Hide Bonus Offers
| | | | | |
| --- | --- | --- | --- | --- |
| #1 | Bovada Sports | 50% Up To $250 | Visit Site | Bovada Sports |
| #2 | BetUS | 125% Up To $2,500 | Visit Site | BetUS |
| #3 | MyBookie | 100% Up To $1,000 | Visit Site | MyBookie |
| #4 | Everygame | 100% Up To $500 | Visit Site | Everygame |
| #5 | BetOnline Sports | 60% Up To $1,000 | Visit Site | BetOnline Sports |
Can Anyone Challenge Clayton Kershaw For the 2017 NL Cy Young?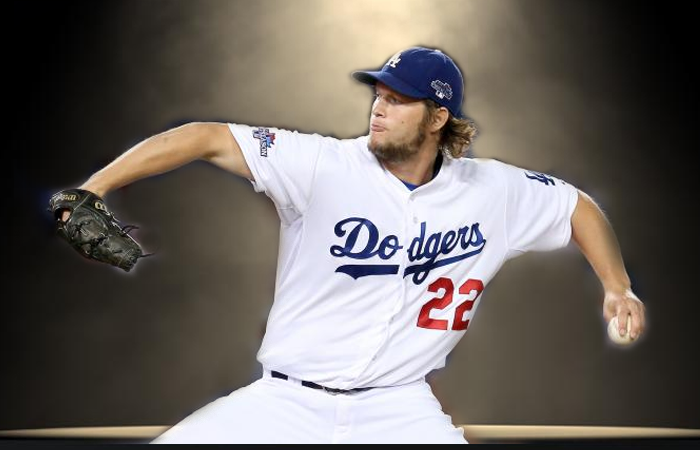 Los Angeles Dodgers superstar pitcher Clayton Kershaw has won the NL Cy Young Award three times in his illustrious career and twice in the past four years. If Vegas' backing has any baring, he just might win it again in 2017.
As good as Kershaw has been, however, it's fair to wonder if he's actually deserving. Yes, the Dodgers are in first place in the NL West. Sure, they're viable World Series threats, too. There hasn't been a sharp enough decline to Kershaw's numbers to suggest he's regressing as a dominant MLB arm, either.
Kershaw's numbers aren't what they were a year ago, however, while one could argue that there are several serious threats to his crown. Max Scherzer won last year's Cy Young and is admittedly his most lethal threat to winning again, while we can probably safely rule out Chicago's Jake Arrieta, who remains solid but simply hasn't been on the same level he was when he won the award in 2015.
The point here is Kershaw is still Kershaw. He's 11-2, his team is ablaze and he's sporting a squeaky clean 2.47 ERA. As good as he's been, however, Kershaw doesn't own the best ERA in the NL. He doesn't own the best WHIP, either. Kershaw as two more wins than anyone else, but he's struggled immensely with the long ball, already giving up a career high 17 home runs through 16 starts.
2017 Cy Young – Odds to Win
Perhaps the latter part is an aberration. Maybe, but then we probably need to discard his wins, since that's an inflated and ultimately useless stat. In doing that, it comes down to who is flat out pitching the best and right now that really might not be Kershaw, as amazing as he is and can be.
Let's see how Vegas sees the Cy Young race at the moment, per the latest odds at BetOnline:
Clayton Kershaw – Los Angeles Dodgers (-160)
Max Scherzer – Washington Nationals (+150)
Alex Wood – Los Angeles Dodgers (+1000)
Zack Greinke – Arizona Diamondbacks (+1200)
Robbie Ray – Arizona Diamondbacks (+1800)
Stephen Strasburg – Washington Nationals (+2000)
Jacob deGrom – New York Mets (+2500)
Carlos Martinez – St. Louis Cardinals (+2500)
Mike Leake – St. Louis Cardinals (+5000)
Ivan Nova – Pittsburgh Pirates (+5000)
Jon Lester – Chicago Cubs (+6600)
Gerrit Cole – Pittsburgh Pirates (+8000)
Antonio Senzatela – Colorado Rockies (+8000)
Johnny Cueto – San Francisco Giants (+10000)
Lance Lynn – St. Louis Cardinals (+10000)
Jake Arrieta – Chicago Cubs (+20000)
Kershaw is the obvious favorite right now. His team is winning because of him, he's not giving up runs, he's notching plenty of strikeouts and the only blemish really is his hard contact – namely the home runs.
Mad Max is the Top Threat
Realistically, this shouldn't be Kershaw's race right now. Scherzer has matched him in just about every fashion. Washington is crushing the NL East, Scherzer has just two fewer wins, he's recorded a whopping 151 Ks (28 more than Kershaw) and in the same amount of starts (plus four extra innings) he's given up the same amount of runs (32). In fact, Scherzer is widely regarded as one of the best aces that also gives up the long ball, yet through just as many starts, he's let hitters go yard five fewer times.
By all accounts, this is actually Scherzer's race to lose and he is very much in contention to repeat as the NL Cy Young. Politics could mess with this and how both pitchers fare from here could still change things, but Scherzer is the true leader here and MLB bettors are getting solid value with him at +150.
Other Top Contenders
This is probably a two man race when you look at just how staggering the talent and production has been, but there are still other viable challengers. The funny thing is one serious threat could exist on Kershaw's own team, as Alex Wood has been amazing so far this year.
Wood has five less starts than the top two Cy Young contenders here, but he's still posting an absurd 1.86 ERA across 11 starts. During that time he's piled up 79 strikeouts and pitched well enough to post a perfect 8-0 record. The starts and innings are where Wood losers his voters, while it's awfully hard to outshine the perceived best pitcher in baseball, let alone when you're on his very same team.
If Wood had more starts under his belt and kept this ERA while playing elsewhere, he very well could be the top threat for this year's Cy Young. Because of that, his +1000 odds will be worth monitoring the rest of the way.
The other top contenders without a doubt are Greinke and Ray. Greinke is a former teammate of Kershaw's and arguably has been as impressive as anybody when you consider he's done a lot of his damage in the dangerous Chase Field. Greinke has to overcome serious park limitations, yet he's produced a very solid 3.08 ERA, a strong 9-4 record and 116 Ks. His numbers don't put him ahead of Kershaw or Mad Max just yet, but they put him in contention. If he can pick up the pace and drop his ERA, Greinke will be a sleeper play at the end of the year.
Ray might be an even more interesting bet. He's on Greinke's team and also has to deal with the troublesome Chase Field, yet he's piled on even more strikeouts (4th in MLB with 119) and owns an even better ERA (2.87). If Ray can keep the K count he's got going and also keep offenses in check, he's going to be a very enticing Cy Young Award bet with his +1800 odds.
There really isn't a viable sleeper here. The only guy that looks like one is Carlos Martinez, who despite walk issues in the past has been pretty unstoppable for most of 2017.
Easily the top Cardinals pitcher, Martinez has benefited from the conservative Busch Stadium, but also ranks 3rd in Ks (121) and has a gaudy 2.88 ERA. His record (6-6) and his team's poor placement in the NL Central probably hold him back, but he's physically and statistically pitching as well as anyone. If you're taking any kind of a dive here, his +2500 odds are probably as low as you'll want to go.
Who Wins the 2017 Cy Young?
The award could very well go back in the hands of Clayton Kershaw. Vegas loves him right now for two reasons: the gap between him and Max Scherzer is impossible to see and by the time the voting process rolls around, Kershaw could easily have distance himself.
Still, if we are thinking of place bets right now, I'm not sure I want to bet on Kershaw. He continues to give up a ton of long balls and Scherzer has been just as good as him – if not better – all year long. Kershaw remains a fine bet as the top favorite, but the true value lies with Mad Max. In addition, we'd be missing out on some tantalizing upside if we didn't toss a few cursory bets on guys like Greinke, Wood, Ray and maybe even Martinez. All of these guys really are right up there and could just need strong finishes to state their case.
Ultimately, Mad Max has better numbers and his team is benefiting from his play just as much as Kershaw's is from his. Scherzer is a solid value try with this bet and we wouldn't be shocked at all if he repeated as the NL Cy Young winner.
Pick: Max Scherzer (+150)