Can Antonio Conte Win Serie A With Inter Milan?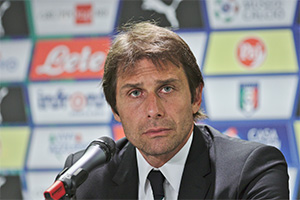 When Juventus beat Fiorentina at the end of April to win its eighth successive scudetto, it was an all too familiar feeling for the majority of soccer fans in Italy.
Cristiano Ronaldo may have been brought to Turin to win the Champions League, but another Serie A title would do for now.
There has been little that Juve's rivals have been able to do over the past few years to end the Bianconeri's dominance.
Napoli has tried valiantly over the past two seasons in particular to wrestle the title from Juve's grasp — but to no avail.
But with Inter's appointment of Antonio Conte as its new head coach — and the transfer budget that he has at his disposal — there is renewed hope in the blue half of Milan that the glory days are about to return.
But is Antonio Conte the man to bring the scudetto back to Inter?
Latest Serie A Betting Odds
A quick glance at the outright winner market for Serie A next season suggests that the bookmakers do not think that Conte can work his miracles — at least not immediately.
Here are the latest prices at Betway.
Although Inter is now more fancied than Napoli, there is still quite a gap between the Nerazzurri and Juventus, who is odds on to win its ninth title in a row.
But even the fact that Inter have just about overtaken Napoli as the second favorites shows that there is some belief that Conte will have an effect at the San Siro next season.
Who Is Antonio Conte?
Antonio Conte was one of the most important midfielders for Juventus and Italy during the 1990s, whose technical ability and tactical awareness allowed for his more skillful teammates to shine. These qualities have been shown time and time again since he moved into management, and Conte is now as decorated with honors as a head coach as he was as a player.
In three seasons as manager of Juventus, Conte won three back-to-back titles at a time when the Turin club had not won the scudetto for nine years. He then went on to lead the Italian national side to the European Championship in 2016 where it topped its group including Belgium and Spain. Italy was eventually knocked out on penalties by Germany in the quarter-final.
Conte repeated his first-season heroics at Chelsea by winning the English Premier League easily in 2017 and followed that up with FA Cup glory the following season.
Conte has been out of work for the past season, but with Inter deciding to get rid of Luciano Spalletti after he could only lead it to a fourth-place finish in Serie A, he has now been named as the new head coach and is looking to take on his old club in a battle for the scudetto.
Inter Next Season
It seems at the moment that Inter is being linked with just about every top player on the continent — much like Manchester United is in England. But there is money to be spent this summer in Milan. How much exactly really hinges on whether Mauro Icardi stays or goes.
Conte has already suggested that he doesn't see Icardi as part of his plans, and after the soap opera of this past season, Inter's fans would probably be quite happy for the Argentinian striker to leave, even if it means he takes the familiar journey to Juventus.
Even if Icardi does stay, there is likely to be a lot of transfer activity at the club this summer — so let's take a look at some of the possible new recruits.
Diego Godin
The Uruguay captain has bid his tearful farewells to Atletico Madrid and is set to become Antonio Conte's first signing at Inter. Absolutely immense for both club and country, the central defender could be the main reason why Inter will have a chance of beating Juventus to the title.
If Conte can make a back three of Godin, Milan Skriniar, and Stefan de Vrij work, then it will take quite a forward line to gain any advantage next season.
Romelu Lukaku
The disappointing ending to Manchester United's season only seemed to reaffirm the belief that a number of its top players are looking for a way out of the club. There has been a lot of talk about a swap deal between the two clubs featuring Lukaku and Icardi, but even if that doesn't come off, the Belgium international could still make his way to the San Siro.
Conte has been an admirer of Lukaku for a long time and wanted to bring him to Chelsea when he was boss there. Lukaku is also reportedly open to a move to Italy, so this could be a big factor in Inter's title hopes.
Alexis Sanchez
Another Manchester United striker wanting to get out as quickly as possible is Alexis Sanchez. The Chilean has experienced an incredible drop in form since his move from Arsenal and is neither wanted nor appreciated by the Premier League club anymore.
His wages would be a big sticking point, though, and if he did leave, then Spain would seem to be a more likely destination.
Gareth Bale
It is no secret that Gareth Bale is not wanted at Real Madrid. He may have scored some vital — and frankly, amazing — goals for the Spanish club, but Zinedine Zidane does not see the Wales attacker as part of his plans.
Bale's financial demands are even bigger than those of Sanchez, however, and Inter would be able to use their funds more wisely going for alternative choices.
Edin Dzeko
It seems like Dzeko's time at Roma is coming to an end, and Inter would be a perfect new employer for the Bosnian striker. After winning trophies at Manchester City, Dzeko has been the main focal point of Roma's attack over the last few seasons and can handle Italian defenses as well as just about anyone in Serie A.
Even if Lukaku does go to Inter, Dzeko could still get a lot of game time given Conte's love of using two out-and-out strikers.
Nicolo Barella
Possibly not as big a signing as some of the other names mentioned, Barella could actually make all the difference to Inter's chances of winning Serie A next season. Currently at Cagliari, Barella would plug a hole in the midfield where Inter really need some help.
Marcelo Brozovic has been the man in the middle for Inter this season, but Barella would complement his play perfectly and show why he has become one of Italy's best midfielders over the last season or two.
Can Conte Beat Juventus?
If Antonio Conte is able to bring in one or two of the players I have just mentioned, then Inter suddenly look a much more formidable side.
Conte is also a big fan of Radja Nainggolan, and although the Belgium midfielder didn't enjoy an incredibly successful season after moving from Roma last summer, he would be a massive asset to any title push. With Ivan Perisic looking like he may leave the San Siro, there would be room for Conte to bring in some very good attacking players, knowing that the defensive line is just about sorted.
With Massimiliano Allegri leaving Juventus, there seems to be a feeling of upheaval in Turin, and Inter under Antonio Conte may be able to capitalize on that. Although Cristiano Ronaldo is a huge asset to Juve, he does affect the rest of the squad in a negative way as well, and that has been particularly noticeable in Paulo Dybala's form this season. If the new Juventus manager does not make the squad more settled, Inter may be able to take advantage.
It seems as though Napoli's chances of another Serie A title have disappeared again, so the time might be right for Inter to come back into the running and try to reclaim the form that gave the club five successive Serie A titles before Juve's current winning streak.
My Serie A Outright Winner Pick
Antonio Conte is joining Inter at exactly the right time if the club is serious about winning the Serie A title next season. If he can bring in some of the players the club have been linked with, Inter will definitely be the main challengers to Juventus.
Conte has a better tactical grasp than someone like Gennaro Gattuso, who had the same kind of transfer kitty at rivals Milan but was ultimately unable to come anywhere close to winning the league — and paid with his job.
I feel that Conte will see beating his old club as proof that he is one of the top soccer managers in the world, and with Betway offering a price of 6.00 for Inter to win Serie A, I think it is well worth a go.
PICK
Inter to Win Serie A 2019/20
6.00
Final Words
There is, of course, a lot that can happen over the next few months before the new Italian soccer season gets underway. Other clubs may announce their own marquee signings and also put themselves in the mix for the Serie A title.
But Antonio Conte brings a wealth of knowledge and tactical ability that I feel can really test whoever fills the hot seat in Turin.
Serie A will surely be a closer race next season, and it is bound to be enjoyable finding out whether Conte is the one to finally stop Juventus.