Hide Bonus Offers
| | | | | |
| --- | --- | --- | --- | --- |
| #1 | Bovada Sports | 50% Up To $250 | Visit Site | Bovada Sports |
| #2 | BetUS | 125% Up To $2,500 | Visit Site | BetUS |
| #3 | MyBookie | 100% Up To $1,000 | Visit Site | MyBookie |
| #4 | Everygame | 100% Up To $500 | Visit Site | Everygame |
| #5 | BetOnline Sports | 60% Up To $1,000 | Visit Site | BetOnline Sports |
Callum Smith vs. Hassan N'Dam N'Jikam Betting Preview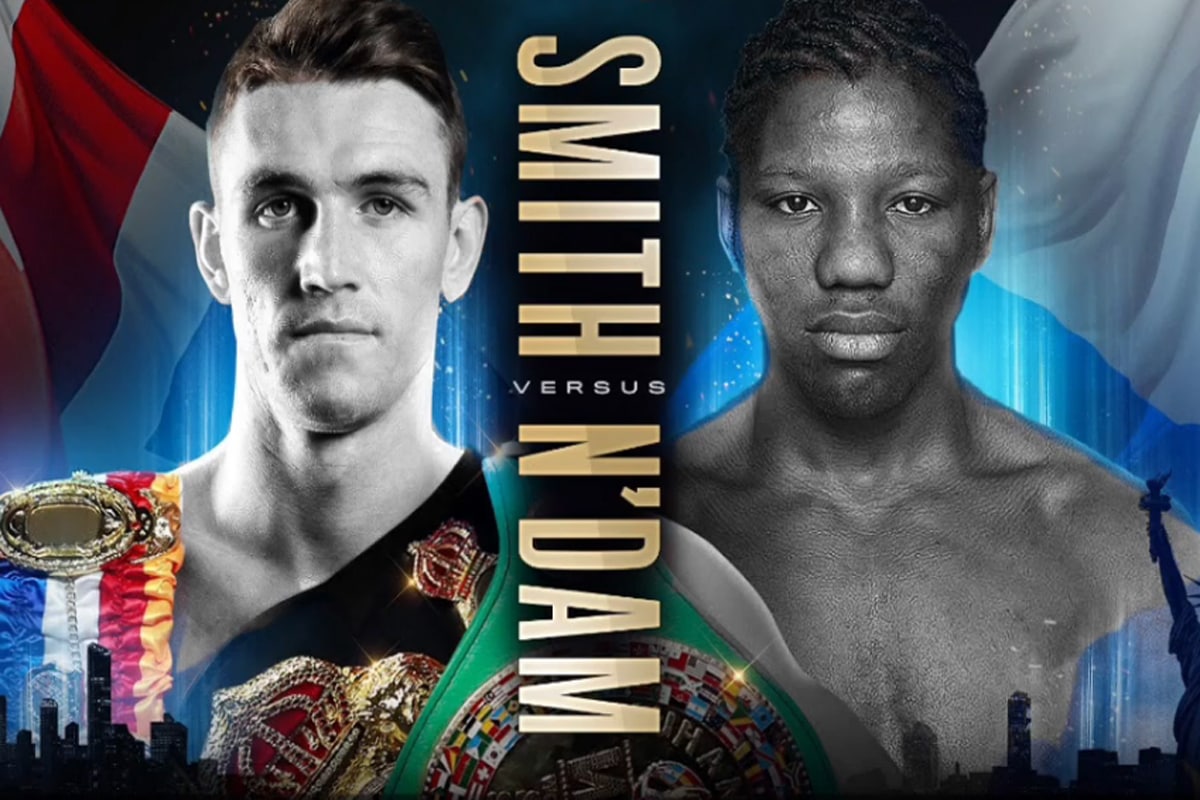 Callum Smith vs. Hassan N'Dam N'Jikam came as a bolt from the blue.
The fight was a late addition to the upcoming Anthony Joshua vs. Andy Ruiz Jr. scrap on June 1 at Madison Square Garden. Smith's promoter, Eddie Hearn, was clearly keen to bolster the card, and the popular Liverpudlian is a welcome presence for fans.
That said, there are not many casual viewers that will be aware of N'Jikam's accomplishments in the sport. The French-Cameroonian is not exactly what you would consider a household name.
Still, the best boxing betting sites are providing odds on this bout, and I believe it deserves some attention. In this preview, I will be explaining why I favor one fighter in particular and offering the best odds I can find for that fighter winning.
I am sure you will be more familiar with both fighters after reading this. Additionally, you will have a clear idea of who the favorite is ahead of their showdown on June 1.
So, without further ado, let's take a look at those odds.
Latest Smith vs. N'Jikam Winner Odds
Hassan N'Dam N'Jikam
+1200
I took these odds from Bovada.lv when writing this preview. Keep in mind that they are subject to change.
Now, the first thing I have to mention here is that Smith is the overwhelming favorite to win at -3500. These odds strongly indicate that, well, Smith should win.
N'Jikam comes with odds of +1200, which makes him quite the underdog in this bout. If he is to make the fight competitive, he will need to pull out the best performance of his career against Smith.
There are some in the boxing community that were surprised to learn that this bout was put together. To the more astute boxing fanbase, the consensus is that the exposure on the undercard of Joshua vs. Ruiz would raise Smith's profile in the United States.
Still, this is a fight, and anything can happen when two boxers step into the ropes. It's not a foregone conclusion, surely?
Tale of the Tape
| Hassan N'Dam N'Jikam | Tale of The Tape | Callum Smith |
| --- | --- | --- |
| 37 | Wins | 25 |
| 3 | Losses | 0 |
| 21 | Knockouts | 18 |
| 0 | Draws | 0 |
| 40 | Total Fights | 25 |
| 53% | KO Percentage | 72% |
| 5'11″ | Height | 6'3″ |
| 74 in (188cm) | Reach | 78 in (198 cm) |
| Orthodox | Stance | Orthodox |
| French | Nationality | English |
| 35 | Age | 29 |
Callum Smith has a number of advantages over his opponent on the night.
The World Boxing Super Series super-middleweight tournament champion will certainly be aiming to use these to his favor on the night.
These are:
At 29, Smith is six years younger than N'Jikam, who is 35
Smith has a four-inch height advantage over N'Jikam
Smith also has a four-inch reach advantage over N'Jikam
Smith's KO percentage is better at 72% compared to N'Jikam's 53%
Smith has 0 losses to N'Jikam's 3
Will these advantages prove too much for N'Jikam to handle, or will the Frenchman shock Smith and pull off an impressive win?
If you are unsure of N'Jikam's previous form in the ring, let's take a closer look at what he brings to the table.
Who Is Hassan N'Dam N'Jikam?
N'Jikam is a seasoned professional middleweight boxer and the former WBO middleweight titleholder.
He will be making his first-ever appearance at super-middleweight against Callum Smith on June 1, having fought at 160 pounds for the majority of his career. The French-Cameroonian is 35 years old now and is unlikely to get an opportunity like this again.
You can bet that N'Jikam will be doing everything in his power to shake up the world at Madison Square Garden on June 1.
Sure, there are many that give him little chance against Smith — as evidenced by his odds of +1200 to triumph on the night — but if he is in the ring, he will be a potential threat to Smith.
Over the course of his 15-year professional career, N'Jikam has faced fighters such as Peter Quillin, David Lemieux, and Martin Murray.
While he has never been considered an elite fighter at middleweight, he will be keen to show the world that he can look better at 168 pounds.
N'Jikam's Career in a Nutshell
Since N'Jikam's pro debut in December 2004, he has mostly fought in France. The greatest achievement in his pro career was winning the vacant WBA interim middleweight title over Avtandil Khurtsidze at the Palais des sports Marcel-Cerdan in Paris.
N'Jikam defended that title in April 2011 against Giovanni Lorenzo in controversial fashion, setting up a bout with WBA (Regular) champion Gennady Golovkin.
However, N'Jikam vacated his title prior to the purse bid, with fans accusing him of ducking Golovkin.
In May 2012, N'Jikam won the vacant WBO interim middleweight title by beating Max Bursak and was promoted to full world champion status in August that year. As Dmitry Pirog was stripped of the title — as he chose to fight Golovkin rather than the mandatory N'Jikam — the latter received his strap.
In October that year, N'Jikam was dropped on six separate occasions by Peter Quillin in his first title defense, and lost by unanimous decision.
The French-Cameroonian lost in his bid to win the vacant IBF title in June 2015 against David Lemieux. N'Jikam was dropped four times in this fight, losing by unanimous decision.
2016 was a better year for N'Jikam as he knocked out Alfonso Blanco in 22 seconds to win the WBA interim middleweight title. This was followed up with a controversial WBA (Regular) middleweight title win over Ryōta Murata in May 2017.
Murata subjected N'Jikam to his first stoppage loss in the rematch later that year, before he returned to the ring in December 2018 with a win over tough veteran Martin Murray.
Who Is Callum Smith?
Callum Smith is the consensus best active super-middleweight on the planet.
The Englishman is the youngest brother of a family of boxers. His brothers Paul, Stephen, and Liam are all pros.
Smith is very highly thought of in the boxing world, especially in the UK. As such, he is set for great things and has a lot ahead of him. By fighting N'Jikam in the States, Eddie Hearn will be hoping to highlight skills to American fans, too.
Smith, a native of Liverpool, can count George Groves as one of his victims. In Saudi Arabia last year, Smith beat Groves in the World Boxing Super Series: super-middleweight final to win the super-middleweight tournament.
There is no doubt that we are yet to see the best of this exciting fighter, and June 1 is a great opportunity to see how he fares against a seasoned professional like N'Jikam.
Smith is a clear favorite for this fight at -3500 and will be expected to put on a show against the French-Cameroonian.
Smith's Steady Progress
Smith's last few years have seen him excel in the world of boxing.
Long touted as a serious prospect, Smith collected a number of minor titles including the English and British super-middleweight titles, the WBC international super-middleweight strap, and the WBC Silver super-middleweight crown.
However, it was his entry into the World Boxing Super Series: super-middleweight tournament that would be the best move of his career.
In the quarter-final of the competition, Smith beat Sweden's Erik Skoglund by unanimous decision to advance to a semi-final against the Dutchman, Nieky Holzken.
Smith put on an excellent performance against Holzken, getting the nods on all three judges' scorecards on the night.
However, when he matched up with WBA (Super) super-middleweight champion George Groves in an all-English affair, this was to be his time to shine.
And shine he did.
Smith knocked Groves out in the seventh round with some excellent combinations to win the tournament and send the former champ into retirement.
Smith, who will undoubtedly move up to light heavyweight at some point in the future, was just far too big and far too strong for Groves.
Betting on Smith vs. N'Jikam
If you see value in the odds for either man in this bout — and are considering betting on either Smith or Groves — it would be interesting to hear your take on things.
I always enjoy my readers' feedback, so pop a comment at the bottom of this page for me if you get the time.
Now, as you are still reading, I can safely assume that you want to hear what I have to say about this bout. I am not going to waste too much of your time here, so I'll get down to the nitty-gritty.
First of all, I am not exactly sure that Hassan N'Dam N'Jikam has any business being in the ring. Well, other than business, in the Webster's Dictionary definition of the term.
In other words, this fight is less of a competitive one and more of a showcase bout for Smith. Eddie Hearn has chosen a fighter that is not only a weak match for Smith but is not even a super middleweight.
Now, this is something to keep in mind when you are betting on Smith vs. N'Jikam, as it will very likely play a big part in how the fight plays out.
Why Callum Smith Will Win
Let's play a little game.
Imagine you were handed two pieces of paper that had "the best super-middleweight in the world" written on one and "former middleweight champion" scribbled on the other.
Now, your job is to choose the winner between the two and place the corresponding piece of paper with the winner into a basket. Which one would go in?
Of course, you would choose the first piece of paper.
Maybe the more cautious boxing betting fan would like to know a little more about the former middleweight champion. But if they found out it was N'Jikam, there is no doubt who they would choose when betting on this fight.
Now, anything can happen inside the ropes. We have seen big upsets over the years. Still, those upsets tend to be few and far between and happen so irregularly that you would bankrupt yourself trying to guess the next one.
Callum Smith is just too good for N'Jikam. He is too powerful, too skillful, too smart, and too defensively sound to be bothered by anything thrown at him by the 35-year-old.
Sure, Smith is still yet to completely prove himself against the likes of David Benavidez, Billy Joe Saunders, and Caleb Plant. His opportunities to do so will come, as will a potential fight against Saul "Canelo" Alvarez if the Mexican chooses to move up to 168 pounds once more.
For now, he will put on a show for his fans and introduce himself to the wider boxing community with a dominant performance over N'Jikam.
At odds of -3500, I see no value in placing bets on Smith to win. However, it is unthinkable that he loses this fight.
Final Thoughts
For those who are unfamiliar with the name Callum Smith, hopefully you now get a better picture of what he brings to the table.
On June 1, he will look to charm the US audience with a big performance that warrants a return to the States at some point.
There are plenty of fighters who will be happy to test themselves against Smith, so we could see him return sooner rather than later. Well, that is if he beats N'Jikam on the night, which he should do.
This fight is set for the undercard of the Anthony Joshua vs. Andy Ruiz Jr. world heavyweight title bout. If you're looking for betting advice on that bout, why not check out my Joshua vs. Ruiz fight preview for a couple of tips and my pick for the winner?