Bryson DeChambeau Props for the 2021 Masters

There are lots of storylines brewing ahead of the 2021 Masters.
Dustin Johnson is defending, Jordan Spieth is surging, and Rory McIlroy is still in the background aiming to complete the career Grand Slam.
And yet all anybody wants to talk about is what Bryson is going to do.
DeChambeau's "master" plan never came together in November but expect a better performance in what'll be his second crack at Augusta with his modernized power.
The top betting sites have already unleashed a horde of Bryson DeChambeau Masters props; let's start digging into the juiciest ones available.
Total Birdies or Better at the 2021 Masters
Right off the bat, I thought this number seemed a little low given how the par-5s at Augusta are set up. Bryson made 18 birdies and an eagle at the 2020 Masters, so perhaps the line is somewhat reasonable.
Then again, the Mad Scientist recorded 19 birdies and an eagle the last time the Masters took place in April (2019). And here is some more food for thought.
Despite making 18 birdies and an eagle in November, DeChambeau could have easily done a lot more damage.
He parred the 15th hole during three of the four rounds. He doubled #13 on Friday and failed to take advantage of the short par-4 3rd hole on any day. In fact, Bryson played "Flowering Peach" a disastrous three-over-par.
If the conditions are firmer, he's just going to hit even longer, and he's been putting the ball beautifully. Hammer the over in this Masters prop bet.
Total Bogeys or Worse at the 2021 Masters
A glance at last year's scorecard reveals that Bryson made 11 bogeys at the 2020 Masters. Having said that, he also made a couple of doubles and a triple, so he made 14 bogeys or worse.
In all, DeChambeau has competed in four Masters going into the 2021 edition. Look at how many over-par holes he's averaged per trip.
Bryson DeChambeau – Bogeys or Worse at the Masters
Year
Bogeys or Worse
2016
14
2018
15
2019
14
2020
14
Bryson continues to force the issue and play an aggressive style of golf; that's not going to change when he strolls down Magnolia Lane on Thursday morning.
If DeChambeau has a tee time on Saturday and Sunday, there are very few versions of him making fewer than 10 bogeys (or worse).
Bryson DeChambeau Highest Score on Any Hole
I'll take the over here and happily call this one of the safest Bryson DeChambeau Masters prop bets on the board.
If you're wondering if Bryson has made at least one 6 (or higher) during his previous trips to Augusta, let me put your mind at ease.
2016 Masters – DeChambeau made two 6s and two 7s; carding at least one "6 or worse" during three of the four rounds.
2018 Masters – DeChambeau bogeyed the par-5 2nd hole on Saturday, his only "6 or worse" of the week.
2019 Masters – DeChambeau once again bogeyed the par-5 2nd hole on Saturday, only this time, he also double-bogeyed three par fours. A total of four 6s on the card for the week.
2020 Masters – DeChambeau made a 7 in the first round, he made a 7 in the second round, and he made a 6 in the final round.
Bryson's assertive mentality at this venue will lead to lots of red numbers, but in all likelihood, it'll also lead to at least one "six."
Pick: Over 5.5 Strokes -500
Will Bryson DeChambeau Drive the Green in Any Round?
BetOnline is among the best places to bet on the 2021 Masters for lots of reasons. One of those reasons is because they post fun Bryson DeChambeau props for the Masters that not every sportsbook offers.
I happen to love the upside attached to "yes" in this one.
If there's any hole at Augusta that "owes" Bryson in 2021, it's without a doubt the 350-yard devilish par-4 3rd.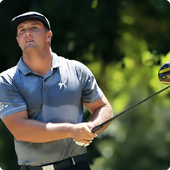 DeChambeau caught a terrible break
when his tee shot that tv cameras spotted sailing into the left rough was unable to be located.
Bryson eventually made a triple bogey, not to mention he didn't birdie it in any of the other three rounds.
As tricky as the putting surface is at #3, nothing is appetizing about laying back and having to dial in a wedge shot.
I expect Bryson to bomb the driver all four days and try to get the ball at least pin-high if not beyond the flagstick.
At +145, I'll roll the dice that one of those four balls winds up on the green.
Will DeChambeau Make an Eagle at the 2021 Masters?
By no means am I convinced that Bryson won't make an eagle at the 2021 Masters. At the same time, there's enough value here to where I can comfortably latch onto "no."
At +175, we just need to be right a little more than 36% of the time for this bet to make sense. Well, DeChambeau has completed four Masters (16 rounds) and has made a total of two eagles. One of those was a hole-in-one on the #16.
It's worth noting that Bryson clocks in 2nd on the PGA Tour in eagles this season (10) and ranks 1st in eagles (holes per).
He made one eagle every 54.0 holes in 2020-21 – or one every three rounds. However, just because he's got a sincere chance of making an eagle doesn't mean that laying -215 is the correct play.
The math says to bet "no."
Betting on Bryson DeChambeau at the 2021 Masters
Are you planning on pulling the trigger on Bryson at Augusta?
Nabbing his to don the Green Jacket (+1100) is one way to get in on the action, but the Bryson DeChambeau props are even more captivating. Others might pique your interest; I suggest scoping the top Masters betting sites to see the rest of the selection.
Those looking for additional Masters picks in 2021, follow this page throughout Masters week.