Hide Bonus Offers
| | | | | |
| --- | --- | --- | --- | --- |
| #1 | Bovada Sports | 50% Up To $250 | Visit Site | Bovada Sports |
| #2 | BetUS | 125% Up To $2,500 | Visit Site | BetUS |
| #3 | MyBookie | 100% Up To $1,000 | Visit Site | MyBookie |
| #4 | Everygame | 100% Up To $500 | Visit Site | Everygame |
| #5 | BetOnline Sports | 60% Up To $1,000 | Visit Site | BetOnline Sports |
Can Brooks Koepka Make It Three Straight US Opens at Pebble Beach?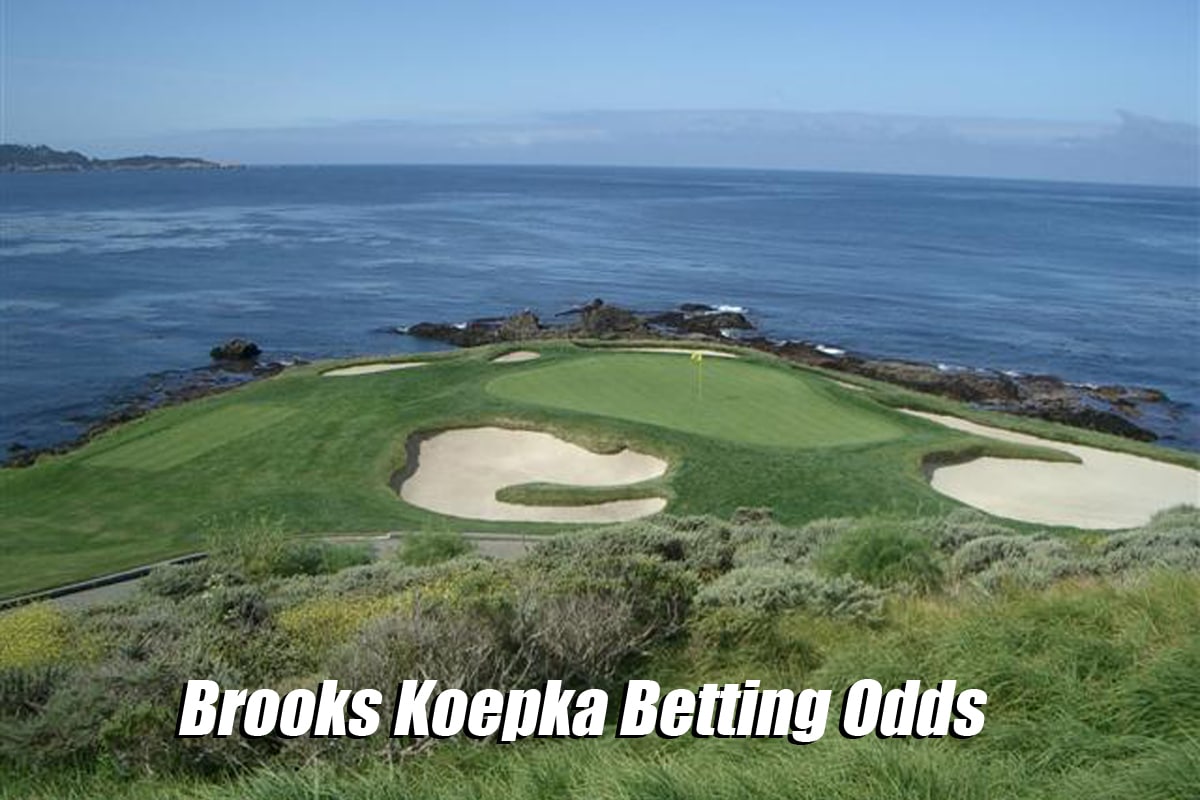 Few words do proper justice to describe the improbable run that Brooks Koepka is currently on at the majors.
His latest triumph at Bethpage Black has elevated Koepka into a stratosphere that even Brooks himself couldn't have expected to land in so soon.
Think about this for a second.
Koepka has won as many majors over the last 24 months as Ernie Els won over his entire career. A win next week at Pebble Beach, and suddenly he'll join the likes of Phil Mickelson, Byron Nelson, and Seve Ballesteros on the coveted list of golfers who have won five major championships.
In short, you can see the elite company this man is approaching.
Considering we still have 11 more months until "Brooksy" celebrates his 30th birthday and he's shown absolutely no signs of slowing down anytime soon, the sky is really the limit.
"It's been a hell of a run. It's been fun. I'm trying not to let it stop. It's super enjoyable, and just try to ride that momentum going into Pebble."
The problem for golf bettors like you and me is the reality of the situation we're dealing with.
Brooks just won his second straight PGA Championship, and he's the two-time defending champion at the United States Open. Productivity like that, and it's no wonder Koepka is the overwhelming favorite to capture his third consecutive U.S. Open.
Brooks Koepka Odds to Win the U.S. Open
We all know Brooks just won his fourth major, but I'd like to point out another tidbit that speaks volumes to how consistently good he is at the most prestigious events. Here's a guy who has tallied top-13 finishes at 10 of the last 11 majors he has teed it up in. He's finished first or second during four of the last five.
Nobody should be shocked to see the following prices reflecting Koepka's 2019 U.S. Open odds.
With Brooks surging into the top spot in the Official World Golf Rankings on the heels of his scintillating display at the PGA Championship, it shouldn't be a surprise that +600 is perhaps the best price you can track down.
Dustin Johnson is hovering in the +800 range on most of the top golf betting sites, and I plan on releasing a blog about his chances at Pebble Beach shortly.
However, this post is dedicated to the world #1 and his opportunity next week.
Is Pebble Beach a Good Fit for Koepka?
Find me a golf course on the planet that isn't a good fit for this guy. When you look at the way "BK" dominated Bethpage Black, it was similar to the way he conquered Erin Hills. The longer and softer a golf course is, the more it plays into the hands of Brooks Koepka.
Studying the phenomenal layout at Pebble Beach Golf Links, it's clear that it's not a bomber's paradise. Players will be forced to leave the driver in the bag on multiple occasions, and there's lots of trouble left and right on numerous holes.
With that being said, let's not pretend that added distance off the tee and brute strength coming out of the rough won't be enormous benefits for Koepka. Brooks has shown that he won't be shy about unleashing the big dog, not to mention that he carries an old Nike driving iron that he can blitz about 275 yards off the tee.
We might not see Brooksy overpowering Pebble Beach, but that doesn't mean he can't bring the course down to its knees. Pebble has some of the smallest greens you'll ever find, so it's a good thing Koepka is an especially prolific iron player. Clocking in at third on the PGA Tour in par-4 scoring average and sixth in greens in regulation (GIR), it will likely come down to his flat stick.
If we see Brooks heat up with the putter, the individual responsible for engraving the winner's name on the U.S. Open Trophy might as well get to work right now.
And while we're on the subject of heating up with the putter, let's look at the likelihood of that panning out.
Will We See Brooks Struggle on the Poa Annua Greens?
This is a very legitimate question and something the casual golf fan might overlook. Coming from someone who has grown up playing golf on the West Coast and is quite familiar with the difficulties presented by Poa annua greens, it's definitely something that should be taken into account.
To be honest, I sense that the unfamiliarity of the putting services will end up factoring in for a guy like Brooks.
One might point to the fact that Koepka won his first PGA Tour event at the 2015 Waste Management Open and assume that his victory in Phoenix means he is comfortable putting in this region. But truth be told, 2015 was the first year in which TPC Scottsdale switched over to TifEagle Bermudagrass on the greens.
Do you want me to detail how Brooks has fared when putting on Poa annua surfaces?
Koepka skipped the West Coast swing altogether this season and was hurt during the early portion of 2018. But he played at Torrey Pines and Riviera in 2017 and missed the cut in both instances.
There's a reason why certain guys who grew up in states like Florida and Georgia play better on the East Coast. Likewise, it isn't "by chance" that Phil Mickelson (born and raised in San Diego, educated at Arizona State University) has racked up such a large chunk of his professional wins out west.
There is no definitive proof that tells me Brooks is going to struggle putting at Pebble Beach. I don't see any crystal balls that predict whether or not Koepka will exhibit frustration if he sees his golf ball bouncing around.
Nonetheless, don't be bewildered if the 29-year-old enigma is left scratching his head a few times over some bizarre lip-outs.
Hungry, Or Resting on His Laurels?
It would be understandable for a golfer to be content with winning a major championship. Resting on his laurels and taking it easy might be the natural thing to do.
Go ahead and try to convey that message to four-time major winner Brooks Koepka, and he won't have a clue what you are talking about. In fact, he'll actually laugh at you and tell you major championships are the easiest golf tournaments to win.
Remember the confidence he was beaming just days before he teed it up at Bethpage Black?
"There's 156 [players] in the field, so you figure at least 80 of them I'm just going to beat. You figure half of them won't play well from there, so you're down to maybe 35. And then from 35, some of them just — pressure is going to get to them. It only leaves you with a few more, and you've just got to beat those guys."
What's bolder than making a comment like this?
How about going out and backing up everything you said publicly — and then some?
He went on to state that there is no reason he can't get to double-digit major victories, and that was before he clinched #4. Given how much pride he takes in preparing and performing well on the biggest stages, I wouldn't put it past him for a second.
Brooks is in the field this week at the RBC Canadian Open, mainly in hopes of stringing together some positive vibes. We just have to decide if Pebble Beach is the type of venue he can prosper at. At only +600 vs. a full field of distinguished golfers, you'll want to have a serious hunch that he can seal the deal before placing the wager.
Final Thoughts
Pebble Beach isn't the type of golf course that only suits guys who can fly the ball 320 yards in the air. You don't have to be the world's greatest putter to flourish, nor do you have to have prior success in Monterey Peninsula to have a chance at making history.
What you do need to do is play superbly for 72 holes and hope to get some fortunate breaks. Watching and betting the U.S. Open is going to provide some drama, and you'll want to ask yourself the following questions.
Will Brooks Koepka be one of the players who gets himself in the mix come Sunday? Will we see BK lock in on major #5 and chase it down?
I'm among the many waiting on pins and needles, eager to find out. Until then, all we can do is wait and then just let the chips fall where they may.