Brooks Koepka Is Primed for the 2019 PGA Championship at Bethpage Black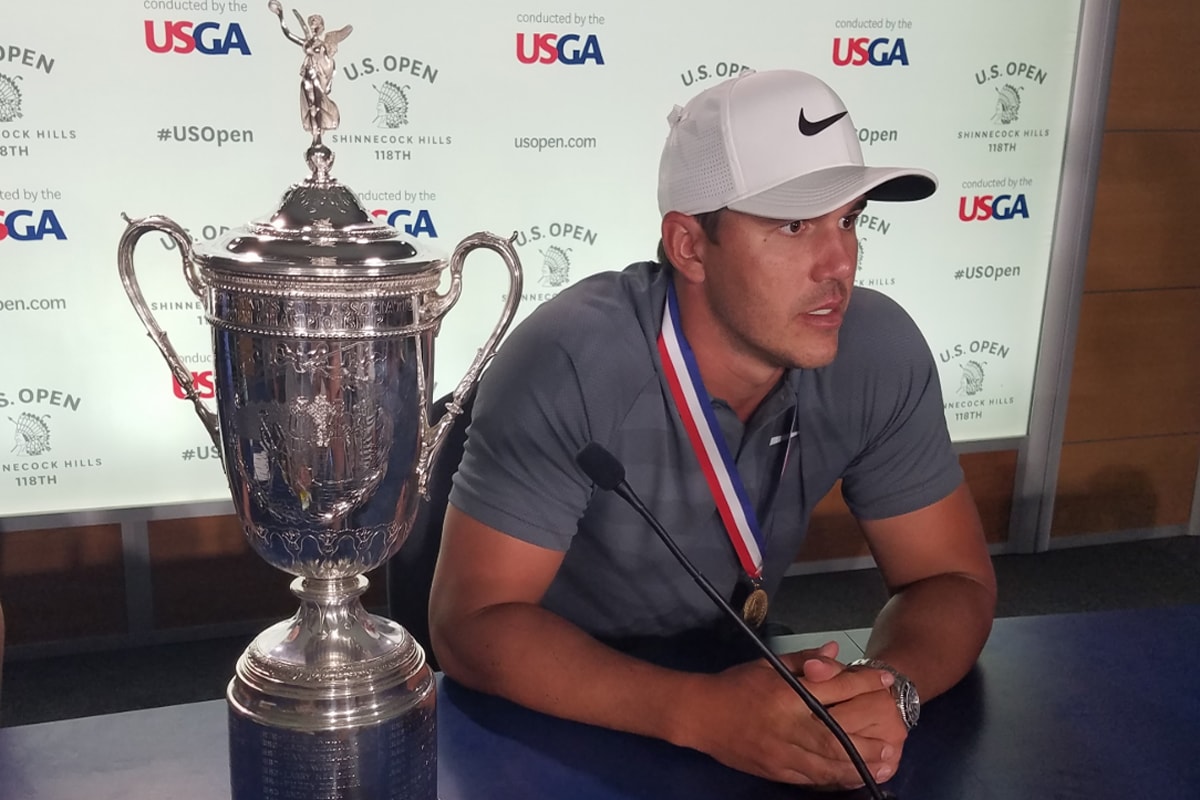 He just celebrated his 29th birthday on Friday and probably wasn't shy about throwing back some Michelob Ultras.
Brooks Koepka hasn't done a whole lot since finishing runner-up to Tiger at the Masters, save for kick it around the Big Easy for four days with his little bro at the Zurich Classic team event.
Those of you wary of backing "Brooksy" heading into the PGA Championship because he hasn't had many reps lately need to take a giant step back and think about who this dude really is.
Here's a guy who missed a cut and finished 56th twice during his leadup to Augusta yet still tied for second at the Masters.
And what about 2018?
When you're forced to skip the first four months of the year with an ailing wrist, and you still wind up winning multiple majors, you become immune to any ridicule or interrogation.
The bottom line is when Brooks Koepka arrives in Farmingdale, New York, to compete in this year's PGA Championship, he is going to be a force to be reckoned with.
Brooks Koepka's Odds to Win the PGA Championship
It is clear that Brooks has what it takes to claim a Wannamaker Trophy. He proved that to us last year at Bellerive Country Club. If you know anything about how the golf course will be set up at this year's PGA, you'll know that the layout at Bethpage Black should be a great fit for Koepka's game.
Taking everything into account, I assumed we'd see Brooksy land in the +1000 to +1200 range, which is exactly what has panned out.
| Bovada.lv | MyBookie.ag | SportsBetting.ag |
| --- | --- | --- |
| +1200 | +1100 | +1200 |
Tiger Woods' PGA Championship odds have unfortunately been dropped to the point where it's hard to reap value, and I'm still concerned with how well Rory McIlroy's short game will hold up for 72 holes.
I'm not convinced that Dustin Johnson has the "killer instinct" that's needed to win a bunch of majors, meaning placing a wager on Brooks Koepka to win the PGA this year might just be the best bet on the board.
Koepka Can Smell Blood in the Water
Tiger Woods took the world by storm by winning the 2019 Masters, so it's easy to forget that Brooks Koepka finished a single shot behind. Considering Brooks played the par 3s at three over par on Sunday and double-bogeyed a par 5 earlier in the week, it's safe to say that Koepka feels like he may have left a couple of shots out there.
The amount of self-confidence that Brooks possesses is through the roof, and there's no doubt in my mind he truly believes he is the best golfer on the planet. Koepka has even alluded to being able to speak more freely and openly now. That is a well-known commodity on the PGA Tour.
"You're actually, probably, getting the real me now. I think before, I was just trying to be politically correct, not stir any bubbles and just kind of go on with things and be unnoticed. I feel like now, where I've put myself in the game, I've kind of established myself. I feel like I actually do have a voice, and it will be heard."
Brooks' comments about not holding anything back are a reflection of where he is in the game of golf today. When I say Koepka can smell blood in the water, I am referring to the idea that some of his fellow colleagues have no choice but to be intimidated by his presence.
Forget about his physical stature and the reports of how easily he can pound out 15 reps of 225 pounds on the bench-press machine. What about his freakish power and undeniable creativity on the golf course, along with his outward self-belief?
No wonder this guy walks around like he owns the place. When every one of your competitors is aware of how serious of a contender you are, that tends to happen.
Bethpage Black Is a Bomber's Paradise
Hitting the golf ball far is an advantage no matter where you go; that can't be argued. However, when you play a track that has three par 4s measuring in excess of 500 yards, and the rough is no bargain, hitting the ball a long way off the tee is a major benefit.
Fortunately for Brooksy, few men in the field have the ability to carry the ball as long as he can. Also, when he is slotted and hitting that high soft cut, his swing seems to be on auto-pilot.
I'd be less inclined to invest in Koepka at a shorter venue that places a higher premium on accuracy, but the key to solving the Black Course hinges on hitting the ball long and hitting it solidly.
Right now, I'm hard-pressed to come up with a single golfer who does a better job at accomplishing either of those two things.
Rested, Relaxed, and Ready to Pounce
Every player is unique, and each man has different tendencies and routines that may or may not work for somebody else. Some of the big names are opting to skip the tournament this week in their preparation for the year's second major.
But not Koepka.
Brooks will be at Trinity Forest this week to tee it up at the AT&T Byron Nelson Classic, which I think will serve him well at next week's PGA Championship. Knocking some of the competitive rust off and getting a few rounds under his belt the week before seems like an ideal recipe to me.
Getting your game tournament ready at home with your coach and your buddies is one thing. Going out and performing when the gun goes off is a whole separate beast.
In case you were wondering how Brooks gets himself prepped for the four most prestigious events on the calendar, just know this.
Koepka hasn't just won three majors since the summer of 2017. Brooks has registered top-13 finishes in seven of the last eight majors he has competed in.
This man doesn't just crave getting in the mix on Sunday at a major; he has the prowess and capabilities to actually put himself there time and time again. Koepka could care less what anyone else thinks or what anyone else is doing. He just puts his head down and goes to work.
Quite frankly, I don't think he'll be bothered one bit by all of the hoopla that will surround his Thursday/Friday grouping in Farmingdale. While some might be frightened by the thought of playing alongside Tiger Woods, Brooks will be relishing the moment.
Don't be surprised if he goes out and puts on a show.
A Short Recap
We're around the corner from the year's second major getting underway, and I can't wait for the action to ensue. You can check out my early betting preview for the 2019 PGA Championship, and I can assure you that I'll be posting a lot more tips and advice over the next week.
There won't be any shortage of drama at Bethpage Black, so make sure you stay tuned! You can also check out our recommendations for where to bet on the PGA Championship so that you know which online betting sites you should be using.