Breaking Down the 2017 College World Series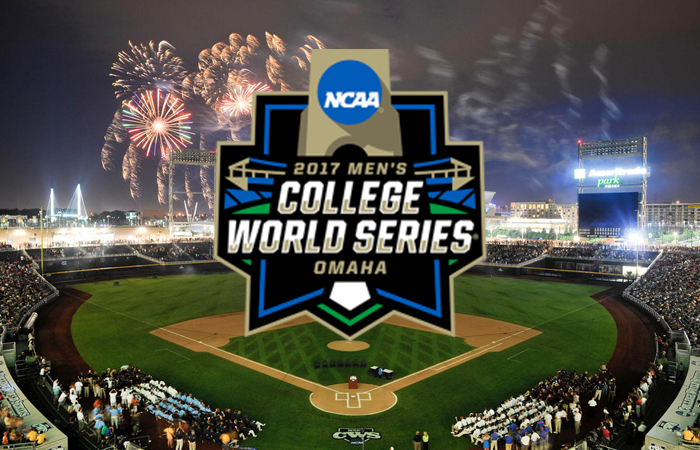 Back in December, well before the 2017 college baseball series got underway, 5Dimes listed TCU and LSU as co-favorites to win the College World Series at +700 apiece. Now, they're two of the last four teams in the tournament, though neither is considered the favorite anymore. Florida (+800) and Oregon State (+1000) were considered longer shots, though now the script has flipped completely
The Beavers stormed their way to an absurd 49-4 record during the regular season, which is one of the best single-season marks in the history of the sport. Despite being without ace pitcher Luke Heimlich (for a very, very bad reason), the Beavers haven't missed a beat in the CWS.
Friday afternoon, LSU will take on the heavily-favored Beavers, while TCU will take on Florida in the nightcap. LSU will have to beat Oregon State twice in order to reach the final, while the Beavers advance if they win this afternoon's game. TCU will have to beat Florida in order to force a winner-take-all game on Saturday, as well.
So, how do they stack up heading into Friday's action? Here are the current odds to win it all:
Oregon State -100
Florida -250
TCU -500
LSU -1000
So, let's break down Friday's matchups and see where things stand.
Oregon State vs. LSU
Moneyline: Oregon State -190, LSU +155
These two last met on Monday, and things didn't go particularly well for the Tigers. Oregon State walloped LSU by the score of 13-1, but LSU kept hope alive by ousting Florida State later in the week. Right-hander Alex Lange will toe the rubber for the Tigers in Friday's crucial showdown. Lange is 9-5 on the season and 29-9 over the course of his college career and ranks second on LSU's all-time strikeouts list with 398.
Either Drew Rasmussen or Jake Thompson will take the ball for the Beavers. There's no pressure on Oregon State in this one, so whichever arm Pat Casey puts on the mound should be loose and ready to roll. Rasmussen last pitched in relief against Cal State Fullerton several days ago. He was completely unhittable and threw eight strikes in 12 pitches, including two strikeouts.
Rasmussen would've been available to close Monday's game against LSU had they needed him, but obviously, they did not. Thompson started the aforementioned game against Cal State Fullerton, but lasted just 3.2 innings after throwing 78 pitches. It was the shortest outing of the season for the unanimous first team All-American.
Lange's performance may go a long way toward determining the winner in this one. If he can hold his own and limit the effectiveness of the potent Oregon State offense, LSU has a chance to jump on either Rasmussen or Thompson early and gain a little confidence. The Tigers certainly have an edge in the power department. LSU clubbed 64 homers as a team on the season compared to just 30 for Oregon State.
We like the value on LSU at +155 in this one. Oregon State has only lost four games all year, though, so temper your expectations. Even if the Tigers do manage to pull this one out, we fully expect Oregon State to right the ship and eventually push past them and into the CWS Finals, which begin on Monday.
TCU vs Florida
Moneyline: TCU +120, Florida -145
TCU stayed alive on Thursday after eliminating Louisville, who entered the tournament as the odds-on favorites to win it all. Now that they're booming with confidence after ousting both the Cardinals and Texas A&M during the week, the Horned Frogs will have a chance at beating the odds and making their way to the Finals.
It won't be easy, though. Florida has a pair of aces ready to throw at TCU, though they catch something of a break by facing sophomore Jackson Kowar on Friday. The Gators have gotten stellar performances out of their co-aces Alex Faedo and Brady Singer in their two previous games, and now it's Kowar's turn to shine. He's no slouch, either. The sophomore righty went 12-0 during the season with an ERA of 4.00 and 73 strikeouts in just over 101 innings of work.
However, he's scuffled lately. Kowar has surrendered at least eight hits in each of his last four starts. It may well be a sign of fatigue, and the Horned Frogs would do well to get to him early and rattle his confidence a bit. Wake Forest got to him during the super regionals, as he yielded five runs on 10 hits along with three walks.
Senior Mitchell Traver is expected to get the ball for TCU. In just over 40 innings this season, Traver has a 4-1 record with a 3.79 ERA and 48 strikeouts. If the Frogs are able to pick up the much-needed win on Friday, Jim Schlossnagle says the team's ace, Jared Janczak, will pitch on schedule on Saturday.
The Frogs have been playing well the last few days, while the Gators have been sitting around and waiting. They could be a bit rusty here after having had a few days off, while TCU has been able to generate something of a rhythm here. The Frogs are without their best hitter, Luken Baker, but it hasn't mattered in the games against A&M and Louisville.
We feel better about TCU's chances than we do about LSU's, mostly because Florida is far more vulnerable than the powerhouse from Corvallis. The Horned Frogs at +120 makes for a very sound value bet on the moneyline, and we think they have enough to get the job done here. If they get to Saturday with their ace on the hill, you have to like TCU's chances of pulling the upset and finding their way to the Final series.
Will Anybody Beat Oregon State?
The Beavers are just looming over the other three teams right now. They haven't missed a beat without Heimlich, and they're one of the most unstoppable teams we've seen in years. Will they be able to keep it going and win the school's first national title since going back-to-back in 2006 and 2007?
Of the teams remaining, you have to believe the Gators have the best chances. If Florida is able to get past TCU, they can line up their aces to pitch the first two games of the Final series against the Beavers. Pitching wins championships, and Florida would have a slight edge over OSU in that department if the two teams were to square-off next week.
Stay tuned for our Finals preview once the matchup is set for Monday night.