Breaking Down Khabib Nurmagomedov vs. Dustin Poirier With Early Odds and Pick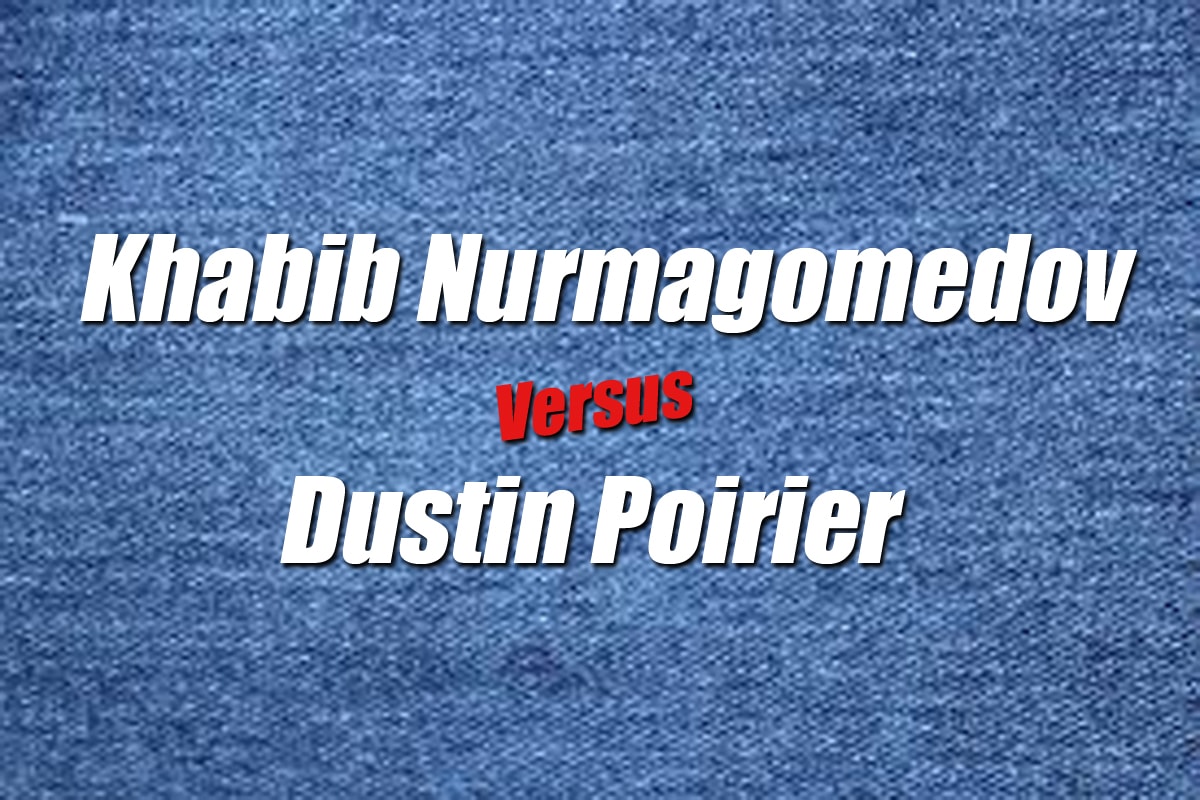 Khabib Nurmagomedov is a living legend of MMA.
The Dagestani's star appeal is so high that Russia's president, Vladimir Putin, recently allocated $9.3 million for a school to be built in the UFC lightweight champion's name.
"Wow" is the word you're looking for.
When you think about it, Conor McGregor is undoubtedly the biggest name in the sport. Ireland hasn't even allotted a couple hundred bucks to name a park bench after the Dubliner — what does this tell you?
I don't know about you, but it certainly says a lot about how much Nurmagomedov's compatriots think of him. At UFC 242, they will have to make the trip to Abu Dhabi to support him, though, in what will be the promotion's first trip to the Gulf nation since 2014.
What makes this one special for Nurmagomedov is that he is fighting someone who has a genuine chance of beating him.
In my opinion, the interim champ, Dustin Poirier, has just been getting better and better over the past few years. I am very tempted to back him to beat Khabib on September 7.
Now, don't go jumping to conclusions here. I haven't said I will be backing him. Then again, I haven't said I won't be…
I can neither confirm nor deny what my choice will be for this bout, yet, but I'll take you there with a fight breakdown and close examination of both guys.
I suppose you'll want to know what the opening odds on the fight are, right?
Jeez. So pushy…
Latest Khabib vs. Poirier Winner Odds
Khabib Nurmagomedov to Win
-360
Dustin Poirier to Win
+275
These early odds, courtesy of 888sport, are subject to change.
Still, can you see them swinging in Poirier's favor as the fight gets closer? I'm not sure they will change that much, but I can see a lot of money being put on Khabib over the next couple of months.
What that means for the odds above is that — if you think Khabib is going to win this fight — you probably won't get better odds than these.
For "The Eagle," he is unbeaten in pro MMA in 27 fights. Yup, that's right. He has never been beaten. By anyone.
He has mauled pretty much everyone that has been inside the cage with him. In his last outing, he made former "champ-champ" Conor McGregor look like a jilted sparring partner that had a couple of amateur bouts under his belt.
Poirier, on the other hand, looks pretty decent at +275.
Having handed UFC featherweight icon and lightweight debutant Max Holloway his first loss in 14 fights, Poirier's stock has never been higher.
If you have plans for September 7, 2019, cancel them. I don't care if you're getting married, have jury duty, or will be in jail. Find a way to break out, 'cause this fight is going to be crazy.
Khabib vs. Poirier – How They Match Up
I'd be keen to know if you think this fight is a good matchup.
It's always good to get a feel for what others think about fights. I certainly know my opinions on this bout, and I'm going to break them down here.
Now, instead of highlighting the attributes where I feel both men are particularly strong, I'm going to look at the striking, wrestling, submission, and unique skills that Khabib and Nurmagomedov have.
I appreciate that many of my readers are cultured MMA heads, but to those among us who are still getting to grips with this sport, read on, and I'll explain the makeup of this bout.
By all means, even the more cultured fight brains reading this might learn a thing or two — or at least have an alternative opinion to bounce off.
So, here goes.
Striking
Man, do you remember that shot that Khabib threw to drop McGregor at the now-infamous UFC 229 in October last year?
That certainly proved to the doubters that Khabib can bang.
If anything, we have seen "The Eagle" working extremely hard on his boxing, in particular, which was proven against the Irishman. McGregor had been expected to dominate the exchanges, so this one was a real turn-up for the books.
Still, Khabib is hardly a striking phenom. He doesn't have proven knockout power. Fundamentally, his punches are limited to jabs, one-twos, straights, overhand rights, and the occasional left hook.
Poirier, on the other hand, is an exceptional striker.
At 5'9″, Poirier has a good reach of 72″ which has given him the upper hand against some of the best strikers in the game. In his last four wins, he has gotten the better of elite strikers such as Max Holloway, Eddie Alvarez, Justin Gaethje, and Anthony Pettis.
With excellent hands, solid leg kicks, and an ability to mix it up on the feet and in the clinch, Dustin Poirier is a serious threat to any fighter.
In the Holloway bout, in particular, we witnessed his devastating power. He is also one of the bulkiest lightweights out there and would not look out of place at welterweight.
If he catches Khabib, he could finish him.
Striking Advantage: Dustin Poirier
Wrestling
If we talk about Poirier as having a cultured and comprehensive striking game, there is no doubt that Khabib's wrestling can be described in the same ilk.
The Dagestani is one of the most proficient and effective wrestlers in the history of MMA.
Who can forget his performance against Abel Trujillo in 2013? Khabib took Trujillo down a record 21 times in that fight. He smothered, stifled, and rag-dolled his opponent to the point that the former collegiate wrestler resembled a lamb being tossed around by an alligator.
Nurmagomedov's wrestling prowess is hardly a secret. It's his ultimate weapon, and he uses it with the same efficiency as a woodpecker uses that beak to chisel into the bark of a tree.
Sure, it might sound obvious, but not everything obvious is easy to get around. Khabib's pressure and alternations between single and double legs make his wrestling arguably the most potent weapon in the UFC.
Poirier has decent wrestling, with his takedown defense averaging out at around 69%.
Sure, he'll be taken down a couple of times if the fight goes on, so he'll need to conserve as much of his energy as possible before working the fight back to the feet.
Wrestling Advantage: You are paying attention, right?
Submissions
Khabib has the advantage in the wrestling department, but how about his submission game?
Well, the Russian has 9 submissions in 27 wins, while Poirier has 7 in 25 wins.
Khabib has a solid triangle, a strong rear-naked choke, and a decent kimura in his bag of tricks. He is not the most potent finisher in the game, however, and tends to dominate most opponents before taking it to the judges' scorecards.
By the time this fight comes around, Poirier will have gone almost seven years without a submission victory. That is a long time, it must be said, but given that he prefers to keep the fight on the feet, it's not surprising.
Khabib likes the fight on the mat, and this is where Poirier's takedown defense will be important. There is no way on God's green earth that the Louisiana native will actively seek to take his opponent down, but Khabib will.
You have to give the submission edge here to Khabib, even though Poirier has a few tricks up his sleeve. As "The Eagle" will be highly likely to be in favorable positions on the mat, he will have more opportunities to finish the fight this way.
Submission Advantage: Khabib Nurmagomedov
Unique Strengths and Skills
Wow, where do I start?
I guess we've covered the basics up there with regards to the fundamentals, so it's a good time to look at other ways this fight can be ended by either man.
I suppose the term we can use here is "x-factor" when relating to unique strengths and skills. I'm going to stray away from bear wrestling, however, as that was a long time ago, and I'm sure Khabib and that bear are tight as hell now that they've grown up.
Rumor has it the bear was a guest at the wedding, but don't quote me on that.
Anyway, I'm going to focus on one particular attribute for each guy that could come to play in this bout.
Khabib's Efficiency
Firstly, Khabib. He is unbeaten. He has looked unbeatable in almost every fight he has ever been involved in. The guy exudes class because his confidence and almost robotic efficiency are like a veneer over a fearsome skillset.
This efficiency makes for minimal mistakes. Unlike a fighter with an abundance of weapons — or one that relies on a variety of strikes or mixing up their patterns — Nurmagomedov has a solid base of wrestling and ground and pound that is embedded into his psyche.
With this, Khabib becomes mechanical to the point of… well, almost frustration, if you are in there against him.
The Khabib code has never been cracked because every time you get near the dial on the safe, you recoil at the terrifying heat of the thing.
Poirier's Resilience
Poirier had long been considered a lightweight gatekeeper in the UFC.
Up until his destruction of Justin Gaethje in April 2018, he was perhaps the most slept-on fighter on the roster. True fans of the sport could see that he was improving with every fight, however, and aside from the disappointing KO loss to Michael Johnson in 2016, he has never been beaten at lightweight.
We have seen the years of disappointment, the tons of adversity, and the countless cries for opportunities shunned, until recently.
When faced with such hardships, a fighter either goes into recoil mode and gives up or does absolutely everything in their power to improve to the point where they can no longer be ignored.
You have to say Dustin chose the latter path.
I backed Max Holloway to beat him at UFC 236 and was left eating my words. I think Dustin Poirier could shock the world on September 7 if he turns up in the right frame of mind and looks danger directly in the eye.
Betting on Khabib vs. Poirier
Let me start by saying this — Khabib Nurmagomedov is a monster.
He deserves the respect of every fighter in the game, and it is little surprise to see almost everyone — with the exception of Conor McGregor, perhaps — paying him his dues.
You don't rack up a record of 27-0 as anything less than an incredible fighter. Sure, there are a few questionable names on his resume, but he has wins over the likes of Conor McGregor, Rafael dos Anjos, and Edson Barboza.
Still, out of those 27 names, McGregor and dos Anjos are arguably the only two elite fighters that he has been in there with. You could suggest that this is the most difficult fight of his career. If you did, I would agree wholeheartedly.
Poirier has two losses in almost six years: one at featherweight to McGregor, which was a first-round KO, and another by way of first-round KO to Michael Johnson.
Over his past four fights, he has beaten the crap out of some of the toughest dudes out there, though, which would certainly instill some confidence in him.
To anyone who believes this fight will be a one-sided mauling, I'm going to have to politely ask you to reconsider your stance.
This will be a dogfight.
Who Should I Bet On?
Logic says that the 27-0 monster has the upper hand.
Khabib has never lost a fight, but I don't think we have really seen him tested that much. The big names on his record like dos Anjos, McGregor, and Barboza are not known for their takedown defenses or wrestling prowess.
Poirier is hardly a wrestling aficionado, granted. But he does have an engine on him and serious pop to his shots. He has a solid triangle from his back and could prove a trickier puzzle for Khabib to solve on the floor.
I have to admit this now. If it blows up in my face in spectacular style, so be it…
I'm backing Poirier to win.
Get this — I believe that we have not even seen the best of this guy yet.
For the American to win, however, he will need to knock Khabib out. I can't see him going five rounds and getting out of there with the nod.
At a push, I can see him either catching Khabib with a knee from the Russian's takedown defense or catching him cold with a big left hand and finishing him with a flurry behind it.
Call me crazy, but I think it can happen.
Surprised?
Look, I've been in this game long enough to understand that not everyone is going to bet on Khabib. As much as he will be expected to win this fight by the majority, even the greatest fighters in the world lose at some point.
Still, I hope that I gave a solid account of why I think Poirier will win this fight.
I'm not expecting him to dominate over the course of a five-round thriller, but as long as this fight does last, it's going to be epic.
In MMA, all you need is the combination of one bad decision and one good decision for the other guy for odds, resumes, reputations, and expectations to go flying out the window.
I think that's what we will see on September 7.
There is plenty of time from now until then for things to change, such as my mind. If I do change my mind, I'll be back here to explain why.
Of course, there are other fights on the horizon you might want to bet on that are coming soon. Why not check out my Jon Jones vs. Thiago Santos preview while you wait for Khabib vs. Poirier?
You could also take a look at our list of the best sports betting sites and make sure you've taken advantage of all the welcome bonuses available at these reputable online bookmakers. That way, you'll hopefully have a bigger bankroll to bet with when these fights come around.