Hide Bonus Offers
| | | | | |
| --- | --- | --- | --- | --- |
| #1 | Bovada Sports | 50% Up To $250 | Visit Site | Bovada Sports |
| #2 | BetUS | 125% Up To $2,500 | Visit Site | BetUS |
| #3 | MyBookie | 100% Up To $1,000 | Visit Site | MyBookie |
| #4 | Everygame | 100% Up To $500 | Visit Site | Everygame |
| #5 | BetOnline Sports | 60% Up To $1,000 | Visit Site | BetOnline Sports |
Are the Boston Celtics Really the Best Team in the NBA?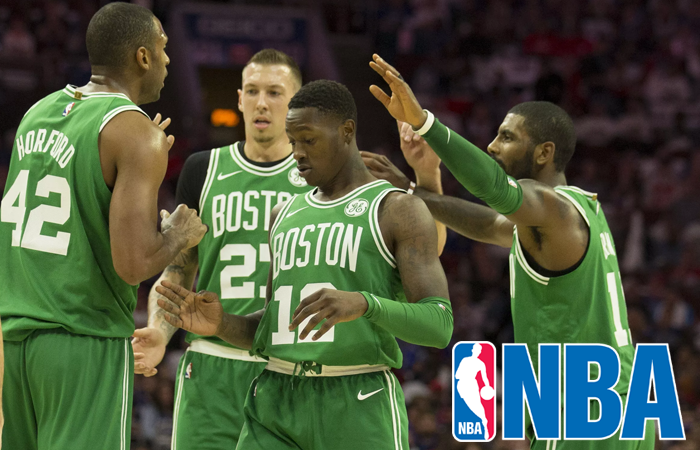 In an effort to learn how we humans may better regenerate our own lost or diseased tissue, scientists have been studying animals that have that capability, such as starfish and octopuses.
Maybe they need to take a close look at the Boston Celtics as well.
Despite having limb after limb lopped off this season (I say this figuratively, although Gordon Hayward's foot looked like it almost literally came off during Boston's season opener in Cleveland), the Celtics just continue to persevere as if they're borrowing a page from the Monty Python playbook. Cut off their arms and legs, and they'll still try to bite your legs off with their teeth.
Despite losing Hayward for the year just minutes into their season, seeing Al Horford go down with a concussion last Monday, and then having to play without Kyrie Irving for two games over the weekend, the Celtics enter this week with the best record (12-2) in the National Basketball Association. They're also the authors of a 12-game winning streak, and most significantly to basketball bettors, they're a sizzling 11-2 against the point spread.
But are they really the best team in the NBA? Or even in the Eastern Conference?
Oddsmakers don't think so.
Updated 2018 NBA Championship Odds
Boston is ranked third on Bovada's latest 2018 NBA championship odds, tied with the 11-3 Houston Rockets at +1000 odds. The top 2 teams on the current NBA futures are the 2 teams that have met in the last 3 NBA Finals: the Golden State Warriors (-180) and Cleveland Cavaliers (+575).
Here's a complete look at Bovada's latest NBA championship futures:
Golden State Warriors: -180
Cleveland Cavaliers: +575
Houston Rockets: +1000
Boston Celtics: +1000
San Antonio Spurs: +1600
Oklahoma City Thunder: +1600
Washington Wizards: +4000
Minnesota Timberwolves: +5000
Toronto Raptors: +5000
Milwaukee Bucks: +6600
Los Angeles Clippers: +10000
Philadelphia 76ers: +10000
Detroit Pistons: +10000
Memphis Grizzlies: +15000
Miami Heat: +15000
Denver Nuggets: +15000
Utah Jazz: +20000
Portland Trail Blazers: +20000
Charlotte Hornets: +20000
Orlando Magic: +20000
New Orleans Pelicans: +20000
Los Angeles Lakers: +50000
Indiana Pacers: +50000
Dallas Mavericks: +100000
New York Knicks: +100000
Sacramento Kings: +100000
Phoenix Suns: +100000
Chicago Bulls: +100000
Atlanta Hawks: +100000
Brooklyn Nets: +100000
Golden State obviously merits the favorite tag, even if you can dispute the notion that they're 20 times more likely to win the NBA championship than the Rockets. But by continuing to rank the Cavaliers second on the NBA futures despite a 6-7 start, and by rounding out the top 6 contenders with the 8-5 Spurs and 6-7 Thunder, the bookies are still putting more stock in pre-season projections than worrying about how these teams have performed over the first 3 weeks. Why else would the 10-3 Pistons still pay +10000 to win it all?
How Are the Celtics Continuing to Win?
To me, there are three main reasons why the Celtics have been able to enjoy this early-season success despite missing key players every night.

1. Coaching
Brad Stevens is one heck of a basketball coach.
He proved it in college, leading Butler to back-to-back appearances in the national championship game. He showed it again last year when the Celtics finished atop the Eastern Conference during the regular season. And even though Boston was clearly overmatched by the Cavaliers in the conference finals, Stevens and the Celtics overcame a 21-point deficit to win Game 3 in Cleveland, despite playing that game without regular season MVP candidate Isaiah Thomas.
Now, after he has navigated the Celtics through their early-season myriad of injuries, Sports Illustrated is already touting Stevens as a top candidate for NBA coach of the year. Never mind what Stevens has been able to do from an X's and O's standpoint. He deserves a ton of credit for getting his team to continue to buy into its ability to win games even after being devastated by the loss of their top talent.

2. Defense
When you lose one of your top offensive options for the year and then have to play without a couple more of your most talented scorers, your best hope of winning games is making sure the opposition scores less points as well.
That's precisely what the Celtics have done. Boston leads the entire NBA in the fewest points allowed per game (94.0), ranks second in field goal percentage against (42.8%), and is third against the 3-pointer (32.1%). The Celts are also fourth in the Association in rebounds, further proof of the effort that this team is playing with at both ends of the floor.
Boston's allowed 100 points just once during its current winning streak, and it's held teams to 90 or less in 6 of those 12 games. It doesn't take much offense to win games when you just need to get to 90 yourself.

3. Rookies
Most of the preseason hype about the Celtics was their acquisitions of Irving and Hayward, but Boston had a pretty good summer when it came to the NBA Draft as well.
GM Danny Ainge looks like a genius for his decision to trade away the first-overall selection in the draft and then pick Jayson Tatum at #3. Not only did Ainge score himself another future potential lottery pick in the deal, he may also have struck gold by passing on consensus #1 Markelle Fultz and going with Tatum instead.
Where would the Celtics be without Tatum? The former Duke forward is averaging more than 30 minutes per game, shooting nearly 50% from the field, stroking it from 3-point range at an insane 47.6% clip, pulling down almost 6 rebounds per game, and leading the team in blocks.
Tatum's not the only rookie carrying the mail for the Celtics, either. Daniel Theis, Jabari Bird, Semi Ojeleye, Abdel Nader, and Guerschon Yabusele are all averaging more than 4 minutes per game in their freshman season, with Ojeleye and Theis each seeing more than 14 minutes of playing time.
How rare is it for a dominant team to rely so heavily on rookies? Well, Boston is the first team in NBA history to win 10 straight games with four or more rookies on its active roster.
Can They Keep It Up?
Again, it's incredible how Boston has been able to reel off 12 straight wins, despite missing Hayward for all of those games and Irving and Horford for a couple of them.
However, there are a few legitimate reasons to believe that the Celtics' hot start is unsustainable.

1. A Letdown Is Inevitable
It's actually fairly common for teams to step up their games after a star player gets hurt. Knowing that they all need to rally together to compensate for the loss of a leader, the rest of the players elevate their focus and embrace the challenge.
However, superstars are paid the most money in sports for a reason. Eventually, they're indispensable to the success of their team. Eventually, it simply becomes too hard emotionally and physically for the rest of their teammates to bring max effort and focus to the court every night.
Positive attitude and determination can carry teams pretty far in basketball, like we've seen in March Madness tournaments over the years. But the clock always seems to strike 12 on these Cinderella stories, simply because they can't continue to overcome superior talent night after night.

2. Regression Seems Inevitable as Well
Boston's defense deserves a lot of credit for holding its opponents to low shooting percentages, but it's also likely that those opposing shooters are going to start knocking down more shots in the near future.
According to an ESPN article this week, if opponents were making shots at a league-average rate from each of the 5 different zones on the court that are tracked by NBA.com, the Celtics would be 12th, not first, in the league in opponent effective field-goal percentage. The article also notes that the quality of 3-point attempts Boston is allowing this season would normally result in a 35.6% success rate for opponents, rather than the 32.1% they're currently shooting.
The bottom line is that, based on the shots the Celtics are allowing opponents to take, their opponents should be hitting more of them. Look for opposing shooting percentages to start rising in the near future.

3. Their Offense Isn't Great
If the Celtics' defense regresses as I expect, the offense simply isn't good enough right now to carry Boston to victories.
The Celts have had to grind things out on the offensive end of the floor, where they're 24th in points per game (102.2) and 28th in field goal percentage (43.1%).
Part of this may be due to Stevens working a ton of new players into the lineup (including all of those rookies), and it's likely that the offense will improve as the season goes along. But Hayward brought a lot of versatility to the Celtics attack that would have opened the floor for other players, and I expect it to be too much to overcome.

4. Rookie Burnout
The college basketball season is a grind of its own, as players balance games, practice, and travel with having to get their schoolwork done. (That's assuming that grades for NCAA superstar athletes actually matter, which is another debate entirely.)
But it doesn't compare to the 82-game rigors of the NBA season, which features much more travel, more back-to-backs, longer games, and tougher competition.
Tatum played 27 games last year at Duke. Blue Devils teammate Ojeleye played in 35. Theis suited up in 30 Euroleague games last season in Germany, after playing in 24 the previous year.
The Celtics might not need to rely as heavily on their rookies when Irving and Horford are back on a full-time basis, but I still see potential for all of Boston's first-year players to struggle a bit as the year goes along.
Are the Boston Celtics a Good Bet to Win the NBA title?
Just to reiterate, I've got tons of admiration and respect for the way the Celtics have started this season after the devastating injury to Hayward just minutes into their first game of the year.
But at just +1000 odds to win the NBA championship? I'm sorry, but there's absolutely no value on Boston at this short return. If LeBron James hasn't been capable of winning NBA titles without being part of a "Big Three," I don't see how the Celtics can claim the Larry O'Brien Championship Trophy with Kyrie Irving, Al Horford, role players, and rookies.
Can they win the Atlantic Division title? That's another story. Boston's already 4 games up on the 7-5 Raptors, and MyBookie.ag makes the Celts -600 favorites to finish atop the division. However, any value you could have found with the Celtics three weeks ago is now gone, as the betting marketplace has seen how Boston has managed to keep winning without Hayward.
Enjoy the ride right now, Celtics fans. The 12-game winning streak is a lot of fun, and the path to the Eastern Conference regular-season title may even look easy as the Cavaliers continue to spin their wheels and the Pistons and Wizards are the only other teams in the conference to win more than 60% of their games so far.
But like we saw in last year's Eastern final, as well as every spring in the NBA, it takes stars to win in the postseason. Once Boston's in a playoff series where coaches can game plan for the same opponent night after night, I don't see how the Celtics can continue to overcome the odds.