Bonuses and Promotions at Wild Casino

Some players make their online gambling decisions based on which site has the best bonuses and promotions. Welcome offers dominate homepages of casinos and betting sites, enticing people to give them a go.
Whether you make a bonus-driven decision or not, you may be interested in knowing more about the promotions and opportunities offered by Wild Casino. Not only does it have some enticing offers, but it's on the shortlist of top real money casinos that accept players from the United States.
Wild Casino offers a combination of live dealer games, as well as the main casino that houses more than 100 slots, and tables and video poker total just under 30 each. You can get the ball rolling with one of five types of cryptocurrency or use a debit, credit, or gift card.
I'm going to dive right into the Wild bonus program. But if you're interested in learning more about the casino in general, then we also have a full review that includes a more in-depth look at the games, banking, customer service, and overall impressions. More on that later.
Overview of Wild Casino Bonuses
Instead of listing out everything on the bonus page, I wanted to hit the highlights so that you get a better feel for the overall structure.
The one thing that immediately impressed me about the bonuses given by this particular casino is that there's something for everyone. Often, table game players, especially anyone that uses the live casino, are left out of the picture.
While live dealer table bets are excluded from the welcome offers, you can play regular table games and still claim and satisfy your rollover for one of two new player incentives.
As you'll see in just a bit, there's also a Live Casino promotion. It's different than your standard bonus, as it's in the form of a side bet. But it's a step up from many of Wild's competitors.
A Heartier Welcome With Cryptocurrency
Wild Casino makes a splash with its welcome to new users by offering two high-value opportunities to claim bonus play. Both the value and requirements depend on whether you're funding your betting account using cryptocurrency or another method.
The standard welcome bonus is $5,000, and it accompanies transfers by cards, checks, money orders, person to person, or bank wires. It's a five-part bonus, so don't let the $5,000 throw you, as the most you can match at a time is $1,000.
Featured Welcome Bonus
Bonus Match Percentage: 250% / 100%
Minimum Deposit: $20
Maximum Bonus Match: $1,000
Wagering Requirement: X35 / X30 applies to both the deposit and bonus
Games Included: all except live casino (weightings apply)
I wanted to make sure that I covered the situation with the games for you. While table game play is allowed, it doesn't help you as much as slots.
Wagering on slots contributes fully to the wagering requirement (aka rollover). But when you move into the table games realm, there are tiered contributions, or weightings.
For example, craps and virtual racebook are left out entirely. Most of the casino standards, like blackjack, baccarat, and roulette, are good for 10%. Draw High-Lo and 3 Card Rummy are the best overall tables with a 20% rate attached.
Understanding Bonus Requirements
If you're not very familiar with rollovers, they amount to the betting that you have to accomplish to gain any benefit from bonuses. So, in this case, you'll see that the first 250% deposit match has an X35 rollover. Then, when the percentage drops to 100%, the wagering requirement moves to X30.
With an X30 rollover, you have to bet the total of your bonus and deposit at least 30 times before you're free and clear. If you deposited $50 and claimed a $50 bonus, then you'll have to complete $3,000 in wagering ($50 + $50 x X30 = $3,000).
On a side note, the minimum deposit requirement for this bonus is $20, but that's not possible unless you're using cryptocurrency. There's a $50 minimum for all card deposits.
Cryptocurrency Welcome Bonus
Bonus Match Percentage: 300% / 150%
Minimum Deposit: $20
Maximum Bonus Match: $3,000 / $1,500
Wagering Requirement: X45 / X30 applies to both the deposit and bonus
Games Included: all except live casino (weightings apply)
Wild accepts five types of cryptocurrency: Bitcoin, Bitcoin Cash, Litecoin, Ethereum, and Ripple. As you can see, you get a slightly warmer welcome using one of the five, as your first bonus match is 300% up to $3,000.
But always read the fine print, as the wagering requirement is also much higher at X45.
Like the other new player incentive, this particular one is in five parts, so the total value comes to $9,000 when you take advantage of the maximum.
Stampeding and Streaking
Another good thing about the Wild Casino player promotions program is that it veers away from having all deposit match offers.
Blackjack players will find occasional tournaments listed on the promotions page, and other special events may pop up from time to time. There are even a few ongoing incentives that crank up the volume on value.
Slots Stampede
A Slots Stampede is a gift for slot players who turn over at least $500 in the machines from Monday through Wednesday.
There are no other strings attached, as players can claim ten free spins on Friday or Saturday. The real bonus comes in with "no rollover" attached to those spins.
Hot Streak
Another consistent program is called The Hot Streak. It's for players who frequently visit the casino. If you're someone who enjoys playing every day, then you may generate enough betting action to claim some bonus cash.
Five consecutive days of wagering at least $1,000/day will get you $25. If you're really on a playing streak, though, you can get up to $1,000 for 25 days in a row, as long as you meet that $1,000 mark every 24 hours.
There is an X25 bonus playthrough requirement, though. So, again, I can't stress enough the importance of reading through all of the rules and regulations so that you don't turn a win into a loss.
One for the Live Casino
Earlier, I had mentioned that there's a little something special for live casino players. Live dealer action is typically left off of the table when it comes to deposit matches, and that's also the case here.
However, Wild Casino has a custom side bet that's attached to a progressive jackpot. You have to play Live Casino Red Blackjack and stake the $1 option. If you're successful, though, the prize is pretty significant.
The side bet is all about the sevens. If you end up with any three sevens in one hand, you'll claim $100. If you do even better and get three red sevens, that $100 becomes $1,000. The grand prize is a hand with three diamond sevens.
If you come up with those triple diamonds, you grab the progressive jackpot, and when I checked in April of 2020, it was sitting just under the $50,000 mark.
More on Bonuses at Wild Casino
I've outlined some of the better bonuses offered by Wild Casino. But there are others as well. It's not uncommon for real money gambling sites to have refer-a-friend incentives, and Wild is one of them.
There are also deposit matches available on Wednesdays and Sundays if you like to go the traditional route.
In any case, if you decide to register an account at Wild Casino, then you may want to check into the promotions area every time you log in to see what's new or coming up soon. I know that the tournament schedule updates often, and while most of the bonuses are regulars, they're still subject to change.
Wild Casino has some exciting promotional offers, but there are other sites that you may appreciate as well. So, I always recommend reviewing our list of top US casinos. We have updated reviews on each of them to help you to narrow down your choices.
You can read the Wild Casino review here, or why not simply visit the site yourself to see what they have to offer?
August
Casino of the Month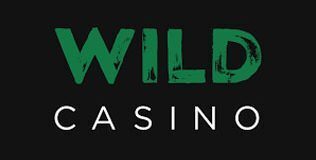 Welcome Bonus
250% up to $5,000