Hide Bonus Offers
| | | | | |
| --- | --- | --- | --- | --- |
| #1 | Bovada Sports | 50% Up To $250 | Visit Site | Bovada Sports |
| #2 | BetUS | 125% Up To $2,500 | Visit Site | BetUS |
| #3 | MyBookie | 100% Up To $1,000 | Visit Site | MyBookie |
| #4 | Everygame | 100% Up To $500 | Visit Site | Everygame |
| #5 | BetOnline Sports | 60% Up To $1,000 | Visit Site | BetOnline Sports |
Bold Predictions for Super Bowl 56 – Which Players Will Surprise You?

The Super Bowl and most NFL games tend to go in a different direction than originally thought. This year we have had some incredible games and they have kept us on our toes all season long.
The NFL Playoffs have been extremely entertaining so far. Seemingly every game has gone down to the last play and the results have been shocking. If I were to tell you the Bengals and Rams will be playing each other at the beginning of the playoffs, it would have blown your mind.
Well, here we are with that matchup on our hands. The Bengals have been the upset kings while the Rams will be looking to win it on their home turf.
We truly don't know what is in store for the biggest game of the year, so let's make some bold predictions for Super Bowl 56.
Rams Break Super Bowl Sack Record
When the Rams traded for Von Miller earlier this year, the Rams instantly became the most dangerous pass rush in all of football. Aaron Donald, Leonard Floyd, and Von Miller have an insane mismatch with the Bengals' offensive line.
The Bengals took 55 sacks this season, which was 3rd most in the NFL. When they took Ja'Marr Chase with the 5th overall selection in the 2021 NFL Draft, they got a lot of slack for not taking offensive tackle Penei Sewell.
Joe Burrow recently said that he didn't force the Bengals to take Chase over Sewell, and it has worked out for them so far. Will it win them a Super Bowl though? Well, it is going to be their biggest challenge.
The Rams had the 3rd most sacks defensively oddly enough. They have a chance to be an absolute game wrecker in Super Bowl 56. Von Miller has Super Bowl experience that's for sure. He won the Super Bowl 50 MVP and has a chance to have another huge game.
Leonard Floyd has been respectable in his time in Los Angeles as well. He finished the year with 9.5 sacks, while Donald had 12.5 and Floyd had 5 (8 games with Rams).
The NFL Super Bowl team sack record is currently held by three teams. The 2016 Denver Broncos, 1986 Chicago Bears, and 1976 Pittsburgh Steelers all got 7 sacks in their Super Bowls.
There are also 4 players with the NFL record for sacks in the Super Bowl. Grady Jerrett (2017), Kony Ealy (2016), Darnell Dockett (2009), and Reggie White (1997) all were able to get 3 sacks in the Super Bowl.
These records are in serious danger given the matchup and the Bengals recently just gave up 9 sacks in one game to the Titans.
Aaron Donald Wins MVP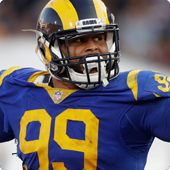 Continuing with my last bold prediction, that would make Aaron Donald a serious candidate to win the Super Bowl MVP award. Donald is hungry for a ring, and he's said so recently. Donald has everything a defensive player can win.
He has 3 NFL Defensive Player of the Year awards and has been arguably the best non-QB player in the NFL in the past 5 years or so. Winning the Super Bowl is the "only thing missing" for Donald and he is sure to be hungry to win it.
With all this motivation and the amazing matchup advantage, I am expecting Donald to have a huge game. He has strong competition for the MVP award, and the odds reflect that.
Odds for Super Bowl MVP Award
With that said, Donald has a chance to make some serious money at those odds. Stafford and Burrow can definitely struggle in this game. The Rams defensive line is going to be after Burrow all day.
Highest-graded defender in the regular season:

? Aaron Donald – 93.6 ?

?: @RamsNFL pic.twitter.com/nySH1bcSfS

— PFF (@PFF) February 6, 2022
Stafford has had his fair share of struggles as well. The Bengals have a tough secondary that can force him to have a mediocre or worse game. They held both Tyreek Hill and Travis Kelce under 100 yards, which is impressive considering how dangerous those players are.
He will have to beat out the quarterbacks for his main competition, with Cooper Kupp following them. Check out our betting guide for more on the 2022 Super Bowl MVP odds.
Donald should have a very realistic chance to win the MVP and add that to his accolades.
Ja'Marr Chase Is Held Under 40 Yards
Ja'Marr Chase and Joe Burrow are going to be facing their toughest competition in the Rams' defense. Los Angeles being in their home stadium with their incredible defense will be very tough to overcome.
Chase may be one of the best rising stars in the NFL, but he's had his inconsistencies this year. Sure, he's gone nuclear in games with yardage totals of 266, 201, 159, and 125. He's also had some very poor outings throughout this season to go along with that.
Here's some of Chase's worst performances this season that comes with the big play attempts by the Bengals.
Week 8: 32 yards
Week 9: 49 yards
Week 11: 32 yards
Week 12: 39 yards
Week 15: 3 yards
Week 18: 26 yards
Looking at Chase's numbers throughout the year, it appears that a record-breaking game is as likely as a terrible game.
The Rams have a certain player who has been locking down receivers longer than Chase has been in the league. Jalen Ramsey has been arguably the best cornerback in the NFL for quite some time now.
Ramsey is more than capable of holding Chase to one of the bad stat lines like he has had earlier this season.
With that being said, I would strongly recommend thinking extra hard if you want to rely on Ja'Marr Chase. Check out our guide on Super Bowl betting mistakes to avoid for more things to be careful about.
Matthew Stafford Throws for 400+ Yards
Matthew Stafford is another player on the Rams who is going to be especially hungry to win the Super Bowl. The Rams made a huge move this offseason to acquire him and it has paid major dividends.
Stafford has always been a solid quarterback, but the Detroit Lions couldn't seem to pull it together with him. The Rams have one of the best rosters in the NFL and the Lions have never come close to.
He celebrated his 34th birthday this year and will be determined to continue his celebrating streak with a Super Bowl win later this week.
Happy birthday, Matthew Stafford!! ? pic.twitter.com/WulRyBJkok

— Los Angeles Rams (@RamsNFL) February 7, 2022
Stafford deserves to be in the Super Bowl. He takes the Rams' offense to another level, and he has incredible receivers. Cooper Kupp had a bizarre year and his connection and chemistry with Stafford is as good as it gets.
Stafford and Kupp are the top guys in the Rams' offense, but they have solid supporting players like Odell Beckham, Van Jefferson, Cam Akers, Van Jefferson, Tyler Higbee, and more. With all of these weapons at his disposal, a big game could be ahead of him.
The Bengals gave up the 7th most passing yards in the regular season to opposing quarterbacks this season, which comes out to about 248 passing yards per game. Stafford can definitely air it out in this game, so check out some more Matthew Stafford props to bet on.
Stafford has yet to eclipse 400+ yards so far in his short Rams' career, but right now could be the perfect time to. Stafford does have a 400+ yard game in the past two years though, so he isn't a total stranger to monster games.
Odell Beckham Jr. Goes for 125+ Yards, Throws a TD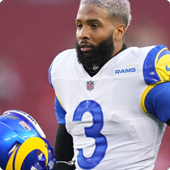 Odell Beckham is another player that the Rams got this year. The acquisitions of Von Miller and Odell Beckham implied that the Rams were all in on this year. It is looking like they have a very real chance of it being worth it, because here they are in the Super Bowl.
Beckham has been a great addition to their aerial attack, especially since they lost Robert Woods to a torn ACL earlier this year. Beckham caught 6 touchdowns in his 11 games since coming over to the Rams.
He had his best game of the year in his very last game against the 49ers. Beckham went for 113 yards on 9 catches (11 targets) and his momentum could carry into the Super Bowl.
OBJ's talent doesn't stop in the receiving category. We have seen some insane highlights from him over the years from catching to throwing to even kicking. He's a complete athlete and he could prove it in this game.
The Super Bowl is typically a time where teams pull out their best trick play in hopes of a game changing play, and the Rams can pull off a huge one. With Beckham's unique ability to do it all, he can pull off a crazy trick play that ends up in a touchdown pass.
He has 2 touchdown passes in his career with 144 yards to go with that. He might not get his chance at all depending on how the game goes, but if the Rams need a big play, they can do it with Beckham.
Bold Predictions for the 2022 Super Bowl
There could be many more crazy things to happen during Super Bowl this year.
The Super Bowl is typically a time where huge plays happen and will forever be remembered in NFL history. This year should be yet another memorable one.
The big game is a great chance for you to cash in on some big prizes as well. It's important to make sure you place reasonable bets on the best Super Bowl betting sites, but you can also try and get lucky with some bold predictions as well.
The excitement surrounding the Super Bowl has already started and will continue for the next week or so. Hopefully, this game lives up to the expectations and the majority of your bets hit.
We have tons of great Super Bowl content that you can view below. Be sure to bet responsibly and enjoy the 2022 Super Bowl.