BLAST Pro Series Is Headed to Los Angeles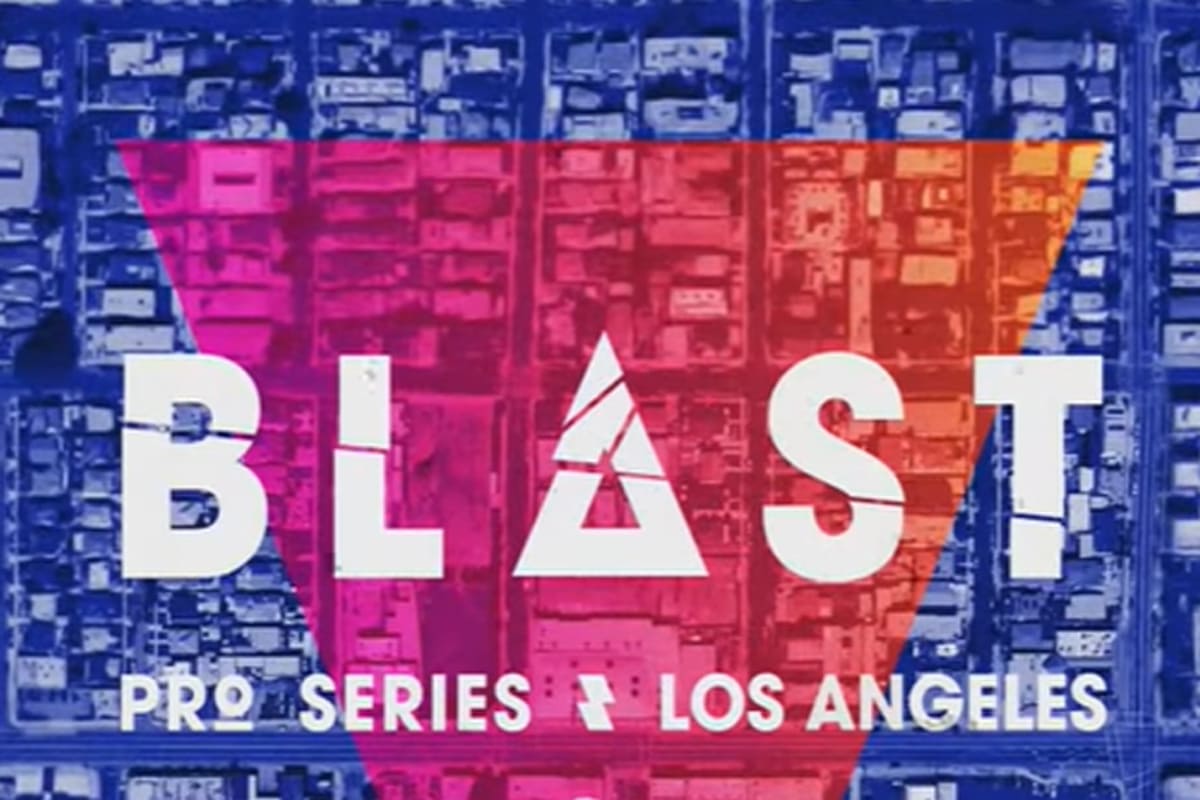 An esport is only as good as its tournaments.
For years, big names like ESL and DreamHack have gone uncontested in the CS:GO world. Other organizations like Summit and StarLadder have their own pieces of the pie, but the top level of tournaments belongs to just a few companies.
BLAST is one of the few tournament hosts moving up the ranks.
They started in 2017, and their frequent tournaments are a hallmark of professional Counter-Strike. The secret to their success has been their unique approach to hosting tournaments.
Instead of a giant double-elimination bracket featuring 16 teams, BLAST Pro Series events keep it intimate. Only six teams are invited to each event, and the entire tournament lasts less than a weekend.
Their next event is already locked, and professional Counter-Strike teams have already made their way to Los Angeles.
The small size of the competition doesn't extend to the prize purse. Those six teams will be competing in LA for a slice of $250,000. The tiny number of invited teams also means that every match will be stellar.
There's no group stage to weed out the qualifier teams. A BLAST Pro Series event is like skipping straight to semi-finals of a Major.
The six invited teams are already locked in, and this will be a tournament to remember. There are two fresh lineups, the best team in the world, and Australian trash talk.
Let's take a closer look at each team playing in Cali.
Team Liquid – The Five Horsemen
Esports pundits were already speculating if Team Liquid was the best team in the world at the beginning of 2019. Astralis has been on the decline, and Team Liquid has taken center stage in the world of CS:GO.
They're heading to California off three straight gold finishes. They've taken down every top team in the past two months and have winning records against every other team in attendance. No team is invincible, but any loss for Liquid will be a massive upset.
Even with their dominant streak, the Americans aren't infallible. They've dropped recent games to North, Spirit, and Vitality. None of those teams will be in attendance, though, further strengthening my belief in Liquid.
FaZe Clan – Star Power Ain't Everything
Despite their insane amount of name recognition, FaZe had not been on the up-and-up. They've had lackluster performances ever since NEO began subbing in. It's bad enough having a new player without a lot of chemistry. It's even worse when that player is calling shots in-game.
I don't have high expectations for FaZe in Los Angeles. The team looks inexperienced despite having several GOATs in their lineup. GuardiaN's AWPing style has fallen out of favor, and olofmeister's aim is no longer the laser that it used to be.
They won't go down without a fight, though. Renegades and the new Cloud9 roster could both fall to FaZe. If the stars align, they could take out MiBR, but FaZe is in such bad shape that I don't think they'll even come close.
Renegades – If Not Winning, Entertaining
It's nice to see the Australians again, but I won't be watching their matches. Instead, I'll have my eyes glued to SPUNJ's Twitter, which will let me know exactly how their games are going. BLAST is pretty lax with their stream, but their commentators won't be nearly as explicit as the Aussie veteran.
In all seriousness, Renegades isn't a team to worry about in California. They've had their moments throughout 2019, but they'll always be an upset team. The average roster in this tournament is a big step above RNG. I'd give them a decent chance against the new Cloud9 roster, but I can't see them beating anyone else.
Renegade's most interesting matchup will be against Cloud9, but I'm interested in every one of the latter's games. It's possible but highly unlikely that the Aussies can pull off an upset, but if they do, it'll be against either FaZe or MiBR.
Cloud9 – Stirring the Pot
I wrote recently about the new players joining Cloud9, but no one could have expected a complete roster revamp. Four members of C9 have departed, and replacements are already here. Their lineup looks incredibly solid, with daps taking the IGL role, new blood in TenZ, and the solid fragging power of koosta and mixwell to back them up.
I have no doubt they'll be a great team in a few months, but I have a bad feeling about this lineup's debut. TenZ is a complete rookie, and I mentioned earlier how rough a new in-game leader can be. This is a top-caliber event featuring NRG and Liquid. Cloud9 is a complete wildcard here.
I can't, in good conscience, say they'll do well, but brand-new American superteams are anything but boring. Keep a close eye on how daps handles his new squad. There's a big experience gap between him and TenZ, and I want to see how their team dynamic plays out. Is he the next Stewie2k? Find out at BLAST Pro Series LA.
NRG Esports – The Stars to Liquid's Stripes
Counter-Strike has been good to North America in 2019. Liquid is the best team in the world, Cloud9 has a brand-new roster, and NRG is picking up ranks like nobody's business. This squad has been on fire throughout 2019. Their recent roster change doesn't seem to slow them down one bit.
When I first heard daps was leaving the team, I assumed the magic was over. NRG had a good run, but there was no way stanislaw could slot right in. Yet the veteran IGL has kept the ball rolling. Their only result so far has been a 3rd-4th place finish at the ESL Pro League Finals, so they might as well be batting a thousand.
I have high hopes for NRG in Los Angeles. This is stanislaw's chance to prove he's a real upgrade from daps, though the latter had very big shoes to fill. NRG's match against Cloud9 is what I'm most excited for. I also expect them to do well against FaZe, and they might even give Liquid a fight. An All-American Grand Final would be a perfect encore for the 4th of July.
MiBR – Titans No More
While 2019 has been the year of North America, that success hasn't spread south. MiBR has been in a rut ever since Katowice at the beginning of the year. Their myriad of roster problems hasn't helped either. Losing YNk, tarik, and felps all this year has hit their consistency hard.
Despite the whirlwind of players coming and going, the core of the team is still a beast. coldzera is a frag engine, and FalleN's calls are some of the most proactive in the game. Even with that, the team just cannot put up rounds like they used to. It doesn't help that FURIA is giving more top teams practice against the aggressive Brazilian style.
MiBR will probably beat Renegades. Every other team at this event is either a complete guess like FaZe or just obviously above MiBR's weight class like Liquid. They could pull the wool over NRG's eyes thanks to the Bo1 group stage, but I wouldn't put money on it.
LA CS:GO FTW
Every BLAST Pro Series event takes what makes esports great and concentrates it down to just one weekend. Their multi-streams will be up for the entire group stage along with a full day dedicated to the four-team playoff bracket. The group stage will be Best of 1s, so the matches will be high stakes from the very beginning.
The BLAST Pro Series doesn't waste a moment, and you shouldn't be wasting these wagering opportunities either. Check out our preferred CS:GO betting sites if you want to bet on the tournament.