Bitcoin vs. Ethereum – Deciding Which is the Better Cryptocurrency

If cryptocurrency was The Beatles, comparing Bitcoin and Ethereum would be akin to asking that old question — Lennon or McCartney.
Just like fans of the two most revered, groundbreaking Scousers, these two crypto options have their fans. Sure, some like both. But for the more partisan supporter, the other simply excels above their rival. Both are in the same band, so to speak, so why is that?
Is Ethereum better than Bitcoin? Or is Bitcoin better than Ethereum? If we get down to the brass tacks of both crypto faves, which of these two will be proven to be the best? I'm not sure there is one metric we can judge both against to answer that question.
If you already bet with the best Ethereum gambling sites or exclusively use Bitcoin for all online transactions, you might have already made up your mind. But what's to say that won't change further down the line?
What is Bitcoin and How Does it Work?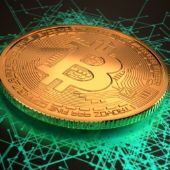 Bitcoin remains the world's foremost digital currency, the father of all cryptocurrencies. But there is an air of mystique around where it came from and who actually invented Bitcoin.
The Bitcoin vs. Ethereum argument has grown exponentially in recent years, but up until very recently, everyone with an interest in BTC wanted to know one thing — who is Satoshi Nakamoto?
Nakamoto was cited as an individual, or a collective of inventors, behind the coin. This can be traced back to a message signed in October 2008 by Nakamoto outlining the "Bitcoin P2P e-cash paper," which effectively announced this innovative currency.
In short, Bitcoin was publicly released in 2009 to provide individuals with a new way to pay and receive payments. These transactions were secured using cryptography, which protected the identity of users on the blockchain. It was quickly adopted by individuals with concerns over the future of fiat currencies since we had recently entered a period of austerity following the global financial collapse in 2007.
Of course, the promise of enhanced anonymity was attractive to those with other intentions. For example, the emergence of BTC as payment for those purchasing illegal substances and weaponry online was highly attractive.
Another attractive feature of using Bitcoin was that it could, in theory, negate some of the concerning aspects of using fiat currencies. Some lost a lot of money when certain banks collapsed, so there was natural and justified concern that a solution for the people was required.
Bitcoin would also charge exceptionally lower levies and fees when compared to banks. Furthermore, you could buy it up and potentially save a lot of money when the coin's price inflates. Many people saw their small investments skyrocket when Bitcoin's highest price clocked in at $29,374 for one BTC during the coronavirus pandemic in 2020.
The US economy has plenty of momentum but rapidly disappearing support. The @federalreserve relentlessly focusing on price stability and 'demand destruction' is all pointing towards to an extremely hard landing. Falling back to earth will not be a pleasant experience. pic.twitter.com/N8DgwohL3P

— Bitcoin (@Bitcoin) June 22, 2022
That's just a little of the Bitcoin backstory. If you'd like to learn more, I'd recommend checking out our history of Bitcoin page. Alternatively, if you'd read enough and want to gamble on the game with BTC, head to the following page for suggested sportsbooks and some vital information about this "wonder coin."
How Does Ethereum Compare to Bitcoin?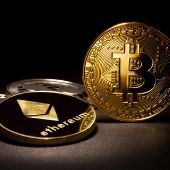 Igniting the Ethereum vs. Bitcoin debate is something to get the crypto bros and sisters ranting about for hours on end. If you do it right, that is.
I have a few friends that are keen investors. And there's nothing more fun than throwing a grenade into the room when they are together. We could be watching the fights or just hanging out at the bar, and it's so funny to watch them bicker like Star Wars fans over such an innocuous question.
Something like, "Why is Ethereum better than Bitcoin" usually does the trick. But the key is never to use the same question more than a couple of times. So, feel to ride with another of my favorites. "Hey, I was listening to that drunk guy over there explain why Ethereum is better than Bitcoin, and he made some excellent points…"
But is Ethereum better than Bitcoin? Can we put this one to bed? I mean, there are obvious advantages to using the former rather than the latter, but how would one explain this to someone who had no idea about the two?
Something that has long irked me:

People asking for "official" news about Ethereum.

There is no such thing.

— Evan Van Ness 🦇🔊 (@evan_van_ness) June 17, 2022
In a nutshell, I'm not saying that BTC vs. ETH is like arguing about whether you're a Burger King or a Mcdonald's guy. There the first clear difference to understand is that they are two separate entities. They are both digital currencies, but Ethereum runs on…tokens. Not coins. But no one is going to shoot you for saying Ethereum coins, as it's kind of accepted at this point by crypto philistines and grandmas keen to show an interest in "Little Bobby's new money thing."
Unlike Bitcoin, we know who created ETH. It was a Russian-born Canadian, Vitaly Dmitriyevich "Vitalik" Buterin, who coined the token in 2015. He based the concept on the Bitcoin network with a view to building a type of decentralized application that was decentralized and would run on a peer-to-peer network.
Like Bitcoin, you can use Ethereum to buy, invest, and gamble. There are a growing number of Ethereum gambling sites online right now. This means you can wager on the Fifa World Cup, Super Bowl, the boxing, or any other event that takes your fancy with tokens.
To break it all down would take a lot of time. I'm guessing you're here to find answers to questions such as "Why is Ethereum better than Bitcoin," rather than learn the complete history of ETH.
In simple terms, the differences between ETH vs. BTC are minimal. However, one of the main ones you should research is Ethereum's smart contracts. Yes, BTC has smart contracts, but this is one of the things that the minds behind ETH probably do a better job with.
My source? Erm, that drunk guy at the bar…
Is Bitcoin or Ethereum Better for Gambling With?
I'm going to pretend this is a question you have just asked me. So, I'll frame my answer as though I've been put on the spot here.
Could Bitcoin be the top choice for sports betting? Is Ethereum better than Bitcoin when playing at the top casinos with Hot Drops Jackpots? Could both serve similar purposes, making it a matter of choice that wouldn't affect your ability to win?
You know what, it's a little bit of all three.
First, you can bet on the 2022 Fifa World Cup with Bitcoin and find it to be a fast, convenient, and seamless experience. You could do the same with Ethereum. There are obvious benefits of concluding the winner of the Bitcoin vs. Ethereum argument to be the former, but you won't know for sure until you have tried both.

Top Tip
The first thing to remember is that if you trust either crypto over the other, it's unlikely that you'll be keen to change allegiances.
I'm sure many ETH vs. BTC debates has been settled over the result of a bet or a casino splurge that was more favorable when using a certain coin or token. This could be nothing more than circumstantial.
It's kind of the exact reason why gamblers wear a lucky hat to the racetrack. They would not be so keen to pack their green beret ahead of the Cheltenham Festival if they suffered a streak of losses in the preceding years.
What Benefits Does Bitcoin Have Over Ethereum When Betting?
One of the more obvious reasons why Bitcoin is better than Ethereum when gambling is that more mobile poker rooms and casino apps accept the former.
That's something that you cannot deny. But time is changing, and ETH is becoming more widely accepted by gaming sites around the world. Jurisdictions such as the United States and Britain are regulated to a much stricter standard compared to other regions across the globe.
The reason for such strict requirements is the safety of players. And while using Ethereum when gambling is not exactly unsafe, it will take some time for it to reach the level of reverence BTC enjoys in the betting world.
If you don't believe me, go ahead and check out who accepts Bitcoin and Ethereum on the safest online casinos. You might find it a little tougher to have the same access to sports betting and table games with ETH as you would get with the former.
Both are certainly excellent methods to play with. I'd cite Ethereum as a top payment method, given that it is rapid when depositing and doesn't take much time to receive potential winnings. But you will be limited if you are betting with Ethereum on sports, roulette, poker, lotteries, or anything else. In the sense of having access to more top sites and casinos, that is.
You can't overlook that as a major win for Bitcoin in the ETH vs. BTC argument.
Which is the Smarter Option to Invest With?
Let me preface this short section by stating one thing — I am not a financial advisor.
Therefore, I cannot give you accurate information about which is the better option. Is Ethereum better than Bitcoin for investing? I am not willing to answer that with certainty—the reason why is that I'm not qualified to say.
However, there are many people you can turn to online that will answer that question without a moment's hesitation. I'd wager that a significant number of those people will be in the same position as I am. But that's not going to stop them from nodding like a broken dog when you ask them, "Is Ethereum safer than bitcoin?" and vice versa.
While many are focused on inflation; the real story is MASSIVE ASSET DEFLATION! Debt underlies every fiat currency on the planet. As debt implodes, so do currencies. Inflation of things we need, deflation of things we have & fiat currencies becoming worthless. An ugly cocktail! pic.twitter.com/eaPFU7pFuR

— Bitcoin (@Bitcoin) June 22, 2022
What I do know is that Bitcoin appears to be the stronger of the two, with more opportunities to excel. But if you're looking to invest in Ethereum or Bitcoin, make sure you have done your research and, if possible, turn to a qualified advisor who can give you an educated and solid answer with verifiable evidence.
Just be wary. If you are aware of the best signs of how to spot a buffer in poker, I'm sure you'll be able to discern between a cocksure amateur and a qualified advisor who has your best interests at heart!
Bitcoin vs. Ethereum – Which One is the Best?
Is Ethereum better than Bitcoin? Was John better than Paul?
All joking aside, there are clear differences between ETH and BTC, depending on how they are used. When comparing the two digital queries, the most common queries usually arise from investors and gamblers. So, targeting these two topics first and foremost was only fair.
While Bitcoin is more accepted and prevalent on the
top crypto gambling sites
, that shouldn't be the main reason for choosing it as an investment option. Likewise, just because Ethereum is cheaper to buy doesn't make it a great option for playing poker online.
The truth is that both are very exciting and appealing currencies to use today. Can we say the same for the future? Well, no. Nobody knows what the future of Ethereum or Bitcoin will look like. As much as some would like to believe, no one can predict the future. Not even Elon Musk.
By now, I'm sure you probably have some questions about the link between crypto and gambling. But is investing in crypto actually gambling? Read this next piece to find out why it's not!