Hide Bonus Offers
| | | | | |
| --- | --- | --- | --- | --- |
| #1 | Bovada Sports | 50% Up To $250 | Visit Site | Bovada Sports |
| #2 | BetUS | 125% Up To $2,500 | Visit Site | BetUS |
| #3 | MyBookie | 100% Up To $1,000 | Visit Site | MyBookie |
| #4 | Everygame | 100% Up To $500 | Visit Site | Everygame |
| #5 | BetOnline Sports | 60% Up To $1,000 | Visit Site | BetOnline Sports |
Do Bills' Playoff Odds Take Hit After Trading Sammy Watkins?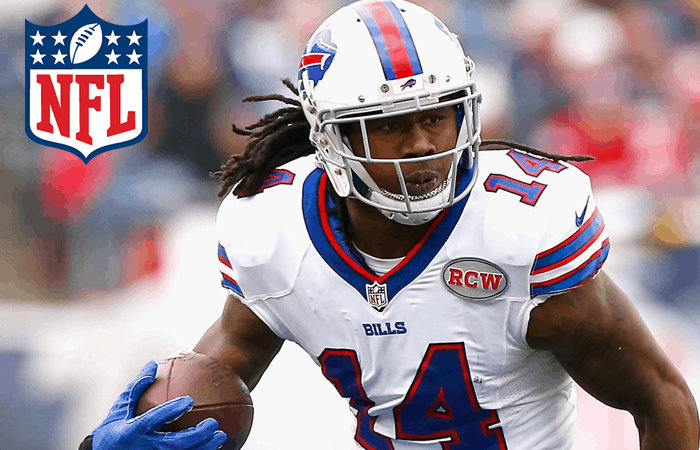 The Buffalo Bills remain an enigma. In the last 17 seasons, they've been through 10 head coaches and 15 different starting quarterbacks, yet they have zero playoff appearances to show for it.
I know, that type of inconsistency shockingly isn't good for a franchise – specifically one that plays in the same division as the mighty New England Patriots.
For one reason or another, the Bills just can't change the record, though. That continued on Friday, when reports broke that the team has swung a blockbuster deal to ship oft-injured star wide receiver Sammy Watkins to the Los Angeles Rams:
The move temporarily left the Bills stranded at wide receiver, in turn, crippling quarterback Tyrod Taylor's upside in an increasingly pedestrian offense.
The lone reason why the Sammy Watkins trade might not be such a bad thing? Buffalo made a solid corresponding move, replacing the exiting Watkins with Philadelphia Eagles wide receiver, Jordan Matthews:
Upgrade?
Losing Watkins on the surface feels like a big loss for Bills fans. In reality, it was probably a good move. Without the acquisition of Jordan Matthews, this stings significantly more, but Watkins had persistent foot problems, was in a contract year and had missed 11 games over the past two seasons.
This wasn't some elite, reliable receiver Buffalo dumped for nothing. The Bills actually got some value in return for a guy that hasn't been who they thought they were drafted back in 2014. In return for the usually banged up Watkins, Buffalo inherited cornerback E.J. Gaines and a 2018 second round draft pick.
This is key because the Bills get more ammunition to work with in next year's draft, while Gaines potentially gives them a solid corner to work with. After losing Stephon Gilmore to free agency and including cornerback Ronald Darby in the Matthews trade, it now looks like a solid get.
Then there is the case of Matthews simply being a more reliable receiving option. He's not the explosive burner Watkins is when healthy, but a quick career comparison shows he's been more reliable, period:
Beyond the numbers, Matthews could use a change of scenery. For whatever reason, he was the odd man out in Philly and remains a talented receiver who brings solid size and red-zone chops to the table.
Buffalo's receiving corps now looks drastically different, but that doesn't necessarily mean it's worse. The Bills recently signed veteran chain-mover Anquan Boldin, while 2017 second round rookie Zay Jones has the talent to turn into a star.
Betting on the Bills
Now, to the question at hand – does trading Watkins and getting Matthews help or hurt the Bills going into 2017? The right answer is it probably doesn't matter.
This is still New England's division and as constructed, the Bills don't feel like they're yet in a position to make a big step forward. Tyrod Taylor has been treated like a stop-gap arm and until that changes, I don't see room for a ton of progress in this passing game.
That being said, this move was fundamentally strong and long-term, kind of brilliant. Watkins simply could not be counted on to stay healthy and after the team waived his option for next year, he was probably leaving in free agency after this season, anyway.
Instead of continuing to put all of their eggs in the proverbial Sammy Watkins basket, they shipped him out of town for a high draft pick and secondary depth. Then they turned around and got what easily could end up being a far more stable option.
The odds are good Jordan Matthews will at least take the field more than Watkins. He won't crush the deep ball like Watkins can, but he may not need to, either. Moving on from Watkins opens the door for him and Boldin to make a big impact in 2017, while Zay Jones can also factor into the passing game at a high level the second he's ready.
Buffalo was a run-first team to begin with. If the Bills are doing anything in 2017, it's hinged to LeSean McCoy having a career year on the ground and an underrated defense coming to life.
Betting on the Bills probably still isn't encouraged, but it's quickly becoming a less crazy idea. Nobody besides the Pats is actually taking the AFC East, though. Buffalo offers up fun +1200 odds at Bovada, but that's still not a bet we should feel too good about.
Can we take a shot on the Bills overachieving and snapping their disgusting playoff drought, though? I don't see why not, as long as we temper our expectations.
After all, Buffalo's own division got weakened with the loss of Ryan Tannehill in Miami, the AFC South remains vulnerable and we see turnover in the playoffs every single year.
It's odd that losing a player as talented Sammy Watkins could actually make the Bills better, but that might be what's happening going into 2017.