Betting on Who the 49ers Will Draft at #3 in 2021

The 2021 NFL Draft begins at 8:00 pm ET on April 29th. As for the drama – that does not get underway until around 8:30 when San Francisco is on the clock at #3.
After aggressively trading up from #12, we know that the Niners plan is to draft a quarterback.
Trevor Lawrence and Zach Wilson will both be off the board, but the consolation prize is Kyle Shanahan gets to handpick his guy from those remaining in the litter.
Will it be Mac Jones like so many touts are predicting, or is this just a smokescreen? Maybe the choice has been Justin Fields all along, or perhaps the glaring upside of Trey Lance is the trump card that overrides everything.
The only thing certain is we'll be debating who the 49ers will draft at #3 until Roger Goodell reveals what's inside the envelope.
Odds for the 3rd Pick in the 2021 NFL Draft
It's imperative that you shop your lines before you pull the trigger on NFL Draft props. On a typical Sunday during the regular season, diligent bettors can find a half-point edge here and a half-point edge there.
On the other hand, there are some serious price discrepancies among the top NFL betting sites when it comes to betting on the NFL Draft. The odds for who the 49ers will pick is a perfect example.
Who Will Be the 3rd Pick?
Player
BetNow
BetOnline
MyBookie
BetUS
Mac Jones
-150
-130
-110
+105
Justin Fields
+125
+160
+100
-110
Trey Lance
+250
+250
+200
+400
In one spot your laying juice on Justin Fields. In another you can latch onto a +160 price tag.
Trey Lance's odds to be the 3rd pick are doubled-up at BetUS, which happens to be the only place I have seen where Mac Jones is lurking in plus-money territory.
The pricing is in plain view, now let's tackle the question at hand.
Making A Case for Mac Jones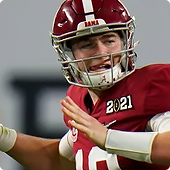 NFL analysts who fixate over athleticism and upside are up in arms at the idea that Kyle Shanahan could be targeting Mac Jones with the 3rd pick.
Trading multiple first-round picks to move up for Mac might seem unfathomable to some, but none of that matters to San Fran's front office.
This is Kyle Shanahan's orchestra. He's simply looking for a conductor who can carry out his plan.
According to Mel Kiper Jr., Jones going to the 49ers at #3 is all but a done deal.
"Keep looking, keep evaluating, but I think the decision has already been made. I think the cerebral approach, the incredible accuracy is the reason why Mac Jones makes sense for the 49ers."
To piggyback on fact that top insiders are leaning toward Mac being the selection, the two guys I trust most when it comes to mock drafting are Daniel Jeremiah and Peter Schrager. And it's not even particularly close.
Seeing Mac Jones slotted third to the Niners in both latest mocks from Jeremiah and Schrager tells me all I need to know.
Making A Case for Justin Fields
Since Adam Schefter's preliminary reports that the Niners were targeting Mac Jones, "Schefty" has slowly backtracked.
When asked on an ESPN Radio Appearance on April 6th, Schefter readily declared that Mac Jones will be the 49ers pick.
Less than a week later when asked the same question, Adam went with the response, "I think they have an open mind right now."
Kyle Shanahan when he saw Mac Jones VS Kyle Shanahan when he saw Justin Fields ? #49ers | #FTTBApril 14, 2021
On the heels of this statement and a second pro day in Columbus, Justin Fields has now surged up the betting sheet and is favored to land in San Francisco at multiple casinos in Vegas.
Rumors are that John Lynch and Kyle Shanahan liked what they say, and all the concerns about this "first read stuff" have essentially been put to bed.
Keep in mind, it was not that long ago that Justin Fields was considered the "1B" behind Trevor Lawrence in the 2021 quarterback class.
Also worth noting, the three-round mock executed by Todd McShay and Mel Kiper Jr. on April 20th has Fields heading to the Bay Area with the third pick. Likewise, Noah Davis pegged Fields to SF in this detailed blog showcasing San Francisco 49ers draft predictions.
Making A Case for Trey Lance
When San Francisco traded up to #3 on March 26th, my initial reaction was that the move was initiated so that they could draft Trey Lance.
Once I heard Kyle Shanahan reveal that he plans to keep Jimmy G under center in 2021 and let his rookie QB develop, Lance to SF started to make more and more sense.
Not only did the Niners brass attend Lance's second pro day, but Kyle Shanahan also insisted that his close friend and former colleague (John Beck) help organize the drills.
Beck walked away from his time with Trey and had the following takeaway.
"He has shown me so many things that are going to show to me and prove to me that somebody is going to be really happy with who they get. He's very athletic, very smart."
Here is a guy who accounted for 40 touchdowns and 0 interceptions in 2019; all he's done since is dedicate nearly every waking hour toward perfecting his craft.
Of the trio of QBs in consideration for who the 49ers will pick at #3, Lance appears to be the one with the highest ceiling.
Predicting Who the 49ers Draft With the 3rd Pick
This isn't about who I think San Francisco should choose or who I believe the best prospect is.
Betting on the 3rd pick in the 2021 NFL Draft comes down to seeking out the most dependable information and matching that knowledge with the best odds we can find.
For me, my approach to this wager comes down to this:
If Peter Schrager and Daniel Jeremiah are convinced that Mac Jones is the guy that the 49ers will select, who am I to disagree? What's the point of disregarding these consummate professionals' reporting?
Especially with Mac Jones being available at the handsome price of +105 at BetUS.