Hide Bonus Offers
| | | | | |
| --- | --- | --- | --- | --- |
| #1 | BetOnline Sports | 60% Up To $1,000 | Visit Site | BetOnline Sports |
| #2 | Bovada Sports | 50% Up To $250 | Visit Site | Bovada Sports |
| #3 | BetUS | 125% Up To $2,500 | Visit Site | BetUS |
| #4 | Everygame | 100% Up To $500 | Visit Site | Everygame |
| #5 | MyBookie | 100% Up To $1,000 | Visit Site | MyBookie |
Betting on Which Team Trades for Andre Drummond in 2021

The Cavaliers continue waving a white flag around the NBA. A franchise that's been allergic to being competitive since LeBron left town is nosediving even further. On the heels of an extended losing streak, Cleveland has announced their intentions to sit their best player down until a trade can be completed.
Despite not dressing, Andre Drummond has remained professional as he deals with the Cavs shenanigans.
Given his bloated contract and inability to stretch the floor, moving the seven-foot center is easier said than done. With that being said, the relationship is fractured, and a deal appears to be imminent.
Let's put the Cavs in the rear-view mirror and zero in on Andre Drummond's next team.
Odds for Andre Drummond's Next Team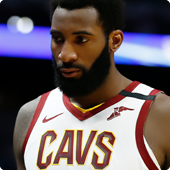 Before we hash out the best fits for Andre Drummond, let's put all the cards on the table. Drummond is on the books for $28.75 million in 2021 and becomes an unrestricted free agent at the end of the season.
As traditional big men in the NBA become more and more obsolete, who's going to cough up the necessary assets to pursue Andre's services? Drummond is a menace on the defensive glass and can help clog the paint, but he's no longer the dominant rim protector he once was in Detroit. And his efficiency on offense has waned.
Case in point – "The Big Penguin" is averaging a career-low 1.2 blocks per game and is shooting a career-low 47.4% from the floor.
Just some food for thought for those organizations considering pulling the trigger on a deal.
As for which organizations could come calling, let's dive into five potential landing spots for Andre Drummond.
Charlotte Hornets
Currently slotted inside the top-8 in the Eastern Conference standings, the Hornets are a team on the rise. Gordon Hayward is playing rejuvenated, and LaMelo Ball is a superstar in the making. The current landscape in Charlotte makes Mitch Kupchak a buyer, and a player of Drummond's caliber is exactly what's missing.
Charlotte's perimeter is loaded with budding talent, but there's a gaping hole in the middle of the post. P.J. Washington and Miles Bridges have attempted to fill in, but neither man stands taller than 6'7." Cody Zeller is far from useless, but he'd be much better served as a second-unit player.
Striking up a deal to acquire Drummond makes a lot of sense.
The hang-up is whether or not Cleveland will be intrigued by what Charlotte can offer. They'd have to be willing to eat Zeller's $15.4 million, as well as take on Bismack Biyombo's $3.5 million. Malik Monk ($5.35 million) would round out the deal unless, of course, Michael Jordan and company attempt to get frisky.
If the Hornets can get a third team involved that is interested in Terry Rozier, eradicating themselves of the responsibility to pay "Scary Terry's" $18.9 million contract would help move mountains. It's unlikely the Cavs would want any part of Rozier, given they already have Collin Sexton and Darius Garland strapped in.
Toronto Raptors
Let's assume Kyle Lowry is staying put. Toronto can still get a deal done if they're hellbent on grabbing Drummond. The question is, would landing the 27-year-old center actually upgrade the roster?
Trading for Andre would mean parting ways with Normal Powell and Chris Boucher – a couple of guys beaming with upside. Powell is scoring over 16 points per game this season and is an integral piece to Nick Nurse's rotation. Boucher leads the team in PER and is among the frontrunners to win the Most Improved Player of the Year award.
Assessing Boucher's game, he can do a lot of the same things as Drummond. The notable difference is "Swatterboy" is shooting an electric 44.1% from downtown in 2020-21.
I'd argue Boucher brings as much (if not more) to the table as Drummond would in Toronto.
Stanley Johnson doesn't make enough money, meaning the Raptors would also have to chuck in starting center Aron Baynes in order to get this thing done.
Masai Ujiri has to sit down and have a hard think about his team's current situation. Then he'll need to ask himself, is the juice worth the squeeze?
Boston Celtics
If Boston plans on contending for a title in 2021, they need to revamp their roster ahead of the March 25th Trade Deadline. At least that's what GM Danny Ainge thinks at this point in time.
Danny Ainge declares Boston Celtics not good enough to win championship: https://t.co/c2l4fMLzzQ

— NBA Central (@TheNBACentral) February 18, 2021
The Celtics are littered with gifted guards, but they're leaning on Tristan Thompson and Daniel Theis as a two-man platoon at center, with a little assistance from Robert Williams III. If Ainge is sincere about putting his team in a position to make noise in the postseason, he ought to get on the horn with Koby Altman and start discussing an Andre Drummond trade package.
Cutting ties with Kemba Walker immediately comes to mind, but Kemba's $34.4 million cap hit is even more damaging than Drummond's. Plus, I highlighted earlier, Cleveland isn't in the market to overpay for a point guard.
Perhaps the emergence of Payton Pritchard could warm the C's up to the idea of including Marcus Smart in a deal, but that's far from a sure thing. As is the Cavaliers' desire to bring Tristan Thompson back to town.
Listen, if Boston's front office is serious about shaking things up, they're going to have to make some uncomfortable decisions. Trading their "glue-guy" for someone who becomes a UFA in a few months – that would most definitely qualify as an uncomfortable decision.
Dallas Mavericks
Dallas is fun to watch, and they know how to put up points in bunches. The problem is they lack the defensive prowess necessary to contend in the West, specifically in the post where Kristaps Porzingis has become a liability.
Trading for Drummond would be a major boost in that regard, and it would help cover up some of Kristaps' defensive woes. It also would discourage post defenders from collapsing on Luka Doncic whenever he drives to the basket.
Whether or not Mark Cuban has the ammunition to entice the Cavs top brass – that's where things get murky.
James Johnson's making over $16 million this season and isn't even a part of the regular rotation. Dallas would attempt to move Dwight Powell and his $11 million salary as part of a potential deal, but remember why Cleveland wants to trade Drummond in the first place.
The whole idea in "The Land" is to transition into Jarrett Allen being the Cavs franchise center. Powell is penciled in to make $11 million per year through 2023 – that doesn't exactly align with Cleveland's ambitions.
If Mark Cuban is serious about obtaining Drummond, he'll have to come to grips that Tim Hardaway Jr. is going to have to go. Shipping Hardaway out would at least allow the Mavs to hang onto Maxi Kleber and thus retain their identity. The 6'10" German sharpshooter is connecting on 45.3% of his three-pointers and is a heck of a lot cheaper than Drummond.
New York Knicks
Andre Drummond's next team probably won't be the Knicks, but landing in the Big Apple isn't entirely out of the realm of possibilities. New York big man Mitchell Robinson underwent surgery on his right hand will be shelved for the foreseeable future. The plan is to re-evaluate Robinson in mid-March after All-Star weekend, but it's too early to set a timetable as to when he'll be back on the court.
This opens the door for the Knicks to enter the Andre Drummond sweepstakes.
The kicker here is the Knicks don't have to bend over backwards like so many of the other teams interested in Drummond. New York has approximately $17 million in cap space that's just collecting dust.
The recent acquisition of Derrick Rose makes Alec Burks expendable. Trading Reggie Bullock and/or Kevin Knox would clear the path for Obi Toppin to get more minutes.
Adding to the intrigue of New York making a play for Andre Drummond is they could treat this as a one-month rental. If Mitchell Robinson is on track to return sometime in late March, the Knicks could theoretically "borrow" Andre to bide time and then flip him for before the deadline.
Gauging the Andre Drummond Trade Rumors
Andre Drummond might be getting treated unfairly, and the way he is handling the fallout in Cleveland should be commended. At the same time, don't feel too badly for the former standout at UConn.
The 280-pound center has made over $100 million on the court since 2016 and is making more than $27 million this year alone. He can handle rocking hoodies on the sidelines for a couple of weeks while Cleveland sorts themselves out.
In the end, Andre is going to find a new home, and it may even be on a championship contender.
We know who the best fits for Andre Drummond are, and we know who has the capital to make something happen. Now we must patiently wait for the chips to fall as they may.
Thanks to the top NBA betting sites, we can make a bet on where we think he'll end up.