Hide Bonus Offers
| | | | | |
| --- | --- | --- | --- | --- |
| #1 | Bovada Sports | 50% Up To $250 | Visit Site | Bovada Sports |
| #2 | BetUS | 125% Up To $2,500 | Visit Site | BetUS |
| #3 | MyBookie | 100% Up To $1,000 | Visit Site | MyBookie |
| #4 | Everygame | 100% Up To $500 | Visit Site | Everygame |
| #5 | BetOnline Sports | 60% Up To $1,000 | Visit Site | BetOnline Sports |
Betting on UFC 241 – An Interesting Parlay Bet for the Big Night of Fights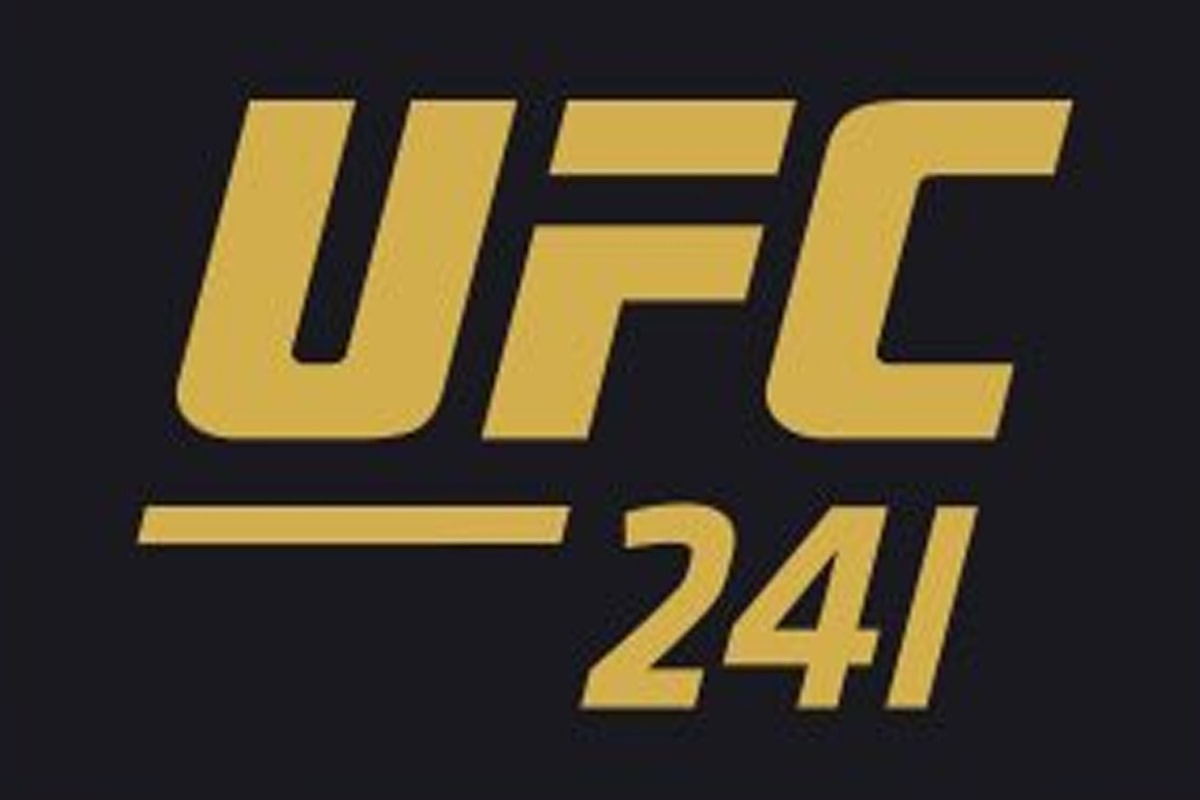 Former UFC heavyweight king Stipe Miocic finally gets his wish.
The mixed martial artist/firefighter has his rematch against Daniel Cormier penciled in for UFC 241 on August 17 at the Honda Center.
Having been knocked out cold by "DC" in the first bout, Stipe is looking to get his belt back and reign at the top of the division once more. Something much easier said than done, I hope you'll agree.
This bout has "fight of the year" written all over it and more than deserves the buzz that it continues to generate. Cormier and Miocic are two of the nicest guys in the sport, granted, but that will all go out the window when the cage door closes.
As UFC betting fans, we are used to being spoiled for choice. Thankfully, Uncle Dana and the matchmaking team in the promotion have served up a couple of incredible bouts on the undercard.
Fan favorite and legendary bad boy Nate Diaz makes his return to the promotion following almost three years out.
Diaz's loss to Conor McGregor at UFC was the last we had seen of the Stockton native, but that will change when he takes on the promotion's former lightweight champ, Anthony Pettis.
If that wasn't enough, two of the sport's most powerful specimens face off in what will be a war of attrition. Yes, that's right, Yoel Romero and Paulo Costa will also be on the card.
On account of this trio of ridiculously good bouts, I thought I'd share my tips with my fine readers. To be more precise, I have put together a three-way parlay bet that is sure to get your lips wet.
How I Put This UFC 241 Parlay Together
If you have any experience of parlay betting, you will probably know that it is difficult to get it right all the time. No experience in this department? Don't worry; this is how parlay betting works.
What's the allure of parlay betting, you say? Simply put, the odds that come with parlay betting can often make it worthwhile. Betting on multiple fights means taking a higher risk. With a higher risk, there is usually a higher reward.
Now, just because you are putting together a parlay bet… well, it doesn't mean that you should throw all caution to the wind. You can still break each fight down individually and make sensible choices.
You should always look to find value in the betting odds and go from there.
Using the right betting sites is also something I recommend doing as a first rule. In this case, I took the odds below from Bovada, which is one of our recommended betting sites.
Here's what I found.
Daniel Cormier vs. Stipe Miocic
Cormier is the slight favorite here at -140.
The champion has one win over Miocic, which came by way of first-round KO at UFC 226 in July 2018.
Anthony Pettis vs. Nate Diaz
Anthony Pettis and Nate Diaz are, unsurprisingly, two fighters that are closely matched.
It is tough to separate both guys, as the bookies' odds suggest.
Yoel Romero vs. Paulo Costa
The biggest gulf in odds out of the three of my picks is in the Romero vs. Costa bout.
This fight, just like the two above, promises to be an absolute classic. That's what happens when brawn, brains, and blood collide.
Now, I guess you'll want to know what my picks are?
Cormier vs. Miocic
Betting on the UFC is great.
What I mean by this is that we get to witness genuine super fights on a regular basis. As all UFC fighters are contracted to one promoter, things work a little better than the s**t show that is modern-day boxing.
The headache comes with deciding who to bet on. Sure, this kind of selection headache is one that requires attention, but I'll take it any day of the week over boring mismatches.
What makes this particular bout so exciting is that it is easy to see either man winning this one. The odds back up what I'm saying here, with both guys well matched and within touching distance of each other in terms of their prices.
Any experienced UFC betting aficionado will struggle to build a case for why one guy is superior to the other in this fight. Cormier and Miocic are both elite fighters and class acts.
Why I'm Choosing Cormier
Cormier and Miocic are the best of the best at heavyweight.
This is why this champion vs. number-one contender scrap is getting so much attention. As the weeks go by, the anticipation is going to be wild.
Now, I have thought long and hard about this fight and have arrived at a conclusion that favors Cormier. For me, he is just a special athlete who deserves far more credit and praise than he often gets.
He has the mental edge heading into this fight. This is, naturally, down to the manner of how he beat Stipe the first time around. Cormier is not known as a knockout artist, yet he slept the most successful heavyweight — in terms of title defenses (4) — in the history of the promotion.
A fighter with a strong will and excellent mental acumen, Cormier is also a ferocious wrestler who has almost always shown us something new.
He has just one loss in his career — to his arch-rival Jon Jones at light heavyweight — and I don't see a second defeat coming in this fight.
Stipe will likely push him hard in the rematch, but it's Cormier by decision for me on August 17.
Anthony Pettis vs. Nate Diaz
An absence of almost three years from the cage is something that could affect the outcome of this fight.
For Nate Diaz, he will need to prove that he is ready to rock when he faces off against Pettis, who looked good in his first welterweight bout in over 10 years, last March.
Pettis starched Thompson with a superman punch in the second round of their bout in Nashville, becoming the first fighter in MMA to knock out "Wonderboy." It was spectacular, to say the least.
With the ring rust Diaz will need to shake off, it is easy to understand why some see Pettis taking the win here. Diaz is known for his super gas tank, but will inactivity work against him?
That's a very valid question.
Diaz's forward pressure game relies on stamina. In other words, he will need to be in prime shape. If anything, recent photos of Diaz suggest that he is in tremendous shape. He has been working hard, and I guess those triathlons that he does help in this department, too.
Why I'm Backing Diaz
Nate Diaz might have taken a sabbatical, but he is well and truly up for this fight. If you think that he is going to fight at less than 100%, you're out of your mind.
Still, inactivity can do things to a fighter.
When it comes to Pettis, he has enjoyed what you can refer to as a "checkered record." The pattern of loss-win-loss-win has endured for his last eight bouts. His last win over Stephen Thompson suggests that the next step is a loss for the…
I would suggest paying little attention to this pattern.
Instead, look at how Pettis can beat Diaz. Will he knock him out? No, he won't. Will he submit him? Nope. So, that leads us to the conclusion that he will need to drag him into deep waters and earn a decision win.
Which he won't.
I see Pettis' best chance of beating Diaz coming by way of stoppage. And if you have ever watched Terminator 2, when you could pump all the bullets you have into the T-1000 and it would still come at you…
Diaz is that guy.
I think he drags Pettis into the later rounds and Stockton Slaps the hell out of him toward a unanimous decision win.
Unless Pettis can find a way of stopping Diaz coming forward — such as by peppering his lead leg with low kicks — there is a chance the former 155-pound champ could earn a stoppage win.
Romero vs. Costa
Last but not least, we have the battle of the most jacked middleweights on the planet.
Look, this is more than just two bulky guys slamming punches into each other's heads like Rock 'Em Sock 'Em Robots; these two are elite fighters. But saying that, it is hard to see the fight going all the way to the third.
My buddy and I have been waiting for this one for a long time, and we are both buzzing at the prospect of watching these absolute weapons go at it. An early Christmas gift is always welcome.
There are plenty of reasons to look forward to this tear-up, but the prospect of a brutal war that ends as quickly as it begins has to be top of the list.
Costa, formerly known as "Borrachinha," is 12-0 in MMA. He has never been past the second round of a fight and has some seriously intimidating KO power.
Although if there is one man in the world who won't be scared of the Brazilian wrecking ball, it is Yoel Romero. The Cuban is an Olympic silver medalist wrestler that could punch the roof off of a skyscraper.
With 11 stoppages in 13 wins, he brings the prospect of fireworks whenever he steps into the cage. He has been one of the most consistently impressive fighters in the UFC middleweight division for years and has been unlucky not to have the title around his waist.
Why I'm Backing Romero
This one is so difficult to call for a number of reasons.
Both men will be stepping into that cage with bad intentions. Costa is the younger of the two at 28, while Romero is the elder statesman at 42.
Make no mistake, the Cuban might be older, but he has shown no sign of slowing down. For me, this gives him an advantage when it comes to experience and the ability to adapt under pressure.
I see Romero fighting very smart in this bout, landing shots at the right time before getting out of the pocket without damage.
As the fight is a three-rounder, the chances of the fight making it to the judges' scorecards are increased. So, unless Costa can knock Romero out, the latter will have the advantage of stealing rounds by negating the Brazilian's sledgehammer attacks.
The "Soldier of God" has many advantages on his side, with his wrestling certainly standing out. For me, it is his experience against top-class competitors and his adaptability that will earn him the win on the night.
Costa is taking a big, big step up in class here and will undoubtedly see his best chance of winning in knocking the Olympian out. While he has the power to do that, he will need to have some pretty convincing setups to land the right shot/s at the right time.
Costa will be great, in time, and this fight will help him get there. Unfortunately for him, I believe Romero will have his number.
How the Odds Stack Up
This three-way parlay bet pays out $402.04 on a $100 bet. The winning sum contains the $100 stake, with a potential $302.04 profit for the winning bet.
The parlay is based on choosing the three guys below.
What do you think?
Final Thoughts
UFC 241 is the perfect summer spectacular.
Daniel Cormier vs. Stipe Miocic headlines the card, which features the return of Nate Diaz, who battles Anthony Pettis.
If that isn't enough, we have one of the tastiest middleweight battles in a long time. Yoel Romero vs. Paulo Costa is not one to be missed either, so make sure you pencil August 17 into your diary.
Parlay betting can be a fun way to get in on the action, given there is more than one fight of interest when it comes to your wagers. To those who have yet to give it a shot, UFC 241 is a good place to start.
As usual, make sure you wager through one of the best UFC betting sites out there for the best chance of getting the best odds.
Oh, and as always, enjoy the fights!